1:00 PM ET, September 7, 2014
Arrowhead Stadium, Kansas City, MO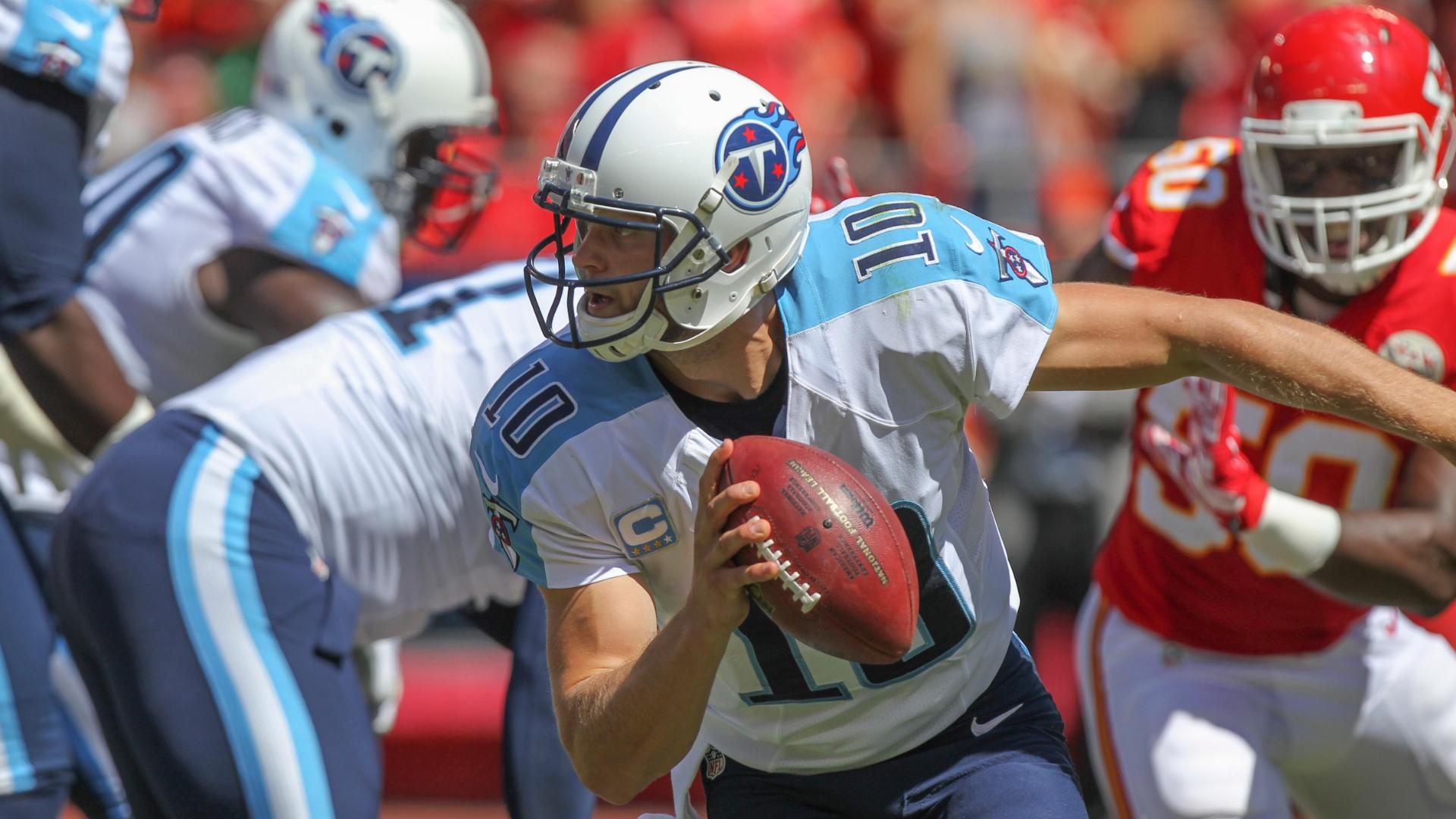 Sunday Blitz: Titans-Chiefs Recap
Jim Basquil and Ron Jaworski break down the Titans' win over the Chiefs.
Sunday Blitz: Titans-Chiefs Recap
VIDEO PLAYLIST
The last time the Kansas City Chiefs took the field in a game that counted, they experienced a microcosm of their 2013 season with a fast start that faded away in a playoff defeat.
After losing some key players to free agency, Kansas City hopes to take the first step toward another postseason berth Sunday when it opens against the visiting Tennessee Titans, who haven't been to the playoffs since 2008.
The Chiefs had won just two games prior to coach Andy Reid's arrival before starting 9-0 last season. They reached the playoffs for the first time since 2010 despite dropping five of seven down the stretch.
Kansas City also got off to an impressive start before collapsing in the postseason. After they built a 38-10 third-quarter advantage, the Chiefs allowed 35 points in the final 27 minutes in a 45-44 loss at Indianapolis.
"What happened in the past, you can't do anything about it," linebacker Tamba Hali said. "We just have to build on it."
The bounce-back season resulted in big-money deals elsewhere for some of the team's top players. Pro Bowl left tackle Branden Albert joined starting guards Jon Asamoah and Geoff Schwartz in chasing free-agent dollars.
Second-year pro Eric Fisher, who has been dealing with an illness, has slid from right tackle to left. Sixth-round draft pick Zach Fulton has emerged as a new starting guard.
Donald Stephenson also has moved into the lineup at right tackle, though he's suspended for the first four games for violating the league's performance-enhancing drug policy.
"I just care about getting the best five out there," Reid said of his makeshift offensive line.
The Chiefs would like to make protecting Alex Smith a priority after they signed the quarterback to a four-year extension last weekend worth a reported $45 million guaranteed.
Smith threw for a career-best 3,313 yards with 23 touchdowns and only seven interceptions in the regular season before posting 378 yards and four TDs in the playoff loss.
"It allows us to have a heck of a football player here in person, a good leader in the locker room," Reid said.
Dwayne Bowe is suspended following his arrest in November, while Junior Hemingway (hip), A.J. Jenkins (concussion) and Kyle Williams (shoulder) are dealing with injuries. With the receiving corps depleted, Kansas City is likely to lean on running back Jamaal Charles in the opener.
Charles signed a two-year extension after he had nearly 2,000 yards from scrimmage and 19 touchdowns last season. He ran for 108 yards and the go-ahead fourth-quarter score in Kansas City's 26-17 win at Tennessee on Oct. 6.
Now the 2013 All-Pro will try to help the Chiefs move past their offensive inefficiencies in the preseason, when the first-team offense failed to score a touchdown in 16 series covering the first three games.
Tennessee first-year coach Ken Whisenhunt brought in defensive coordinator Ray Horton to shift the Titans to a 3-4 scheme after they ranked 20th while allowing 112.2 rushing yards per game during their 7-9 finish in 2013.
However, they still seem to be adjusting after giving up an opening touchdown drive in all four preseason games.
"We feel like our guys have worked hard, and they're prepared," said Whisenhunt, who replaced Mike Munchak. "Hopefully that will be reflected in the way we play against Kansas City."
Jurrell Casey, who signed a four-year, $36 million extension last week, is coming off a career year with 10 1/2 sacks, 90 tackles and 10 quarterback pressures. His sacks were the second-highest total in franchise history for a defensive tackle behind only Ray Childress' 13 in 1992.
Perhaps the Titans' biggest key in their bid to end a five-year postseason drought is the health of quarterback Jake Locker. Following a 3-1 start last season, Tennessee dropped eight of its final 12 while Locker missed nine with two different injuries.
"I got all the confidence in the world in him, did last year too," left tackle Michael Roos said. "He's proved himself. He just unfortunately has had some freak injuries. I think it's just a matter of him staying healthy."
Locker, who has missed 14 of 32 games since being named the starter, completed 62.2 percent of his passes for 721 yards with six touchdowns and no interceptions before suffering a hip injury versus the New York Jets in Week 4.
He should have some solid options in the passing game with Kendall Wright and Justin Hunter back in the mix. The 6-foot-4 Hunter was one of Locker's favorite targets in the red zone and could blossom in his second season.
They'll attempt to exploit a Kansas City secondary that lost Pro Bowl cornerback Brandon Flowers in a cost-cutting move and free safety Kendrick Lewis to free agency. Pro Bowl safety Eric Berry also has been dealing with a nagging heel injury.
Shonn Greene, former Chief Dexter McCluster and rookie Bishop Sankey give the Titans a talented trio in the backfield after they said goodbye to Chris Johnson after six seasons.
Kicker Ryan Succop agreed to a one-year deal with Tennessee on Monday, two days after he was released by Kansas City.
This is the first meeting in Kansas City since a 34-14 Chiefs victory in December 2010.
Matchup
TEN

KC

W-L
1-0
0-1
Avg Points
26.0
10.0
Avg Points Allowed
10.0
26.0
Home Record
0-0
0-1
Road Record
1-0
0-0
Division Record
0-0
0-0
Conference Record
1-0
0-1
Complete Standings
Team Averages & NFL Ranks
TEAM OFFENSE
TEAM
PER GAME AVERAGE
Total Yards
TEN

337
KC

337
Yards Passing
TEN

219
KC

209
Yards Rushing
TEN

118
KC

129
TEAM DEFENSE
TEAM
PER GAME AVERAGE
Yards Allowed
TEN

338
KC

368
Pass Yds Allowed
TEN

226
KC

248
Rush Yds Allowed
TEN

112
KC

120
Head to Head Matchups (Since 2001)
Series tied 3-3
Oct 6, 2013
TEN 17, KC 26
Dec 26, 2010
TEN 14, @KC 34
Oct 19, 2008
TEN 34, @KC 10
Dec 16, 2007
TEN 26, @KC 17
Dec 13, 2004
TEN 38, KC 49
Research Notes
Alex Smith
didn't throw his first interception until Week 4 last year (his 132nd pass of the season). Smith's 2nd-quarter interception was on his 14th throw of 2014.
Alex Smith
: 2 Int today; didn't throw 2nd Interception last season until 4th game of the season; both interceptions came on throws over 15 yards downfield; only had 1 interception on 74 attempts of more than 15 yards downfield last season
Jamaal Charles
had seven rushes for 19 yards and four receptions for 15 yards Sunday. His 11 total touches are his fewest since Week 8 of 2012 (eight touches vs. Raiders), and he had just four touches in the second half.
[+]
Alex Smith
threw three interceptions Sunday, his second three-interception game in the last five seasons. All three of Smith's interceptions came against four or fewer pass rushers, equaling his total from all of last season. Smith hadn't thrown three interceptions in a game against standard pressure in Stats & Info's data set (since 2006).
[+]
ESPN Stats & Information