Week 7: Haynesworth finally makes presence felt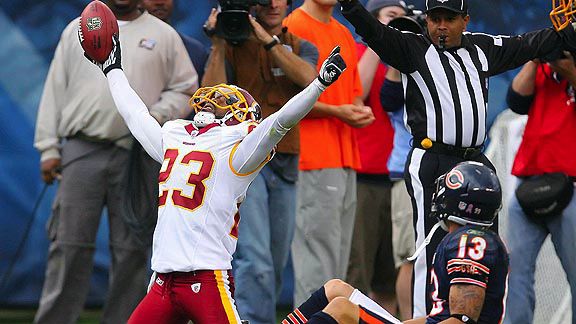 Dennis Wierzbicki/US PresswireDeAngelo Hall had reason to celebrate on Sunday. His four-interception day tied an NFL record and helped the Redskins improve to 4-3 with a 17-14 victory over Chicago.
Week 7 leaders
The so-called suits in the NFL office strapped up their helmet-hitting threats Sunday and scored a victory.
There was still plenty of violence in Week 7, but the games were close, the hits were mostly clean and brains weren't scrambled because of cheap shots by defenders. In fact, defenders suffered more head trauma than offensive players. Denver Broncos cornerback Perrish Cox and Atlanta Falcons safety Thomas DeCoud were among those who suffered head injuries.
It wasn't as bad as last week, when DeSean Jackson of the Eagles, Mohamed Massaquoi of the Browns and Dunta Robinson of the Falcons were knocked into a week of inactivity because of concussions from helmet-to-helmet hits.
Baltimore Ravens tight end Todd Heap was the victim of perhaps the cheapest shot of last week, a helmet hit by Patriots safety Brandon Meriweather that landed Meriweather a $50,000 fine. Heap played with a bad shoulder, but he is thankful the league stepped up for player safety.
"The rules have been in place,'' Heap told reporters after the game. "From my perspective, when I see big hits, there's a lot of them that are easy to avoid and there are a lot more of them that are harder to avoid. I'll see a hit and then I'll say, 'All right, how is a guy going to pull up and not be able to hit him where he did?'"
Heap said he thought the NFL has tried to come down on the avoidable hits.
More players were using their shoulders instead of their helmets with tackles on Sunday.
Here are five things I learned in Week 7.
1. Positive vibes for Haynesworth: Washington Redskins DT Albert Haynesworth isn't out of Mike Shanahan's doghouse, but he finally earned some praise. In his first game back since the death of his half brother in a motorcycle accident, an emotional Haynesworth showed some of the $100 million talent in the 20 to 25 plays he was on the field. Once, Haynesworth lifted 315-pound guard Chris Williams, a former first-rounder, and drove him into Bears quarterback Jay Cutler for a sack. Another time, he overpowered center Olin Kreutz.
He also made one of the key plays that allowed the Redskins to beat the Chicago Bears 17-14 and improve to 4-3. Cutler had a first-and-goal at the Redskins' 1-yard line with 11:54 left in the third quarter. Had Cutler scored, the Bears would have gone ahead 21-10. Instead, Haynesworth bullied his way through a couple of blockers, reached around them and held up Cutler. That gave the Redskins' defense enough time to strip the ball from Cutler.
"Albert did a great job of penetrating on the goal line,'' said Shanahan, who has challenged the disgruntled Haynesworth since his arrival as the Redskins' head coach. "He made a big-time play.''
After the game, the still-subdued Haynesworth said he thought of his half brother before the start of the game and cried, but it helped to play a game. Haynesworth hoped to play last week but Shanahan decided to let him sit in the owner's box with Daniel Snyder, thinking Haynesworth could suffer a hamstring injury after missing practice time.
Haynesworth said it helped that defensive coordinator Jim Haslett pulled him from all 3-4 packages and put him in 4-3 alignments in goal-line, short-yardage and pass-rush situations.
"There is a lot less to think about,'' Haynesworth said of these responsibilities. As happy as he was for the victory, the season has been a struggle. "2010 has been the worst year in my life,'' he said. "I just want to get it over with.''
2. A win (and setback) for Steelers: The Pittsburgh Steelers were lucky -- and they were unlucky. The Steelers edged the Miami Dolphins 23-22 thanks to a fumbled fumble call. Referee Gene Steratore ruled Ben Roethlisberger scored a touchdown on a quarterback draw in which the ball came out of his hands as he crossed the goal line. Dolphins coach Tony Sparano challenged the play and Steratore overturned the touchdown. The problem was the officials couldn't resurrect the play and determine who recovered the fumble they initially thought was a touchdown. The franchise known for the Immaculate Reception beat the Dolphins thanks to Immaculate Confusion.
It appeared two Dolphins were over the ball, but the Steelers were given back the ball and Jeff Reed won the game with a field goal.
"It was a pile of bodies in there and you don't have a clear recovery,'' Steratore said in the pool report.
Although the Steelers were lucky in getting the one-point victory, they were unlucky because they lost defensive end Aaron Smith, possibly for the season, with a torn left triceps. The Steelers' defense has bounced back from a bad 2009 season thanks to the returns of Smith, who missed 11 games last year, and safety Troy Polamalu. Losing Smith could make the Steelers more vulnerable to running teams down the stretch. Linebacker James Farrior called Smith's injury devastating.
3. Falls from grace: How the mighty have fallen. The San Diego Chargers and New Orleans Saints were 13-win teams last season. Both teams played so poorly at home Sunday they were booed heading to the locker room at halftime. The Chargers are 2-5 after their 23-20 loss to the New England Patriots and you figured they were in trouble going into the game. Wide receivers Malcom Floyd and Legedu Naanee were out with hamstring injuries, and tight end Antonio Gates wasn't close to playing a Gates-type game because of his toe injury. But what frustrated Chargers fans were the dropped passes, mental mistakes and bad plays. Their loss makes the Chiefs the favorites to win the AFC West. The Chiefs beat the Jacksonville Jaguars 42-20.
The Saints, who lost to the Cleveland Browns 30-17, were awful on offense. Drew Brees threw four interceptions and had a fumble. The Browns held the Saints' running offense to 58 yards. Poor play gave the Saints bad field position the entire game. Nine of the Saints' 11 offensive possessions started between their 7- and 24-yard lines.
It's starting to look as though the NFC South is the Atlanta Falcons' to win, and the Saints might have to scramble for a wild-card spot. How bad are things for the Saints and Brees? His wife just had a son, whom the couple named Bowen. Brees threw two interceptions for touchdowns Sunday to Browns linebacker David Bowens.
[+] Enlarge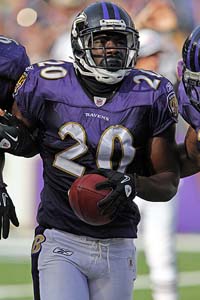 Mitch Stringer/US PresswireEd Reed is still a playmaker, but he's not a cure-all for the Ravens' secondary.
4. Ravens' secondary still suspect: The Ravens got a boost from the return of safety Ed Reed, but they still have to be concerned about their secondary. Reed was his usual ball-hawking self with two interceptions, a forced fumble and two passes defensed. But the Ravens gave up 374 passing yards to Ryan Fitzpatrick. That's right, Ryan Fitzpatrick. The Ravens had to go to overtime to beat the Buffalo Bills 37-34. At one point the Ravens pulled cornerback Fabian Washington and replaced him with Josh Wilson.
"It wasn't my day," Washington said. "I know that on a couple of plays my technique was off, especially on the first touchdown drive.''
The Ravens at least enter the bye with a 5-2 record and a chance to regroup around Reed, who was stunned the Ravens gave up 506 yards of offense. "Yes, it was a surprise,'' Reed said.
5. Rise of the also-rans: Let's look at the divisional races. The Redskins, who won four games last year, are 4-3. The Seattle Seahawks, who won five games last year, are 4-2 and taking control of the NFC West. The Tampa Bay Buccaneers, a 3-13 team a year ago, are 4-2 and a half-game behind the Atlanta Falcons. The Chiefs, who won four games last year, are 4-2 and starting to take control of the AFC West. The meek and the weak have spoken.
What was pretty clear in the Seahawks' 22-10 victory over the Arizona Cardinals and the St. Louis Rams' close loss to Tampa Bay is the importance of a stable quarterback situation. The Rams' Sam Bradford struggled in throwing for 126 yards against the Bucs, but he's been playing reasonably well and has made the Rams competitive again. Matt Hasselbeck continues to provide consistently good play now that he has a good running attack.
Meanwhile, the Cardinals and 49ers are in a mess. Arizona's Max Hall, an undrafted rookie, had no chance of conquering the crowd noise and windy, rainy weather conditions in Seattle. The 49ers are 1-6 after a 23-20 loss to the Carolina Panthers, and quarterback Alex Smith has yet another shoulder injury.
Short Takes
Here's a credit to coaching. Plenty of teams tried trick plays and many of them came up big. Eric Mangini deserves credit for calling a fake punt. Leading 10-3 over the New Orleans Saints and pinned back at the Browns' 23, Reggie Hodges faked a punt and ran for 68 yards, setting up a field goal that gave the Browns a 10-point lead in a 30-17 victory. The Ravens had a perfectly executed flea-flicker in the third quarter in which Willis McGahee got the ball to Joe Flacco, who hit Anquan Boldin for a 34-yard touchdown. … As well as the Bills battled, their inactive list was a bit scary. Deactivated were defensive tackle John McCargo, a first-round pick in 2006, and linebacker Aaron Maybin, a first-round pick in 2009. Both players were healthy but not deemed important enough to play. … The Eagles didn't have left tackle Jason Peters available while he is recovering from knee surgery. Two other tackles, Winston Justice and King Dunlap, suffered hyperextended knees. … It didn't help Kevin Kolb that Eagles coach Andy Reid evaluated his performance as "up and down." Kolb was 26-of-48 for 231 yards and had two interceptions. "He had some good plays, some phenomenal plays and some he'd like to have back,'' Reid said. … The Jaguars were using their fifth different secondary in seven games. Courtney Greene and Don Carey started at safety. Chiefs wide receiver Dwayne Bowe was able to take advantage of some of the new parts. He had two touchdowns -- one a 53-yarder -- in the Chiefs' 42-20 win. … Where would the Seahawks be without Olindo Mare? The Seahawks tried to replace him by drafting a kicker. Mare has now made 30 consecutive field goals. … Panthers wide receiver Steve Smith volunteered to help on punt returns. He muffed his first chance but had a 32-yard return on the next one in the Panthers' 23-20 win over the 49ers. … Although this has nothing to do with helmet hits, Browns safety Nick Sorensen thought the Saints were a little dirty. He accused Saints players of trying to gouge eyes or rip at face masks when Browns players were on the ground. Browns linebacker Blake Costanzo reacted negatively on the opening kickoff of the third quarter when he thought Saints players were going for throats.
John Clayton's game balls

• Offense: Titans wide receiver Kenny Britt didn't start Sunday's 37-19 victory over the Philadelphia Eagles because of his involvement in a bar fight early Friday morning in Nashville. Under pressure to perform to get out of Jeff Fisher's doghouse, Britt had 225 receiving yards and three touchdowns, the best game of his career. "Redeem myself?" Britt said after the game. "A little bit. My job out there is to go play and that's what they asked me to do and my teammates were like, 'Hey, erase that stuff out of your head and go out there and play your best.'" That's what he did. Britt had touchdown receptions of 26, 80 and 16 yards. His hands enabled the Titans to come back from a 19-10 deficit to score 27 straight points.

• Defense: For weeks, the Redskins' secondary and defense have been criticized for ranking last against the pass. Tension was starting to build between defenders and defensive coordinator Jim Haslett, who is aggressive with the blitz. Everything came together Sunday in a 17-14 victory over the Chicago Bears, in which cornerback DeAngelo Hall intercepted four passes, tying an interception record held by 18 players. Hall said it wasn't as much him reading the eyes of Bears quarterback Jay Cutler as it was recognizing the schemes. His first interception was on a three-step drop in which he anticipated where the pass was heading. His best play was picking off a Cutler pass at the Redskins' 8-yard line and running 92 yards for a touchdown. After the game, the coaching staff wanted to give him the game ball. Instead, Hall asked that the game ball be given to Haslett.

• Special teams: The good news for the Miami Dolphins is Dan Carpenter went 5-for-5 on field goals. He had three in the first half. The bad news is they had five offensive drives that ended up as field goals, one of the reasons the Dolphins lost 23-22 to the Steelers. Chad Henne had only one touchdown drive. Entering the game, the Dolphins had only nine drives that ended up in the red zone, and they had only six touchdowns from those opportunities. It's one of the reasons the Dolphins have scored fewer than 20 points a game this season. The struggle to complete drives gives opponents the chance to win games with the help of late special-teams plays. With a little over five minutes left, Carpenter put the Dolphins ahead 22-20 with a 40-yard field goal. Emmanuel Sanders of the Steelers returned the ensuing kickoff 48 yards to set up the Steelers' game-winning and controversial field goal drive.
Week 7 rundown
• Atlanta 39, Cincinnati 32
The Bengals came to life on offense -- after they fell behind 24-6. That usually doesn't cut it on the road, especially when your defense is giving up yards (and points) in bunches.
• Washington 17, Chicago 14
Not exactly a quarterbacking clinic. Jay Cutler (4 INTs, 1 lost fumble) reverted to his 2009 form, while Donovan McNabb threw a pair of picks and seemed out of sync for much of the game.
• Tennessee 37, Philadelphia 19
Can any NFC team beat the Titans, who have now won 12 straight against the conference? Kenny Britt's breakout game (225 yards receiving, 3 TDs) fueled Tennessee's second-half surge.
• Kansas City 42, Jacksonville 20
The running back tandem of Thomas Jones and Jamaal Charles is getting it done for the Chiefs. The pair combined for more than 190 yards for the second straight week.
• Pittsburgh 23, Miami 22
The Dolphins just can't catch a break at home. The Steelers eked out the win, but they lost three starters (LaMarr Woodley, Aaron Smith and Flozell Adams) in the process.
• Cleveland 30, New Orleans 17
The Browns emptied their bag of tricks (fake punt, halfback passes) to get an impressive road win. The Super Bowl champs, meanwhile, still haven't hit their stride. Will they ever?
• Tampa Bay 18, St. Louis 17
The Rams were on the brink of their first road victory of the season and their first winning record since early in 2006. Then they were burned by Josh Freeman's latest fourth-quarter comeback.
• Carolina 23, San Francisco 20
The Panthers are finally in the win column. Mike Singletary is still talking playoffs for the 49ers. Does he realize his team is 1-6 and has an injured starting quarterback?
• Baltimore 37, Buffalo 34 (OT)
The Ravens' defense was gashed early by Ryan Fitzpatrick, but it recovered with some late big plays. Ed Reed (forced fumble, 2 INTs) shined in his season debut.
• Seattle 22, Arizona 10
Is the Max Hall experiment already over in Arizona? The rookie quarterback's second start didn't go nearly as well as his first.
• Oakland 59, Denver 14
This one was over before the beer vendors could even set up shop. The Broncos' all-around ineptitude allowed the Raiders to score the most points in franchise history.
• New England 23, San Diego 20
Four first-half turnovers. A killer false start in the final minute. The mistakes -- and losses -- keep coming for the Chargers.
• Green Bay 28, Minnesota 24
A big win for the Packers on many levels. They beat Brett Favre, they prevailed in a tight game and they made headway in the NFC North.
-- ESPN.com
MONDAY NIGHT FOOTBALL
•
N.Y. Giants at Dallas (ESPN, 8:30 ET)
Looking ahead
An early look at next weekend's biggest games:
• Green Bay (4-3) at N.Y. Jets (5-1): Will the bye week affect the Jets' momentum?
• Pittsburgh (5-1) at New Orleans (4-3): The Super Bowl champs couldn't handle the Browns. Do they stand a chance versus Pittsburgh?
• Houston (4-2) at Indianapolis (4-2): Can the Colts avenge their Week 1 loss?