Week 14: Patriots pummel Steelers; divisional races taking shape
Jim Rogash/Getty Images
Week 14 Observation Deck
By Jeffri Chadiha, ESPN.com
The playoff picture looks much clearer now that we've moved past the 14th Sunday in this NFL season. Three more teams wrapped up division championships -- Dallas, Green Bay and Seattle -- and the big question in the NFC is who will wind up with the top seed. Dallas (12-1) has the advantage in that quest after beating the Packers (11-2) in Week 13, but there's still enough room for some craziness. It just has been that type of year. Here's how the divisions look as we head into the Monday night game between Atlanta and New Orleans:
AFC East:
The Patriots secured the division title in Week 12. The big question is whether the Bills can join them in the playoffs. Buffalo drilled Miami 38-17 on Sunday and has a key game with Cleveland coming up in Week 15. The 7-6 Bills have been an inspirational story, but they have a tough road ahead: After the Browns, they face the
New York Giants
at home and the Eagles on the road. Ouch.
AFC North:
The Steelers (9-4) hold just a one-game lead over the Browns, but Pittsburgh remains in great shape because it swept Cleveland this season. That being said, there have been some disconcerting moments for the Steelers lately, including a loss to the
New York Jets
and Sunday's manhandling by the Pats. Pittsburgh is a safe bet to win the division, but Cleveland -- 8-5 after its win over the Jets -- could give the Steelers problems in a potential wild-card game.
AFC South:
The
Indianapolis Colts
should win the division. The Jaguars, however, have looked scarier with each passing week. They've won four of their past five and, at 9-4, are a lock to take one of the wild-card spots.
AFC West:
The
San Diego Chargers
will win this division by default. They're 8-5, and nobody else in the West has a winning record. Sunday's overtime win over Tennessee was huge.
NFC East:
Dallas won the title in style by overcoming a 13-point deficit in a comeback win over Detroit. The Giants, at 9-4, are a lock for one wild card. They hold a two-game lead in that race.
NFC North:
Green Bay is the champ, and the Vikings are suddenly really dangerous. The Vikes (7-6) are riding a four-game winning streak in which they've outscored their opponents 110-34.
NFC South:
Tampa Bay will win this division, but the Bucs had an ugly 28-14 loss to Houston. The Bucs' defense allowed backup Texans quarterback
Sage Rosenfels
to pick it apart (27-for-36, 209 yards, three touchdowns).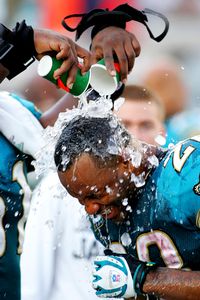 Sam Greenwood/Getty Images
No one has been able to cool off Jags RB Fred Taylor (three straight 100-yard games) lately.
NFC West: Seattle has the division, and Arizona has to rally to stay in the wild-card race. The Cardinals fell to 6-7 with Sunday's 42-21 loss in Seattle, and injuries -- they've lost Pro Bowl safety Adrian Wilson for the season, and wide receiver Anquan Boldin is nursing a dislocated toe -- could haunt them down the stretch. The upside? Arizona finishes the season with three losing teams (New Orleans, Atlanta and St. Louis.).
Now we move to 10 observations gleaned from Sunday's action:
1. Taylor's resurgence
Paying big money for aging running backs was a popular trend in the offseason. So far, Jacksonville's
Fred Taylor
has proved to be one of the best investments. After gaining 132 yards -- and scoring on an 80-yard touchdown run -- in a 37-6 win over Carolina, Taylor has gained 100 yards in his past three games. What's even more impressive is his healthy 4.7-yard average on 173 carries this season. It shows that the 31-year-old is still getting the most out of every touch he gets.
2. Lions blow opportunity
It's hard to blame one person for Detroit's 28-27 loss to Dallas, but that's exactly what is about to happen. All Lions linebacker
Paris Lenon
had to do was pick up a fumble by
Tony Romo
late in the fourth quarter and Detroit would've secured a victory. Instead, the ball bounced off his fingers and Cowboys guard
Kyle Kosier
fell on it. Less than a minute later, Romo hit Cowboys tight end
Jason Witten
with the game-winning, 16-yard touchdown pass.
For more observations, click here.
Heard in the press box (in Foxborough)
By Len Pasquarelli, ESPN.com
• Although team president Joe Banner was fairly adamant that Donovan McNabb will be back with the Eagles in 2008, a lot of people wonder whether the quarterback even wants to return for a 10th season. McNabb was kind of combative with the local media last week, and he might be tiring of the scrutiny of his play and the speculation about his future.
• It isn't official yet, but it's all but a given that Bears weakside linebacker
Lance Briggs
will reach the play-time threshold in his contract that stipulates the team cannot designate him as a franchise player for a second year in a row. As part of the one-year, $7.2 million qualifying offer Briggs signed in the summer, the Bears agreed that if he played in 75 percent of the defensive snaps, they could not tag him again. • The Redskins won't totally rule out the return of starting quarterback
Jason Campbell
, perhaps for the final game of the season, but don't count on him playing. Washington officials know they dodged a bullet Thursday night, when Campbell suffered a dislocated kneecap but no ligament damage to his left knee. Campbell won't require surgery for the injury, just rest. But he's simply too important to put back on the field if he's anything less than 100 percent, especially for a team that isn't going to the playoffs. • The Dolphins could consider entertaining offers for the first overall choice in the draft because they need so much help and there is no one player in the 2008 lottery who could reverse their fortunes. Most scouts feel the best player in the draft pool will be Arkansas tailback Darren McFadden, who likely will bypass his final season of college eligibility. If the Dolphins get good reports on the recovery of
Ronnie Brown
from knee surgery, they might not want to invest heavily in another tailback. One potential suitor for the Dolphins' pick could be Dallas, which already owns two first-rounders in 2008. Owner Jerry Jones is a former Arkansas player, and McFadden would look good in his backfield. •
Baltimore Ravens
offensive coordinator Rick Neuheisel was at or near the top of the Georgia Tech wish list during the school's coaching search. But when quotes from Baltimore coach Brian Billick -- in an e-mail to The Atlanta Journal-Constitution praising Neuheisel -- showed up in a story, some influential Tech alums became concerned. They apparently felt that some of Neuheisel's past problems with the NCAA represented baggage they didn't want to take on. The Yellow Jackets then turned to Navy coach Paul Johnson. • Two recently deposed college coaches, Karl Dorrell of UCLA and Georgia Tech's Chan Gailey, could end up on NFL staffs next season. • The silly "guarantee" that Pittsburgh free safety
Anthony Smith
made before Sunday's game at New England didn't seem nearly as inflammatory after reading it in full context. But first-year coach Mike Tomlin let the second-year veteran know it probably wasn't a very good idea to have waved a red flag in front of a prideful New England team. • With QB
Rex Grossman
sidelined by a knee injury and backup
Brian Griese
prone to turnovers, the Bears might turn to third-year veteran
Kyle Orton
down the stretch. Orton started 15 games as a rookie in 2005, but the former Purdue standout hasn't thrown a single pass in a game since then. • At 27, Oakland tailback
Justin Fargas
might be a little older than some teams like, especially for a feature-type back. But the fifth-year veteran, who has improved the Raiders' running game dramatically since being inserted into the lineup, doesn't have a lot of tread rubbed off his tires because he played so sparingly his first four seasons. Because of that, Fargas could merit pretty solid attention as an unrestricted free agent in the spring. • Tampa Bay defensive coordinator Monte Kiffin has debunked the reports, including one by ESPN.com, that he could join the staff of his son, Oakland coach Lane Kiffin, next season. But the elder Kiffin is not under contract beyond this season, and Bucs officials have yet to approach him about an extension. Speculation is that if Kiffin were to leave the Bucs, the team would promote secondary coach Raheem Morris into his spot. • The Steelers typically don't like to sign 30-year-old linebackers to extensions. But eight-year veteran
Clark Haggans
, who is in the final year of his contract, and still playing very well at 30, would like to remain with the team rather than go into free agency. It will be interesting to see how Pittsburgh deals with his situation. • Jets officials insist that linebacker
Jonathan Vilma
, on injured reserve with a knee injury, will be back in 2008. But Vilma, a pure 4-3 middle linebacker, hasn't been as productive since coach Eric Mangini arrived and installed a 3-4 scheme two years ago. If Vilma successfully rehabilitates his knee, New York could have some suitors for him in the offseason. Rookie
David Harris
, the Jets' second-round pick and the man who has replaced Vilma, is more of a 3-4 'backer. And he has 60 tackles in his first five NFL starts.
Len Pasquarelli's game balls

Witten
• Offense: He consistently is overlooked when the topic turns to premier tight ends, and somehow rarely gets mentioned in the same breath as guys such as Antonio Gates, Tony Gonzalez or Kellen Winslow. But Jason Witten of Dallas belongs in any debate about top-shelf players at the position, and the Cowboys' veteran proved it again Sunday, redeeming himself for a rare fumble at the Detroit 1-yard line. He grabbed the winning touchdown catch of 16 yards with 18 seconds remaining in a 28-27 comeback victory, running a perfect seam route up the right side.
Witten had 15 receptions for 138 yards, and he has 80 catches for 955 yards and seven touchdowns for the season. Of his 15 catches versus the Lions, 10 were for first downs or touchdowns, and six came in third-down situations. On a day when the Detroit secondary focused on stopping
Terrell Owens
, who had only three catches, Witten, always a clutch receiver, was the go-to guy.
• Defense: Coming off a subpar 2006 performance, Seattle cornerback Marcus Trufant continued his strong comeback season Sunday, snatching three interceptions in the Seahawks' 42-21 victory over the Cardinals. The 2003 first-round draft choice came up with all three pickoffs in the final 16 minutes of the game to seal a key divisional win. Trufant's first interception set up a touchdown; he returned his second 84 yards for a score; and the final one killed the Cardinals' hopes of a comeback.
Under the tutelage of assistant head coach Jim Mora this year, Trufant has gotten back to basics and is playing fundamentally sound coverage techniques. The five-year veteran, who had nine interceptions in his first four campaigns, has a career-best seven interceptions for the season.
• Special teams: In Houston's 28-14 victory over Tampa Bay, 12-year veteran punter Matt Turk contributed to the Texans' victory by averaging 42.6 yards gross and 42.0 yards net on five kicks. Turk had three punts inside the Tampa Bay 20-yard line and was especially effective in the second half, thwarting any Bucs' comeback aspirations.
On the five possessions the Bucs started after punts, they averaged just their own 24-yard line. Turk allowed only 3 yards on punt returns.
Writer's bloc
• Although they took time to celebrate yet another NFC West title, the Seahawks believe they're capable of a lot more.
John Clayton
• The Steelers and safety Anthony Smith learned a valuable lesson Sunday: Don't give the Pats extra motivation.
Len Pasquarelli
• Awful in the first half, Philip Rivers sparked an unlikely comeback by the Chargers.
Matt Mosley
ESPN video
Week 14 rundown
•
Buffalo 38, Miami 17
For most of the season, the Dolphins were competitive. Now, with 0-16 looking like a real possibility, it looks as if they've given up.
Photos
•
Cincinnati 19, St. Louis 10
Speaking of lost seasons, it's probably safe to say the Rams didn't expect to be 3-10 -- or to have
Brock Berlin
starting at quarterback in Week 14.
Photos
• Dallas 28, Detroit 27
A productive day on the ground (152 yards) was the silver lining in a heartbreaking loss for the Lions. Perhaps Mike Martz finally is convinced that offensive balance is important. Photos
• Green Bay 38, Oakland 7
A relative unknown heading into the season, Packers WR Greg Jennings (17.7-yard average, 11 TDs) has established himself as one of the league's premier big-play threats. Photos
• San Diego 23, Tennessee 17 (OT)
A nice comeback by the Chargers. But what's the deal with this team? Will the Chargers' performance ever match their talent level? Photos
• N.Y. Giants 16, Philadelphia 13
It has been a season of agonizing losses for the Eagles. Five of Philly's eight losses have come by four or fewer points. Photos
• Jacksonville 37, Carolina 6
Should Jaguars QB David Garrard make the Pro Bowl? His lofty QB rating and 13-1 TD-to-INT ratio suggest he should. Photos
• Houston 28, Tampa Bay 14
Quarterback controversy in Houston? Not quite, but backup Sage Rosenfels (27-for-36, 3 TDs, no INTs) was impressive against one of the league's better defenses. Photos
• Minnesota 27, San Francisco 7
The Vikings, who would be the No. 6 seed in the NFC if the playoffs started today, are staking claim to the team-nobody-wants-to-play title. Photos
• Seattle 42, Arizona 21
Matt Hasselbeck's first four-touchdown performance of the season helped the Seahawks dismantle their only respectable division rival. Photos
• Denver 41, Kansas City 7
Travis Henry is signed through 2011, but rookie Selvin Young (17 carries, 156 yards) is positioning himself to be the Broncos' featured back in 2008. Photos
• New England 34, Pittsburgh 13
Whether it was the result of Anthony Smith's guarantee or the motivational tactics of Bill Belichick, the Patriots played with a fire that seemed to be missing in their near loss to the Ravens. Photos
•
Cleveland 24, N.Y. Jets 18
The Browns control their own playoff destiny. When was the last time that statement was true?
Photos
•
Indianapolis 44, Baltimore 20
Clearly still reeling from their crushing Monday night loss to the Patriots, the Ravens looked lost and lifeless in an embarrassing display against the defending champs.
Photos
-- ESPN.com
Looking ahead
An early look at next weekend's biggest games:
• Jacksonville (9-4) at Pittsburgh (9-4): Don't expect any guarantees coming out of Pittsburgh this week.
• Buffalo (7-6) at Cleveland (8-5): At the beginning of the season, who would've guessed this game would have huge wild-card implications?
• N.Y. Jets (3-10) at New England (13-0): This one could get ugly. Can the Jets keep the Pats under 50 points?