Week 7: Bironas saves Titans, Pats stay on record pace, Giants continue ascent
Jamie Squire/Getty Images
Week 7 Observation Deck
By Jeffri Chadiha, ESPN.com
The New England Patriots finally have reached the point that you have to wonder how many NFL records they'll break this season.
The single-season mark of 49 touchdown passes
Peyton Manning
set in 2004?
Tom Brady
should smash it. Jerry Rice's record of 22 touchdown receptions in a season?
Randy Moss
already has 10 in seven games. And is there any reason to think the Patriots won't eclipse the 556 points scored by the 1998
Minnesota Vikings
? Put it this way, they're on pace for 612. About the only question left to wonder about New England -- aside from the weekly debate about when they eventually will lose -- is whether anybody can actually slow them down. Here's a list of the teams with the best shot at keeping Tom Brady & Co. under 30 points when they meet:
1. Pittsburgh (Dec. 9):
The Steelers have the talent and the numbers. Even after Sunday night's 31-28 loss at Denver, the Steelers still rank first in total defense (250.3 yards per game). They are second in the NFL in scoring defense (13.0 points per game) and rate third in pass defense (174.8 yards per game). Defensive coordinator Dick LeBeau, in his 34th year as an NFL coach, is getting it done.
2. Indianapolis (Nov. 4):
The Colts know the Pats, so there's no fear factor here. The Colts also play Cover 2, which means they're not going to give up the big plays other Pats opponents have allowed. Throw in a hard-hitting secondary led by safety
Bob Sanders
, and these Colts can measure up.
3. Baltimore (Dec. 3):
This game is late enough in the season that the Ravens should be back to full strength. Once defensive end
Trevor Pryce
and cornerback
Chris McAlister
return from injuries, this athletic unit will be able to cause problems once again.
4. Washington (Oct. 28):
The Redskins have the first thing you need if you want to survive against New England: a talented secondary. With four first-round picks in their defensive backfield (cornerbacks
Shawn Springs
and
Carlos Rogers
and safeties
LaRon Landry
and
Sean Taylor
), the Skins won't have to worry about being overmatched by the Patriots' wealth of talent. Plus, defensive coordinator Gregg Williams loves the challenge of facing dominant offenses.
5. New York Giants (Dec. 29):
Yes, the Giants have a suspect secondary. But their front four -- led by ends
Michael Strahan
and
Osi Umenyiora
-- can create the kind of pressure Brady rarely has seen this season. The Giants lead the NFL with 27 sacks. Here are 10 observations from Week 7: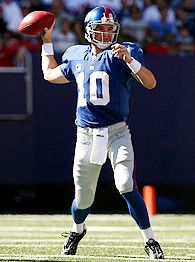 Nick Laham/Getty Images
The Giants' improved running attack is helping QB Eli Manning find his comfort zone.
1. Giant steps
I still can't believe how quickly this bunch changed its fortunes. The Giants have won five straight games after an 0-2 start and literally pounded the 49ers on Sunday. The most impressive part of their revival: the running game. With
Brandon Jacobs
(107 yards and one touchdown) healthy again, the Giants can bang any defense with a backfield trio that also includes
Reuben Droughns
and
Derrick Ward
. That means
Eli Manning
can do what he does best -- play-action passing -- and the Giants can control the clock. Coach Tom Coughlin couldn't ask for better circumstances. Here's something else you have to remember about the Giants: They lost to Dallas (6-1) and Green Bay (5-1). That's nothing to be upset about. In fact, it's fair to say the Giants now have a better offense than Green Bay and a better defense than Dallas. In other words, they're the only complete team in their conference.
2. Perseverance rewarded
Priest Holmes
continues to amaze. Even when Holmes returned to the Chiefs this summer, you'd have been hard-pressed to find somebody who expected to see him play again. But he saw action (4 carries, 9 yards) in a limited role in Sunday's 12-10 win over Oakland and actually looked as though he could offer the Chiefs something later this season. Talk about the stuff of inspiration. The 34-year-old running back has gone from being damaged goods -- and a player most people suspected of having insincere motives for coming back from a severe neck injury suffered nearly two years ago -- to one who once again has proved all the doubters wrong. I vividly remember Holmes talking about how he wanted to help younger teammates understand how to succeed in this league upon his return. Well, he gave them a damn good lesson Sunday. You do it by not giving up.
For more observations, click here.
Heard in the press box (in Miami)
By Len Pasquarelli, ESPN.com
• Assuming that Trent Green doesn't return in 2008, after his second serious concussion in two seasons landed him on injured reserve, the Miami Dolphins' brass would like the classy quarterback to remain with the franchise in some capacity. The Dolphins have very little inclination to ever allow Green back on the field, no matter what neurologists tell them about his condition next spring.
• Beyond the fact that second-year head coach Scott Linehan is in big trouble, the
St. Louis Rams
could undergo a pretty significant front office facelift in the offseason, especially if they bottom out. Some in the organization feel the team needs a strong general manager-type to oversee the football operation. • While
Osi Umenyiora
and
Michael Strahan
get all the attention, third-year defensive end
Justin Tuck
is having a terrific season for the
New York Giants
. The former second-round draft pick finally has learned to use his hands and has developed some solid counter-moves, and that has made him more than just an upfield speed-rusher. • Even some of the Tom Coughlin dissidents in the Giants' locker room have come to feel the guy is a much better coach than they ever were willing to admit. And they credit him with hiring Steve Spagnuolo, a relative unknown to a lot of players, and giving the new defensive coordinator a lot of autonomy. Spagnuolo is dialing up a ton of blitzes, and the Giants' defense is really coming after people. • The Miami offensive line has been inconsistent, but right tackle
Rex Hadnot
, who has made a nice transition from center, has played well. The Dolphins might consider trying to sign him to a contract extension before the end of the season. •
New Orleans Saints
second-year wide receiver
Marques Colston
, never a burner, seems to have lost even a little more speed this season. Colston has been plagued by a sore back that has forced him to miss some practice time. •
Seattle Seahawks
coach Mike Holmgren is less than thrilled with the play of his wide receivers, especially since
Deion Branch
has been out of the lineup. As a group, the Seahawks' pass-catchers have been very inconsistent. • There are some suspicions about the speed of the
New England Patriots
' defense, especially in the back end. Except for cornerback
Asante Samuel
, there's not a lot of quickness in the secondary, even more so after the return of strong safety
Rodney Harrison
to the lineup. And the linebackers haven't made as many plays as one normally expects from a Patriots unit. • With veteran
Steve McNair
so susceptible now to nagging injuries, there are some
Baltimore Ravens
players wondering if the team wouldn't be better just sticking with
Kyle Boller
as the starting quarterback. • Injuries have left the
Green Bay Packers
a little thin at cornerback, and the personnel department is looking around to see if there is a veteran free agent worth adding.
Len Pasquarelli's game balls

Brady
• Offense: Who else? If New England quarterback Tom Brady continues to scorch opposition secondaries in the manner that he has over the first seven games, ESPN.com might have to create the "offensive game ball, non-Brady division" to at least recognize some other outstanding performances every week.
Brady could have retired to the bench with five touchdown passes at the end of the first half in Sunday's 49-28 pasting of overmatched Miami and perhaps still won this week's award. By halftime, he had thrown for 291 yards. Brady finished with 21 completions in 25 attempts for 354 yards, with six touchdown passes, no interceptions and a perfect 158.3 passer rating. He has 27 touchdown passes in seven games and is on pace for 62 for the season.
• Defense: Seattle second-year defensive end Darryl Tapp entered Sunday's matchup against St. Louis with 4½ career sacks in 22 games. He exited his team's victory having nearly doubled his career total of quarterback takedowns. The former Virginia Tech star, a second-round pick in the 2006 draft and a defender noted for his upfield quickness, turned potential into production with four sacks of Rams quarterback Marc Bulger for a total of 26 yards in losses.
Tapp also had five other tackles, including two for losses, and three quarterback hurries. Just for good measure, he added one pass deflection and a forced fumble that set up a field goal. On one memorable second-quarter sequence, Tapp had two sacks and a tackle on a running play.
• Special teams: It wasn't the longest field goal of Rob Bironas' three-year career -- that came last season, a 60-yarder that beat Indianapolis in the final minute -- but it was perhaps the biggest, for a lot of reasons. Bironas' 29-yarder on the final play of the game Sunday established a league record for most field goals in a game, with eight. But the kick that provided the winning points in Tennessee's 38-36 victory at Houston also rescued the Titans, who had struggled in the red zone all day, from a painful collapse.
The Titans surrendered 29 fourth-quarter points in squandering a big lead and trailed 36-35 when Bironas connected on his eighth field goal. He converted from 52, 43, 25, 21, 30, 28, 29 and 29 yards to snap the single-game record shared by four other kickers. Bironas finished with 26 points. That's more points than teams scored on 137 occasions in the first seven weeks of the season. He also averaged 73.0 yards on nine kickoffs and held the Texans to an average starting point of the 22-yard line on possessions following kickoffs.
ESPN video
Week 7 rundown
•
Buffalo 19, Baltimore 14
What might have been. Without their crushing losses to Denver (Week 1) and Dallas (Week 5), the Bills would be in the wild-card hunt.
Photos
• Detroit 23, Tampa Bay 16
An efficient, mistake-free offense keyed Tampa Bay's strong start. Two Jeff Garcia fumbles triggered the Bucs' demise in Detroit. Photos
• New England 49, Miami 28
The Patriots (their starters, anyway) still look invincible. The still-winless Dolphins barely look like an NFL team at this point. Photos
• New Orleans 22, Atlanta 16
The Saints appear to be reverting to last year's form. Is it too late? Not in the NFC. Photos
• N.Y. Giants 33, San Francisco 15
The surging Giants travel to London in Week 8 for a regular- season game. Check that, the opponent is Miami, so it's really only a scrimmage. Photos
• Washington 21, Arizona 19
Sure, QB Jason Campbell is making strides, but the Redskins' offense as a whole needs a shot in the arm. Photos
• Tennessee 38, Houston 36
Rob Bironas' record eighth field goal prevented Texans backup QB Sage Rosenfels from being one of the day's biggest heroes. Photos
• Cincinnati 38, N.Y. Jets 31
Chad Pennington gave the Jets a lead their defense couldn't hold. Still, a quarterback change for New York appears imminent. Photos
• Kansas City 12, Oakland 10
Having trouble sleeping? Get your hands on a videotape of this barnburner. Photos
• Dallas 24, Minnesota 14
Probably the day's most dreadful stat line, courtesy of Vikings QB Tarvaris Jackson: 6-of-19 for 72 yards. Yikes. Photos
• Chicago 19, Philadelphia 16
If the Bears go on to accomplish anything significant this season, Brian Griese's game-winning drive in Philly will be remembered as the turning point. Photos
•
Seattle 33, St. Louis 6
The accurate leg of
Josh Brown
(4-for-4 on field goals) and a 91-yard kickoff return by
Nate Burleson
helped mask the deficiencies of Seattle's slumping offense.
Photos
•
Denver 31, Pittsburgh 28
On a night they honored two fallen teammates, the Broncos turned in their best performance of the season. And it almost wasn't enough.
Photos
-- ESPN.com
Looking ahead
An early look at next weekend's biggest games:
• Washington (4-2) at New England (7-0): The Redskins are having a nice season, but it's doubtful they have enough firepower to keep pace with the mighty Patriots.
• Indianapolis (5-0) at Carolina (4-2): Carolina has been one of the most unprectictable teams in the league. Which Panthers squad will show up when the defending champs come to town?