Week 8: Chargers survive trial by fire, Browns pass test, Pats-Colts stage set
Denis Poroy/AP Photo
Week 8 Observation Deck
By Matt Mosley, ESPN.com
The Browns had every reason to lose their game Sunday. Playing in St. Louis, they ran into a Rams offense that bore at least a passing resemblance to its former self, and they quickly fell behind 14-0.
At that point, you thought the dream of a winless season for the Rams was over. But this is a different type of Browns team. Cleveland took advantage of the Rams' baffling decision to cover wide receiver
Braylon Edwards
one on one and mounted an exciting comeback.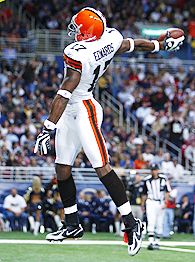 G. Newman Lowrance/Getty Images
The Rams had no answer for Braylon Edwards, who had eight catches for 117 yards and two TDs.
And with two minutes left in the game, the defense stoned Rams running back Brian Leonard on a fourth-and-1 at the Browns' 30-yard line, and Cleveland escaped with a 27-20 victory.
This was the first time since 2003 the Browns had won consecutive games, and they head into the Week 9 matchup against Seattle with a lot of confidence. Quarterback
Derek Anderson
has continued to excel, and he is playing behind an offensive line that is light years ahead of last season's unit. The additions of
Joe Thomas
and
Eric Steinbach
have helped give Anderson time to make big plays downfield. It's hard to believe we're only a few weeks removed from calling for rookie
Brady Quinn
. At one point Sunday, I watched him chase Anderson down the sideline to collect a high five. Apparently a sign of the times. I'm not ready to call the Browns a playoff team, but for now, they belong in the conversation. Now, here are 10 more observations from Week 8:
1. Patriot games
The
New England Patriots
can't play a game without some sort of conspiracy theory cropping up. Moments after they took a commanding 24-0 lead on
Tom Brady
's fake-spike touchdown pass to
Randy Moss
, Fox sideline reporter Pam Oliver informed us that the
Washington Redskins
' communication equipment hadn't been working properly. She explained that offensive coordinator Al Saunders hadn't been able to talk to coach Joe Gibbs for most of the first half, which might have been a positive development last season. It also was interesting to hear Troy Aikman talk about Moss pushing off on the touchdown. The contact was minimal, and Aikman's favorite target in the early 1990s, Michael Irvin, was known to "create" a little space from time to time. In an unrelated matter, how in the world do teams not account for linebacker
Mike Vrabel
when he enters the game as a tight end in the club's goal-line offense? He pretended to block Redskins linebacker
Marcus Washington
and then slipped into the end zone with no one around him for his second touchdown of the season. And yes, Vrabel has two more touchdowns than the Redskins' wide receiver corps this season. The Patriots' defense did a nice job of taking away Redskins quarterback
Jason Campbell
's safety blanket, tight end
Chris Cooley
, who finished with three catches for 31 yards and a meaningless late touchdown. It's the same thing the Patriots' D did with
Dallas Cowboys
tight end
Jason Witten
two weeks ago, and it shouldn't have caught the Redskins by surprise.
2. Tough on the eyes
Did anyone else notice the Fox cameras staying with
Minnesota Vikings
quarterback
Brooks Bollinger
long after he delivered the ball against the
Philadelphia Eagles
in the second half? I realize that
Tarvaris Jackson
completes only about three or four passes to wide receivers on a good week, but a few of us were interested to see where Bollinger's passes ended up. Viewers shouldn't be forced to watch Vikings quarterbacks for longer than necessary. In Bollinger's defense, at least he actually attempts to sell play fakes. Jackson shares the backfield with one of the most dynamic runners in the game, but he doesn't acknowledge him when he runs past on alleged play-action passes. Oh, and can we tap the brakes on some of the hyperbole surrounding rookie running back
Adrian Peterson
, who finished the day with 20 carries for 70 yards and no catches?
3. Off the mark
Is the DirecTV Red Zone Channel not the greatest invention in the modern era of football? I purchased the Sunday Ticket HD package, but all I really need is this one channel. You would think six and a half hours of Andrew Siciliano might be a tad much, but the guy is entertaining. There isn't a better place to watch
Brian Griese
throw interceptions in the opposing team's end zone. He had three passes picked off in the
Detroit Lions
' end zone and four overall Sunday. The
Chicago Bears
head to the bye week at 3-5, and you can bet the
Donovan McNabb
-to-Chicago talk will be in full force.
4. Putting it on the line
At some point, we need to admit the Vikings have the most overrated offensive line in football. The Eagles poked holes in the vaunted zone-blocking scheme, and smallish defensive end
Trent Cole
gave Vikings left tackle
Bryant McKinnie
fits. McKinnie let Cole get underneath him for a sack when the Vikings were driving for the possible tying score in the second half. Perhaps McKinnie's unfamiliarity with Bollinger caused him to think the quarterback would step up in the pocket, but it still was a bad mistake that forced the Vikings to settle for a short field goal and a 20-16 deficit. Part of the problem is that teams don't respect the Vikings' passing game at all, and that allows them to run-blitz whenever they want.
For more observations, click here.
Heard in the press box (in Carolina)
By Len Pasquarelli, ESPN.com
• Credit the New Orleans Saints' coaching staff for getting the team's offensive line back on track. The unit that looked so disjointed early in the year hasn't surrendered a sack in a month now, and that's part of the reason for the Saints' recent surge. Offensive coordinator Doug Marrone is all about fundamentals. And the Saints have gotten back to basics, especially in the area of pass protection, and most notably at the tackle positions.
• Tailback
LenDale White
is starting to become a force for the
Tennessee Titans
. If the guy ever really got himself into shape, he could be a special player. • Between
Vinny Testaverde
's advanced years (and, following Sunday's game, case of Achilles tendinitis) and
David Carr
's back problem , the quarterback with the strongest arm on the
Carolina Panthers
' roster is third-stringer
Matt Moore
. But the Panthers probably can't afford to play the former Oregon State star, claimed on waivers from the
Dallas Cowboys
, because, despite their offensive shortcomings, they still are 4-3 and lead their division. • Carolina general manager Marty Hurney made a tremendous choice in the first round of this year's draft, grabbing linebacker
Jon Beason
. The former University of Miami star began the year on the weak side but moved into the middle when
Dan Morgan
was sidelined by a partially torn Achilles. He has been terrific there. Beason can step into the hole against the run and has excellent range in pass coverage. He quietly has emerged over the past few weeks as one of the top rookies in the league. • Look for nose tackle
Grady Jackson
, released by the
Atlanta Falcons
last week, to sign with a new team in the next few days. Jackson wants to go to a playoff-caliber team, and there are at least a few fringe playoff hopefuls, notably the
Kansas City Chiefs
, that have shown interest in signing the renowned run-stuffer. • Two head coaches who deserve a lot of credit for holding together their young teams after tough starts are the
Cleveland Browns
' Romeo Crennel and the
Buffalo Bills
' Dick Jauron. The two clubs have had a lot of adversity, especially the Bills with all their injuries, but have played hard consistently and refused to just roll over. • Given the physical beating that
Matt Schaub
has absorbed in recent weeks and the impact it has had on his play,
Houston Texans
coach Gary Kubiak might need to sit his starting quarterback for a week or two to let him heal up. Backup
Sage Rosenfels
has demonstrated that he can make plays when given the opportunity. • The
New England Patriots
' offensive line doesn't get the recognition it deserves in general. But if you're looking for an individual on the unit who is having a standout season, although no one seems to know it, take a look at right tackle
Nick Kaczur
.
Len Pasquarelli's game balls

Brees
• Offense: Resurgent New Orleans is back in the chase in the dysfunctional NFC South, and much of the credit for the team's three-game winning streak has to go to quarterback Drew Brees, who continued his red-hot play in Sunday's 31-10 victory over San Francisco. Brees hit 31 of 39 attempts for 336 yards with four touchdown passes and no interceptions, and compiled a 136.8 passer rating. Three of his scoring passes went to second-year wideout Marques Colston, his favorite receiver in 2006, who also had been struggling a bit.
Brees has had eight touchdown passes and only one interception in the past three games. He also has not been sacked in the past three outings. Despite the slow start, New Orleans, which hosts Jacksonville in Week 9, is only one game behind division-leading Carolina in the NFC South.
• Defense: San Diego, another team on a roll after an inauspicious start to the season, continued to play well in all phases of the game in Sunday's rout of visiting Houston. Second-year corner Antonio Cromartie certainly helped the cause. San Diego chose Cromartie in the first round in 2006, despite the fact that he started just one game at Florida State during an injury-ravaged college career, but he is beginning to demonstrate the big-play skills the Chargers' scouts discerned in him.
Cromartie scored on a fumble recovery when the Houston deep-snapper rocketed the ball over the head of punter
Matt Turk
and into the end zone. And then, in a six-play sequence, Cromartie registered two interceptions of Texans quarterback
Matt Schaub
, returning the first of them 70 yards for a touchdown. Cromartie now has three interceptions in the past two games, after getting none as a rookie in 2006.
• Special teams: San Diego punter Mike Scifres has one of the strongest legs in the NFL but never has been known for great directional skills or for pinning opponents inside their own 20-yard line. That wasn't the case on Sunday, however, as the fifth-year veteran kept the Houston offense in the shadows of its own goal line all day.
Scifres punted five times for a 52.8-yard gross average and a phenomenal 50.2-yard net average. All five of his punts were inside the 20-yard line. Scifres entered the game with only seven punts inside the 20 in the first six games of the season, and with four touchbacks. On its five possessions that originated on punts, Houston's average starting field position was its own 10-yard line. The performance allowed Scifres to raise his net punting average for the season by 3.6 yards.
Writer's bloc
• With Sunday's Giants-Dolphins game in London, the NFL supplied Europe with a representative sample of ugly football.
Seth Wickersham
• On Sunday, Bill Belichick kicked a Hall of Fame coach while he was down, running up the score on Joe Gibbs' Redskins.
John Clayton
• It wasn't all that pretty, but the Colts took care of Carolina ... and now can focus on their big showdown against the Patriots.
Len Pasquarelli
• The Chargers have found a comfort zone, which has plenty to do with the closeness they gained during last week's adversity.
Jeffri Chadiha
ESPN video
Week 8 rundown
•
Detroit 16, Chicago 7
The healthy return of
Kevin Jones
(23 carries, 105 yards) is taking a lot of pressure off QB
Jon Kitna
, whose 10-win prediction for Detroit is looking pretty good right now.
Photos
• Pittsburgh 24, Cincinnati 13
Key to victory. When Willie Parker rushes for more than 100 yards, the Steelers are 5-0. When he doesn't, they are 0-2. Photos
• Tennessee 13, Oakland 9
With QB Vince Young struggling in his return from injury, RB LenDale White picked a good time for a breakout game (133) yards. Photos
• Cleveland 27, St. Louis 20
Brady Quinn probably should get used to holding that clipboard. Derek Anderson (6 TD passes in his past two games) has the Browns rolling. Photos
• N.Y. Giants 13, Miami 10
Memo to the NFL: The next time you schedule a regular season game overseas, pay a little more attention to the quality of the playing surface. Photos
• Philadelphia 23, Minnesota 16
Adrian Peterson leads the league in rushing, but the Vikings' instability at quarterback likely will prevent him from breaking the single-season rookie mark. Photos
• Indianapolis 31, Carolina 7
In Marvin Harrison's absence, the Colts' Reggie Wayne (7 catches, 168 yards, TD) showed why he would be a No. 1 receiver on almost any other team. Photos
• Buffalo 13, N.Y. Jets 3
Largely because of injuries (this time to Trent Edwards), the Bills' QB situation will remain a hot topic. Photos
• San Diego 35, Houston 10
Three of Chargers QB Philip Rivers' first six completions went for touchdowns. Yes, this one was over in a hurry. Photos
• Jacksonville 24, Tampa Bay 23
Florida state champs. The Jaguars showed a lot of character by winning in a hostile environment with the green Quinn Gray at quarterback. Photos
• New England 52, Washington 7
Are the Patriots in a league of their own? It looks like it, but we'll find out for sure in Week 9, when they travel to Indianapolis. Photos
•
New Orleans 31, San Francisco 10
Turning the corner.
Drew Brees
' first four games, all Saints losses: 1 TD, 9 INTs. His past three, all wins: 8 TDs, 1 INT.
Photos
-- ESPN.com
Looking ahead
An early look at next weekend's biggest games:
• New England (8-0) at Indianapolis (7-0): Super Bowl XLI½. The game of the year, perhaps the game of the decade.
• Jacksonville (5-2) at New Orleans (3-4): Can the Saints keep it going? Can the Jags win another game with Quinn Gray behind center?
• Dallas (6-1) at Philadelphia (3-4): Probably a must-win game for the Eagles if they want to have any chance of still winning the NFC East.