Week 5: Throwback Titans don't fit league model; Bengals paying for mistakes
James Lang/US Presswire
Week 5 analysis: Titans, Ravens bucking trends
By John Clayton, ESPN.com
BALTIMORE -- Park Avenue, the New York home of the NFL offices, doesn't buy into the styles of the
Baltimore Ravens
and
Tennessee Titans
. The NFL loves scoring because scoring excites fans. It is baseball's equivalent to the long ball, and you know chicks dig the long ball. In the league's eyes, there is nothing better than a three-hour, 30-28 thriller filled with long passes and big plays. Steelers-Ravens and Ravens-Titans isn't marquee in NFL eyes. "We aren't what the league wants,'' Titans linebacker
Keith Bulluck
said of his defensive-minded Titans. "Defense is a mentality. We are trying to come out and stop the offense from scoring, so we know a lot of calls are going to go their way. There are a handful of teams around the league that play great defense and we hope to be one of them.''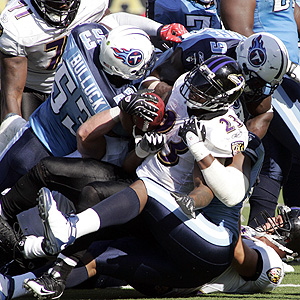 Geoff Burke/US Presswire
Keith Bulluck (game-high 13 tackles) spearheaded another stellar defensive effort by the Titans.
The Titans' 13-10 victory over the Ravens was a throwback to the way football used to be. Officials were using their arms more than quarterbacks Joe Flacco and Kerry Collins. Bill Carollo's crew threw 21 flags for 169 yards. Collins had 17 completions for 163; Flacco had 18 for 153. In fact, had Carollo not called this game closely, it might have ended in a scoreless tie. All four scoring drives were aided by penalties that favored the offense.
Coming into Sunday's action, Park Avenue couldn't have been happier with the scoring trends of the league. The NFL's 45.2-points-a-game average entering Week 5 was the highest-scoring start since 2002 and the second-best since 1979. For the NFL, 2008 is a big score. In a time when shooutouts are the norm, the Titans and Ravens waged an old-fashion grudge match. During the Titans' first defensive series Sunday, Bulluck and Co. knew life was going to be tough. Defensive end
Kyle Vanden Bosch
was offsides on the first play. Then Titans safety
Chris Hope
received a 15-yard unsportsmanlike penalty after mixing it up with a pair of Ravens receivers. The Titans gave up only a field goal. Both defenses played with an intensity rarely seen on the field. Titans cornerback
Cortland Finnegan
got an unnecessary roughness penalty for a sideline hit. As he went back to the huddle, Bulluck stunned him with a two-handed shove to settle him down. Teammates were getting physical with each other. Collins stayed calm through the hard-hitting chaos and rallied the Titans with an 80-yard touchdown drive late in the fourth quarter. Flags helped him. A third-down incompletion was negated by a controversial roughing the passer call on
Terrell Suggs
. What made it so controversial was the play didn't officially exist because left tackle
Michael Roos
committed a false-start penalty. "[Suggs] got him on the side of the helmet,'' Carollo explained later. "We're blowing the whistle, blowing the whistle. He may not have heard that, but he still can't hit the quarterback on the helmet.'' A 12 men on the field penalty against Baltimore turned a potential third-and-10 into a makeable second-and-5. On third down after an incomplete pass, Collins hit
Bo Scaife
for 15 yards and then followed with a game-winning, 11-yard touchdown pass to
Alge Crumpler
. The Titans feel the win in Baltimore is partial revenge for the Ravens' victory over Tennessee in the 2000 playoffs. The Titans were the top seed in the AFC that season but had to watch the Ravens celebrate a Super Bowl victory over the Collins-led Giants. "I think this organization felt [the Ravens] took something from them,'' Bulluck said. "They lost. They can't say much.''
Five things I learned in Week 5
By John Clayton, ESPN.com
1. Don't blame Rodgers
Despite a right shoulder sprain that could have kept him out, Packers QB
Aaron Rodgers
played well against the Falcons. He completed 25 of 37 passes for 313 yards and three touchdowns. "He didn't throw with the velocity he is capable of,'' Packers coach Mike McCarthy said. "But I thought he was effective managing the game.'' Rodgers was fine. The rest of the team wasn't, and the result was a 27-24 loss. Someone has to take the blame for Green Bay's age and lack of depth at cornerback. The Packers stress man-to-man coverage, but
Al Harris
is out with a lacerated spleen and
Charles Woodson
is playing, but can't practice with a broken toe. The Packers let Falcons rookie quarterback
Matt Ryan
throw 26 passes without being sacked and
Roddy White
catch eight balls for 132 yards. The offensive line is another problem. The Packers lead the league in holding penalties and had four more Sunday. The Packers, now 2-3 heading to Seattle, are in trouble. "Our house is messy right now, and it needs to be cleaned up,'' McCarthy said.
Joel Auerbach/US Presswire
Ronnie Brown rushed for 125 yards and a touchdown in Miami's 17-10 victory over San Diego.
2. Wildcat causing mass confusion
Prior to the Titans-Ravens game, I talked with some coaches about the impact of the direct-snap running play -- otherwise known as the Wildcat. One coach said, "I'd run it until they stop it,'' and that's what the Dolphins did in beating the Chargers 17-10. Apparently, San Diego's Ted Cottrell is among many defensive coordinators who haven't figured out how to stop the Wildcat. The Dolphins had 10 direct-snap running plays for 48 yards. They averaged 4.0 yards a carry on their other runs. The direct snap is like direct deposit: it's automatic. As long as the blocking strategy is sound, the direct snap to a good running back such as
Ronnie Brown
sets up a scenario in which the back -- if everyone is blocked -- only has to beat one or two defenders to get his yards. The inability of defenses to figure out the Wildcat is turning a trick play into a solid part of offensive schemes. The Dolphins took the direct snap to new levels Sunday. They used it on two scoring drives that accounted for a combined 279 yards and 10 points. The Dolphins' effective use of the Wildcat and the Chargers' inability to score from the 1-yard line with
LaDainian Tomlinson
are the reasons the talented Chargers are 2-3 instead of 3-2.
3. Perry's no upgrade
The Bengals say Marvin Lewis isn't in jeopardy of being fired despite an 0-5 start. As long as Bengals management keeps bungling roster decisions, Lewis should be immune from job scrutiny. Who let
Rudi Johnson
go and kept
Chris Perry
as the starting running back? Perry's fifth fumble of the season was a big reason the Bengals lost to the Cowboys. Johnson had fumbling problems of his own, but he was also a workhorse. Johnson had more than 1,000 carries between 2004 and 2006, fumbling 11 times. Perry has five fumbles in 85 carries this season. His lost fumble on Sunday was a momentum killer in Cincinnati's 31-22 loss. Early in the fourth quarter, the Bengals cut the deficit to 17-16, and they had good field position at the Cowboys' 37.
Carson Palmer
was starting to get into a groove. With 12:42 left in the game, Perry held the ball loosely and Cowboys defensive tackle
Tank Johnson
knocked it out. There was no reason to release Johnson. Heading into camp, the Bengals had a deep running back corps that featured Johnson, Perry and
Kenny Watson
. They cut Watson to make room for wide receiver
Chris Henry
, so now if they want to bench Perry, the Bengals have to go to
Cedric Benson
, who has been with them for less than a week. Management turned a strength into a weakness.
4. Eagles an enigma in red zone
Red zone woes continue to haunt the Eagles, who had a 14-0 lead over the Redskins after an opening touchdown drive and a 68-yard punt return for a score by
DeSean Jackson
. After that, the Eagles hit a red light when it came to the red zone. Late in the second quarter, they drove to the Redskins' 32 and had to settle for a 50-yard
David Akers
field-goal attempt that went wide right. The killer was in the fourth quarter. Trailing 23-14, the Eagles were desperate for a touchdown.
Donovan McNabb
worked an efficient 12-play, 86-yard drive. A 9-yard completion to
Reggie Brown
put the Eagles at the Redskins' 2 with a second-and-1.
Brian Westbrook
was stopped for no gain on second down. He tried to run around left end on third down and lost 3 yards. The Eagles had to settle for a 23-yard field goal and a 23-17 deficit. The inability to get a touchdown ruined their chances to pull off a comeback victory.
5. Texans cough it up
The Reliant Stadium roof might be in better shape than the Texans following Sunday's 31-27 collapse against the Colts. The roof can be repaired. The Texans' season cannot. How the Texans blew a 17-point lead in the final eight minutes defies description. The retirement of defensive tackle
Quinn Pitcock
, the release of defensive tackle
Ed Johnson
because of personal problems and the injury to safety
Bob Sanders
(high ankle sprain) have left the Colts vulnerable to a good run game. Houston coach Gary Kubiak established the run, and it helped the Texans build a 27-10 lead. Midway through the fourth quarter, the Texans had 146 rushing yards on 28 carries. Then the unthinkable happened. Instead of being safe with the ball, QB
Sage Rosenfels
tried to do a
John Elway
helicopter jump on a third-down run and lost the ball.
Gary Brackett
returned the fumble 68 yards for a touchdown, cutting the Texans' lead to 27-24. Three plays later, Rosenfels had the ball stripped by defensive end
Robert Mathis
, eventually setting up a 5-yard touchdown pass from
Peyton Manning
to
Reggie Wayne
.
John Clayton's game balls

Portis
•
Offense:
In the fourth quarter of the Redskins' victory over the Cowboys in Week 4, Redskins head coach Jim Zorn told halfback
Clinton Portis
he was going to use him more going forward. Portis was delighted. He loves being the workhorse back. On Sunday, he carried the Redskins to yet another key road victory in the NFC East -- a 23-17 win over the Eagles. Portis won a game ball for his tough running, with a Sunday-best 145 yards on 29 carries. In the second half, when yards are tougher to come by, he had 102 yards on 18 carries. Early in his career, Portis was known more for his speed than his power. As he grows older, he has shown he can handle the tough inside runs. Portis led all NFL runners with 325 carries last year and he very well could be the league's top workhorse again this season.

Brackett
•
Defense:
One play can earn a game ball.
Gary Brackett
's ability to pick up a
Sage Rosenfels
fumble and take it 68 yards for a touchdown ignited the Colts' incredible comeback victory over the Texans. Leading 27-17, Rosenfels tried to get greedy on a third-and-8 at the Colts' 39. Heading into field-goal range, Rosenfels tried to leap for the first down, but he was spun around by cornerback
Marlin Jackson
and defensive lineman
Raheem Brock
. The ball came out and Brackett picked it up. Brackett was undrafted because he's short and he lacks speed. What scouts -- except for those in Indianapolis -- neglected to see was his smarts and heart. Brackett picked up the ball with 3:54 left in regulation and started to weave his way down the right sideline. With Indy trailing by 10, it was going to be hard for the Colts' offense to put together two scoring drives in less than four minutes, particularly with the way the Texans had been able to run the football. After Brackett went the distance, it didn't have to.

Jackson
•
Special teams:
Early in the season, it's hard to turn a punt or kickoff return into a touchdown, because coverage teams are reasonably fresh and aren't worn down by injuries. For the fourth time in the past five seasons, only five punt or kickoff returns resulted in touchdowns during the first four weeks of the season. That's what makes
DeSean Jackson
's 68-yard punt return for a touchdown so special. He broke it smoothly down the left side of the field and outraced the Redskins' special teams. It gave the Eagles a 14-0 first-quarter lead and should have given them the momentum to win. Jackson, a rookie who has exceeded expectations as a receiver, continues to impress. Jackson had a 60-yard return earlier this season, but he had only 97 yards on his other 15 returns heading into Week 5. Jackson was overdue. Most outside of Philly thought the Eagles drafted him for his return ability. As it turned out, they took him as a receiver first and a returner second. On Sunday, he had his first return touchdown. It won't be his last.
ESPN video
Week 5 rundown
•
Chicago 34, Detroit 7
Is Bears QB
Kyle Orton
becoming more than just a game manager? After his first career three-TD performance in Week 4, Orton threw for 334 yards against the Lions.
Photos
• Atlanta 27, Green Bay 24
This is supposed to be a rebuilding year for the Falcons. Well, they didn't look like a team in rebuilding mode on Sunday and Matt Ryan didn't look like a rookie QB. Photos
• Miami 17, San Diego 10
As Ronnie Brown goes, so go the Dolphins. Brown rushed for a combined 48 yards in Weeks 1 and 2, and Miami lost both times. Since then, Brown has delivered 113- and 125-yard games and the Dolphins have won two straight. Photos
• N.Y. Giants 44, Seattle 6
Are the defending Super Bowl champs the best team in football? We won't know for sure until the second half of the season, when the Giants' schedule gets a lot tougher. Photos
• Washington 23, Philadelphia 17
Don't expect the red-hot Redskins to cool off anytime soon. Winners of four straight, Washington's next three opponents are the Rams, Browns and Lions (combined 1-11). Photos
• Carolina 34, Kansas City 0
Three first-half touchdowns by DeAngelo Williams (124 rushing yards) got the Panthers rolling. After an impressive performance in Week 4, the Chiefs' offense reverted to its offensive form (127 total yards) Sunday. Photos
• Tennessee 13, Baltimore 10
The Ravens and Titans haven't been division rivals since 2001. You wouldn't have known it watching Sunday's game. Tempers flared often as the teams combined for 21 penalties for 159 yards. Photos
• Indianapolis 31, Houston 27
How quickly can fortunes change in the NFL? Sage Rosenfels was on the verge of possibly wrestling the Texans' QB job away from Matt Schaub. Then he almost single-handedly (two fumbles and an INT in the final four minutes) cost the Texans what could have been a season-reviving victory. Photos
• Denver 16, Tampa Bay 13
Invesco Field was never really a great place for Brian Griese when he was a Bronco. He didn't exactly exorcise any demons Sunday, when he was knocked out of the game by a blitzing Champ Bailey. Photos
• Dallas 31, Cincinnati 22
The Cowboys won, but is T.O. still upset? After complaining about having 20 balls thrown his way in Week 4, he had only two catches Sunday. Photos
• Arizona 41, Buffalo 17
A little home cookin' helped Cardinals QB Kurt Warner (33-of-42, 250 yards, two TDs) bounce back from his dreadful six-turnover performance against the Jets in Week 4. Photos
•
New England 30, San Francisco 21
The Patriots got some big plays, but their ability to control the clock was the key to victory. New England won the time-of-possession battle 39:52 to 20:08.
Photos
•
Pittsburgh 26, Jacksonville 21
Another week, another nail-biter for the Steelers. Since their blowout victory over Houston in Week 1, the Steelers have won three games by a combined 12 points.
Photos
•
Monday Night Football: Saints at Vikings
(ESPN, 8:30 ET)
Vikings, beware. The Saints' Drew Brees could be the NFL's best quarterback. He gets a chance to show the nation Monday.
Pat Yasinskas
•
Football Outsiders: Vikings' dynamic duo at RB
•
Play animation: Vikes' counter, Saints' bootleg
•
Podcast preview

|
MNF Surround
|
Win $1M
-- ESPN.com
Looking ahead
An early look at next weekend's biggest games:
• Carolina (4-1) at Tampa Bay (3-2): Can the Panthers take control of the NFC South? Who will be quarterbacking the Bucs?
•
Jacksonville (2-3) at Denver (4-1):
This matchup has produced many entertaining games over the years. Will Denver's D show up for two straight weeks? •
New England (3-1) at San Diego (2-3):
Can the struggling Chargers avenge last season's AFC title game loss? •
Week 6 schedule