Week 7: No one immune to blowouts; Panthers solve Brees
Jeff Gross/Getty Images
Week 7 analysis: Blowouts becoming commonplace
By John Clayton, ESPN.com
CHARLOTTE, N.C. -- What's weird about the 2008 season is there have been an extraordinary number of blowouts. It wasn't a surprise that the Steelers blew out the Bengals by 28 or the Titans blasted the Chiefs by 24. The meek take a whipping on any given Sunday. But even the good teams were victimized in Week 7. The Rams blew out the Cowboys by 20. The Packers destroyed the Colts by 20. On Sunday, the average margin of victory was 13.8 points. The NFL is all about parity, but parity is taking a beating so far in 2008. Of the first 101 games, 24 have been decided by 20 or more points. Over the past five seasons, 45.3 percent of games were decided by seven points or less. This year, the number is down to 43 percent. "There is no answer for it,'' Panthers quarterback
Jake Delhomme
said following his team's 30-7 blowout of the Saints. "I don't know why. Last week against the Bucs, we had a punt blocked for a touchdown and I had a pass bounce off
Dante Rosario
and it went right to the safety. They had the ball at the 20 and made the score 14-0. And the one team you never want to play behind against is Tampa Bay.'' The Bucs won that game 27-7. What we're starting to see is games of extremes. The Panthers, for example, refocused after their 20-point loss to the Bucs and now the Saints will have to do the same after their blowout loss to the Panthers. "That's what the NFL is about,'' Panthers coach John Fox said. "It's 16 hard weeks. It's a game of momentum. There are ebbs and tides every week.''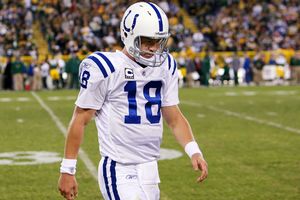 Stephen Dunn/Getty Images
Yes, you read that right: Peyton Manning threw two interceptions that were returned for touchdowns.
How do games turn into blowouts? Turnovers and other mistakes are the main culprits:
• Cowboys quarterback
Brad Johnson
, trailing the Rams 14-7 in the first quarter, was intercepted by Rams linebacker
Will Witherspoon
at the Cowboys' 19. The Rams then scored on a
Steven Jackson
touchdown run to open a 21-7 lead. In the second half,
Nick Folk
missed a 46-yard field-goal attempt. Two plays later, Jackson scored on a 56-yard touchdown run. Two more interceptions down the stretch sealed the Cowboys' fate. • Normally, when
Peyton Manning
falls behind by 10 points or more, he'll answer back with touchdown passes. Against the Packers, his second-half touchdown passes went to the Packers. Trailing 17-7 in the third quarter, safety
Nick Collins
returned a Manning interception 62 yards for a touchdown. In the fourth quarter, safety
Aaron Rouse
returned one 99 yards for a score. The comeback attempt turned into a disaster for the Colts. •
Drew Brees
is normally unflappable, but things fell apart for him and the Saints in the third quarter against the Panthers. Cornerback
Ken Lucas
' interception of a Brees sideline pass intended for
Marques Colston
set up an easy 18-yard touchdown drive for the Panthers, giving them a commanding 27-7 lead. On the next two possessions, the Saints were stopped on fourth-and-short, and they now head to London with a 3-4 record. "We turned the ball over, we allowed big plays,'' Saints coach Sean Payton said. "We did all the things that keep you from winning games.''
Five things I learned in Week 7
By John Clayton, ESPN.com
1. Bye, Bye Brodie
The
Brodie Croyle
era appears to be over in Kansas City. Croyle blew out his knee on a legal hit by Titans defensive tackle
Albert Haynesworth
in the first half of Kansas City's 34-10 loss, ending his season, and perhaps thoughts that he could be the Chiefs' quarterback of the future. Croyle was drafted out of Alabama in 2006 with a history of brittleness. Herm Edwards joked in the summer that Croyle is one of those guys who just has weird things happen to him. His Chiefs career has consisted of 13 games and eight starts. He has lost all eight of those starts. His knee injury was just his latest setback. In Week 1, he separated his right shoulder, and he's been hurt in four of his 12 appearances. Against the Titans, he completed nine of his first 10 passes, but for his career, he's averaging only 5.4 yards per throw and has only six touchdown passes.
2. Rushing back is risky business
The Saints and Cowboys learned painful lessons Sunday. You can't rush Mother Nature. Cowboys safety
Roy Williams
apparently came back from his broken forearm too early. He broke it again against the Rams and now he's done for the season. Saints tight end
Jeremy Shockey
returned to the field only two weeks following sports hernia surgery and now realizes he came back to soon. Following Sunday's 30-7 loss to the Panthers, Shockey said he felt a spot on his leg that "wasn't there before." He wasn't sure if he damaged scar tissue or made the hernia worse. All he knew was that he was in a lot of pain and was uncertain of his immediate playing future. Eagles wide receiver
Kevin Curtis
and Cowboys cornerback
Terence Newman
had six- to eight-week recoveries from their sports hernia surgeries. Shockey is a gamer and he wanted to play, but now he regrets it. He had a first-half fumble that resulted in a Panthers touchdown drive. He also admitted to a missed block that cost the Saints a chance to score. And to think, the Cowboys were going to rush
Tony Romo
back one week after breaking his right pinkie finger. Wisely, Romo sat. This wasn't the week for miracle comebacks.
3. The mighty have fallen
Because of
Peyton Manning
,
Tom Brady
and
Philip Rivers
, the Colts, Patriots and Chargers entered the season as the league's top seeds. Oh, how things change. Could the Chargers look any more ordinary than they did during Sunday's 23-14 loss to the Bills? Buffalo QB
Trent Edwards
completed 25 of 30 passes for 261 yards and wasn't sacked. Sure, the loss of LBs
Shawne Merriman
and
Jyles Tucker
have taken away a good percentage of the pass rush. But opposing offenses aren't fearing any facet of the Chargers' defense this season. The Colts are normally fast starters. Their problems on defense -- namely their tendency to get pushed around on running downs -- have made them false starters. Overall, the Colts have been outscored 40-20 in the first quarter and 71-58 in the first half. Manning works best with the lead and so do the Colts. When they have the lead, the Colts are able to crank up the speed on defense and pressure quarterbacks. When they trail, the defense wears down against teams that can run. Without Brady, the Patriots, who host the Broncos on Monday night, have lost two games by more than 20 points, and no one expects quarterback
Matt Cassel
to put more than 17 or 18 points on the scoreboard. The big three are a combined 9-10.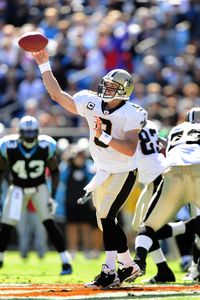 Bob Donnan/US Presswire
The Panthers held Saints QB Drew Brees to 231 passing yards -- his second-lowest total of the season.
4. Panthers provide blueprint
The Panthers became the first team to figure out how to contain Saints quarterback
Drew Brees
, who entered Sunday's game averaging 332 passing yards per game. Brees was 21-of-39 for 231 yards against Carolina, but he completed more short passes than long ones in the 30-7 loss. "That's one thing that came from watching film,'' Panthers cornerback
Ken Lucas
said. "They get a lot of big plays from a lot of people, so we wanted to be aggressive and throw the timing off and not give them enough time to let wide receivers run down the field free because they have a lot of team speed.'' The Panthers' cornerbacks used more press coverage at the line of scrimmage to throw off New Orleans' timing. Carolina made sure it had a good coverage person on
Reggie Bush
when he lined up to run routes. When Bush tore a meniscus in his left knee and couldn't return for the second half, the Saints' offense wasn't the same. The Panthers can play excellent man-to-man coverage when they choose to do that. It helped that defensive end
Julius Peppers
had one of his best games of the season. He was constantly harassing Brees. Brees might be the first-half MVP, but the Panthers wanted to hold him to under 200 yards passing. If you take away a meaningless 54-yard completion to
Devery Henderson
during garbage time, they succeeded.
5. Vikings not so special
Special teams can win games -- and lose games. The Vikings are 3-4 because they have flawed special teams, which have given up five touchdowns. Bush had two punt returns for touchdowns in Week 5 against the Vikings.
Will Blackmon
of the Packers had a 76-yard punt return for a touchdown against Minnesota in Week 1. On Sunday, the Vikings saw a blocked punt and a muffed punt return result in two Chicago touchdowns in a 48-41 loss. Wasting away are 100-yard rushing games by
Adrian Peterson
and two-sack games by
Jared Allen
. The Vikings went for star power. They traded for Allen. They drafted Peterson. They have Kevin Williams and
Pat Williams
at defensive tackle. But the little things are killing them. Special teams woes are making the Vikings a not-so-special team.
John Clayton's game balls

Jackson
•
Offense:
It was only a matter of time before
Steven Jackson
had a breakout game. The league's highest-paid running back had 160 yards and three touchdowns on 25 carries in the Rams' 34-14 upset of the Cowboys. He had two touchdowns in the first half and broke the game open with a 56-yard touchdown in the third quarter. In the first quarter, when the Cowboys' defense was fresh, Jackson had 50 yards on 10 carries and two touchdowns. His TD runs of 8 and 1 yards helped St. Louis build a 21-7 lead. Suddenly under interim coach Jim Haslett, the Rams -- winless under Scott Linehan -- have confidence. Jackson loves the action. He has 100-catch potential and believes he could rush for 2,000 yards in a season if given the chance. However, Jackson suffered a quad injury late in the game. He'll get an MRI on Monday, but he said he expects to play against the Patriots in Week 8.

Ware
•
Defense:
They say sacks come in cycles. Well, Cowboys linebacker
DeMarcus Ware
is proving sacks can come every week if you hustle. Ware tied an NFL record by getting a sack in his 10th consecutive game. Former Bronco Simon Fletcher is the only other player to accomplish the feat (Nov. 15, 1992, to Sept. 20, 1993). Ware had three sacks in Sunday's 34-14 loss to the Rams. Ware, who has nine sacks this season, was
every-Ware
against the Rams. He led the Cowboys with seven tackles, and he had four tackles behind the line of scrimmage and three quarterback hits. While Ware may have tied an NFL record, he still doesn't hold the team record. That honor goes to Harvey Martin, who had an 11-game streak from 1976 to 1977, before the NFL started keeping leaguewide stats on quarterback sacks.

Janikowski
•
Special teams:
At 6-foot-2, 250 pounds,
Sebastian Janikowski
has what is widely believed to be the strongest leg in football. He's lined up for some of the longest kicks in NFL history, but surprisingly, he hasn't been that great from outside 50 yards. For his career, he's only 18-of-39 from outside 50 yards, a modest 46.2 percentage. On Sunday, he was record-setting. He boomed a 57-yarder in overtime to give Oakland a 16-13 victory over the Jets. The 57-yarder was the longest to ever win a game in overtime, and it prevented the NFL's first tie in six years. More important, he gave Raiders fans a moment of excitement in what has been a frustrating season.
ESPN video
Week 7 rundown
•
Buffalo 23, San Diego 14
After their convincing victory over New England in Week 6, the Chargers appeared to be emerging as the team to beat in the AFC. Does that title now belong to the 5-1 Bills?
Photos
• Chicago 48, Minnesota 41
The Bears' defense gave up a lot of yardage (439), but it made plenty of big plays with the game on the line. Still, the Bears need to figure out why they're constantly blowing sizable second-half leads. Photos
• Pittsburgh 38, Cincinnati 10
Thanks to Mewelde Moore (120 rushing yards in Week 7; 99 yards in Week 6), the Steelers' ground game has been able to withstand injuries to Larry Parker and Rashard Mendenhall. Photos
• Tennessee 34, Kansas City 10
Will the Chiefs ever find out what they have in QB Brodie Croyle? When it comes to durability, Croyle has established himself as the anti-Brett Favre. Photos
• St. Louis 34, Dallas 14
Are things falling apart in Dallas? Brad Johnson (17-of-34, three INTs) was bad, but he wasn't the Cowboys' only problem Sunday. Photos
• Baltimore 27, Miami 13
Is the Joe Flacco bandwagon filling up once again? After a couple of supbar games, Flacco (17-of-23, 232 yards, no INTs) flashed the form that made him an early season fan favorite in Baltimore. Photos
• N.Y. Giants 29, San Francisco 17
The 49ers are reeling (four straight losses), and it's easy to see why. Against the defending champs, the Niners played like chumps (three turnovers, 134 penalty yards). Photos
• Carolina 30, New Orleans 7
So much for the Saints' offense being unstoppable. Before Sunday, QB Drew Brees had been able to thrive despite a banged-up receiving corps. Will he continue to flourish if Reggie Bush's knee injury turns out to be serious? Photos
• Houston 28, Detroit 21
A tough remaining schedule. Dan Orlovsky at QB. A coach who appears to be on his way out. Can the Lions go winless? Don't rule it out. Photos
• Green Bay 34, Indianapolis 14
We thought the Colts' offense was back. Apparently we were wrong. Many of the Colts' early season problems resurfaced in Green Bay. Photos
• Oakland 16, N.Y. Jets 13 (OT)
The good news for the Jets? They finally got their running game going, as Thomas Jones ran for 159 yards on 24 carries. The bad news? Their passing game disappeared in the Black Hole. Photos
•
Washington 14, Cleveland 11
Looking for MVP candidates?
Clinton Portis
(four straight 100-yard games) is emerging as a bona fide candidate.
Photos
•
Tampa Bay 20, Seattle 10
Times are tough for the Seahawks' offense. Quarterback
Seneca Wallace
averaged 2.5 yards per completion Sunday night. Seattle's leading receiver?
Keary Colbert
, who had two catches for 18 yards.
Photos
•
Monday Night Football: Denver at New England (ESPN, 8:30 ET)
The Patriots' secondary was shredded by the Chargers' Philip Rivers in Week 6. Uh-oh ... Denver's Jay Cutler is in town for Week 7.
Graham
|
Watch: Field Pass
•
Football Outsiders: Patriots' defense can't hide
•
Animations: Broncos' play action, Pats' shotgun
•
Podcast

|
Streak: Win $1M
|
Jaworski

-- ESPN.com
Looking ahead
An early look at next weekend's biggest games:
• Tampa Bay (5-2) at Dallas (4-3): Will the Cowboys' tailspin continue? The Bucs' defense is sure to make things difficult for whoever is playing QB for Dallas.
•
N.Y. Giants (5-1) at Pittsburgh (5-1):
A Super Bowl preview? •
Indianapolis (3-3) at Tennessee (6-0):
Amazingly, the undefeated Titans are still flying under the radar. This a great chance for Tennessee to make a statement. •
Week 8 schedule