Week 8: Running games hit the wall; Favre fighting Father Time
Laurence Griffiths/Getty Images
Week 8 analysis: Nowhere to run
By John Clayton, ESPN.com
PHILADELPHIA -- With four teams that feature the 4-3 defense on a bye (Chicago, Minnesota, Green Bay and Denver), 3-4 schemes seized the spotlight in Week 8. The result? A tough day for running backs and a big day for quarterbacks and receivers. There were 13 100-yard wide receivers, six 300-yard quarterbacks and only four 100-yard rushers. The 3-4 defense is geared toward stopping the run. In Week 8, that part of the strategy worked. Carolina's
DeAngelo Williams
was the only halfback to gain 100 yards against a 3-4 with his 108-yard effort against the Cardinals. The most interesting matchup was the Giants' power run game against the Steelers' physical 3-4. The Steelers were one of the few teams this season to stuff 260-pound halfback
Brandon Jacobs
, holding him to 47 yards on 18 carries. (By the way, doesn't it seem strange to call Jacobs at halfback when he's that big?) Overall, the No. 1 rushing team in football had only 83 yards on 35 carries against the league's No. 2 run defense. With the Steelers stacking against the run, the Giants tried to open it up through the air, but even that was tough.
Eli Manning
was 19-of-32 for 199 yards. The Raiders were helpless with
Darren McFadden
inactive and QB
JaMarcus Russell
unable to beat the Ravens through the air. The Raiders, the league's fifth-best running team, had only 47 yards rushing even though interim coach Tom Cable wanted to emphasize the run against the Ravens. "In the first half, we just got our tails whipped on both sides of the ball, and there's really no other way to put it,'' Cable said. "We talked a lot this week about who they are and what they are in terms of being physical, and that they're going to bring the game to you, and you've got to bring it back to them.'' The Ravens brought it back to them with an easy 29-10 blowout. Even though they were highly effective against the run, the 3-4 schemes were far from perfect Sunday. Speed receivers, taking advantage of blitz packages and one-on-one coverage, were able to make some big plays.
Donnie Avery
of the Rams caught six passes for 163 yards against the Patriots.
Matt Jones
of the Jaguars got behind the Browns' 3-4 defense -- particularly in the second half -- for 117 yards on eight catches.
Lee Evans
of the Bills beat the Dolphins' 3-4 for 116 yards on seven catches. What those three receivers had in common, though, was that their teams lost, mainly because their opponents' 3-4 took away the run.
Five things I learned in Week 8
By John Clayton, ESPN.com
1. Favre finally showing his age
For the past couple of weeks,
Brett Favre
hasn't looked like Brett Favre. He shoulders the burden of turning around the Jets, but his right shoulder is wearing down. The ironman of football is showing some rust and the banged-up shoulder is making him look old. Against a defenseless Chiefs team, Favre threw three interceptions in New York's 28-24 victory. "It didn't feel great,'' Favre said of his right shoulder after the game. Some boos were heard at the Meadowlands, something no one expected when the Jets traded for the legendary quarterback. Favre was able to rally the Jets to a come-from-behind victory, but New York shouldn't be struggling to beat one of the worst teams in football using a third-string quarterback. The Jets are in the AFC East title hunt at 4-3, but they could easily fall to the bottom of the division as well. Since the Jets' Week 5 bye, Favre has thrown seven interceptions and only three touchdowns against Cincinnati, Oakland and the Chiefs -- teams with a combined record of 3-19.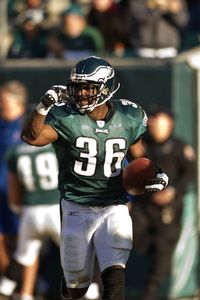 Howard Smith/US Presswire
To no one's surprise, Brian Westbrook's healthy return coincided with a big day for the Eagles' offense.
2. Westbrook proves worth -- again
Once again,
Brian Westbrook
proved he is the Eagles' most valuable player, maybe even more valuable than
Donovan McNabb
. Westbrook
was
the Eagles' offense on Sunday, rushing for 167 yards and two touchdowns, and leading the team with six catches for 42 yards. Westbrook led a hard-fought, 27-14 victory over the Falcons that put Philadelphia at 4-3 and back in the playoff hunt. Since 2004, Westbrook has missed 11 games because of injuries. In those games, the Eagles averaged only 18.8 points and 288 yards of offense. In the 60 games he's played since 2004, the Eagles averaged 23.65 points and 365.33 yards. Westbrook is worth almost five points and an additional 77.33 yards a game. "You have to dial him up first,'' Eagles coach Andy Reid said of Westbrook. "He was dialed up, and he did a nice job.'' Before last week's bye, Westbrook had been slowed by fractured ribs and a sore ankle. The ribs still bothered him when he was jarred on some hits, but that pain didn't affect his performance. The Eagles still had trouble near the goal line, but Westbrook's return was the right antidote for their offensive problems.
3. Steelers in world of hurt
Injuries catch up to every team, and that's the story of the
Pittsburgh Steelers
. Heading into Week 8, they were down two running backs (
Willie Parker
and
Rashard Mendenhall
). Wide receiver
Santonio Holmes
was deactivated for being caught with marijuana in his car.
Bryant McFadden
, finally evolving as a top-flight cornerback, is out five weeks with a surgically repaired forearm. Coach Mike Tomlin's group is relentless, but it all fell apart on Sunday when long-snapper
Greg Warren
blew out an ACL in the second half, forcing linebacker
James Harrison
to fill in. Harrison was long on a snap that sailed over the head of punter
Mitch Berger
(who was punting despite a leg injury) and through the end zone. The safety tied the game and put the Giants in position to drive for the game-winning touchdown in a 21-14 victory. To his credit, Tomlin didn't make any excuses, but the Steelers are playing one of the toughest schedules in 25 years, with more backups creeping into the lineup each week. Safety
Ryan Clark
dislocated a shoulder, according to Tomlin, and cornerback
Ike Taylor
was banged up. So let's see: Clark's injury leaves the Steelers vulnerable in the secondary. They can't get Parker healthy. Their upcoming schedule includes Washington, Indianapolis and San Diego. The Steelers can't catch a break, unless it's a broken bone.
4. Singletary's shockwaves
Mike Singletary meant well. He's from the old school. He believes football players should play hard and with passion. Still, he was a little over the top in his first game as interim coach of the 49ers, a 34-13 loss to the Seahawks. Tight end
Vernon Davis
received a 15-yard penalty for getting in the face of a Seahawks defender after making a first-down reception. Singletary thought the penalty was a selfish act and basically ejected Davis. Singletary told Davis he would better help the team by taking a shower and watching the game from the sidelines. Ouch. The great story of
J.T. O'Sullivan
coming out of nowhere and seizing the 49ers' QB job all but ended when Singletary benched him after he threw an interception that was returned for a touchdown. After the game, Singletary said
Shaun Hill
, who replaced O'Sullivan, gives the team a better chance to win. Singletary is trying to deliver a wake-up call to a sleeping franchise, but he could be in danger of losing this team quickly. If he ejects every 49er who makes a mistake, Singletary won't have 22 starters. Football is too emotional of a sport to make rash personnel decisions. Singletary shouldn't apologize for his old-school philosophies, but he needs to find a way to make them work with the modern player.
5. Pats perilously thin at corner
Are the Patriots kicking themselves for letting CB
Asante Samuel
go? Samuel, now with the Eagles, played like a Pro Bowler against the Falcons. He intercepted a pass and contested three key attempts to Falcons No. 1 receiver
Roddy White
. Meanwhile, up in Foxborough, Patriots coach Bill Belichick is scrambling just to find bodies to play cornerback.
Deltha O'Neal
went out with an injury against the Rams.
Ellis Hobbs
was in and out of the lineup.
Lewis Sanders
, the third corner, was inactive.
Mike Richardson
, a corner signed off the practice squad, was injured on the final kickoff of the game and Belichick was forced to move safety
Brandon Meriweather
to corner to help out against St. Louis' four-receiver set. The Patriots won 23-16, but Rams quarterback
Marc Bulger
completed 18 of 34 passes for 301 yards. "We were scrambling in the secondary, there is no doubt about that,'' Belichick said. "We took that timeout after the kickoff to get organized because we're trying to find bodies to put out there.'' The Patriots tried to replace Samuel and
Randall Gay
(Saints) with minimum-salary veterans and a couple of rookie draft choices. Somehow, Belichick has the Pats at 5-2. Still, at some point, the problems in the secondary, amplified by the leadership loss of safety
Rodney Harrison
, could come back to haunt this team.
John Clayton's game balls

Johnson
•
Offense:
Reggie Jackson may be baseball's Mr. October. But
Andre Johnson
has been Mr. October in the NFL in 2008. Against the Bengals, Johnson caught 11 passes for 143 yards, and throughout this month, Johnson has been the most reliable receiver in football. He's caught 41 passes for 591 yards in four October games, and the last three of those were victories. Opposing teams send defenders from everywhere to cover Johnson near the red zone, which is why he has only two touchdowns this season. But defenses can't stop Johnson between the 20s, and he's having a monster season as a result, with 56 catches for 772 yards. In the Texans' past three wins, he has caught 10, 11 and 11 passes, and he has put together games of 178, 141 and 143 yards. It's amazing to think that an 11-catch, 143-yard day is becoming routine, but it is for Mr. October.

Rogers
•
Defense:
The Bengals had
Shaun Rogers
in a trade, but then decided at the last minute to not accept the terms offered by the
Detroit Lions
. Well, the Bengals haven't won a game. The Browns, who in the past couldn't stop opponents on the ground, beat the Jaguars 23-17 on Sunday largely because of Rogers. The Cleveland nose tackle was the most dominating interior defender in the league in Week 8, with nine tackles, a sack, a tackle for a loss and three quarterback hits. Rogers was all over the field. The only running attack the Jaguars could muster was by QB
David Garrard
, who scrambled for his life (59 yards on seven carries).
Fred Taylor
and
Maurice Jones-Drew
combined for 53 yards on 20 carries, and their longest runs were 5 yards each. Rogers is a 340-pound defensive lineman making the conversion to nose tackle. Keeping backs inside a 5-yard box is no problem for a 340-pounder who doesn't like to run more than 10 yards.

Moss
•
Special teams:
Santana Moss
makes his living as the Redskins' No. 1 receiver. With coach Jim Zorn calling the plays, he's getting chances to make more double moves and deep routes. After putting the Redskins ahead of the Lions with a 50-yard TD reception from
Jason Campbell
with 10:39 left in the third quarter, Moss returned a punt 80 yards for another score early in the fourth. Moss weaved through the Lions' special teams and became the first Redskins player to have a touchdown reception and a punt return for a touchdown in the same game. The Redskins won 25-17.
ESPN video
Week 8 rundown
•
Dallas 13, Tampa Bay 9
Until
Tony Romo
returns, Cowboys fans should probably get used to watching their team win ugly. In the meantime, Dallas' defense better get used to playing without a large margin for error.
Photos
• Washington 25, Detroit 17
The Lions looked poised to pull off the upset. The Redskins' big three of Jason Campbell (23-of-28, 328 yards), Clinton Portis (126 rushing yards) and Santana Moss (nine catches, 140 yards, TD) made sure it didn't happen. Photos
• Miami 25, Buffalo 16
The Dolphins have been mocked repeatedly for drafting Ted Ginn Jr. No. 9 in 2007. If Ginn continues to play like he did on Sunday (seven catches, 175 yards), Miami will get the last laugh. Photos
• New England 23, St. Louis 16
Are the Patriots as good as last year's version? No. After two straight wins, are they once again the team to beat in the AFC East? Probably. Photos
• New Orleans 37, San Diego 32
It's hard to keep a good quarterback down. Drew Brees (339 yards, three TDs) bounced back nicely from a subpar Week 8 performance, outdueling his former backup and leading the Saints past his former team. Photos
• N.Y. Jets 28, Kansas City 24
The Jets survived, but they remain an enigma. Since his six-TD performance in Week 4, Brett Favre has thrown seven interceptions and only three TD passes in New York's past three games. Photos
• Philadelphia 27, Atlanta 14
Donovan McNabb wasn't great, but he didn't have to be -- thanks to Brian Westbrook (209 yards from scrimmage), whose return sparked the Eagles' offense. Photos
• Carolina 27, Arizona 23
The Cardinals are getting better on the road, but they need that elusive breakthrough victory before they can be viewed as serious contenders in the NFC. Photos
• Baltimore 29, Oakland 10
Willis McGahee, Ray Rice and Le'Ron McClain each made significant contributions as the Ravens outrushed the Raiders 192-47. Photos
• Cleveland 23, Jacksonville 17
Who needs Kellen Winslow? Both of the Browns' biggest wins this season (Sunday over the Jags; Week 6 over the Giants) came without the services of their star tight end. Photos
• Houston 35, Cincinnati 6
When the Matt Schaub-Andre Johnson tandem is clicking, the Texans are tough to stop. In Houston's past two games -- both wins -- Schaub and Johnson have connected on 22 passes for 284 yards. Photos
•
N.Y. Giants 21, Pittsburgh 14
Ah, the value of a good long-snapper. The knee injury to little-known
Greg Warren
turned out to be a big blow to the Steelers.
Photos
•
Seattle 34, San Francisco 13
With a injury-riddled receiving corps, the Seahawks turned to ... fullback
Leonard Weaver
, who caught four passes for 116 yards and two TDs.
Photos
•
Monday Night Football: Indianapolis at Tennessee (ESPN, 8:30 ET):
Kerry Collins' takeover as Titans quarterback was anything but hostile. How will he match up against Peyton Manning's Colts on MNF?
Kuharsky
|
Discuss
•
Outsiders: Despite penalties, Titans' D thrives
•
Play animations
|
Podcast

|
Streak: Win $1M
-- ESPN.com
Looking ahead
An early look at next weekend's biggest games:
• Dallas (5-3) at N.Y. Giants (6-1): Will the Giants have Plaxico? Will they need him?
•
New England (5-2) at Indianapolis (3-3):
This is still big -- just not quite as big as it usually is. •
Pittsburgh (5-2) at Washington (6-2):
Another tough NFC East opponent for the Steelers. Will Pittsburgh have enough able bodies? •
Week 9 schedule