John Clayton's Last Call: Stingy Ravens D sends Denver to first loss
AP Photo/John Russell
Week 8 observations: Five things I learned
By John Clayton, ESPN.com
1. Ravens solve Broncos:
The Ravens were the first team to unravel the mystery of the
Denver Broncos
, who had their six-game winning streak snapped in a 30-7 blowout in Baltimore. In many ways, the Ravens' defense had a perfect game plan. Broncos quarterback
Kyle Orton
doesn't throw the ball long. Entering the game, he had only 16 passes that went longer than 21 yards in six games. The Ravens kept one safety deep in coverage and designed their pass defense to keep Denver's receivers in front of it. "We blitzed a lot more with a safety playing high," Ravens cornerback
Domonique Foxworth
said. "It puts pressure on the secondary but it also put pressure on the quarterback. The way to beat that is screen and hitches, but we did a good job of coming to the ball."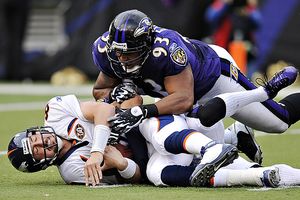 AP Photo/Nick Wass
The Ravens sacked Broncos QB Kyle Orton twice and held him to 152 passing yards.
Ravens middle linebacker Ray Lewis said the key was keeping receivers Brandon Marshall and Eddie Royal in front of the defensive backs and rushing three and four defenders to stop them. It worked. Orton passed for only 152 yards; according to ESPN Stats & Information, Orton completed only 4 of 10 passes for 17 yards when the Ravens brought extra pressure.
On offense, the Ravens negated the ability of Denver's defense to make second-half adjustments by coming out in a no-huddle and working at a tempo that wore down defenders.
Joe Flacco
completed his last 14 passes for 159 yards. "We wanted to come out and set the tempo in the second half, which is why we came out with no-huddle and ran a little two-minute offense," said Flacco, who was 20-of-25 for 175 yards. It also helped that
Lardarius Webb
returned the second-half kickoff 95 yards for a touchdown to open a 13-0 lead.
2. Dolphins spell misery for Jets:
Let's face it: The downfall of the
New York Jets
is the
Miami Dolphins
. Last year the Jets traded for
Brett Favre
to get them over the hump. The Dolphins, using former Jets starting QB
Chad Pennington
, knocked New York out of the playoffs with a win in the season finale. By beating the Jets 30-25 on Sunday to complete a season sweep, the Dolphins once again put the Jets in a tough spot. Pennington beating a wounded Favre last season was an embarrassment for the Jets' organizational strategy. Sunday's loss was a gut-wrencher because first-year coach Rex Ryan fixed the defensive problems, but his team still gave up 30 points because of mistakes. Ryan limited Miami's Wildcat formation to five plays and 15 yards, sacking
Ronnie Brown
for 9 yards and forcing a Brown incompletion. Two of the Dolphins' touchdowns came on kickoff returns. That is a tackling problem that points to Ryan. Also, I had trouble with Ryan's decision to go to two-point conversions too early. Ryan first went for the two-point conversion trailing 24-19 with 1:35 left in the third quarter. He also went for two after a
Dustin Keller
touchdown made the score 30-25 with 5:52 left. Both conversions failed. Had the Jets kicked the conversions, they would have been down 30-27 on their final drive with at least a chance to tie the score with a field goal. In the final minute, the Jets were inside the Dolphins' 10, but they had to go for the touchdown and lost. Ryan said after the game he went for the two points because he always felt his defense could stop the Dolphins. It didn't.
3. Big blow for surging Texans:
The
Houston Texans
' victory in Buffalo has them heading into next Sunday's game against the Colts with a 5-3 record, but they have to play without tight end
Owen Daniels
, who was lost for the season with a serious knee injury.
Matt Schaub
losing Daniels is like
Peyton Manning
losing
Dallas Clark
. Daniels' ability to stretch the field and move the safety opens up big plays for wide receivers
Andre Johnson
and
Kevin Walter
. Daniels' success is one of the reasons Schaub has passed for 2,342 yards and 16 touchdowns in the first eight games. Daniels also has helped Houston become a better road team and Schaub cut down on the turnovers that haunted him in his first two seasons as the Texans' starter. Many in Houston believe next Sunday's game is the biggest in Texans history. A loss to the Colts would leave Houston at 5-4, 3½ games behind in the division. The win over the Bills was huge, but you get the feeling the Texans are competing more for a wild-card berth than the AFC South title.
4. Big problems for Giants:
Going into the season, the Giants appeared to be the team to beat in the NFC East. Now they are the team everyone is beating. The Giants entered Week 8 with the league's No. 1-ranked defense statistically. The stats lied. The Giants gave up 48 points to the Saints (Week 6) and 24 points at home in a loss to
Kurt Warner
and the Cardinals (Week 7). In beating the Giants 40-17 on Sunday, Eagles QB
Donovan McNabb
led an attack that totaled 391 total yards and five touchdown drives. The Giants can't stop the inside run, and their inability to consistently pressure quarterbacks is killing them in coverage. ESPN Stats & Information noted in the Giants' three losses, their defense has been vulnerable to 277 rushing yards up the middle on 45 attempts, a staggering 6.2 yards per carry. Eagles fullback
Leonard Weaver
had a 41-yard touchdown run up the middle. Rookie
LeSean McCoy
had a 66-yard run. Eagles coach Andy Reid takes criticism for not running the ball enough, but Philadelphia had 180 yards on 24 carries Sunday. Running was easy. The Giants tried to bolster their defensive front seven, but the moves haven't worked out. Defensive tackle
Chris Canty
has been out all season with injuries, and weakside linebacker
Michael Boley
has been available for only two games.
Rocky Bernard
was another free-agent signing who hasn't been a factor. Some may point to the loss of defensive coordinator Steve Spagnuolo as the reason for the downfall. Whatever the reason, the Giants' defense is playing small.
5. Cold reality for Packers fans:
The weather is turning colder in Wisconsin, and Packers fans have to live with the reality that Favre is going to the playoffs and a possible championship game wearing Vikings purple. He went into Lambeau Field and threw for four touchdown passes in a 38-26 victory over the Packers, sweeping the series and turning the NFC North into what looks to be a runaway. The Vikings lead the division by 2½ games and you really don't see the rest of the pack catching up. The Bears, who beat the Browns 30-6, aren't good enough in the red zone and stout enough on defense to catch up to the Vikings. The Packers can't be criticized for not having a quarterback ready to replace Favre.
Aaron Rodgers
is a great one, but offensive line woes have left Rodgers and the Packers in a horrible spot. Rodgers looked like a wounded warrior, limping through the final minutes of the game, throwing passes that left his receivers --
Greg Jennings
and
Donald Driver
-- vulnerable to hits. The NFC North is a division that belongs to Favre. The problem for Packers fans is that he has relocated to Minneapolis.
Clayton's short takes
The Raiders' final possession epitomized their season. Trailing the Chargers 24-16, Raiders quarterback
JaMarcus Russell
was sacked for 13 yards on the first play. An offensive false start and a sack followed. On the sack, two Raiders receivers crashed into each other and were on the ground when Russell tried to find them. A dropped pass ended the drive and gave the Chargers the victory. … Good thing Ravens kicker
Steve Hauschka
was 3-for-3 on field goals during Baltimore's 30-7 victory over the Broncos. The Ravens worked out kickers Connor Barth and
Mike Nugent
on Saturday. Hauschka missed a 44-yard field goal in the final seconds of the Ravens' loss to the Vikings two weeks ago. … Lions linebacker
Julian Peterson
, who has 10 of his 49½ career sacks against the Rams in 15 games, had a personal foul against
Marc Bulger
for a late hit. At least he got to the quarterback. He didn't have a sack the rest of the day. … The Rams' first victory is a tribute to two of their veteran leaders on offense: Bulger and halfback
Steven Jackson
. Jackson rushed for 149 yards on 22 carries, including a 25-yard touchdown run to win the game 17-10 with 1:38 left. Bulger directed the winning 62-yard touchdown drive. … It's baffling that Arizona's
Kurt Warner
seems to have more turnovers at home than he does on the road. He had six turnovers in a 34-21 loss to the Panthers. In home games, he has nine interceptions. In three road games, he has two. Warner had a
Jake Delhomme
-like day. … Delhomme showed great resilience in bouncing back from almost being benched. His loss to the Cardinals in last year's playoffs started a string of seven games in which he had 21 turnovers. He suffered a chest injury that didn't allow him to finish against Arizona, but he left with a smile. … Quarterback changes worked positively for some of the league's worst teams.
Vince Young
had only three incompletions in the Titans' win over the Jaguars. San Francisco's
Alex Smith
was respectable, completing 19 of 32 for 198 yards and a touchdown in an 18-14 loss to the Colts. The Niners'
Michael Crabtree
caught six passes for 81 yards in his second game in the league.
Matthew Stafford
struggled in the Lions' loss to the Rams, but he didn't make too many bad plays. … After a 6-for-17 performance against the Bears,
Derek Anderson
must be benched in Cleveland. He had two more interceptions and a 10.5 quarterback rating.
Brady Quinn
came off the bench to finish and went 1-for-3. His quarterback rating was 42.4. … Indianapolis receiver
Reggie Wayne
's 12-catch, 147-yard performance was pretty courageous. He was questionable with a groin injury.
Peyton Manning
targeted him 20 times … For what it's worth, the most difficult remaining schedules are in the NFC East. The Redskins have the toughest, facing teams with combined records of 42-21. The Giants are second, facing teams with records of 36-20. The Eagles have the fourth-hardest schedule at 38-25. The Cowboys face teams that are 35-29. The Cardinals have the easiest closing schedule at 24-42. …
Jamal Lewis
shook up the Browns' locker room when he said he would retire at the end of the season. No surprise. His 10th season must be his longest because of how bad the Browns are. With 10,456 rushing yards, he has had a great career.
John Clayton's game balls

Johnson
•
Offense:
The
Chris Johnson
-
Maurice Jones-Drew
showdown was a classic. They are the best big-play runners in football, but Johnson won the day. The Titans' running back rushed for 228 yards on 24 carries and had two touchdowns in a 30-13 victory over the Jaguars. Jones-Drew had 177 yards on only eight attempts and two touchdowns. Johnson's big day made life easy for quarterback
Vince Young
, who made his first start of 2009.

Merriman
•
Defense:
Maybe Houston linebacker
Brian Cushing
was a little bit more deserving for his 10-tackle, one-sack, one-interception effort in Houston's 31-10 victory over the Bills. But
Shawne Merriman
and
Shaun Phillips
each had two sacks in the Chargers' 24-16 victory over Raiders, and their performances could have long-term significance. Once considered one of the NFL's better pass-rushing combos, Merriman and Phillips have been invisible men this season. Phillips had two sacks in six games; Merriman had none. Sure,
JaMarcus Russell
is a standing target, but the ability of Merriman and Phillips to come off the corner for sacks may spark a defense that has struggled.

Ginn
•
Special teams:
Ted Ginn, the most criticized player in South Florida, turned into a hero with kickoff returns of 100 and 101 yards in the Dolphins' 30-25 win over the Jets. Ginn's dropped passes had Dolphins fans calling talk shows to complain. But he won back some of the fans with six kickoff returns for 299 yards. As a receiver, he was targeted only once and didn't catch a pass.
Writers' bloc
• The Colts called on RB Joseph Addai to execute their biggest pass play of Week 8.
Pasquarelli
• Two Ted Ginn kickoff returns for touchdowns helped Miami stun the Jets.
Graham
• The Eagles hit the Giants with everything they had, and New York couldn't stop any of it.
Mosley
• Vince Young was steady and efficient in leading his Titans to their first victory of '09.
Kuharsky
• By dominating the Broncos, an angry Ravens D quieted talk that it had lost its edge.
Walker
• Brett Favre endured "salutes" and heard cheers as he threw 4 TD passes in a 38-26 win.
Seifert
• Shawne Merriman loves sacks, and he finally got a couple in S.D.'s win over Oakland.
Williamson
Week 8 rundown
•
Baltimore 30, Denver 7
The Broncos usually get better as the game progresses. Not on Sunday. A nightmarish second half paved the way for Denver's first loss under Josh McDaniels.
• Houston 31, Buffalo 10
Ryan Moats (126 rushing yards, 3 TDs) didn't let a rare opportunity for extended playing time go to waste. It was Moats' first 100-yard game since 2005.
• Chicago 30, Cleveland 6
The Browns' ineptitude on offense is getting comical. With such a poor supporting cast, it really doesn't matter who's playing QB.
• Dallas 38, Seattle 17
Is any QB playing as well as Tony Romo right now? Romo has eight TDs and no interceptions during the Cowboys' three-game winning streak.
• St. Louis 17, Detroit 10
This one was far from a classic, but at least the Rams can heave a collective sigh of relief. Their run of futility (17 straight losses) is finally over.
• Indianapolis 18, San Francisco 14
How odd was this game? Down by two in the fourth quarter, the Colts relied on the arm of Joseph Addai -- not Peyton Manning -- to put them ahead.
• Miami 30, N.Y. Jets 25
Verbal sparring. Two nail-biters in less than a month. Yes, it's safe to say the Dolphins-Jets rivalry is alive and well.
• Philadelphia 40, N.Y. Giants 17
That 5-0 start has become a distant memory for Giants fans. The past three weeks have exposed many chinks in New York's armor, especially on defense.
• Tennessee 30, Jacksonville 13
Is the Vince Young era back on track in Tennessee? Team owner Bud Adams certainly seems to think so.
• San Diego 24, Oakland 16
LaDainian Tomlinson still doesn't have a 100-yard game in 2009, but he always seems to do plenty of damage (two TDs Sunday) against the Raiders.
• Minnesota 38, Green Bay 26
Brett Favre (4 TD passes) returned to Lambeau Field and left victorious. Now the Vikings appear to have a clear path to the NFC North title.
• Carolina 34, Arizona 21
The enigmatic ways of the Cardinals continue. Of course, it's not easy to win when your quarterback turns the ball over six times.
MONDAY NIGHT FOOTBALL
•
Atlanta at New Orleans (ESPN, 8:30 ET)
-- ESPN.com
Looking ahead
An early look at next weekend's biggest games:
• Houston (5-3) at Indianapolis (7-0): Maybe the biggest game in Texans history.
•
Baltimore (4-3) at Cincinnati (5-2):
The well-rested Bengals will be eyeing a season sweep of the Ravens. •
Dallas (5-2) at Philadelphia (5-2):
NFC East supremacy on the line. •
Pittsburgh (5-2) at Denver (6-1):
Another tough game for the Broncos. How will they bounce back from their first loss? •
Week 9 schedule