Commentary
Trading a Ferrari for a forklift
Versus the Vikings, the Saints' usually high-octane O played it safe -- and won
NEW ORLEANS -- The New Orleans Saints can celebrate their NFC championship while also cherishing this: Winning ugly can do wonders for a team at this time of year.
It can reinforce toughness. It can create more confidence. Most importantly, it can sharpen the focus of a squad that needs one more victory to secure a world title.
Yes, the Saints' 31-28 overtime win over the Minnesota Vikings on Sunday had plenty to do with an opportunistic New Orleans defense. It forced five Vikings turnovers. But that victory also was the result of a Saints offense that didn't sabotage the cause.
The normally prolific Saints protected the football and played the field position game in ways that had to feel unnatural at times. It's likely the offense will be asked to do the same things when meeting the Indianapolis Colts in Super Bowl XLIV.
The Colts will see what the Vikings did to make things difficult for a Saints offense that ranked first in the league in scoring (31.9 points per game) and yardage (403.8) this season. Beating the Vikings without all of the usual fireworks will make it easier for the Saints' attack to cope with the Colts' defense.
"We knew this game would be a war because that's what happens when you're playing for a championship," said Saints right tackle Jonathan Stinchcomb. "This isn't the preseason anymore. Everybody you play is going to be great."
Still, the Vikings proved on Sunday that being great and playing great are two different things. If not for those turnovers, Minnesota would be facing Indianapolis in Miami in two weeks. The Vikings outgained the Saints (475 to 257), won the time of possession battle (36:49 to 27:56) and committed fewer penalties (five to nine).
What the Vikings' offense didn't do was play with the kind of poise that enabled the Saints to stay focused. The only turnover New Orleans committed came when Reggie Bush fumbled a punt that Vikings linebacker Kenny Onatolu recovered late in the second quarter.
The Saints offense helped its defense by doing the little things that win games. Quarterback Drew Brees' unit had been so explosive for so long you expect them to drop 40 points a game. A strong passing game and Pierre Thomas' timely running helped fuel New Orleans' 13-0 start. But the Saints haven't been nearly as prolific over the last few weeks -- discounting a 45-14 blowout of the Arizona Cardinals -- and they surely suspected big plays would be harder to come by as the playoffs progressed.
[+] Enlarge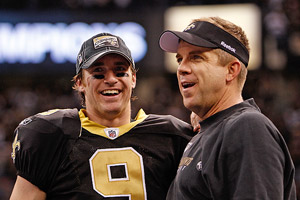 Chris Graythen/Getty ImagesIn beating the Vikings, Drew Brees (left) and Sean Payton managed the Saints' attack with a conservative game plan.
The most impressive aspect of the Saints' offense on Sunday was the reluctance by the players to press.
"In the end, you understand that you have to play the field position game," said Brees, who completed 17 of 31 passes for 197 yards and three touchdowns. "In a game like this, you have to stay calm, stay the course and make sure you're not turning the ball over. You don't want to give your defense a short field [to defend]."
Still, Brees did acknowledge some frustration with the evening. After the Saints scored touchdowns on two seven-play drives in the first half, the offense lost its rhythm in the second half. The crisp timing that Brees had enjoyed with his receivers for most of the season vanished. The normally aggressive play calling of head coach Sean Payton became surprisingly more conservative.
An offense that had become accustomed to racing up and down the field for months suddenly had lost its mojo.
It was a time when Brees could've forced the issue. Instead, both he and his teammates kept plugging away.
"I have to give a lot of credit to the Vikings," Brees said. "It seemed like we were just off a little on some pass plays. We missed a couple throws and we had way too many three-and-outs. I felt like there were too many times when we put our defense back on the field [too quickly]."
That defense ultimately responded by making enough plays to win the game. Now the Saints have to be just as ready to grind it out against a Colts team that will want to control the tempo. All the New Orleans players know that Indianapolis won its first 14 games before resting its starters for most of the final two weeks of the regular season. The Saints also realize the Colts have experience on their side, since Indianapolis is pursuing its second Super Bowl win in four years.
But the Saints have some advantages of their own coming into this contest. They've been the best team in the NFC for most of the year. They have the inspiration of playing for a city still recovering from Hurricane Katrina and a franchise that never has been to a Super Bowl. Even if they lack familiarity with a stage this grand, New Orleans comes to Miami with an undeniable emotional edge.
What the Saints also have is an offense that didn't dominate the NFL by mere luck. They've got a Pro Bowl quarterback in Brees, a slew of skilled playmakers and an offensive line that was strong enough to nullify a talented front four from Minnesota.
The Saints already have to be dying to let that offense get loose for one last time this season. They know that their best effort is vital to beating a Colts team that will be favored in Miami.
But the Saints also have the added confidence that comes from winning the way they did against the Vikings. That experience ultimately will mean more than they ever realize.
The Saints will have to win their first Super Bowl using any means necessary.
Judging from what happened inside the Superdome on Sunday, they appear ready to do exactly that.
Senior writer Jeffri Chadiha covers the NFL for ESPN.com.
Jeffri Chadiha, formerly of Sports Illustrated, is a senior writer for ESPN.com. Chadiha first attended Wyoming on a full football scholarship before injuries led him to transfer to Michigan after two years. He received a Bachelor of Arts degree in communication from Michigan in 1993 before pursuing a career in journalism. Chadiha is also a frequent contributor to ESPN TV.
SPONSORED HEADLINES
MORE NFL HEADLINES
MOST SENT STORIES ON ESPN.COM
SUPER BOWL XLIV
Who will supplant the Steelers as champions? The Colts and Saints will square off in Super Bowl XLIV on Sunday in Miami.
SUPER BOWL PREDICTIONS
HOT READ: Playing with pain
HALL OF FAME
OUTSIDE THE LINES: CONCUSSIONS
COMMENTARY/BLOGS
SCOUTS INC. TALE OF TAPE
MORE SCOUTS INC.
SPORTSNATION