Commentary
Analyzing the playoff quarterbacks
Manning, Brady, Favre and Warner have résumés that stand out above others
Originally Published:
January 6, 2010
By
Trent Dilfer
| ESPN.com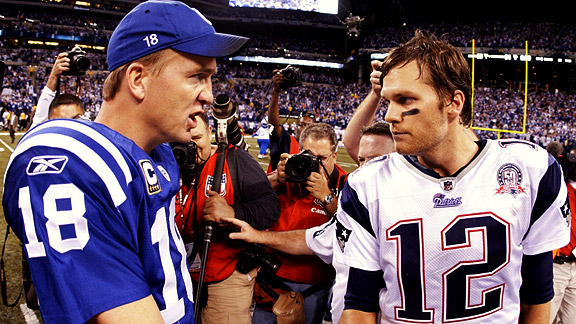 Jamie Squire/Getty ImagesThe Colts' Peyton Manning (left) affirmed his greatness this season by making the players around him better, Trent Dilfer writes. Wes Welker's absence could cripple the Super Bowl chances for the Patriots and Tom Brady.
No matter what you hear about defenses gearing up to stop the run, playoff football is all about devising a game plan against quarterbacks.
Good luck with that this season.
The NFL produced more great quarterback play than there were playoff spots. Ben Roethlisberger, Matt Schaub and Eli Manning played like Pro Bowlers more often than not this season -- and their teams are on the outside looking in. It is unbelievable to watch Peyton Manning, Drew Brees, Philip Rivers, Brett Favre, Aaron Rodgers and the others continually raise the bar -- even as the game demands more from the position.
I'm not a big numbers guy, and if you've seen my career stats, you'll understand why. But here is one that boggles the mind: The 11 playoff quarterbacks not named Mark Sanchez averaged 27 touchdowns and 11 interceptions this season, roughly what Tom Brady has averaged during his Hall of Fame career (and nearly seven more TDs per man than the top 11 playoff quarterbacks last season).
Brady has done it in the playoffs, of course, and that separates him from some of the others. For a quarterback, the postseason comes down to protecting the football while maintaining the explosive nature of your game. The truly great ones can do it.
Brady, Peyton Manning, Favre and Kurt Warner are already in that class. They've won Super Bowls and all four should be bound for Canton. From what I've seen this season -- and I would contend this was the finest season of quarterbacking on record -- a few others could join their elite ranks sooner than later.
Let's take a closer look at the 12 playoff quarterbacks, using my preseason analysis as a starting point.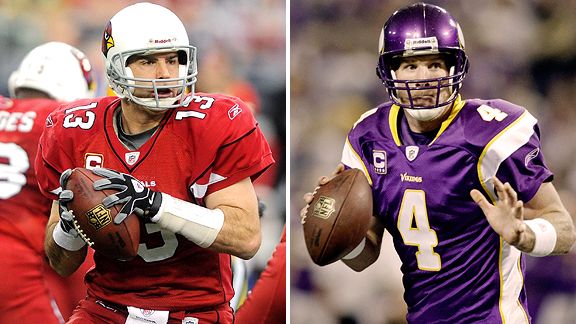 US PresswireWhen Arizona's Kurt Warner (left) is hot, he may be the most dangerous player in football, Dilfer writes. Can Minnesota's Brett Favre avoid interceptions in the playoffs?
BEEN THERE, DONE THAT -- WITH THE RINGS TO PROVE IT
Other quarterbacks might have had better regular seasons in some cases, but none of that matters much now. These four have carried their teams to Super Bowl titles and that sets them apart.
1. Peyton Manning, Colts
My preseason take: Ultimate coach on the field … processes and executes more information at a high level than anybody who has ever played the game … never has an offense functioned around one individual more than it has Manning … unbelievable durability, second only to Brett Favre … unrivaled combination of durability and dependability.
My postseason take: Affirmed his greatness by making everyone around him better. It's not just that he threw to Pierre Garcon (a French waiter?) and Austin Collie (a French poodle?). It was when Manning threw to them -- in clutch situations. Manning trusted them to make plays for him. He was as aggressive throwing the football as I've seen him in years. All MVP discussion should have ended when the Colts took him out of the game with a 5-point lead and lost 29-15 to the Jets and then 30-7 last week against the Bills. Can Manning & Co. recapture their edge -- particularly in critical situations -- after playing less than four quarters of football in a month?
2. Tom Brady, Patriots
My preseason take: Best pocket instincts in the league … unwaveringly disciplined in his approach and execution (film study, weight room, how he plays, etc.) … uses tricks of trade very well to manipulate defenses (through snap counts, eye placement, pump fakes) … on par with Manning in recognizing and accounting for last-second defensive adjustments.
My postseason take: What an amazing job he did coming back from a catastrophic injury and then playing through reported injuries to his ribs and throwing hand. Brady remained highly productive despite working within an offense that was far less creative than the one Josh McDaniels orchestrated during the record-setting 2007 season. The post-McDaniels offense relied on midrange passes, with less emphasis on the vertical game. As the playoffs got closer, Brady got better -- even though the stats didn't always say so. For the first time in his career, though, we saw Brady make critical mistakes with his ball security. Throw in Wes Welker's injury and it's fair to question whether Brady can make another Super Bowl run this year.
3. Brett Favre, Vikings
My preseason take: Has mastered every trick of the trade … still has upper-echelon arm talent though he is pushing 40 … aura brings great energy and enthusiasm to any team … lack of offseason training will test aging legs, putting additional pressure on arm over course of full season.
My postseason take: Despite a magical year from the 40-year-old legend and despite playoff successes, it's been a while since Favre has shown that magic in the playoffs. The Vikings' offense has been at its best when Favre has been given the ability to run the show, allowing his artistry and creativity to take over. Can a man with interceptions built into his DNA avoid them when it matters most?
4. Kurt Warner, Cardinals
My preseason take: Unbelievable production across multiple systems … anticipates his throws in the passing game better than anybody … has resurrected two teams … has struggled with ball security in the pocket, though not so much last season, and can be too aggressive at times.
My postseason take: Warner proved again he can be as streaky as anyone (five picks against Carolina, 12 touchdowns and no picks in his next four games). When hot, Warner might be the most dangerous player in football. And the postseason tends to be the time when he gets hot. If I have one question, it's whether the Cardinals' offensive line can keep Warner clean enough to let that happen one more time.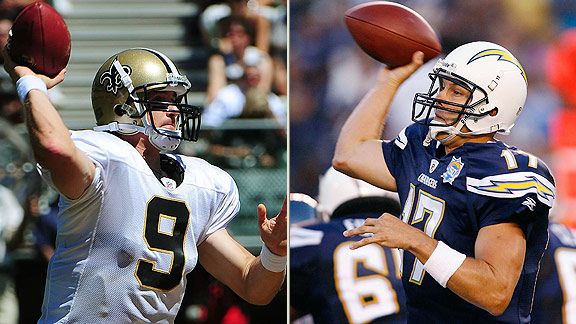 US PresswireDrew Brees (left) must play lights-out for the Saints to go all the way, Dilfer writes. San Diego's Philip Rivers reminds Dilfer of Hall of Famer Dan Marino.
CHASING IMMORTALITY -- A RING AWAY
These guys have won playoff games and taken their teams to conference championship games. They might be a Super Bowl ring away from joining the first four in Hall of Fame discussions.
1. Drew Brees, Saints
My preseason take: Master dissector of defenses … as good off rhythm as on rhythm … inspirational, fiery leader who demands excellence from those around him.
My postseason take: Even after enjoying one of the finest seasons a quarterback could have, Brees carries into the playoffs one of the heaviest burdens of any NFL quarterback. Simply put, Brees must put up points early so the Saints' defense can do what it does best -- force the other team to throw the football. The challenge for Brees becomes embracing that burden without letting it force him into making uncharacteristic mistakes. Brees actually played well during late-season defeats to the Cowboys and Bucs, but having Brees play well isn't good enough for New Orleans. He must be lights-out for the Saints to go all the way.
2. Philip Rivers, Chargers
My preseason take: Demonstrative, animated, tough, outspoken, fiery and hypercompetitive … consistently makes the most difficult throws in the NFL and it's not even close … one of very few quarterbacks who could flourish in Chargers-style system favoring throws 15 to 25 yards downfield (as opposed to slants, checkdowns and soft-spot zone plays) … remarkable efficiency considering how many high-risk throws he must make in game.
[+] Enlarge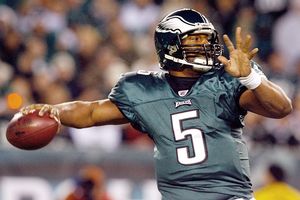 Jim McIsaac/Getty ImagesThe Eagles' Donovan McNabb played well this season despite throwing to a green corps of receivers.
My postseason take:
Watching Rivers reminds me of the time I spent breaking down Dan Marino's film way back when. The constant seven-step drops, climbing in the pocket, delivering the ball with people in his face, putting relentless pressure on a defense, the hyper-aggressive mentality, the demonstrative behavior … put a No. 13 on his chest and you'd swear it was Marino out there. This highly explosive approach can be ideal for playoff football, but I wonder whether any quarterback can play that way through an entire postseason without turnovers catching up to him eventually.
3. Donovan McNabb, Eagles
My preseason take: Huge production for an extended period of time … offense built around him … ability to extend the play makes him very hard to defend … no such thing as a dead play with McNabb … can beat the perfect defensive call because of his experience combined with strength and athleticism … sometimes inconsistent with his accuracy.
My postseason take: The greatest testament to McNabb's season was the high level of productivity he enjoyed despite throwing to a very green corps of receivers. McNabb changed his game from a first-completion, West Coast mentality to a down-the-field approach seeking big plays to DeSean Jackson. The question I have here is whether McNabb's occasional inaccuracy issues will rise up and bite him the way they did against Arizona in the playoffs last season.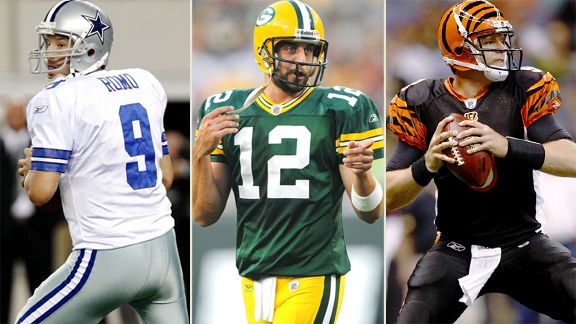 Getty ImagesIs Dallas' Tony Romo (left) primed to make a Super Bowl run? Aaron Rodgers (center) could be ready for a deep playoff run, but Carson Palmer must create more big plays for the Bengals, Dilfer writes.
OPPORTUNITY KNOCKS
These guys have all the ability, but they still must establish their playoff legitimacy.
1. Aaron Rodgers, Packers
My preseason take: Great arm talent … spins the tightest spiral in the league … makes every throw look easy … on his way to having complete mastery of his offense … inconsistent to this point in his career in two-minute and end-of-game situations.
My postseason take: Rodgers walked into a tough situation as the successor to a legend and couldn't have handled it any better, producing at levels not even Favre always reached. Third-down and red zone stats carry more weight with me than most others, and Rodgers has been brilliant in both areas. There is really nothing negative to say about him. Everything we've seen from him to this point suggests the playoffs will bring out the best in him. All Rodgers must do is prove it.
2. Tony Romo, Cowboys
My preseason take: Quickest release in the NFL … unparalleled ability to throw from multiple foot platforms, both intermediately and down the field … as artistic as any quarterback in the league, instinctively using all available resources (eye placement, shoulder nods, pump fakes, arm angles, you name it) … can make something out of nothing on a consistent basis … sometimes careless with the football, both in the pocket and through the air … limited big-game success.
My postseason take: The skill set has always been there. The Cowboys' transformation this season is a testament to a man who can identify his mistakes and then mature as a person and player. Because Romo exorcised his demons, the Cowboys exorcised theirs as well. The entire team reflected his change in mentality. Romo has become the poster boy for the new Cowboys -- mentally tough, resilient, singularly focused on the moment at hand, playing his best football in the highest-stakes games. Romo is as primed as anyone to play his best in the playoffs and make a Super Bowl run.
UNDER THE RADAR
These guys aren't playing in dynamic offensive systems and that isn't their fault. They're better than their supporting casts.
[+] Enlarge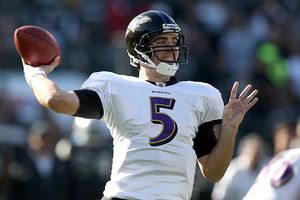 Jed Jacobsohn/Getty ImagesOn Sunday, Baltimore's Joe Flacco will make his fourth playoff start in just two years in the league.
1. Joe Flacco, Ravens
My preseason take: Enjoyed playoff success as a rookie and is therefore an exception to the rule in this category, but defies categorization elsewhere … phenomenal poise under fire … shows the ability to make every throw … has not had to carry his team with his arm like the other players in this category.
My postseason take: This is his fourth playoff start in two years. That is remarkable. This season, he might have been a few dropped passes away from leading his team to a 12-win season. He's the hero if some of those guys make the catches against the Patriots and Steelers, and if his kicker comes through against the Vikings.
2. Carson Palmer, Bengals
My preseason take: As good a pure passer as there is in the league … immense arm talent … great mastery of his offensive system … needs to stay healthy … can be a little too aggressive in pumping the ball down the field.
[+] Enlarge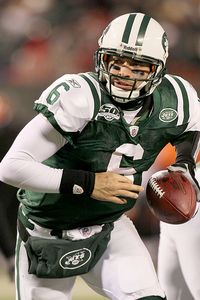 Al Bello/Getty ImagesMark Sanchez struggled down the stretch for the Jets.
My postseason take:
Everything they were doing well in the passing game featured a vertical threat --
Chris Henry
-- with
Chad Ochocinco
dominating underneath. The Bengals have become less multiple on offense without Henry, enabling opponents to condense their defenses. The result for Palmer is far fewer open spaces to deliver the ball. The Bengals must take the top off the defense and create big plays to have any chance in the postseason.
THE ROOKIE
1. Mark Sanchez, Jets
My postseason take: He's just getting started. Not many rookie quarterbacks have taken their teams to the playoffs. The Jets' success has more to do with Sanchez's intangibles than his skills and an understanding of his craft. It's his gumption, his innards. That substance has kept him from going in the tank after hitting rough patches earlier in the season.
Former NFL quarterback Trent Dilfer is a football analyst for ESPN.
Former Super Bowl-winning quarterback Trent Dilfer is an analyst for a variety of ESPN programs including NFL Live, NFL PrimeTime and SportsCenter (Sunday and Monday nights during the NFL season). He also contributes to Monday Night Countdown, ESPN Radio programs, and ESPN's annual Super Bowl week and NFL Draft coverage.
SPONSORED HEADLINES
MORE NFL HEADLINES
MOST SENT STORIES ON ESPN.COM
2009 NFL PLAYOFFS: ROAD TO MIAMI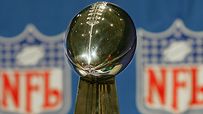 Who will supplant the Steelers as champions? The Colts and Saints will square off in Super Bowl XLIV on Feb. 7 in Miami.
COMMENTARY/BLOGS
CHAMPIONSHIP GAMES
Colts 30, Jets 17
Saints 31, Vikings 28 (OT)
DIVISIONAL ROUND
Vikings 34, Cowboys 3
Jets 17, Chargers 14
Saints 45, Cardinals 14
Colts 20, Ravens 3
WILD-CARD GAMES
Jets 24, Bengals 14
Cowboys 34, Eagles 14
Ravens 33, Patriots 14
Cardinals 51, Packers 45 OT
ESPN FAN SHOP