Commentary
NFC playoffs rich with proven winners
'Dome-field' advantage, injuries factors to consider when assessing top-heavy field
Originally Published:
January 3, 2010
By
Len Pasquarelli
| ESPN.com
Late-season slumps by the New Orleans Saints and Minnesota Vikings, two teams that at one point represented the class of the NFC, have created a perception that the conference's playoffs are wide open.
Over the next three weeks, that perception could become reality.
Certainly it is fueled by the Saints' losing their last three outings after a 13-0 start and the Vikings' losses in three of their last five after an 10-1 start.
What's more, the six NFC teams in the postseason combined for just a 19-11 record after Dec. 1. Four of the six teams dropped at least two games in the final five weeks of the 2009 campaign. The Philadelphia Eagles, who always seem to gather momentum at this juncture, and the Green Bay Packers were the only one-loss entries during that late stretch.
There are a lot of reasons to suggest that any of the playoff qualifiers could represent the NFC in Super Bowl XLIV.
The six franchises each have double-digit victories, only the fifth time that has occurred since 1990, when the NFL adopted the 12-team playoff format. Five of the six clubs own 11 or more wins, only the fifth time that has happened in the past 20 years. The 68 combined victories are the most since 2001 and the fifth most ever.
"What's gone on has maybe created as many questions as answers," New Orleans quarterback Drew Brees said.
Here are 10 of them:
1. Does having the home-field advantage throughout the playoffs really help the Saints that much?
If you've ever been to a game at the Superdome, you know the answer to that one. The place requires a couple of Excedrin before the game, and at least two after it. The "Who Dats" can fuel the home team and make life miserable for visitors. Still, the Saints lost their final two home games and don't seem as invincible as they once did. And just six of the last 10 top-seeded teams in the NFC have advanced to the Super Bowl.
2. Four "dome" teams from the NFC have advanced to the Super Bowl in the previous 11 seasons, most recently the Arizona Cardinals (retractable roof) last season. Will back-to-back "dome" teams win the NFC title?
Well, from strictly a numbers point of view, the odds are it will happen because four of the conference qualifiers play their home games in domed stadiums: the Vikings, Saints, Cardinals and Cowboys. The three teams have a combined home record of 24-8 but are 22-10 on the road, so they have demonstrated they can win anywhere.
3. Does momentum really mean anything going into the playoffs?
If it does, you've got to like the Eagles, since they are one of only two 4-1 teams since Dec. 1. Their Week 17 loss at the Cowboys notwithstanding, coach Andy Reid usually seems to have his team peaking at about this time. Their postseason failures aside, in 11 regular seasons under Reid, the Eagles are 34-16 after Dec. 1, and since 2006, they're 15-4 after Dec. 1.
Since the NFL went to four divisions per conference in 2002, only one of the seven NFC teams in the Super Bowl finished the regular season with a winning streak of more than one game. Four of the seven lost their regular-season finale.
4. Throwing the ball in the playoffs has sometimes been a problem, but this has been the "year of the pass" in the league. How do these teams stack up?
All six statistically rank among the top 12 offensively (through Week 16) and, not surprisingly, in passing offense. In rushing offense, only New Orleans and Dallas are among the top 10. Each of the teams has a quarterback who has thrown for at least 3,500 yards and 22 touchdown passes, and all six have at least one 1,000-yard receiver. No reason to believe these teams won't be able to "wing it" in the postseason.
[+] Enlarge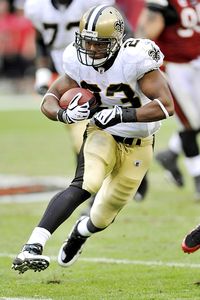 AP Photo/Steve NesiusWill Saints halfback Pierre Thomas be healthy enough to be a major factor in the playoffs?
5. Some of the top tailbacks have had injuries (Philadelphia's Brian Westbrook and New Orleans' Pierre Thomas), and Minnesota's Adrian Peterson is prone to fumbling. Could that be a problem?
More of a concern than Peterson's 14 lost fumbles in two years is that he sometimes disappears in the offense when it becomes fixated on the pass. Minnesota is 11-2 in three seasons when Peterson rushes 25 times or more, including 5-0 this season.
As for Westbrook (concussions), Philly's offense no longer goes through him but instead is geared toward the explosive passing play. New Orleans, the NFC playoff team ranked highest in rushing (No. 5), is a more physical running team than people think but could be hindered if Thomas (ribs) is affected.
6. Any other injuries of note?
With the exception of Dallas, every NFC team has at least one key player on injured reserve -- left tackle Mike Gandy (Arizona), cornerback Al Harris and defensive end/linebacker Aaron Kampman (Green Bay), middle linebacker E.J. Henderson (Minnesota), left tackle Jammal Brown and fullback Heath Evans (New Orleans), and offensive linemen Shawn Andrews and Jamaal Jackson and middle linebacker Stewart Bradley (Philadelphia).
Among the players not on IR, and excluding the tailbacks mentioned above, keep an eye on New Orleans tight end Jeremy Shockey (toe), Saints cornerback Jabari Greer (sports hernia), Minnesota defensive tackle Pat Williams (elbow) and cornerback Antoine Winfield (foot), Packers defensive tackle Ryan Pickett (hamstring), and Arizona safety Antrel Rolle (thigh).
7. All six coaches have previous playoff experience, but Green Bay's Aaron Rodgers is the only quarterback never to have started a postseason game. Will it make a difference?
Probably not a big one. Rodgers is 7-9 as a starter away from Lambeau Field, but despite the record, he has played well on the road. He seems oblivious to his environment. Case in point: He threw for 383 yards and three touchdowns at Pittsburgh on Dec. 20, and it's not his fault the defense couldn't hold onto a late lead.
[+] Enlarge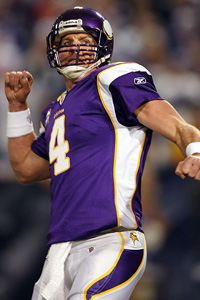 Elsa/Getty ImagesBrett Favre brings plenty of playoff experience -- and a hot hand -- to the postseason.
The other five quarterbacks have a combined 54 postseason starts but own only a 30-24 record (.555 winning percentage), and 22 of those starts were by Brett Favre. Kurt Warner (8-3, .727) is the only one of the five with a playoff winning percentage over .600. Of course, Favre and Warner own Super Bowl rings.
8. Is this the season the 3-4 defense really makes an impact in the NFC playoffs?
It could be. Arizona, Dallas and Green Bay use the 3-4 as their base defense. That's one more 3-4 defense than has been in the NFC playoffs the past eight seasons total. The NFC has traditionally been a 4-3 conference, so offenses haven't seen many 3-4 looks the past few years.
9. Of the six playoff teams, four have new defensive coordinators. The result?
In terms of offensive rankings, the six teams didn't change very much from a year ago, so the continuity was good. Minnesota improved from 17th in 2008 to eighth this season (through Week 16), but that is attributable mostly to Favre.
The defensive improvement of the three clubs that switched coordinators by choice (Sean McDermott replaced the late Jim Johnson in Philadelphia) was significant. Under Dom Capers, the Packers ranked second overall after being 20th last season. Arizona and New Orleans dropped a spot from 2008 but became more aggressive. The Saints, for instance, scored eight defensive touchdowns under Gregg Williams. They scored nine in the previous six seasons combined.
10. Everybody knows about high-profile rookies Percy Harvin, Jeremy Maclin, Clay Matthews and LeSean McCoy. How about a lesser-known rookie who might make an impact in the playoffs?
We'll give you three, all fifth-rounders. Jasper Brinkley has replaced the injured Henderson (broken leg) for Minnesota at middle linebacker the past three games. A very active 'backer, the former South Carolina standout must get stouter at the point of attack but is improving. The Vikings surrendered 95.75 rushing yards per game with Brinkley as the starter. That mark was 96.5 in the 12 contests that Henderson started.
New Orleans punter Thomas Morstead and Dallas kickoff specialist David Buehler could make a difference. Morstead has been more effective than his punting averages (43.6 yards gross, 36.0 net) indicate; he also handles kickoff chores and has 28 touchbacks. Buehler, who hasn't attempted a field goal all year, has 29 touchbacks.
Len Pasquarelli is a senior writer for ESPN.com.
NFL WEEK 17 COVERAGE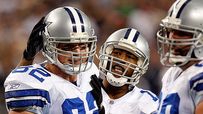 FINAL POWER RANKINGS
PLAYOFFS
COMMENTARY/BLOGS
ESPN FAN SHOP