Commentary
NFL avoids another PR disaster
Originally Published:
February 9, 2010
By
Len Pasquarelli
| ESPN.com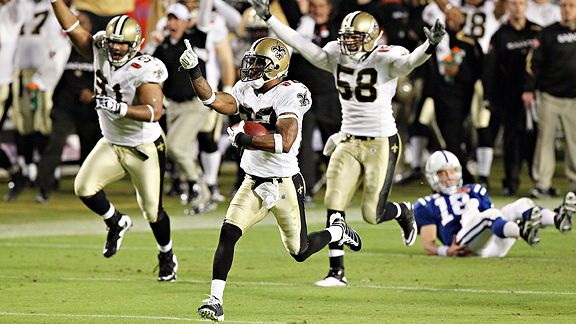 Jed Jacobsohn/Getty ImagesTracy Porter celebrates on his way to the endzone after picking off Peyton Manning. The interception potentially prevented the first overtime in Super Bowl history.
MIAMI -- The 74-yard interception return for a touchdown by New Orleans cornerback
Tracy Porter
, with a little more than three minutes remaining in Super Bowl XLIV, set off all sorts of celebratory reactions.
In the private booth next to the press box at Sun Life Stadium, the takeaway and clinching touchdown sprint brought gleeful whoops and high fives from Jacksonville owner Wayne Weaver, whose team has been tormented by Indianapolis for years. On the Saints' bench, grown men hugged each other and cavorted like kids. The sequence sent fans spilling into Bourbon Street, a kind of Mardi-Gras-come-early for the long-suffering Big Easy football loyalists.
And somewhere, far removed from the intrusive eyes of television cameras, it likely elicited a collective exhale from commissioner Roger Goodell and his lieutenants.
Another year, another Super Bowl in which the league dodged a controversial bullet, since there was no overtime and no resultant debate over whether the NFL championship should be possibly determined by a coin flip.
Let's be honest: Who among us didn't feel that Peyton Manning would author his typical late-game heroics and will the Colts to a game-tying score with about two minutes to play? Who didn't think Super Bowl XLIV was destined to become the first title game of the Super Bowl era to go into a fifth period or perhaps beyond?
And then, thankfully for those legions who detest the NFL's current overtime policy, which makes a winner of the first team to score, here came Porter, perfectly reading the third-down inside slant to Reggie Wayne, stepping in front of the pass intended for the Indianapolis wide receiver and racing for the score that determined the outcome.
That also saved Goodell and other NFL executives from a whole lot of explaining.
Odds are that the league's good fortune isn't going to hold out forever. Fact is, that there has not been a Super Bowl that has gone into overtime is unfathomable.
Since the NFL established overtime in 1974, more postseason games have been decided by overtime than regular-season contests, on a percentage basis. Through Sunday night, 23 of 362 postseason contests, or 6.35 percent, have gone to overtime. That includes two of the past three NFC championship matchups, both of them involving Brett Favre. Of the 8,204 regular-season games played since '74, just 445, or 5.42 percent, have gone to overtime.
Extrapolating the numbers, roughly three of the 44 Super Bowls played through Sunday night should have gone to overtime. That not one has stretched to extra quarters is the definition of good luck for the league.
But it's not going to last forever.
The past two title games, in fact, came tantalizingly close to overtime. In addition to Sunday's contest, Super Bowl XLIII was too close for comfort to an overtime stanza. Had quarterback Ben Roethlisberger and wide receiver Santonio Holmes not pulled off their miraculous 6-yard hookup, propelling Pittsburgh to a 27-23 victory over Arizona, it's likely the Steelers would have had to settle for a Jeff Reed chip-shot field goal and a 23-23 tie that would have pushed the Super Bowl to overtime.
Sooner or later, it figures, luck is going to catch up to the NFL and the Super Bowl. The more title games the NFL plays without an overtime, the stronger the likelihood the league will inevitably have an extra-time championship.
And then, look out, because the league is going to be facing a public relations firestorm.
At his pre-Super Bowl news conference Friday morning, Goodell was asked, in a lengthy and rambling question, about any potential changes to the overtime rule. The questioner suggested a system that called for sudden death, but only if a team scored a touchdown, not a field goal. Responded the commissioner: "I wouldn't hold your breath on that one."
But given the equality of teams in the Super Bowl and the league-encouraged perception that the title game matches the two best franchises, the NFL will continue to hold its breath that there isn't an overtime in the Super Bowl.
And will continue to breathe a huge sigh of relief that there are players the ilk of Porter around to help avoid one.
Len Pasquarelli, a recipient of the Pro Football Hall of Fame's McCann Award for distinguished reporting, is a senior writer for ESPN.com.
SAINTS WIN FIRST SUPER BOWL
The Saints upset the Colts 31-17 to win their first Super Bowl title on Feb. 7.
NEWS
COLUMNS/BLOG POSTS
PAGE 2
SPORTSNATION
Nike Women's Indianapolis Colts Rewind Run Game Blue T-shirt Shop »

MOST SENT STORIES ON ESPN.COM