Commentary
Rest should rejuvenate Saints
After watching the wild-card games, Scouts Inc. shares eight observations about the divisional playoff teams:
1. Rest should help Saints: We can argue back and forth about the pros and cons of resting players, but in this case, I think it will benefit the Saints. New Orleans really wasn't playing very well, but then rested its core guys in Week 17, including Drew Brees.
Taking a step back should be good for this franchise, as it has been a whirlwind season and this isn't exactly an organization that has historically dealt with success. But even more important than that, with last year's NFC champions coming to town, the Saints need to be fresh on defense -- especially in their secondary, which was tormented by injuries in the second half of the regular season.
2. Secondary concerns in Minnesota: Only the Saints averaged more points per game during the regular season than Minnesota, and this exceptional offensive output has covered up a weakness of the Vikings: the secondary. Minnesota has as good of a chance as any remaining team to win the Super Bowl, but this secondary could be exposed. Antoine Winfield has been his steady self, but he isn't a lockdown-type guy in the mold of Charles Woodson or Darrelle Revis.
When the Vikings go to their sub package personnel groupings with extra defensive backs on the field, they become especially weak. Also, the Vikings' safeties are an ordinary pair and their tackling is a problem as a last layer of defense. Getting pressure on Dallas QB Tony Romo will be especially important, and the ineffectiveness of Minnesota's secondary could put a lot of pressure on the Vikings' exceptional offense to keep up at home.
3. Indianapolis must not start slow: Even more so than with New Orleans, the Colts should be an extremely fresh team. And this is a team built very much on speed. But, in a passing attack based on rhythm and timing, I worry if the time off hurts the Colts right out of the gate. It has been about a month since Peyton Manning and his receivers played a full competitive game.
Still, if anyone can overcome that layoff, it is Manning. Potentially compounding matters, Baltimore will surely look to establish a power running game and use the ticking clock as its ally against an undersized Colts' defensive front. This may result in fewer snaps for the Colts' offense and fewer opportunities to knock off that proverbial rust.
[+] Enlarge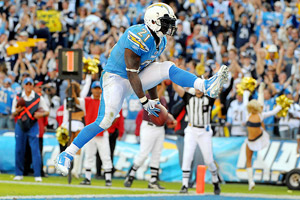 Kirby Lee/Image of Sport/US PresswireThe Chargers' offense is flying high, but LaDainian Tomlinson is no longer the threat he once was.
4. San Diego is not perfect: Don't get me wrong, I understand why so many pundits are so excited about the Chargers and are picking them to win the whole thing. I am very much a believer in Philip Rivers and this entire passing game. But, after that, I have my share of questions. This running game usually benefits from having defenders away from the line of scrimmage, as obviously the Chargers' passing game is far more threatening than LaDainian Tomlinson.
Still, Tomlinson rarely is able to exploit this advantage. Needless to say, he is nowhere near the player he once was. In fact, I think he is a bottom-tier starting running back at this point -- and that might be being kind. When the Chargers need to run against a defense like New York's, can they? I don't think so. San Diego's run defense doesn't worry me as much, but it is a major concern considering this week's matchup.
5. A winning formula for Gang Green: Jets offensive coordinator Brian Schottenheimer called a terrific game in Cincinnati, and the Jets executed the game plan well against a very good defense. New York stayed patient with its game plan and didn't press with execution or play calling. If it wasn't for the long sure touchdown that Braylon Edwards dropped, Mark Sanchez's numbers would have been far more impressive in a hostile environment. More importantly, the rookie signal-caller showed a ton of poise and the play calling allowed him to stay in his comfort zone. Most importantly, he didn't make mistakes and the Jets won the turnover battle.
That said, the key to this offense is the dedication to the run game with two very good ball carriers who bring a physical edge to their game. The Jets really have something in Shonn Greene, who still has fresh legs at this late point of the season and exhibited power, vision and an excellent burst.
Although the immense damage that Cedric Benson did to the vaunted Jets' run defense is disturbing, coach Rex Ryan had to feel very good about the unit's overall performance, as Revis just eliminated the Bengals' only threatening receiver. This is an extremely well-coached Jets team. Ryan and his staff deserve a lot of credit.
6. Dallas will be very hard to stop: Even with Marion Barber a nonfactor, the Cowboys' offense was tremendous in the victory over the Eagles. Simply put, there are just too many options to properly cover. Offensive coordinator Jason Garrett has so many possibilities at his fingertips, and it was great to see Roy Williams step up and be a factor in Dallas' victory.
The Cowboys incorporated more screen principles into their repertoire, including bubble screens to Williams and Miles Austin, who they could use their size and strength to quickly get upfield against finesse cornerbacks. The wide receivers are also blocking. And the Cowboys got excellent contributions from guys like John Phillips and Kevin Ogletree.
The Eagles had a rash of injuries among their defensive backs, but it really didn't even matter, as Philadelphia's offense and defense were completely overwhelmed and the Cowboys dominated time of possession and field position from the start. The Vikings' secondary could be in for a long day.
7. Very impressive, but … Baltimore has not been great on the road and struggled against playoff-caliber teams, but the Ravens obviously played a great game from whistle to whistle against the Patriots. Another ultrafast start might be needed in Indianapolis against a Colts team that hasn't played a full game in some time.
New England QB Tom Brady was under siege from the onset and made uncharacteristic decisions as free rushers barreled in on him. This was masterful defensive play calling and execution. The Ravens blitzed effectively, and when they played coverage, they didn't give a crease to deliver the football.
But the big question remains: Can they duplicate such a performance against Manning? Perhaps, but I contend that Baltimore's passing game will be the difference in this week's game. The Ravens will not get past the Colts with Flacco throwing for 34 yards, like he did in the wild-card round.
8. Cards survive a wild one: In a remarkable game, Kurt Warner got the ball out very quickly and spread the ball around, and coach Ken Whisenhunt had a potent game plan for the Packers' secondary, which really has only one high-end cover guy. Obviously, Warner was playing at a Hall of Fame level on his way to going 9-3 as a starting quarterback in the playoffs. Arizona didn't punt until there was about 12 minutes remaining in regulation.
It was reminiscent of Arizona's offense one year ago -- but with a better run game. It is impossible to predict how a game like this will affect the Cardinals, but you know that Warner & Co. are not going to be overwhelmed on the road this week. However, after that amazing game, I would be remiss not to have concerns about Arizona's pass defense. Brees must be eager for this week's kickoff.
Scouts Inc. watches games, breaks down film and studies football from all angles for ESPN.com.
ESPN.com
Joined ESPN in 2005
Was an NFL and college scout for the Cleveland Browns
SPONSORED HEADLINES
MORE NFL HEADLINES
MOST SENT STORIES ON ESPN.COM
2009 NFL PLAYOFFS: ROAD TO MIAMI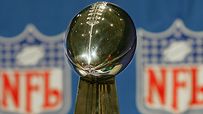 Who will supplant the Steelers as champions? The Colts and Saints will square off in Super Bowl XLIV on Feb. 7 in Miami.
COMMENTARY/BLOGS
CHAMPIONSHIP GAMES
Colts 30, Jets 17
Saints 31, Vikings 28 (OT)
DIVISIONAL ROUND
Vikings 34, Cowboys 3
Jets 17, Chargers 14
Saints 45, Cardinals 14
Colts 20, Ravens 3
WILD-CARD GAMES
Jets 24, Bengals 14
Cowboys 34, Eagles 14
Ravens 33, Patriots 14
Cardinals 51, Packers 45 OT