Commentary
Officials ramp up stadium security
Toss your bottle of water, put your bag on the conveyor belt, walk slowly through the scanning device and raise your arms for the pat-down.
No, you're not at the airport getting ready to board a flight to Miami. You're entering Sun Life Stadium for Sunday's Super Bowl XLIV amid heightened security and watchful eyes of dozens of surveillance cameras.
[+] Enlarge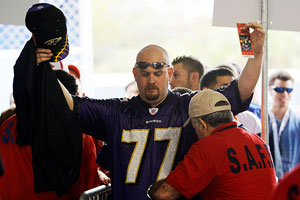 AP Photo/Mark HumphreySecurity officials suggest fans heading to Sun Life Stadium should arrive early and be prepared to be screened.
While fans might expect such scrutiny for a high-profile event, security and anti-terrorism experts say that what happens Sunday is only a precursor of what's to come at all NFL stadiums and other sports venues across the nation in the next few years.
"After 9/11 it became so vividly apparent that our enemies would be attracted to our events for a host of reasons," said Milt Ahlerich, a former FBI executive who was hired by the NFL in 1996 to oversee security.
Renewed proof of that threat came last fall with the arrest of a suspected terrorist with links to al-Qaeda. His alleged plans to detonate explosives in and around New York were reported to include sports venues, prompting the FBI to alert officials at Giants Stadium of a possible threat.
Najibullah Zazi, an Afghan man who had been living in Colorado, pleaded not guilty to terrorism conspiracy charges and is awaiting trial. His father, Mohammed Wali Zazi, was indicted Monday in federal court on charges that he lied to investigators.
The recent attention on sports stadiums as targets also led the Department of Homeland Security to hold a meeting in New York with representatives from the all the major sports leagues in December.
The possibility that terrorists could be eyeing sports venues isn't lost on fans either, including Hans Steiniger, a 34-year-old electrical engineer in Sterling Heights, Mich.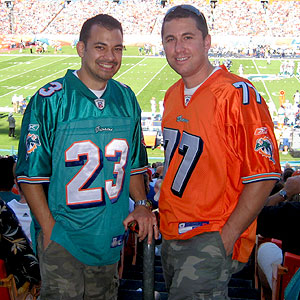 Courtesy of Hans SteinigerHans Steiniger, left, seen with friend Jason Clippert, says there are obvious reasons for terrorists to consider sporting venues as potential targets.
"If a terrorist organization is really trying to strike at the heart of American culture, doing something like putting a bomb in a professional sports venue and creating that kind of disruption is the type of the thing that really would hurt our way of life. … It would really strike at the heart of what America holds dear," Steiniger said. "It's certainly a concern. If we're talking about it, it's not a mystery to any terrorist out there."
Steiniger knows a thing or two about football stadiums and national security. He maintains a Web site, www.nflfootballstadiums.com, dedicated to his four-year trek to visit every NFL football stadium in America, which he finished last year by driving from Detroit to New Orleans with his wife on Christmas Day to catch a Dec. 27 game at the Superdome.
When he's not traversing the country looking for the next tailgate, Steiniger helps oversee the design and construction of military concept vehicles -- think off-road, super heavy-duty, remote-controlled, weapons-equipped soldier savers -- for a small government contractor in Detroit.
Steiniger's awareness might make him one of the more accommodating fans when it comes to the sometimes 30-minute security lines at the gate, where even he sees opportunities for improvement.
"They pat down every single fan. They check your belt line, your shoulders, your back. This situation in Detroit is a little troubling, where the gentleman put some kind of explosive in his boxers," Steiniger said, referring to the Christmas Day attempted bombing of a commercial airline as it landed in Detroit by a passenger who had explosives sewn into his underwear. "[Stadium security officials] are not at the point where they're checking those areas. That's a potential problem."
Facial recognition, high-def video
The solution to keeping terrorists toting bombs in their briefs out of a football stadium might be in Hattiesburg, Miss., a city whose Web site boasts its many accolades for being one of the best places to retire, and is, coincidentally, the on-again-off-again retirement residence of Brett Favre.
Super Bowl Security
Screenings at Sun Life Stadium will be tight. The NFL asks fans to minimize the number and size of items carried inside. Items will be inspected, and everyone entering will be subject to screenings -- including metal detectors, pat-downs and other checks. Fans who don't consent won't be let in. Small bags, subject to check, will be permitted but binocular and camera cases, among other items, will not. Fans are urged to carry nothing larger than a small purse or bag.
Prohibited items include: weapons, fireworks, camcorders, umbrellas, strollers, beach balls, Frisbees, poles, sticks, laser lights and pointers, containers, coolers, backpacks, bottles, cans, hairspray, camera cases and binocular cases/tripods, mace or pepper spray, banners, noisemakers, horns. Small cameras and binoculars are allowed. Cameras with lenses longer than 6 inches are not. Electronic devices such as cell phones, pagers, TVs, radios, personal computers and PDAs will be inspected.
Temporary flight restrictions will be in place, prohibiting private aircraft from operating in a large radius around the complex. No blimps or other aircraft will be allowed to circle. There will be a military flyover during the performance of the national anthem.
Parking lots open at 11 a.m. ET. Fans can tailgate but may not take grills. Fans may not take up more than one parking spot, and tents are prohibited. A fan plaza will open at 1 p.m. on Sunday for Super Bowl ticket holders only. Stadium gates open at 2 p.m., and in-stadium festivities begin at 5:30 p.m.
Only people with tickets or credentials will be allowed within the security perimeter around Sun Life Stadium. Everyone entering the stadium, including children, must have a ticket. Fans cannot re-enter the stadium once they leave. Fans can go through any screening point on the perimeter and proceed to the gate marked on their tickets. People in wheelchairs and their companions must have tickets designated "wheelchair."
-- Source: NFL
This southern town of 50,000 people is also the home of the University of Southern Mississippi, where some of the most cutting-edge research in sports stadium security is under way at the National Center for Spectator Sports Safety and Security. The center is bringing together all the major professional sports leagues, the NCAA and government security agencies for a first-ever sports security conference in August in New Orleans.
"Do stadiums and arenas today have the best physical protective measures, cameras, access control, proper credentials? Have they put up the right outer perimeter? There's a whole array of checklist procedures and policies that have to be in place," center director Lou Marciani said. "Does everybody do that? Research tells us we don't." Marciani added that college stadiums expose the biggest gaps in vulnerability.
The center has developed training programs for everyone from police officers patrolling concourses to the hot dog stand worker who can keep an eye out for odd behavior. But Marciani said technology really holds the key to stronger security.
The ideal scenario would be a walk-through scanner that is able to detect explosives, chemicals and weapons and would flash either red or green to indicate whether a fan can enter the gate, he said. "That's the dream of all the vice presidents for security of the major leagues," he said. "Better technology at the gates, better sensors away from the stadium, back in the tailgating area, back at the train station, bus station, parking lot. That's the future."
The goal is to "harden the target" -- that's anti-terrorism speak for improving security -- through technology without turning game day into a trip through the Transportation Security Administration line at New York's LaGuardia Airport.
"Sports people are sensitive to that," Marciani said. "It's not going to be LaGuardia. We don't need LaGuardia for Yankee Stadium."
Yet the Department of Homeland Security -- the same folks who run those TSA lines -- is heavily involved in sports venue safety, providing about $5.1 million of the center's $7.8 million in government grant money.
On Monday, DHS Secretary Janet Napolitano and her crew toured Sun Life Stadium and met with other law enforcement agencies at the appropriately named "JOC," or joint operations center. With her was Todd M. Keil, assistant secretary for infrastructure protection.
When Keil sits down in a stadium, even as a fan, his eyes stray from the field to the stands, where he tries to pick out the hidden cameras and scans the crowds for anything suspicious -- often catching the eye of his wife instead, who has to remind him to watch the game.
From a fan's perspective, Keil is also sensitive to the inconvenience that fans experience when security slows them down or becomes too intrusive, which is one reason he's interested in innovations that would weed out security threats far from the gates.
Devices that can detect chemicals and explosives at a distance, license-plate scanning and facial-recognition software are all in the works, he said. One of the high-definition video surveillance packages tested at the National Center for Spectator Sports Safety and Security last fall can identify suspicious behavior in vehicles from 1,000 feet away. It can also positively identify someone's facial features at 300 feet.
Keil added that newer stadiums are being built with special security features such as shatter-resistant glass or structural supports that would mitigate the effects of a bomb blast designed to cause a progressive collapse.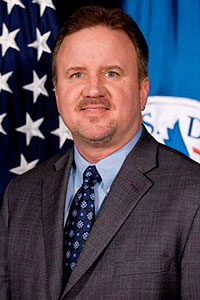 Courtesy U.S. Department of Homeland SecurityTodd M. Keil, assistant secretary for infrastructure protection at the U.S. Department of Homeland Security, says fans don't always see all the security measures taken at stadiums.
"The tip of the iceberg is what fans see," he said. "What is going on underneath the surface is much larger and much greater."
It's unclear exactly how much of a benefit fans will see through new technology in terms of shorter waits at the gates. Ahlerich, the head of NFL security, said he hopes someday that screening devices will eliminate the need to conduct pat-downs, which some fans find intrusive and time-consuming.
Checking vehicles for explosives is also a lengthy process that requires individual stops in which a security officer has to open up the trunk and run a dog around each car, he said. "Technology will catch up there," Ahlerich said.
Whether better vehicle screening would have let the NFL loosen up its parking restrictions for Super Bowl XLIV is unknown. Officials have limited some parking and curtailed tailgating in the lots around Sun Life Stadium for Sunday's game.
Steiniger, the uber-fan from Detroit who scored a free ticket to Super Bowl XLIV, said he knows people aren't happy about having to leave their grills and kegs at homes, but most of them understand.
"9/11 has really put us into a state where we comply rather than complain," he said. "We're ready to comply."
And if that means scoping out a local bar to hang at before the game instead of toting a six-pack around a parking lot, Steiniger figures so be it.
Paula Lavigne is a reporter in ESPN's Enterprise Unit. Her work appears on "Outside the Lines." She can be reached at paula.lavigne@espn.com.
Data analyst and reporter for ESPN's Enterprise and Investigative Unit.
Winner, 2014 Alfred I. duPont Columbia University Award; finalist, 2012 IRE broadcast award; winner, 2011 Gannett Foundation Award for Innovation in Watchdog Journalism; Emmy nominated, 2009.
SUPER BOWL XLIV
Who will supplant the Steelers as champions? The Colts and Saints will square off in Super Bowl XLIV on Sunday in Miami.
SUPER BOWL PREDICTIONS
HOT READ: Playing with pain
HALL OF FAME
OUTSIDE THE LINES: CONCUSSIONS
COMMENTARY/BLOGS
SCOUTS INC. TALE OF TAPE
MORE SCOUTS INC.
SPORTSNATION

MOST SENT STORIES ON ESPN.COM