Commentary
2010 playoffs warrant strong reviews
Originally Published:
February 9, 2011
By
John Clayton
| ESPN.com
Although North Texas might not get good reviews for its inability to remove ice from the roads and get fans into Cowboys Stadium for Super Bowl XLV, plenty of good reviews are in order for the 2010 playoffs.
QUESTIONS, PLEASE
Do you have a query for John Clayton?
Click here to send a note to his mailbag.
Give officials an A grade. In a season in which umpires were moved into the offensive backfield for safety reasons, officiating crews didn't bog down playoff games with too many holding calls and weren't the main topic after games. This might have been one of the least controversial years for playoff officiating. The officials weren't perfect, but they were good.
The elite quarterback theory held up. Aaron Rodgers won a Super Bowl ring even though the Packers were a No. 6 seed. Ben Roethlisberger led the Steelers into the Super Bowl despite a four-game suspension to start the season. The days of winning a Super Bowl with just defense and a running game are over. The Packers -- like the Saints a year ago -- proved that.
From the inbox
Q: Whom do you think would be the best quarterback for the Cardinals' system? I think Christian Ponder is the best quarterback in the draft.
Anthony
A: Kevin Kolb would be ideal, but the price (in terms of draft pick compensation) might be too high. Kyle Orton would fit nicely as the next option. I think Donovan McNabb would be perfect, but the Cardinals don't. Scratch him. If all trade options fail, they will sign Marc Bulger, the quarterback Ken Whisenhunt wanted last year. Florida State's Ponder might fit, but the Cards are leaning toward an experienced quarterback.
Short takes
Garren in Clifton Park, N.Y., wants the Bills to draft Texas A&M linebacker Von Miller because of his pass-rushing ability. I still think the Bills need to look at quarterbacks such as Cam Newton, but if they stay with Ryan Fitzpatrick, Miller would provide the pass rush Aaron Maybin didn't offer. Plus, Miller could play as a weakside linebacker in a 4-3. I don't like the idea of the Bills going back to a 3-4. … Tim in New Haven, Conn., knows the Giants have plenty of good, young receivers, but he wants the Giants to give up enough draft choices to trade for wide receiver Larry Fitzgerald. I strongly disagree. The Giants need to use those draft picks to get younger and better along the offensive line and fix spots in their defense. They're pretty well set at WR. … Jay Na in Mercer Island, Wash., dislikes Rex Ryan and the Jets' style of trash talk. He doesn't think it's benefiting the NFL. I disagree. Football is a violent sport and bragging teams can be humbled on the field. Not everyone has to wear the white hats. I think it's fun having teams willing to take the villain role. … Glenn in Rhode Island is still trying to figure out why the Patriots' offense faded in their playoff game against the Jets. He wonders if some of the rookies hit the "rookie wall." I contend the Patriots lost foot speed after the Randy Moss trade and the Jets finally figured out a way to contain them. The Pats need to draft or sign a speed receiver or two. … Jeffrey in Atlanta still can't figure out the NFC quarterback rotation in the Pro Bowl because he didn't see much of Drew Brees or Michael Vick. I found that pretty curious myself, but it wasn't because Falcons coach Mike Smith was personally opposed to using Vick, the former Falcons quarterback. … Jason in Denver suggests eliminating the Pro Bowl and just naming an All-Pro team. I hate to say it, but you may be on to something. If the Pro Bowl continues at the same level of play as the past two seasons, I think it could go away.
Q: As a Bengals fan, it has been difficult to keep the faith, as you can imagine. What is your assessment? What do they need to do?
Tim in Xenia, Ohio
A: I'm sure it is hard to keep the faith in Cincinnati, but I really believe the positive chemistry that helped the Bengals to a 10-win season in 2009 fell apart with bad chemistry and injuries in 2010. This team can bounce back, but not by signing veteran castoffs off the street. It needs a great draft on offense. I contend adding Georgia wide receiver A.J. Green on offense could be a huge impact. Green could work the outside. Jermaine Gresham, Jordan Shipley and Andre Caldwell can work the middle. They need to re-sign Cedric Benson. Plus, they need a lot of work along the offensive line. Carson Palmer has to buy into the changes, but it can work.
Q: I can totally understand the feelings of the players in the CBA talks. A lot of these guys are even ready to take paycuts to keep the season alive. But there's much more than money at stake here. Shouldn't we also consider that many of the seasoned veterans in the league may lose their last shots at a Super Bowl title this way?
Arneet in New Zealand
A: The older players are going to pay a price no matter what happens. Salaries will go up and the players at the end of their careers may not get signed because their base salaries will be more expensive. What the NFLPA should try to do is make sure there is an incentive for teams to sign veterans. When cap money was tight, former NFLPA executive director Gene Upshaw had a minimum exception salary that saved a team more than $200,000 or $300,000 of cap room if they signed a veteran. Something similar would help the older players. All players are affected by a labor stoppage. A deal needs to happen quickly.
Q: If the league is considering adding playoff teams, wouldn't the best format be eight teams in each conference?
Tyler in Tennessee
A: I would prefer seven playoff teams per conference, but you might get your wish with eight. The problem with eight is that it almost guarantees an 8-8 or 7-9 team will make it and that cheapens the playoffs. If the league stays with the 16-game regular-season, no playoff teams need to be added. But if it goes to an 18-game season -- which it will -- then expanding the playoffs in some form is merited.
Q: You're a Hall of Fame voter. Thinking about Denver running backs, do you think Terrell Davis was a better player than Floyd Little? Little is in the Hall, but Davis probably won't get there. Little was a good player, but he doesn't seem as good as other players who are denied induction. Am I undervaluing Little?
Mark in Seattle
A: Little made it as a senior candidate, going 25 years of eligibility without being selected. Don't forget Little's importance in establishing the legitimacy of the Broncos as a franchise when it was in its formative years. Davis had a great short run as a running back, but his rushing totals don't stack up with the all-time greats. I just wish Davis would have had a longer career. If he did, he might be in the Hall. You are probably undervaluing Little. In his case, it goes beyond the numbers.
Q: So I'm just gonna throw this out there and see what you think: I don't believe that Tom Brady or Peyton Manning are going to win another Super Bowl. Both of them have another three to four years left in them and that's if we don't have a lockout that cancels the season. Pittsburgh, Baltimore, the New York Jets, and Kansas City are all improving and each has a quarterback 28 or under who knows how to win games, and that's just in the AFC. The Bucs, Falcons and Packers are also on the rise. Even more, both Brady and Manning need improvement on defense and along their offensive lines in order to even consider getting past one game in the playoffs.
Gary in Middlebury, Ind.
A: This may be a young man's game, but Brett Favre proved that you can't count out the old guy. There is too much great football left in Manning and Brady to rule them out of taking a team to a Super Bowl. I know I take a lot of heat for having 11 or 12 elite quarterbacks, but the quality of the quarterbacks up top isn't good enough to sentence Manning and Brady to being one-and-done quarterbacks in the playoffs. I think both quarterbacks have at least five years of championship-level football left in them.
John Clayton, a recipient of the Pro Football Hall of Fame's McCann Award for distinguished reporting, is a senior writer for ESPN.com.
NFL senior writer
Senior NFL writer and commentator
Joined ESPN in 1995
Member of the writers' wing of the Pro Football Hall of Fame in Canton, Ohio
SPONSORED HEADLINES
MORE NFL HEADLINES
MOST SENT STORIES ON ESPN.COM
PACKERS WIN SUPER BOWL XLV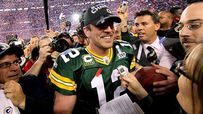 The Packers defeated the Steelers 31-25 in Arlington, Texas, to win their fourth Super Bowl.
SB Central
|
SB blog | Clayton's Last Call
NEWS
COMMENTARY/BLOG POSTS
PAGE 2
SPORTSNATION
NFL BLOG NETWORK
FOLLOW US ON TWITTER
ESPN PASSPORT