Colts need to find a quick fix
Broncos vs. Colts is the best matchup of wild-card weekend, but here's a look at all the games.
Updated:
January 4, 2004, 12:04 AM ET
By
John Clayton
| ESPN.com
Editor's note: ESPN senior NFL writer John Clayton's "First ... And Goal" column takes you around the league with a look at the best games of wild-card weekend followed by primers for the other three games.
First ...

Denver Broncos at Indianapolis Colts (Sunday, 4:30 p.m. ET, CBS): No coach in the playoffs has more motivation than Tony Dungy.

Coaching is about fixing problems. Obviously, the Colts had a problem stopping the run two weeks ago when the Broncos punished them for 227 rushing yards on an incredible 54 carries in a 31-17 victory.

Dungy's biggest task Sunday when the two teams meet again is stopping the Broncos running game with Clinton Portis back from his knee and ankle problems. Portis missed two games and returned to the practice field Wednesday. He rushed for 1,591 yards in 14 games before the injury.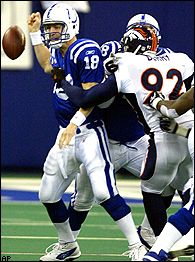 Bertrand Berry should improve the Cardinals' pass rush.

The Colts have one of the smaller defenses, a by-product of the Tampa Bay Buccaneers system that features quick defensive linemen and smaller linebackers. It's a great system unless an opponent is equipped to run right at it. The Tampa Bay "Cover 2" tends to wear down the more teams successfully run against it.

Still, the Colts have a talented defense. They ranked No. 11 in the NFL allowing just 299 yards a game. The goal this week is to cut down on the run, and it's going to be hard to image that the Broncos can put up another 227-yard game against them.

The Broncos victory over the Colts came with a price. Broncos cornerback Kelly Herndon broke a bone in his hand and needs a cast to play, while safety Nick Ferguson is out for the season. It's not easy playing in the RCA Dome with a depleted secondary. Peyton Manning's specialty is picking apart depleted secondaries.

This is an important game for Manning. Since 1995, the Colts, as a franchise, have lost five consecutive playoffs game. Manning himself is 0-3. But the sixth year is when most great quarterbacks make their run, and Manning put up MVP numbers this year.

He became the first player in NFL history to put together five consecutive 4,000-yard passing seasons. Manning knows his reputation is at stake in this playoff game, and Dungy has used last year's 41-0 playoff loss to the Jets as motivation to win the AFC South this season.

This is also an important game for quarterback Jake Plummer, who finished the season completing 62.6 percent of his passes and having a respectable 91.2 quarterback rating. The Colts defense will try to make it tougher on him than their last meeting when he completed 14 of 17 passes for 238 yards and two touchdowns.

Ultimately, though, it will come down to coaching -- Dungy against Shanahan, which makes it a great matchup.

... And goal

Tennessee Titans at Baltimore Ravens (Saturday, 4:30 p.m. ET, ABC): Their rivalry carries over from their days in the AFC Central two years ago. And, unlike most rivalries involving the Titans, Jeff Fisher doesn't hold the edge.

The Ravens have won five straight against the Titans. Overall, Brian Billick is 6-2 against the Titans, and that doesn't sit well in Tennessee.

What's interesting about this game is that the Ravens are the favorite even though the Titans are the better team on paper. The Titans won 12 games. The Ravens won only 10. Against common opponents, the Titans were 5-0, the Ravens 2-3.

Perhaps the most interesting matchup of this game is the Titans run defense against Jamal Lewis. Lewis had the second-best rushing season in NFL history with 2,066 yards. A University of Tennessee alum, Lewis loves having big days against the Titans.

The Titans are the best in football at stopping the run, allowing only 80.9 yards a game. Defensive tackle Albert Haynesworth, one of the more disruptive forces in the middle of a defense, will probably play one of his best games. He was deactivated last weekend for being tardy at meetings.

Fisher and Haynesworth patched everything up Monday, so Haynesworth may play with extra fire this week.

Another running back to watch is halfback Eddie George of the Titans. George gained 1,031 yards this year, but once again, his rushing average was low at 3.3 yards a carry.

George's decline in production is why the Titans switched over from being a run-oriented offense into a passing offense dominated by Steve McNair. McNair practiced this week and should be fine for Saturday's game. He was 75 percent on his ankle last Sunday, but Fisher was able to rest him.

This game should be physical, and it should be close.
Dallas Cowboys at Carolina Panthers (Saturday, 8 p.m. ET, ABC): The Cowboys won the first meeting in Dallas when Quincy Carter threw for 254 yards and two touchdowns.

Well, Carter is on the road, and that could be a problem. Most of his interceptions have come in road games. Carter enters the playoffs with a 71.4 quarterback rating, lowest among the playoff quarterbacks. His 21 interceptions are the most for a Cowboy since Danny White in 1983.

Can Carter play a perfect game on the road? It might be tough. Panthers coach John Fox has had the past three weeks to rest injured defensive players such as Brentson Buckner, Mike Rucker and Terry Cousin. Though Cousin might not start, the Panthers should be better on defense with the returns of Buckner and Rucker, who have had knee injuries.

Of course, Carter can't be knocked too much. He did lead the Cowboys to a surprising playoff appearance after the franchise's three consecutive 5-11 finishes. Unlike Jake Delhomme, the Panthers' quarterback, Carter doesn't have a 1,444-yard back to take pressure off him.

Troy Hambrick is a big, powerful runner, but he fell 28 yards short of a 1,000-yard season. Though he can get hot in a game, it's uncertain how well he can play in his first playoff game.

The Panthers have one of the league's best young front sevens and should cause problems for the Cowboys offensive line. Of course, the Cowboys, who finished with the league's top defense, will create major fits for Delhomme.

Delhomme's strength has been his ability to create fourth-quarter rallies, but that could be a problem Saturday. Coming behind against the Cowboys defense could be tough. Delhomme has seven fourth-quarter touchdown passes and a fourth-quarter quarterback rating of 88.2. The Cowboys only allow 164 yards a game passing.

The winner of this game will be the one that runs the ball best.
Seattle Seahawks at Green Bay Packers (Sunday, 1 p.m. ET, FOX): The Seahawks were elated to make the playoffs, but they weren't happy about getting the early start on Sunday. The Seahawks were 0-6 in road games starting at 10 a.m. Pacific time.

Mike Holmgren readjusted the schedule to try to find a better balance. Instead of flying East on Friday, two days before kickoff, the Seahawks are flying in Saturday.

The Packers won the first meeting, 35-13, and Holmgren's biggest challenge is containing halfback Ahman Green, who rushed for 118 yards in that game.

Green was traded to the Packers by Holmgren because he was considered too much of a fumbler. As it turned out, Mike Sherman, a former Holmgren assistant in Seattle who took over the Packers, turned Green into one of the league's most dangerous rushers. Green finished second in the NFL with 1,883 yards and 15 rushing touchdowns and had 20 touchdowns overall.

Stopping the run has been a problem for the Seahawks, but defensive coordinator Ray Rhodes did a decent job putting a scheme together to stop 49ers halfback Kevan Barlow last week. The Seahawks finished 19th on defense, allowing 327.4 yards a game.

Former Packers quarterback Matt Hasselbeck has had a Pro Bowl year completing 313 of 513 passes and 26 touchdown passes, but the Seahawks can't afford the dropped passes that have plagued the team throughout the season.

Hasselbeck brought the Seahawks from behind after a 14-0 deficit against the 49ers in which there were four dropped passes.

One interesting player to watch is Packers defensive tackle Grady Jackson, who was brought in at midseason after being cut by the Saints. Jackson helped to solidify the interior of the Packers run stopping unit and replaced Gilbert Brown as the starter.

The Packers just rewarded him with a two-year contract extension. The Seahawks could have tried to get him on a waiver claim, but the Packers had a worse record and claimed him first. Jackson was the type of player the Seahawks were looking for to solidify their run stopping problems.

At the draft, the Seahawks traded for Saints defensive tackle Norman Hand, but he broke down with injuries before the end of September. The Seahawks ended up trying to patch the position with rookie Rashad Moore.

John Clayton is a senior NFL writer for ESPN.com.
NFL senior writer
Senior NFL writer and commentator
Joined ESPN in 1995
Member of the writers' wing of the Pro Football Hall of Fame in Canton, Ohio
EDITORS' PICKS
Extra points will likely be different in 2015, but how? NFL Nation reporters dissect the proposed changes.
Roundtable »

Using GIFs to support his argument, Todd McShay illustrates Jameis Winston's edge over Marcus Mariota.
Story

Late-round QBs are wasted picks. Dallas shouldn't worry about replacing Tony Romo until he hangs it up.
Archer »
Nike Men's Tennessee Titans Sideline 2014 Defender Hybrid Navy Half-zip Jacket Shop »

MOST SENT STORIES ON ESPN.COM