Green sparks Packers' run
Ahman Green's production for the Packers has made the trade from Seattle a one-sided deal.
Updated:
January 3, 2004, 8:27 PM ET
By
Greg Garber
| ESPN.com
GREEN BAY, Wis. -- He shuffles into the interview room in a remote corner of Lambeau Field and drops wearily into the chair.
Ahman Green carried the ball 355 times this year for the Green Bay Packers and caught another 50 passes from Brett Favre -- that's a career-high 405 touches -- and now, after a spirited New Year's Day practice, he has a word for what he's feeling.
"Tired," he says, barely moving his lips.
That's not how it was in Seattle, where Green ran the ball all of 61 times in his first two seasons as a professional.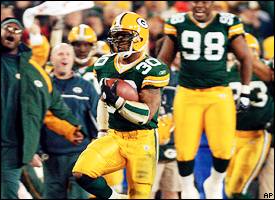 Green shattered the Packers' single-season mark for rushing yards.
It's funny how things go in sports. One minute, Green was sleeping in Seattle in 1999, an unsure-handed backup who never started a game behind Ricky Watters. The next, he was traded to the Packers by former Green Bay head coach Mike Holmgren for what amounted to, well, nothing, really.
And now, in a blast of irony that the NFL seems to produce on a regular basis, Green meets his former team Sunday afternoon in an NFC wild-card game. Isn't that just a little bit cosmic?
"It might be," Green said. "But it isn't something I can control, in terms of what I've got to do, what my team has to do."
Isn't there, Green was again asked, some extra motivation in going against the team, the man who spurned him?
"You don't have to say much to get me started," Green said. "You just have to say, 'Ahman, you ready?' And I'm ready. I just have to strap my helmet or get my ankles taped, and I'm ready. There's nothing much you have to say to motivate me to get me to play football."
It is difficult to imagine where the Packers would be without Green -- or where the Seahawks might be, either.
"Please," said defensive end Kabeer Gbaja-Biamila, Green's roommate on the road, "I don't want to imagine that."
For as wonderful a weapon as Favre is, it was Green who carried the Packers in last week's must-win against Denver. Favre threw 21 passes for a total of 116 yards, but he handed off to Green 20 times for a team-record 218 yards in a 31-3 victory.
But the headlines coming out of the game concerned an improbable catch in the desert by the Arizona Cardinals' Nathan Poole that beat the Minnesota Vikings and lifted the Packers into the playoffs. The story that continues to dominate is the Angels in the End Zone vibe surrounding Favre after the death of his father.
Truth is, Green is the most productive running back in the league over the last four seasons. No, really.
Priest Holmes, with all of his touchdowns, is a fantasy football machine, but he was a mere backup to Jamal Lewis in Baltimore back in 2000. Holmes has gained 7,375 yards, rushing and receiving, but that is less than Green's four-year total.
Ricky Williams? His rushing numbers dropped off this year, so he's at a modest 7,104. Marshall Faulk? Injuries the last two years have limited his effectiveness. He's at 6,934. Tiki Barber (6,828), Curtis Martin (6,571) and Stephen Davis (5,636) aren't really close. LaDainian Tomlinson has been ruthlessly productive during his three years in the league, amassing 6,145 yards in three seasons, but he was still at Texas Christian when Green was traded to Green Bay. Lewis? He's at a respectable 5,700 yards, but he missed the entire 2001 season with a knee injury.
How about Randy Moss or Marvin Harrison? Please. Although their numbers are spectacular -- Harrison (5,947) and Moss (5,752) -- there's only so much a wide receiver can do.
So savor these numbers:
2000: 1,175 yards rushing, 559 yards receiving.
2001: 1,387 yards rushing, 594 yards receiving.
2002: 1,240 yards rushing, 393 yards receiving.
2003: 1,883 yards rushing, 367 yards receiving.
The grand total is 7,598 yards, a ludicrous number when you pause to think about it.
Did you know?
This week ESPN asked players and coaches around the NFL to name the most productive running back over the last four seasons. The Packers, with one interesting exception, were the only ones who knew.
"Ahman Green," center Mike Flanagan blurted out, even before the question was completed.
"Ahman Green," wide receiver Donald Driver seconded.
"Ahman Green," Gbaja-Biamila added.
It is instructive that, when asked, Green's first guess was Priest Holmes, followed quickly by Marshall Faulk -- good, educated answers. Forced to take another stab at it, he came up with Jamal Lewis. When he was told that the answer was, in fact, Ahman Green, he responded with a cryptic smile that revealed both surprise and pride.
Asked later, if he really didn't know he was the answer, Green replied, "Well, I knew I was up there."
This is hardly false modesty.
"I'm a blue-collar worker," he explained. "There's no frills with me. I just go out and play. I don't celebrate in the end zone. I just do my job, basically."
Green doesn't really seem to care about these things. He is a big fan of SportsCenter, but when his name comes up, he said, he turns away. When the anchors around the country mangle his name -- it's Ah-MAN, not AH-Man -- he just shrugs.
"I'm used to it," he said. "In first grade, classmates never quite said it right. So I kind of got used to it."
When Green was recently named to his third straight Pro Bowl, he seemed more upset that fullback William Henderson didn't make it to Hawaii than elated at his own fortune. When asked to name the one person most responsible for his success in the NFL, Green listed close to a dozen, including brothers, sisters and his blockers.
It all seems so comfortable now, so right. Green in Green Bay, in retrospect, makes a certain sort of karmic sense. But four years ago, he was a bust. He was a three-year starter at Nebraska, piling up 3,880 yards and 42 touchdowns, but he was the No. 76 overall choice in the 1998 draft, behind seven other running backs: Curtis Enis (5), Fred Taylor (9), Robert Edwards (18), John Avery (29), Robert Holcombe (37), Jon Ritchie (63) and Skip Hicks (69).
When Holmgren arrived in Seattle, along with his new offensive coordinator Sherman in 1999, Watters remained the go-to back. Green, who had problems holding onto the ball, was an afterthought, carrying the ball nine times fewer than quarterback Jon Kitna.
But when Sherman was hired as Green Bay's head coach after the 1999 season, he traded for Green. He liked his speed and his toughness in short-yardage situations. Holmgren hated running backs who fumbled and needed a cover cornerback, so he and Sherman made a deal: Green and a fifth-round pick that turned out to be kick returner Joey Jamison for corner Fred Vinson, Green Bay's second-round pick in 1999, and a sixth-rounder that went for defensive tackle Tim Watson.
| | | |
| --- | --- | --- |
| | " | I'm a blue-collar worker. There's no frills with me. I just go out and play. I don't celebrate in the end zone. I just do my job, basically. " |
| | | —Ahman Green |
"His short-yardage percentage of winning the down was phenomenal," Sherman said. "And he showed in those situations that he was more than capable of being a good football player. Since then, he's transformed into a great back."
With the perspective of history, that trade looks as one-sided as the deal that brought Favre to the Packers from Atlanta. Vinson, who suffered a catastrophic knee injury, never played a down for the Seahawks. Since then, Holmgren has downplayed the deal. Before the two teams played this season in Week 5, he blamed Green's "asthma problems," which was news to Green.
Last year, dogged by a strained quadriceps, knee injury and a concussion that cost him two games, Green limped through the season. Healthy this season, he set nine franchise records, which -- considering this is the Packers, the most fabled franchise in football -- is saying something. Green's 1,883 yards rushing shattered Jim Taylor's 41-year-old mark of 1,474, the longest-standing franchise rushing mark on record. Not only was Green's 218 yards against Denver last Sunday another record, but his 98-yard touchdown broke Andy Uram's 64-year-old record by a yard. His 20 touchdowns and 10 100-yard rushing games also eclipsed records previously held by Taylor.
This didn't seem to sit too well with Taylor. In two interviews, with the Green Bay media and the Milwaukee Journal Sentinel, he made a point of stressing his seemingly modest fumble totals -- seen widely as a dig at Green.
"I am very happy for him," Taylor said in early December. "We had a lot of character and we were very humble, the Lombardi-era team and the players. We had a team concept. We were never concerned with individual records. They meant nothing.
"That may be a little different perception than you writers can understand."
Taylor went on to ask reporters what Green's fumble numbers were and went on to cite his own.
Certainly, Green has fumbled the ball in Green Bay, but he also has carried the ball more than most. While he fumbled seven times this season and lost five of those, they were the exact numbers belonging to Miami's Ricky Williams. Baltimore's Jamal Lewis, who led the league in rushing, fumbled eight times, losing six. The Giants' Tiki Barber lost six of nine.
Somehow, though, through the fumbles and other issues, Green has excelled.
"Heart," Green said. "Just heart."
When he ran track back in high school, Central in Omaha, Neb., his worst event as a freshman was the 200 meters. He had a decent start and he could run the curve, but?
"When it came to the end, I just ran out of gas," Green said. "My junior year, that event was hard for me. I told myself my senior year, 'I'm not going to lose.' And I went all the way, all the way to the state championship.
"If you don't mind, it doesn't matter."
Greg Garber is a senior staff writer for ESPN.com
Writer, Reporter
Greg Garber joined ESPN in 1991 and provides reports for NFL Countdown and SportsCenter. He is also a regular contributor to Outside the Lines and a senior writer for ESPN.com.
SPONSORED HEADLINES
MORE NFL HEADLINES
MOST SENT STORIES ON ESPN.COM
EDITORS' PICKS
The deck is stacked against a championship repeat. Can the Seahawks overcome the Pats and history?
Garber »

Aaron Rodgers secured his place in NFL history by becoming the ninth player to win multiple MVP awards.
Demovsky »

Patriots pastor Jack Easterby is a "godsend" whom many players say is a big reason the team has thrived.
Wickersham »