Long on results, short on style
It isn't always pretty. It isn't always popular. But the Super Bowl matches two remarkable 'teams.'
Updated:
January 30, 2004, 7:17 PM ET
By
Greg Garber
| ESPN.com
Teamwork, (tem-wurk) n. 1. cooperative effort on the part of a group of persons acting together as a team or in the interests of a common cause.
HOUSTON -- For the fleetest of moments, a flicker of disdain crossed the face of Bill Belichick late Monday afternoon. Sporting a snappy navy blue Patriots windbreaker bearing a newly minted Super Bowl XXXVIII patch, the head coach was reacting to a question about this ultimate matchup that, in the words of a reporter, was, well, "not the most glamorous."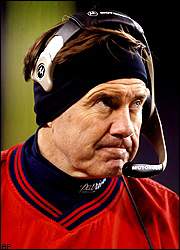 There's no mistaking the make-up of a Bill Belichick-coached team.
Belichick paused. "Oh," he began in his laconic way, "I don't really know what everybody thinks about it. I have a tremendous amount of respect for [the Carolina Panthers]. They've won six in a row, two playoff games on the road. They're a good team. We expect our toughest game of the season."
It is typical of the world we live in today that the Patriots and Panthers are all but apologizing for their presence here in Super Bowl XXXVIII.
"It is kind of an oxymoron," Carolina placekicker John Kasay said. "We may be boring, but 14 out of our 16 games ended on the last drive or the last play. There have been a lot of people that had heart problems in Carolina over the last four months, so that kind of cuts both ways."
Boring. Ugly. Not the most glamorous. It's already been a reoccurring theme in two days of Super bowl interviews. Yes, parity hasn't merely infected the NFL -- it taints our lives at every turn.
Geno Auriemma, the University of Connecticut women's basketball coach, bemoaned this fact last Saturday after his Huskies played another harrowingly close game, a 71-63 victory over Seton Hall.
"It used to be playing basketball the right way was the object," Auriemma said of the team trying to win a third consecutive NCAA title. "Now, winning is just really cool. I've given up on playing the right way. Those days are gone.
"It's like the old days of the great sitcoms: 'The Mary Tyler Moore Show,' 'All in the Family,' 'Bob Newhart,' 'M*A*S*H.' TV was fun to watch back then. Now it's [expletive deleted] reality shows. They say sports is a reflection of society. That's what it's come down to."
Indeed. We are left with Giants backup quarterback Jesse Palmer, the star of "The Bachelor" heading into its fifth season.
Gone are the days of the NFL dynasty, those times when the Packers and Steelers and Cowboys could dominate the sport for a decade. Free agency has leveled the playing field; it's impossible to assemble a core of stars and hang onto them for very long. The last team to win back-to-back titles was the Denver Broncos, who, driven by legendary quarterback John Elway, did it in 1997-98.
What we have now are efficient, lean-and-hungry, opportunistic teams like these Patriots and Panthers. They are solid, but not spectacular in all three phases of the game. They win in eerily similar fashion. And they are vastly greater than the sum of their modest parts.
New England knocked off the Titans and Colts in their two previous playoff games, ending the season for co-MVPs Steve McNair and Peyton Manning. Carolina sent home two coaches with Super Bowl rings -- Dallas' Bill Parcells and Mike Martz of St. Louis -- before breaking the heart of Donovan McNabb and his Philadelphia Eagles, who are 0-for-3 in the NFC Championship game.
Here in Houston, the only Hall of Fame-caliber players you'll find will be far off the field - likely enshrinees Barry Sanders and Elway himself and the former greats like Joe Montana and Lawrence Taylor who are in town to make some more money for themselves. One day, perhaps, the Patriots' Richard Seymour and cornerback Ty Law might be in the running for a bronze bust in Canton, Ohio. Tom Brady, if he continues his extraordinary play, has a shot, too. Maybe one of the Panthers' young defensive linemen, say, defensive ends Mike Rucker or Julius Peppers, will blossom and become a dominant player.
As it stands, Carolina running back Stephen Davis is the only offensive player on either team who earned a ticket to the Pro Bowl.
The statistics on display are, generally, mediocre. The Patriots' offense was ranked No. 17 among the NFL's 32 teams and the Panthers were No. 16. New England had the league's No. 27 running game, while Carolina quarterback Jake Delhomme completed all of nine passes in the victory over the Eagles. The defenses, in terms of yards, were ranked a modest No. 7 and No. 8, respectively.
The only numbers that really matter, however, are Ws and Ls. Not coincidentally, these two teams have done it better this season than anyone else. The 16-2 Patriots have won a ludicrous 14 consecutive games -- the second-longest streak at season's end after the 1972 Miami Dolphins, who were 17-for-17. New England hasn't lost a game since Sept. 28, the last day of baseball's regular season.
The Panthers, believe it or not, aren't far behind. They are 14-5, remarkable for a team that was 7-9 a year ago and 1-15 in 2001. They tied an NFL record with seven victories by three points or less and equaled another with three OT wins. Then they beat the Rams in double overtime to reach the NFC Championship game.
Before his Colts fell to the Patriots in the AFC Championship game, 24-14, head coach Tony Dungy spoke with feeling about how much he liked the way New England carried itself.
"I love the Patriots and the way they play," Dungy said. "I admire them because they are a team that utilizes everybody on their roster, everybody contributes - special teams, defense, offense, they play totally as a team and that's why they're successful.
"We're trying to get the same type of attitude going here. They win games a lot of ways. They win a lot of close games. But they don't care how they win and to me, that's a sign of a great team."
He might have been talking about the Panthers, too.
Matching trajectories
Maybe it shouldn't be all that surprising that these two teams mirror each other in so many ways. They are both coached by no-nonsense men that once coordinated the defense of the New York Giants. John Fox's father was a Navy Seal; Belichick's dad was an assistant coach at Navy. They both inherited order, discipline and toughness. Their teams have it, too.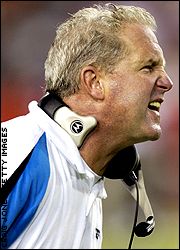 John Fox's team matches his intensity and demeanor.
The Patriots led the league with 29 interceptions and fashioned the second-best turnover net (plus-17). The two playoff games have yielded 5 interceptions, including three by Law against Manning in the AFC Championship.
The Panthers were a disappointing minus-5 in turnovers over the regular season, but in three playoff games Carolina has forced nine turnovers -- eight of them interceptions -- and thrown only single interception.
"Since we began the playoffs, we've turned that around almost 180 [degrees], and I think that's a big reason why we are sitting where we are," said Carolina coach John Fox. "I think we have improved as a football team, particularly in the playoffs."
There's that word again, team.
Listen to the Panthers' Davis talking about the Patriots' defense" "They play team ball. A lot of people say that the way you win games is great defenses and running the ball. They've been doing it the other way. They've got a lot of great athletes on the team and a lot of guys that can make plays."
No number underlines the Patriots' depth more than 42. That's how many different starters New England has used this season, one of the highest numbers in NFL history -- particularly for a winning team. A rash of early season injuries forced the team to juggle players and now that most of them are healthy -- linebacker Tedy Bruschi and his ailing right leg seems to be the major exception -- the Patriots are stronger for it.
Consider what they did to Manning. He was 23-for-47 and threw an incomprehensible 4 interceptions. Defensive lineman Jarvis Green, who had all of 2 sacks during the regular season, had 3 against the Colts, representing the only time in six seasons that a defender has recorded three sacks against Manning in a single game.
Then again, look what the Panthers did to McNabb. They sacked one of the league's most mobile quarterbacks five times and intercepted four of his passes. Rookie cornerback Rocky Manning, Jr., had three of them.
Nobody allowed fewer than the Patriots' 238 points during the regular season, which works out to 14.9 per game. The Titans and Colts both scored exactly 14 points, which demonstrates that New England is consistent, if nothing else.
The Panthers allowed only 19 points per game during the regular season and the post-season number is a gnarly 12 per, including a single field goal in the NFC Championship.
"I don't think we have low star-quality players," said Carolina defensive end Mike Rucker. "We have a lot of players that don't ring attention to them. We just have a lot of players that are just making plays. Now being in the Super Bowl you are going to start hearing some of the players becoming household names."
Jacks of all trades
The offenses, too, are similar -- differing slightly in style, but not substance.
Carolina quarterback Jake Delhomme was signed by the New Orleans as an undrafted free agent. He started two games in six seasons with the Saints, before the Panthers brought him in this year to back up Rodney Peete. He has been solid all season long and his playoff passer rating is a cool 102.6.
Two Of A Kind?
How do the Panthers and Patriots match up in some key statistical categories? Some numbers from the 2003 regular season:
Panthers
Patriots
Tot. Offense
16
17
Rushing Off.
7
27
Rushing Def.
11
4
Passing Off.
18
9
Passing Def.
9
15
Tot. Defense
8
7
Scoring
15
12
Scoring Def.
10
1
In a press conference last week, a reporter referred to him as "Jack." Delhomme was asked Monday if this lack of recognition bothered him.
"No," he answered, "because it's not what I'm about. I'm all about what's best for the Carolina Panthers. Certainly, I could care less about statistics or individual accolades.
"Jack -- I've been called that all my life. I had an older cousin who was a coach at my high school. He was Jack. Now, he's the mayor of my hometown. I just kind of got used to it. I don't have that much of an ego to let that bother me."
Brady, the 199th overall choice in the 2000 Draft, is the same way. Since this is his second Super Bowl, Brady was asked Sunday if he had any advice for Delhomme.
"I am not the best one for advice," Brady laughed. "I have made a lot of mistakes. Just do everything you have done. He doesn't need advice from me - he is in the freakin' Super Bowl."
While both quarterbacks clearly have the ability to throw the ball down the field, their coaches simply won't allow it. So Delhomme hands of to Davis (1,444 yards in the regular season) and backup DeShaun Foster. With Davis nursing a sore quadriceps against the Eagles, Foster and Davis combined for 33 carries and 136 yards in Philadelphia.
The Panthers have exactly four base running plays and that allowed them to get an early lead against the Eagles. Delhomme threw only three passes in the entire second half. When he needs yardage, he has two viable targets, wide receivers Steve Smith (88 catches, 1,110 yards) and Muhsin Muhammad (54 catches, 837 yards).
New England has a low-risk offense, too -- it's just that Brady's handoffs are little slants of the 4- and 5-yard variety. Wideout Deion Branch (57 catches, 803 yards) leads the team in catches and yards, but Brady has four other receivers with decent numbers: Kevin Faulk (48 and 440), Troy Brown (40 and 472), Daniel Graham (38 and 409) and David Givens (34 and 510).
When the Patriots run they are grudgingly effective with Antowain Smith (182 carries, 642 yards) and Faulk (178 caries and 638 yards).
Both teams pay close attention to special teams. The Patriots' Adam Vinatieri - 25-for-34 in field goals and 112 points - and Carolina's Kasay (32-for-38, 125 points) are two of the best kickers in the game.
It has been fashionable to cast the Patriots, who are one-touchdown favorites (give or take an extra point), as the St. Louis Rams of Super Bowl XXXVI. They have been here recently and are aching to prove they aren't a one-hit wonder like the Baltimore Ravens and Tampa Bay Buccaneers and, well, the Rams.
The Panthers believe they are playing with destiny in a teal blue jersey. Linebacker Mark Fields and linebackers coach Sam Mills were both diagnosed with cancer within a 12-day span of training camp and Carolina has rallied around them. They wear T-shirts under their uniforms with the Nos. 51 and 58.
"Two years ago we were a 13-, 14-point underdog and we were trying to prove something," Brady said. "But I think the goal is the same this year. Being a favorite, I don't think Carolina cares much where they are or where we are.
"They have accomplished just as much as we have. They won their conference and so have we. They're the toughest team we have played all year."
There's that word again: team.
Greg Garber is a senior writer for ESPN.com
Writer, Reporter
Greg Garber joined ESPN in 1991 and provides reports for NFL Countdown and SportsCenter. He is also a regular contributor to Outside the Lines and a senior writer for ESPN.com.
SPONSORED HEADLINES
MORE NFL HEADLINES
MOST SENT STORIES ON ESPN.COM
EDITORS' PICKS
Brandin Cooks was among the day's standouts.
Camp reports »

The Packers are bolstering their economic profile.
Seifert »

Marshawn Lynch isn't vital to the Seahawks' '14 success.
Blount »