Manning glad to get over hump
Peyton Manning had a perfect passer rating as the Colts avenged their loss from two weeks ago against the Broncos.
Updated:
January 9, 2004, 1:02 AM ET
By
Len Pasquarelli
| ESPN.com
INDIANAPOLIS -- As if the well-lubricated crowd at the RCA Dome needed any more impetus, Indianapolis Colts officials unleashed a bald eagle just before kickoff of the wild-card game against the Denver Broncos on Sunday, the majestic bird circling the stadium several times and sending the already raucous fans into a frenzy before exiting.
Three hours later, with Colts fans on their feet saluting the home team's 41-10 rout of the same Broncos club that won handily here two weeks ago in the regular season, a different breed of bird left the building.
OL switch works for Colts
INDIANAPOLIS -- So surreptitious was the move that Indianapolis Colts coach Tony Dungy, who is occasionally candid to a fault, closed practice last week to hide it. And on Sunday afternoon, when the starting offensive lineup was announced at the RCA Dome, there wasn't so much as a hint.

It wasn't until the Colts lined up for their first snap that the move -- switching center Jeff Saturday to right guard and moving second-year pro Tupe Peko to the hub spot -- became a matter of public knowledge. Even then, some observers didn't discern what appeared to be an innocuous move, and the Denver Broncos weren't paying attention.

But on an afternoon when Peyton Manning stole the headlines with a statistically flawless outing, and the Colts had plenty of heroes, the offensive line gambit merited note because of its success in helping to thwart the Denver front four.

"For one game," said Saturday, "it worked really well. We'll go back to the other way, with me at center and Tupe at right guard, next week. But we felt like we needed to make the switch for this game, for this opponent, and I was more than happy to do it."

In fact, it was Saturday, who had not started at guard since his 1999 rookie campaign, who actually suggested the short-lived game of offensive line musical chairs to assistant coach Howard Mudd. The switch was born in the wake of the Broncos' dominating win over the Colts here two weeks ago, a game in which Denver left defensive end Trevor Pryce beat up on then-starting right guard Steve Sciullo.

Mudd decided after that game to replace Sciullo, a rookie, with the little-used Peko. So in the regular-season finale, at Houston, Peko was elevated to the No. 1 right guard spot. But already, Mudd and Saturday were looking ahead to the first-round playoff game, and to the individual matchup with Pryce, a former tackle who still moves inside in several of coordinator Larry Coyer's diverse fronts.

Pryce had 1½ sacks in the earlier victory at the RCA Dome and harassed Manning much of the evening. On Sunday, operating mostly against Saturday, he had just two tackles.

"Whichever one it was," Pryce said, "he did a good job. I didn't really think about who was blocking me. I was just trying to get to Manning any way I could. Unfortunately, none of us got to him."
-- Len Pasquarelli
Anyone seen that albatross -- you know, the one that used to hang ominously around the neck of Colts quarterback
Peyton Manning
, compliments of his former 0-3 playoff record -- buzzing around lately? Not after Sunday, when the NFL's premier player morphed into
Payback
Manning, dispatching that albatross, and hopefully all the silly detractors who took glee in focusing on his postseason failures, with a near-flawless performance.
So dominant was Manning that the folks at the Associated Press, whose selectors made the Colts star co-most valuable player last week, might want to re-poll any of the voters who kept him off their ballot. Or at least re-examine the election to see if there were any dangling chads. Yes, co-most valuable player Steve McNair of Tennessee plays hurt a lot of the time. But do you honestly think Manning has been 100 percent physically in each of the 100 consecutive contests, counting playoff games, he has started for the Colts over the past six years?
In dismantling a Denver defense ranked No. 4 during the regular season, however, it was a very healthy Manning who put the big hurt on the overmatched Broncos unit.
"He was about as perfect as a quarterback can be," said wide receiver Brandon Stokley, who had four catches for 144 yards and hauled in two of Manning's five scoring passes. "I mean, it's hard to imagine anyone being better than that, isn't it?"
At least statistically, yeah, it is. Manning scored a perfect 158.3 passer efficiency rating, completing 22 of 26 attempts for 377 yards. In the first half alone, when the Colts scored on all five possessions and exploded to a 31-3 lead over the dazed Broncos, he threw for 327 yards and four touchdowns.
Manning became just the fourth player in league history to max out on the quarterback efficiency rating in a postseason contest and the fourth to throw four touchdown passes in one half. Only two quarterbacks in postseason, Oakland's Daryle Lamonica in 1969 and Steve Young of San Francisco in 1994, had more touchdown passes (6) in a playoff game.
Indeed, a game featuring two franchises with equine nicknames was billed as a possible shootout, with lots of points expected. But it was Manning who made one team look like thoroughbreds and the other appear to be just glue-factory nags.
"He put on a show," said Denver safety Sam Brandon, victimized several times by the Colts' corps of speedy receivers. "I mean, it was over almost before it started, really."
It's going to be interesting to see how the contingent of Mike Shanahan apologists -- some of whom suggested, before the game, that Sunday's stopoff at the RCA would be nothing more than a brief interlude on the way to a Super Bowl berth -- explain this one. The Broncos, and thus the man deemed The Mastermind, have yet to win a playoff game since John Elway retired following the Super Bowl victory that punctuated the '98 season and also his Hall of Fame career.
Oh, well, at least one streak ended here Sunday and, while Manning continued to claim all the talk of his winless skein in the playoffs didn't bother him, he acknowledged that moving beyond the ridiculous knock was a welcome milestone.
Typical of the ever-accommodating Manning, the rare superstar who sticks around the locker room long enough to deliver more than just the canned clichés, it wasn't until an hour after the contest ended that he purposely let down his guard a bit and exposed some of his true feelings about the criticisms.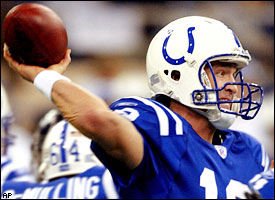 AP PhotoManning was on target from the outset against the Broncos.
"There was a point this week when I sat back and thought about having signed a six-year contract (as a rookie)," Manning said. "And I thought about, 'What have I really done since I got here?' I mean, the stuff about not winning a playoff game and being 0-3, you can't (dispute) that. It's a fact. It had kind of gotten to the point where it was like, 'Well, the regular season is over, so let's see what he's going to do in the playoffs.'
"So from that standpoint, sure, it's satisfying, but more for the team than just for me. I was anxious to get back to the playoffs. This year, I would rather have gotten back to the playoffs and lost, than to have not gotten back at all. … But I'll say this: I felt pretty good about our chances today."
That would seem incongruous, given that the Broncos manhandled the Colts here just two weeks ago, whipping them 31-17 in an outcome that wasn't even that close. But coach Tony Dungy noted that the his club's biggest failures in the first meeting, principally on third down, were correctable. And as Manning pointed out, the Indianapolis offense had so few snaps in that regular-season contest, just 37 plays overall, that the Denver defense couldn't have gotten a true read on everything in the Colts' repertoire.
Asked how he created such collective amnesia among his players, and in such a short time, Dungy replied: "We just felt it would be a game of execution."
In fact, it was, with Manning playing the role of executioner.
How significant a victory was this for Indianapolis, which had not claimed a win in the postseason since Jan. 7, 1996? Consider this: Not a single player on the Colts roster was even alive when the franchise last won a home playoff contest (Jan. 3, 1971). How big was it for Manning to get off the bagel?
"Probably more than he'll ever admit," said offensive lineman Jeff Saturday. "It's just one, you know, but it's a big No. 1."
Certainly it was a game of gaudy statistics, with the Colts rolling for 479 yards, with two receivers over the century mark, and Manning ringing up huge numbers. The Indianapolis defense held Denver to 322 yards, just 137 of those in the first half, and suffocated the Denver offensive standouts. But all of that was precipitated by Indianapolis jumping out to such an overwhelming lead, and dictating a catchup approach, and all of that was the result of Manning's tour de force performance.
| | | |
| --- | --- | --- |
| | " | This year, I would rather have gotten back to the playoffs and lost, than to have not gotten back at all. … But I'll say this: I felt pretty good about our chances today." |
| | | —QB Peyton Manning |
The Colts opened in a two-tight end alignment -- which they use frequently, but had not been able to utilize in the regular-season meeting with the Broncos, except for a precious few snaps -- and that enabled Manning to get a read on how Denver would align. Then he went to a three-wideout set, and mixed in generous doses of the no-huddle, running 18 of 22 snaps from it during one stretch of the first half. While the Colts do not "script" their first several series, like some offenses, there were certain plays they wanted to use early.
One of those was Manning's 31-yard touchdown pass to Stokley on the first possession, a play on which the wide receiver crossed the field from left to right, beating the attempted man-to-man coverage of cornerback Kelly Herndon. For much of the day, it seemed that the Colts got every look they wanted from the Broncos, and Manning was able to read the coverage as if it was a primer.
From what Manning and several other players said, the win was actually fashioned during the week, with the Indianapolis offense very sharp in practices. During the Friday session, the ball never hit the ground, with Manning completing every pass in drills. That certainly augured well for the Colts in the rematch and Manning, who had been especially vocal with his teammates during a tough game at Houston in the regular-season finale, loosened up noticeably as preparations moved forward.
By the end of the week, Colts offensive veterans were confident coordinator Tom Moore had installed an explosive game plan, and that their biggest gun was ready to squeeze the trigger. And that is precisely what happened, with Manning authoring a performance for the ages, one worthy of a most valuable player.
As is his wont, Manning headed to a local steak house, where the most noted appetizer is a shrimp cocktail in which the tiny crustaceans have been marinated in what must be some derivative of kerosene. Get to the last of the six shrimp and you are usually moved to tears. In his first playoff victory, when he forced the Broncos to cry "Uncle," Manning was hotter than the shrimp at the downtown steakhouse.
And savvy enough, as usual, to realize he'll get a lot longer to enjoy the juicy steak that he had Sunday evening than the playoff win of a few hours earlier.
"Probably by Wednesday," said Manning, asked what his critics would now target, since they can't beat him up for his winless playoff record anymore, "they'll have had time to come up with something new. They'll find something to create. I mean, this is one (playoff) win, and it will be short-lived. But, man, I'll take it."
Len Pasquarelli is a senior NFL writer for ESPN.com.
SPONSORED HEADLINES
MORE NFL HEADLINES
MOST SENT STORIES ON ESPN.COM
EDITORS' PICKS
The Bengals have ripped off 17 consecutive points to put the Broncos in a hole.
Live reaction

It will be tough for Philadelphia to find a QB upgrade. Plus, Seattle's excellence and more.
Sando

New replay standards upheld a pivotal Jimmy Graham fumble. Here's a closer look.
Seifert »