Panthers DBs making their own name
Carolina's defensive backs might be unknown now, but they won't be if they win on Sunday.
Updated:
January 29, 2004, 9:29 PM ET
By
Len Pasquarelli
| ESPN.com
HOUSTON -- Overshadowed by their own front four, underrated by the experts who have focused instead on the aggressive and chatty New England defensive backs, the Carolina Panthers secondary is beginning to feel a little like second-class citizens here this week.
Which is, Panthers cornerbacks and safeties insist, just dandy with them.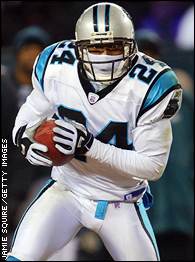 Ricky Manning Jr. had three INTs against the Eagles in the NFC championship.
Oh, there was some contrived lobbying by strong safety
Mike Minter
during the Tuesday "media day" session, with the seven-year veteran mildly suggesting that scribes need to help him get to the Pro Bowl next year. Rookie cornerback
Ricky Manning Jr
., the smallest man on the field but quickly becoming the big-play performer in the Carolina secondary, mugged for the cameras. And free safety
Deon Grant
jabbed good-naturedly in a mock debate about the label he is too "soft" for the NFL.
Truth be told, though, while the much-ballyhooed New England secondary is seen as being capable of delivering the knockout punch in Super Bowl XXXVIII, its Carolina counterparts prefer to tiptoe stealthily up to the door of opportunity. This is, after all, a secondary whose collective strength might well be its non-descript nature.
And, here's a revelation, folks: It is also a secondary that, at least statistically, ranked higher during the regular season than the Patriots defensive backfield.
"We think we're pretty good," said Minter, the senior member of the group, a veteran who has bounced back and forth between the two safety spots during his career, but who has always been a solid player no matter where he was aligned. "What other people think about us? Truthfully, we don't worry about it, not at all. I mean, we're in the Super Bowl, so we must be doing something right."
What the Panthers secondary mostly does right, it seems, is play an incredibly disciplined style that dovetails nicely with what occurs in front of it. Largely in a "two shell" or Cover 2, the Panthers do not make as many eye-opening plays as some other units, as indicated by 16 interceptions (the Pats had 29) and 74 passes defensed (New England recorded 123).
But the seemingly low-reward style means low-risk, too, and the Panthers don't surrender many big plays, which helps explain why Carolina wins so many close games. You earn every yard against the Panthers and they cede territory grudgingly. It's a mindset that not only applies to a front four regarded as the NFL's premier line unit but which stretches to the secondary, too.
Said cornerback Reggie Howard, arguably the most anonymous of the Panthers' starters, and a player whose hallmark is fundamental soundness: "We're not pushovers. In fact, I think we play the run, wrap up and tackle, as well as any (secondary) in the league. But people look at interceptions, not things like tackling, coming up and supporting against the run. So maybe we don't make as many big plays. We do a lot of the little things right, though, and that's what this defense is about."
The popular misconception is that Carolina plays a fairly staid defense, with its front four applying pressure, and head coach John Fox and coordinator Mike Trgovac protecting the secondary with linebacker help. The truth is that the Panthers are a high-percentage blitz team, especially on third down, and the secondary is more exposed than people realize.
Exposed but, in most circumstances, not exploited.
During the three-game winning streak with which the Panthers concluded the season, the secondary permitted just three receptions of 20 yards or more. The unit has allowed 11 plays of 20-plus yards in three postseason victories but, reflective of its cover tendencies, has not surrendered a reception of 30 yards.
| | | |
| --- | --- | --- |
| | " | We think we're pretty good. What other people think about us? Truthfully, we don't worry about it, not at all. I mean, we're in the Super Bowl, so we must be doing something right. " |
| | | — Mike Minter, Panthers strong safety |
Notable as well is that, in the playoffs, the Panthers secondary is taking the ball away with more regularity, a reality that corresponds to the elevation of Manning to the starting lineup. In replacing former starter Terry Cousin, the Panthers have strengthened both the "base" and "nickel" packages. Manning is an incredible on-ball defender, one who gives the staff more opportunity to mix in some "cover one" looks, and Cousin has always been an excellent "nickel" corner.
In the NFC championship game victory at Philadelphia, the tenacious Manning authored three interceptions, and he has four overall in postseason play. That's one more theft than the former UCLA standout posted during the regular season but, then again, he is on the field more now and being put in position to make game-altering plays. Undersized, at a Lilliputian 5-feet-8, Manning is nonetheless the Panthers' best single-cover defender and a player the team's scouts fought to get in the 2003 draft.
Carolina dealt two fourth-round choices to Denver to acquire an additional third-rounder, for the express intent of snatching Manning before he slipped to another team. He started seven games in the regular season, mostly when the Panthers staff opened contests with its "nickel" personnel on the field, but has become in postseason the final and critical piece to the club's secondary puzzle.
"He's got some magic to him," acknowledged Fox. "I mean, he's mentally and physically tough, a lot tougher than he looks. But even more than that, there's just something about the guy, something about his football instincts. It's like he's a ball magnet. You flip on the (videotape), follow the ball, and he's always in the frame."
That final assessment, being "in the frame," may be the most common denominator for the players in a secondary of uncommon steadiness. The Panthers rarely get beat because they don't often beat themselves. That isn't to suggest so much that Carolina plays it safe but rather that the secondary characteristically plays smart.
"If we're smart enough in the Super Bowl, well, then everybody will know who we are," said the ever-confident Manning. "We won't be unknown then, man, believe it."
Len Pasquarelli is a senior NFL writer for ESPN.com.
EDITORS' PICKS
Recent winning ways have helped a handful of 5-2 teams make headway.
Power Rankings »

TMQ needed only seven weeks to determine which teams are playoff material, and which ones aren't.
TMQ »

Take a comprehensive look at Peyton Manning's historic touchdown numbers.
Mega-graphic »