Dynasty? Pats have pieces in place
Updated:
February 3, 2004, 10:19 AM ET
By
Len Pasquarelli
| ESPN.com
HOUSTON -- On Monday morning, Patriots' vice president of personnel Scott Pioli told coach Bill Belichick that the team's Super Bowl XXXVIII victory has left the club five weeks behind in preparing for the 2004 NFL Draft.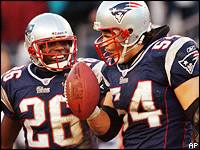 Belichick looked like a guy who was already done savoring the moment, and ready to dig into the deficit. "It's going to be a non-stop treadmill," Belichick acknowledged of the next few weeks.
The good news for Belichick and Pioli, arguably the league's best tandem at identifying and acquiring players, is that they don't have too many miles to go to challenge for a third Super Bowl title in four seasons.
As Belichick aptly noted, every season is a new experience, and the NFL is not a league noted for its guarantees. But when the last football in packed away from the 2003 season, and the first crystal ball is trotted out to begin examining what lies ahead for 2004, it's difficult to fathom that any seer worth his Tarot cards wouldn't envision New England being the early-line favorite for Super Bowl XXXIX.
Janet Jackson, whose halftime performance on Sunday night concluded with the kind of Thriller not even her weirdo sibling could produce, won't be back for next year's championship game. The halftime show may feature Tony Bennett, Amy Grant and the return of "Up With People."
Don't bet against the Pats, however, earning another Super Bowl berth. The Patriots, very quietly built for the now and the future as well, could well stage an encore. Belichick cautioned against such rhetoric, emphasizing he's already heard way too much dynasty discussion, but the New England coach allowed that the foundation for another title trip might well be in place.
It would be silly, for sure, to suggest the key pieces aren't in place.
At age 26, quarterback Tom Brady is already a two-time Super Bowl most valuable player, and he continues to annually improve. Belichick is only 51, owns two Super Bowl rings as a head coach and two more as a defensive coordinator, and doesn't seem to have burned out from the pressure inherent to his position. While he called the Sunday night contest "the most draining of his career" and "tough on the heart," Belichick certainly seems ready for more.
And so does the New England franchise, which was praised by Tagliabue for its overall brilliance and lauded by Belichick for the manner in which owner Bob Kraft has engendered stability.
It is a team with an unusual mix, the oldest roster in the NFL according to chronological age, with 20 players on the wrong side of 30, but also a locker room with unique depth and burgeoning, young stars.
"I don't think we've reached our peak yet, no way, not with us being as hungry as we are," said second-year wide receiver Deion Branch, who had 10 catches for 143 yards on Sunday night. "This team, I think, has some staying power."
There is, indeed, little reason to suggest otherwise.
Of the 22 position players who started in Super Bowl XXXVIII, only three -- fullback Larry Centers, defensive end Bobby Hamilton and nose tackle Ted Washington -- will be eligible for unrestricted free agency this spring. Washington, who played more than 30 snaps in the Super Bowl and contributed mightily to slowing the vaunted Carolina run game, said following the contest he wants to be back. Hamilton is the kind of player who would throw himself on a grenade for Belichick and likely will sacrifice money for a chance at another ring.
One notable injured starter, guard Damien Woody, is also eligible for free agency. And the Patriots will soon face a decision on whether to trigger an option on the contract of starting tailback Antowain Smith, a big-game performer whose postseason production is one of his hallmarks.
Thanks in part to the foresight of Pioli and senior vice president Andy Wasynczuk, who does much of the negotiating, 13 current starters are signed through at least 2005. For the '04 season, the Patriots have only about $4.8 million in "dead money," cap space taken up by players no longer with the club, and nearly 85 percent of that is attributed to the decision to release safety Lawyer Milloy before the start of this season. While pretty snug against the '04 cap, the Pats nonetheless have become a model for handing things well financially, while still maintaining competitive integrity.
That is not to say there won't be some dicey decisions, given that the club has about $79.9 million already committed to the '04 cap limit. One decision already made, team sources confirmed, is that cornerback Ty Law will be back in 2004, even though he has a cap charge of $9.457 million, a base salary of $5.65 million, and is due a report bonus of $1 million this spring. The fate of wide receiver Troy Brown, with a $5.164 million cap charge, is less settled, given that young receivers like Branch, David Givens and Bethel Johnson have begun to emerge as viable playmakers.
New England enjoyed a superb 2003 draft, is loaded again for 2004 with seven choices in the first four rounds, and has mastered the lottery by knowing precisely what it wants and then getting it. In an era when depth is the most difficult commodity to capture, the Pats won in 2003 by overcoming injuries, plugging in players who stepped up to the moment. An added bonus is that linebacker Rosevelt Colvin, the Pats' big-ticket free agency prize last spring, should be fully recovered from a hip injury that limited him to three games.
And there is this: At a time when most Super Bowl teams lose key members from the coaching staff, Belichick will bring back both coordinators, Romeo Crennel (defense) and Charlie Weis (offense) in 2004. Quarterbacks coach John Hufnagel, in one of the worst-kept secrets of Super Bowl week, is headed to the New York Giants to be the offensive coordinator on Tom Coughlin's staff. Highly regarded secondary coach Eric Mangini, whose contract will soon lapse, could be a defensive coordinator candidate in Oakland. The staff, however, will still be a very strong one.
The Pats have been patient, prudent and productive, and that triad combination should keep them very healthy, indeed, in 2004.
"To think that one team out of 32 could consistently beat the other 31 ... conceptually, that is hard to imagine," said Belichick on Monday, when asked if he expected to be among the NFL's top franchises in 2004. "I just don't know. Every year is a new one."
Maybe so. But given the positives the Patriots have going for them, there's reason to believe the treadmill on which Belichick is about to step, will lead him and the Patriots back to another title game in 2004.
Len Pasquarelli is a senior NFL writer for ESPN.com.
SPONSORED HEADLINES
MORE NFL HEADLINES
MOST SENT STORIES ON ESPN.COM
EDITORS' PICKS
The 49ers jumped have a big lead against the Chargers.
Game Day Live

In a loss to the Redskins. poor QB play hindered the Eagles, whose playoff chances to a major hit.
Sheridan »

Against playoff-bound opponents, the Seahawks and Cowboys aim to claim spots in the postseason.
Game previews »