QB learned how to protect himself
ESPN analyst Joe Theismann wouldn't trade one moment of pain, for his NFL experience.
Updated:
January 26, 2004, 11:51 AM ET
By
Joe Theismann
| Special to ESPN.com
The No. 1 prerequisite for any football player is to be tough, both mentally and physically.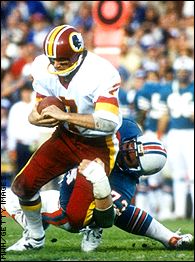 Joe Theismann suffered multiple injuries throughout his 11-year NFL career.
Throughout my NFL career I had seven broken noses, a broken thumb, a dislocated elbow, broken collar bone, broken ribs, hip pointers, numerous concussions, torn up knees, jammed toes, and, obviously two broken legs. But as a player, you just accept injury as part of the game.
On the first day of training camp each year, my mentality was: this will be the last day I will feel good until February. I knew that for the next six months, there was a good chance that every day, I'd be sore somewhere.
But it was my job, as the starting quarterback, to make myself available to practice and play every day, and every weekend. And I was willing to sacrifice and endure any amount of pain to make that happen.
Any avid skier will tell you how important it is to learn how to fall. Well, the same holds true for a quarterback when he's being tackled. A big part of the position is learning how to fall correctly, or at least, in a way that best protects your body. For instance, making sure the point of your shoulder or top of your head is not the first point of contact with the ground.
One and done
Following are some notable career-ending injuries:
Who
Where
When
Darryl Stingley
Spine
9/12/78
Joe Theismann
Leg
11/18/85
Jeff Fuller
Spine
10/22/89
Bo Jackson
Hip
1/13/91
Mike Utley
Spine
11/17/91
Napoleon McCallum
Knee
9/5/94
Michael Irvin
Neck
10/10/99
The quarterback can't
assume
that the referees or the rules will protect him; he has to instinctively know how to protect himself. Yet at the same time, he can't go on the field worried about getting hurt. To be at his best, he's got to be on automatic pilot.
Throughout my entire career, I never thought about getting hurt. And I never thought the injuries were too much -- not for a second. There was no price too big for living out my dream. The words, "I don't want to do this anymore," never crossed my mind.
When I got hurt, it became a personal challenge to overcome. If I had a bad knee, I had to figure out how to play with a bad knee. If I had a broken thumb, I had to figure out how to take a snap, throw the ball, and perform to expectations with a broken thumb. That was simply my job.
Aches and pains continue to be a part of my life. But I deal with it, and I wouldn't trade one moment of pain for the experience I had playing in the NFL. Whatever I am today, I wouldn't change a thing. Some people might consider that stupidity, but that's just how I see it.
For my career to end because of an injury, to this day, is devastating. It took me at least three years to mentally accept that I didn't leave the game on my terms. In fact, until I was 44-years-old, I had an escape clause in my television contracts, just in case a team asked me to come play quarterback.
Guys like Boomer Esiason, Phil Simms and Steve Young would kid me all the time. They'd tell me, "Give it up Joe. Give up the dream." But I never wanted to give up that dream. I love the game that much.
A game analyst for ESPN's Sunday Night Football, former NFL quarterback Joe Theismann won a Super Bowl and a league MVP award. He contributes regularly to ESPN.com.
Football analyst
Former college and pro football star Joe Theismann has served as an analyst for ESPN's Sunday Night Football since 1988. He also is frequently heard on ESPN Radio, regularly contributes to ESPN.com and has contributed to the NFL Draft.
SPONSORED HEADLINES
MORE NFL HEADLINES
MOST SENT STORIES ON ESPN.COM
EDITORS' PICKS
How many players away is your team from competing for the Super Bowl? Our analytics have the answer.
Missing Pieces »

Team Irvin's Pro Bowl victory showed us that Jimmy Graham loves dunking, J.J. Watt is an MVP and more.
Weinfuss »

The Seahawks' defense is statistically stout, but the Patriots' running game might be poised to exploit it.
Joyner