XFL's boldest name in NFL's biggest game
Updated:
January 29, 2004, 4:03 PM ET
By
Ray Ratto
| Special to ESPN.com
It's been tough times for Vince McMahon, what with the wrestling biz hitting one of its occasional lulls.
But to have a fella at the Super Bowl as a living, breathing reminder of Vince's biggest mistake ever ... well, getting hit in the joy division by Stone Cold Steve Austin seems downright cheerful by comparison.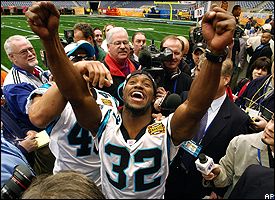 Rod Smart is the center of attention again as the Panthers prepare for the "Big Game at the End."
By now, you know the
Rod Smart
story, largely because he shared it with such verve during Tuesday's Photo Day thigh-slap. Run-of-the-mill special teamer who played football at a basketball school, couldn't crack the Canadian Football League's stringent standards, avoided a career in tavern management by joining the XFL's Las Vegas franchise, seized on a nickname, and ...
Voila! He Hate Me.
But not just He Hate Me. He Hate Me Hits The Big Time.
Smart, you see, returns kicks and fills in on the very occasional running play for the Carolina Panthers. He Hate Me, on the other hand, is the American Dream with a schtick. A schtick he came up with on his own, but one approved and even encouraged by the people who grounded the XFL at the cost of $100 million to McMahon and NBC.
Well, Rod Smart can take care of himself. I mean, he could go the way of the last great nickname gone bad at the Super Bowl -- Fred (The Hammer) Williamson. He could also turn out to be a hero on Sunday.
He could also end up like most special teamers who don't kick -- he could impact the game only negligibly.
But Smart is the inspirational tale of a man with a gift, and the cleverness to give that gift a name. The real story here, though, is McMahon, who has to have his nose rubbed in the XFL between now and Sunday evening.
There have been few sporting enterprises in the past few decades that ended as spectacularly badly as the XFL. McMahon formed the idea inside his massive head as America screamed out for a second pro football league, one that accentuated the cutting-edge technology, the over-the-top personalities of the players and the inflatable nature of the cheerleaders.
He did this at a time when his World Wrestling Federation (now World Wrestling Entertainment) was at one of its occasional high-water marks, and he was under the delusion that everything he touched turned to real estate.
He was wrong. The XFL was a disaster of galactic proportions, and nobody came out alive.
Nobody but Carolina running backs coach Jim Skipper, who coached the San Francisco entry in the XFL, and Rod Smart.
Special teams highlights: Panthers
Week 1: Panthers 24, Jaguars 23
Mike Minter blocked Seth Marler's 55-yard FG try with no time left.

Rod Smart blocked a Jacksonville punt through the end zone for a safety.

Week 2: Panthers 12, Bucs 9 (OT)

Kris Jenkins blocked Martin Gramatica's potential game-winning PAT to send the game into overtime.

Jenkins also blocked a 38-yard FG try in the second quarter.

Steve Smith returned a punt 52 yards in overtime.

John Kasay kicked his fourth field goal of the game, a 47-yarder, to win the game.

Week 5: Panthers 19, Saints 13

Rod Smart returned a second-quarter kickoff 100 yards for a touchdown.

Week 6: Panthers 23, Colts 20 (OT)

John Kasay won the game with a 47-yard FG in OT.

Week 8: Panthers 23, Saints 20 (OT)

John Kasay's 31-yard FG won game in OT.

Week 17: Panthers 37, Giants 24

Steve Smith returned a punt 53 yards for a touchdown.
He Hate Me, you see, did not cover Carolina general manager Marty Hurney (a former sportswriter, an occupation only one step above pro wrestling promoter in the eyes of the public), or special teams coach Scott O'Brien.
They Loved He, enough to sign him to bust the odd wedge, then to become the team's kick returner. And -- as of Tuesday, when He and fellow special teamer Jarrod Cooper put on a delightful two-man skit -- to fill out the tedium of Photo Day.
The special teamer with the gift of pure self-promotion became the star of the day, and in doing so, reminded us all of Vince McMahon's worst idea ever.
And so it shall be. When you see Smart and Cooper mugging it up with the unfortunate Pick Man of Nickelodeon fame, you'll think of Vince. When you see the latest retelling of the Smart story Sunday morning on ESPN, then again Sunday afternoon on CBS, you'll think of Vince.
And if he busts a return to help the Panthers beat the New England Patriots in one of the great upsets of recent Super Bowl history, you'll think of Vince.
As in, "Oh, yeah. That's the guy who played in that league the nutbar wrestling guy started."
Now even for a man who thinks that even bad publicity beats none at all, this can't be good. I mean, to be the butt of jokes on the biggest sports day of the year (viewership figures being what they are) can't be good for a business already going through a down cycle.
So while you're enjoying Rod Smart's moment of triumph, remember that it is also Vince McMahon's biggest blunder brought home to roost. You didn't watch it when it was happening, but you're catching it now.
So try to keep that smirk off your face, at least until the end of the National Anthem.
Ray Ratto is a columnist with the San Francisco Chronicle and a regular contributor to ESPN.com
SPONSORED HEADLINES
MORE NFL HEADLINES
MOST SENT STORIES ON ESPN.COM
EDITORS' PICKS
Ian O'Connor: Robert Kraft's defense of the Pats while the NFL continues its Deflategate probe puts his legacy at risk.
O'Connor »

How many players away is your team from competing for the Super Bowl? Our analytics have the answer.
Missing Pieces »

A master at tuning out noise, Bill Belichick will likely use the deflation controversy to fuel his players' fire.
MacMullan »