The musical rainbow
Originally Published:
February 1, 2004
By
Wayne Drehs
| ESPN.com
With 40 million Americans watching at home on television and 60,000 waiting inside the Los Angeles Memorial Coliseum, Willie Hill's moment had arrived.
In the heart of the Civil Rights movement, the junior drum major would lead the marching bands for both Grambling College, a historically black school, and the University of Arizona, onto the field for pregame entertainment before Super Bowl I.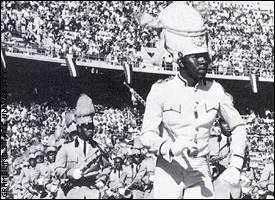 Willie Hill might have stumbled at first, but Grambling's band never missed a beat during Super Bowl I.
When given the signal, Hill arched his back, kicked up his legs and strutted his way onto the field.
Then slipped and fell.
"As quickly as I went down, I jumped straight up, blew that whistle four times and the crowd went absolutely wild," Hill recalled. "They thought it was all part of the show. They had no idea. And they loved it."
Neither Hill nor anyone else on the field that day grasped the social significance of the moment. But considering the social context -- that it was 1967, the year that racial riots rocked cities from Detroit to Los Angeles, the year that the racially charged "In the Heat of the Night" won Best Picture at the Academy Awards and Thurgood Marshall became the first black Supreme Court Justice -- it was monumental.
On Sunday, when Beyonce Knowles sings the national anthem, when Janet Jackson, P. Diddy and Nelly take the stage at halftime, when hired fans bum-rush the stage on the field and fireworks explode in every corner of Reliant Stadium, the color of their skin isn't the issue that it once would have been.
It all started with the unassuming group of kids from Louisiana.
"[School president Ralph Waldo Emerson] Jones knew that the history of this school, and to a certain extent black history, rested on Grambling's shoulders that afternoon," said Dr. Larry Pannell, the current band director at what is now known as Grambling State University. "Probably as much as the pressure to beat the AFL rested on [Packers coach Vince] Lombardi's shoulders."
'Not a good time to be black'
As Hill stood on the 50-yard line that day, the Arizona band to his left, the Grambling band to his right, the invisible line he drew could just as easily have been representative of the racial divide of the times.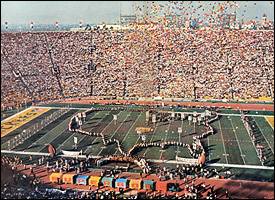 "That was the NFL's way of saying, 'We understand. And we intend to move down the road to inclusion,' " Harry Edwards said.
"We had collaborated with other black bands all the time," Hill said. "But here's an all-white band from Arizona. It was a different twist to what we were accustomed to. We had to make sure we were hot stuff."
The two bands marched together, eventually forming an outline of the United States, a blend of black and white that wasn't so seamless elsewhere across the national landscape or on the sports field.
Sure, the NFL had been integrated more than 20 years earlier, when the Los Angeles Rams signed Kenny Washington and Woody Strode. Sure, there were several black players on both sides of the football, including Willie Davis, one of Green Bay's captains in that first Super Bowl. But there were no black quarterbacks. No black coaches. No blacks among league officials.
In a recent HBO documentary about Super Bowl I, former Kansas City Chief Fred "The Hammer" Williamson said: "It was the '60s. They were still siccing dogs on black people. It was not a good time to be black. It was not cool."
And yet there in sunny Southern California, in a game that would grow to become the nation's most popular sporting event, the NFL had selected an all-black marching band to collaborate with a group that was predominantly white.
"When you look back, it is unbelievable," said Duke Ellington Fields Jr., who played baritone for Grambling. "There was all this strife at the time. And we had to present something that would relieve the tension and try to help mend things for society.
"We wanted people to see, these black guys are not savages, they're not people you should be scared of. They're intelligent. Talented. They can do things. You need not fear. And we were up to that task."
'We understand'
It's a far cry from the show that MTV will produce Sunday. The last time the network was in charge, two years ago, Aerosmith, *NSYNC, Mary J. Blige and Nelly collaborated. Sparks shot out from Justin Timberlake's wrist. Heads turned when Britney Spears stepped onto the stage wearing a black and blue halter top. And a 2,500-member crew was needed just to set up and break down the stage for the 12-minute performance.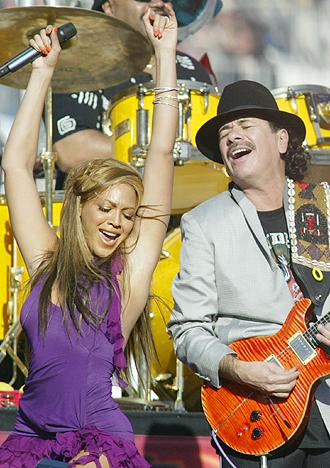 Reuters/Adrees LatifBeyonce Knowles, with guitarist Carlos Santana during last year's Super Bowl pre-game show, will be part of the halftime entertainment in Super Bowl XXXVIII.
This year, Kid Rock, P. Diddy, Janet Jackson and Nelly will join forces on stage at halftime.
"It's great to just be a part of history," Nelly told MTV.com this week. "Even when the game goes down in the books and people play the game over and over, you're a part of that. It's more historical than anything. For me to be here for the second go-round, it's like whoa!"
The door was opened for Grambling's initial performance three years earlier, when the Tiger marching band stole the show at halftime of the AFL Championship Game in San Diego. Grambling's high-energy, fleet-footed style, with trumpeters twisting and drummers dancing at a frenetic 146 steps a minute, exhilarated the crowd.
A reporter from the San Diego Union wrote: "The band looked better getting on the bus than most bands do on the field. The Chargers knew they had to be great if they were to prevent the Grambling College band from stealing the show."
That performance, along with the fact that several players in the professional football had played at Grambling, prompted the NFL to pick the Tiger band.
"(They) certainly earned (their) spot. They were spectacular," said Bill Curry, the former Alabama and Kentucky football coach who played center for the Packers in Super Bowl I. "But it just as easily could have been Wisconsin.
"Our cities were burning, Dr. King was at the height of his influence, so to have the Grambling band could only be seen as an attempt to be positive toward relations."
Not everyone agreed. At the time, several black leaders, including renowned sports sociologist Harry Edwards, criticized Grambling's appearance. He saw it as a meaningless gesture by the NFL to throw Black America a bone.
"We wondered how Grambling could be selling out like that," said Edwards, who a year later would inspire the Black Power salutes by Tommie Smith and John Carlos on the medal stand at the 1968 Summer Olympics. "It just didn't seem right."
Now, 37 Super Bowls later, Edwards has reconsidered.
"Looking back, it signaled a beginning," he said. "That was the NFL's way of saying, 'We understand. And we intend to move down the road to inclusion.' "
'Music is color-blind'
There was little off-field interaction between the bands from Arizona and Grambling that week, but it didn't matter. Conrad Hutchinson, the legendary Grambling band director, considered the performance a business trip. Hutchinson, who always insisted on perfection, did so even more for the Super Bowl.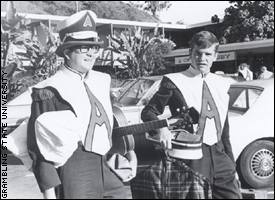 The University of Arizona's band members were predominately white.
Every shoe had to be perfectly polished, every trumpet precisely tuned. Hutchinson even went as far as to teach his all-male squad to properly enunciate their words when counting their steps out loud.
"Conrad would tell them, 'The word is four, not fo',' " Pannell said. "He went through it with everyone because he knew it had to be perfect. And it was."
Just as important was the performance of the players on the field.
"The first Super Bowl, in some ways, was a coming-out party for black players in the league," the Packers' Davis said. "This is the biggest game you'll see, and you're going to look and black players and black entertainers are going to be as prominent as anyone. And it started that day."
Hill, Grambling's drum major, is now the director of the Fine Arts Center at the University of Massachusetts and the president of the National Association for Music Education. At a conference in Arizona two years ago, he bumped into two men who graduated from Arizona in 1968, the same year Hill got his degree from Grambling. The guys started talking, and before Hill knew it, he was surrounded by some 15 Arizona grads, all of whom had been on the field with him that sunny day in 1967.
"We all reminisced," Hill said. "To go that many years and have never gotten together, never known who was on the field with you and then to suddenly bump into them was something. That's the human spirit.
"It just goes to show: Music is color-blind."
Wayne Drehs is a staff writer for ESPN.com. He can be reached at wayne.drehs@espn3.com.
Senior writer for ESPN.com
Written for ESPN.com since 2000
Three-time Sports Emmy Award winner
SPONSORED HEADLINES
MORE NFL HEADLINES
MOST SENT STORIES ON ESPN.COM
EDITORS' PICKS
Get live updates from Chiefs-Steelers and around the league.
Game Day HQ

Dallas, which can clinch the NFC East with a win, gets its first shot at Andrew Luck.
Preview »

Philip Rivers led the Chargers to an OT win to keep their playoff hopes alive.
Williams »