Jackson's apology can't stem mass anger
Originally Published:
February 4, 2004
Associated Press
NEW YORK -- CBS, MTV, the NFL, Janet Jackson and Justin Timberlake all say they're sorry -- but none of that is deterring the federal government from looking into the Super Bowl's too-revealing halftime show.
Federal Communications Commission chief Michael Powell on Monday promised an investigation into whether CBS violated decency laws, with potential fines of up to $27,500. If applied to each CBS station, the fine could reach into the millions.
Spike's shot: A 'new low'
NEW YORK -- Film director Spike Lee criticized Janet Jackson's surprise breast-baring during the Super Bowl halftime show last weekend as a "new low" of attention-getting antics by entertainers.


There has been a decline in artistry, Lee said while speaking at Kent State University's regional campus in Stark County, Ohio, on Tuesday night.


Lee said it's not enough to be a good singer, and that entertainers "have to do something extra" -- such as the openmouthed kiss Madonna gave Britney Spears and Christina Aguilera during the MTV Video Music Awards in August.


"What's gonna be next? It's getting crazy, and it's all down to money. Money and fame," said Lee, the director of "Malcolm X" and "Do the Right Thing." "Somehow the whole value system has been upended."
-- Associated Press

"Like millions of Americans, my family and I gathered around the television for a celebration. Instead, that celebration was tainted by a classless, crass and deplorable stunt," Powell said.
He added in interviews Tuesday that other aspects of the racy halftime show, which also featured such performers as Nelly and Kid Rock, also bothered him.
"I think everybody's focusing on the finale, but a lot of what we've heard in terms of complaints and the breadth of the investigation is a little broader than just that incident," Powell said on ABC's "Good Morning America." "I personally was offended by the entire production."
Tom Freston, chairman of MTV Networks, said he welcomed the FCC's investigation, which he said will prove that the show's producers and broadcasters had no prior knowledge of the stunt. MTV produced the halftime show.
"We were really ripped off. We were punk'd by Janet Jackson," Freston said, referring to MTV's reality show that makes celebrities the butt of practical jokes.
The controversy erupted Sunday when Timberlake snatched off part of Jackson's bustier on stage, revealing a breast clad only in a sun-shaped "nipple shield" in front of some 89 million viewers.
"This was done completely without our knowledge," said Chris Ender, entertainment spokesman for CBS, which was deluged with angry calls. "It wasn't rehearsed. It wasn't discussed. It wasn't even hinted at. ... This is something we would have never approved. We are angry and embarrassed."
Jackson's spokeswoman, Jennifer Holiner, said a red lace garment was supposed to remain when Timberlake tore off the outer covering.
Jackson issued another apology in a videotape released to the media Tuesday. The pop star had apologized Monday night in a written statement.
"I am really sorry if I offended anyone. That was truly not my intention," she said. "MTV, CBS, the NFL had no knowledge of this whatsoever, and unfortunately, the whole thing went wrong in the end."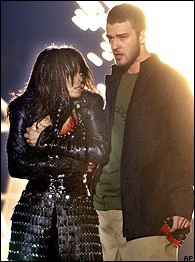 Justin Timberlake said he did not intend to expose Janet Jackson's breast during the halftime show.
The NFL said it was "extremely disappointed." Several members of Congress, the Parents Television Council and the Traditional Values Coalition expressed outrage.
Even halftime producer and CBS corporate Viacom cousin MTV -- the network that broadcast Madonna kissing Britney Spears at last August's MTV Awards -- was contrite.
"Unrehearsed, unplanned, completely unintentional," said MTV.
Although Timberlake issued a statement shortly after the show apologizing and blaming the debacle on a "wardrobe malfunction," he didn't seem too sorry in comments to the syndicated show "Access Hollywood."
"Hey, man, we love giving you all something to talk about," he said, laughing.
Jackson's official Web site was bombarded with angry postings.
Said the FCC's Powell on NBC's "Today": "I'm glad everybody is sorry. I'm sorry, too; it was a sorry incident. But if the standard were that you could do whatever you wanted to and if you apologized the next day that ends all further inquiry, we'd have a really poor enforcement program."
Holiner said she was not sure whether Jackson's medieval-looking nipple decoration was meant to be seen, but added that the singer does wear such jewelry.
But the display still raised questions such as: If it was an accident, why did a choreographer promise "shocking moments" in an interview with the Web site MTV.com prior to the show?
And how could it have been a coincidence when it was timed to the words of Timberlake's song "Rock Your Body" -- "I'm gonna have you naked by the end of this song"?
MTV Networks Group President Judy McGrath says the shocker was supposed to be Timberlake's appearance -- and not what he did afterward. McGrath was sitting in the audience and didn't see the flash, but said the pair "looked upset" afterward.
While she praised Jackson and Timberlake as artists, she said: "I don't appreciate someone who doesn't communicate what their plans are. I think it was a misguided move on their parts."
According to the FCC, non-cable TV channels cannot air "obscene" material at any time and cannot air "indecent" material between 6 a.m. and 10 p.m. The FCC defines obscene as describing sexual conduct "in a patently offensive way" and lacking "serious literary, artistic, political or scientific value." Indecent material is not as offensive but still contains references to sex or excretions.

Copyright 2004 by The Associated Press
SPONSORED HEADLINES
MORE NFL HEADLINES
MOST SENT STORIES ON ESPN.COM
EDITORS' PICKS
Team Carter took a narrow lead into the half of a game dominated by offense.
Pro Bowl Live »

How many players away is your team from competing for the Super Bowl? Our analytics have the answer.
Missing Pieces »

Before earning Seattle's reverence, Pete Carroll endured New England's scorn while trying to replace a legend.
Ashley Fox »