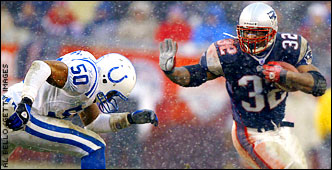 Antowain Smith, right, ran for 100 yards against the Colts.
INDIVIDUAL GAME LEADERS
Colts
yds
Patriots
yds
Passing
Manning
237.0
Brady
237.0
Rushing
James
78.0
Smith
100.0
Receiving
Pollard
90.0
Brown
88.0
More from ESPN
Pat hand
After taking back control of his life, Patriots quarterback Tom Brady is playing like a champ -- again.
Co-MVP Manning All-Pro outright
Co-MVP Peyton Manning kept the quarterback spot on The Associated Press All-Pro Team all to himself.