Pats WRs less flashy, very productive
On the surface, there aren't a number of similarities between the Eagles and Patriots' receivers.
Originally Published:
February 2, 2005
By
John Clayton
| ESPN.com
JACKSONVILLE, Fla. -- Talk about contrasts. The wide receiving units working for Philadelphia's Donovan McNabb and Tom Brady of the Patriots couldn't be any more different.
McNabb's unit seeks publicity. Terrell Owens is the headliner, whether he is doing pre-game mini-features with "Desperate Housewives" or making his recovery from a broken leg the story of the Super Bowl. Freddie Mitchell, not a regular starter, took verbal shots at the Patriots secondary in general and Rodney Harrison specifically that made him Super Bowl XXXIV's main sidebar.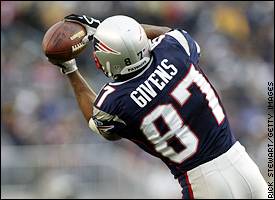 WR David Givens led the Pats with 56 catches and 874 yards.
On the flip side, Mitchell wouldn't be overly criticized if he said the Patriots receiving corps is less known than the team's coverage unit.
David Patten
,
Deion Branch
,
David Givens
,
Troy Brown
and
Bethel Johnson
aren't household names even though their team is going for its third Super Bowl win in four years. That's contrary relative to the multiple championship runs made by other teams. The Steelers had John Stallworth and Lynn Swann, two Hall of Famers. The 49ers had
Jerry Rice
and John Taylor. The Cowboys had Michael Irvin.
In fact, Brown might be the best known Patriots receiver, drawing more attention for playing nickel cornerback this year than he has for his long years of being a Patriots pass catcher.
"Our receiving corps is a little overlooked but we don't care about it," Branch said. "Every Sunday, we play ball. If nobody is talking about us, that's good. We're not selfish. One week, it may be Troy, the next it could be me or David Patten or David Givens. It happens like that."
No group of receivers in the league has changed as much as the Patriots. In 2002, when Branch and Givens were added through the NFL draft, the Patriots were a short-yardage passing team. Sure, they ran the ball to keep teams honest, but they weren't going to beat you with Antowain Smith.
Brady picked apart opponents with his head and spread offenses. Rarely did he go downfield. Instead, he was content to toss 10-15 passes or shorter to move the chains. Then came the trade for Corey Dillon. Dillon's addition gave Brady more play-action options. Opposing safeties cheated up to stop him. Brady would fake more handoffs to Dillon and his receivers responsed. That opened up more downfield throws, enabling Brady to add a full yard to his yards per attempt stats and end up with 52 passes of 20 yards or more, a career high.
"These guys are just working guys who have gotten better every day to a point where -- as a group maybe not as individuals -- they perform as well as most groups in the league," offensive coordinator Charlie Weis said. "That's [something] we sell in this organization: teamwork and group mentality. If you took any one of these guys and said, 'Is he the first guy on your roster or is he the second guy on your roster?' maybe the answer is no. But you take this group of receivers and you put them with most other groups of receivers, I think there isn't anyone that says they couldn't compete with the best of them."
Subsequently, Brady won Super Bowls relying on their pass catching skills more than the ground attack. This year, Givens led the Patriots with 56 catches and a 15.6 yard average. Branch missed seven games with a knee injury, but he's the big-play receiver Brady needs to stretch the field. He had 35 catches and a 13-yard average. Patten had an 18.2 yard average and seven touchdown passes and had surprisingly good numbers with 44 catches.
"The offense that we run is more suited for the quick passes," Patten said. "They feel like we have more speed than most groups. We have guys that are more versatile and are willing to go across the middle and take the short one and take it for good gains. We can open up our offense. Plus, our quarterback gets better each year so you can put more on him."
For the most part, the Patriots -- a notable exception being Brown, more of a possession receiver -- have 4.4 speed at the receiver positions. Those numbers may not show up as well on the stop watch. Patten calls it game speed. These receivers play fast. It's allowed Brady to grow during his four years as a starter.
The lack of selfishness allows Brady and Weis to pick different hot receivers each week, knowing there aren't going to be complaints.
"The offense has evolved," Weis said. "Once you give more leeway to the quarterback, once you are more sold on the protections, once you have confidence in your players, you can add more downfield plays. Dink and dunk is what you do when you want to get rid of the ball in a hurry. Throwing it down the field is when you have confidence to take those shots and have time to take those shots. It doesn't do much good when you are throwing an incomplete pass. It's when you complete those shots. That's what's happened."
The Eagles went through three NFC championship games hoping to do what the Patriots have done. As far as individual stats, the Patriots receivers aren't great, but any one of the top four could have 50-60 catches in any given season. That generally wasn't the case with the Eagles before the addition of Owens.
It was important for the Eagles to win the NFC championship game without Owens because they failed to do it with just Todd Pinkston and Mitchell as the main threats previously. For three years, the Eagles gambled that this receiving tandem would play to their level of draft selection. Mitchell was a first-rounder in 2001. Pinkston was a second-rounder in 2000.
Their production hasn't matched the selections and it was a no-brainer for the Eagles to pursue Owens in the offseason. The only time Pinkston topped 50 receptions was in 2002 when he had 60 catches for 798 yards, hardly Pro Bowl numbers. Mitchell constantly had trouble cracking the starting lineup, usually playing behind James Thrash. He's had 16 starts in four seasons.
| | | |
| --- | --- | --- |
| | " | Our receiving corps is a little overlooked but we don't care about it. Every Sunday, we play ball. If nobody is talking about us, that's good. We're not selfish. One week, it may be Troy, the next it could be me or David Patten or David Givens. It happens like that." |
| | | —Pats WR Deion Branch |
"Except for T.O, there are no standout guys in the Super Bowl, but there are guys out there trying to get the job done," Pinkston said. "No matter what, you've got to go to the right spot at the right time. I am more the guy who runs downfield and clears out coverage. Terrell and Freddie play the flanker position and go in motion more. Still, it was very important that we could show we could win without T.O. We've always had confidence in each other. I'm the quiet one. I'm not the type who is going to talk."
Even though Mitchell has never done better than a 35-catch season, he's not going to shy away from talking. Contrary to Pinkston, who is more of a finesse receiver, Mitchell is more physical. When Owens is healthy, Mitchell plays the slot in three-receiver sets, and he's not afraid to block. He compares his style more to Hines Ward.
"It's interesting how people get their opportunities and how you get stereotyped as a certain player if you don't get the opportunities to prove yourself," Mitchell said. "They have to understand with me, I haven't had as many catches but the ball hasn't come my way. I haven't had that opportunity. Now that T.O. is injured, I'm getting that opportunity and people are starting to say, 'OK, maybe he can do something. Maybe he can be a role player.' "
Mitchell drew attention to himself when he claimed he didn't know members of New England's secondary by name. However, he would like everyone to believe he's also making a statement with his play at flanker. For the most part, he hasn't had a lot of time as the flanker, the main receiving spots in a West Coast offense. Owens' absence has given him two starts. He's had seven catches for 85 yards and a touchdown, not great numbers.
"I really haven't been able to show my abilities at flanker," Mitchell said. "I've backed up at all the positions, but this is my first time I can show whether I can be a true flanker. It's interesting how it all turned around, but I am getting people to see I could work on the outside."
His comments have made Mitchell stand out leading into Super Bowl XXXIX. On Sunday, we will see if he can back it up.
John Clayton is a senior writer for ESPN.com.
NFL senior writer
Senior NFL writer and commentator
Joined ESPN in 1995
Member of the writers' wing of the Pro Football Hall of Fame in Canton, Ohio
SPONSORED HEADLINES
MORE NFL HEADLINES
MOST SENT STORIES ON ESPN.COM
EDITORS' PICKS
Trotter: Terrell Davis, the greatest postseason RB in history, should be a part of the 2015 Hall of Fame class.
HOF preview »

Who'll take Lombardi home from Arizona, the Seahawks or Patriots? Our experts make their predictions.
ESPN.com picks »

Game breakdown