Eagles had some explaining to do after game
From poor clock management to trouble with the spread offense, the Eagles had plenty of problems Sunday.
Originally Published:
February 6, 2005
By
John Clayton
| ESPN.com
JACKSONVILLE, Fla. -- Collectively, the Eagles were shaking their heads following Super Bowl XXXIX. It didn't make much sense to them.
Allen: Don't blame Donovan
The lack of urgency in the two-minute drill hurts a team in two ways. Obviously, it hurts the team because precious seconds and plays are lost. But more importantly, it hurts the team because the players don't have the heightened sense of urgency that's necessary to thrive in those situations.

The team and players have to be completely aware of what's going on for them to be successful. Normally, the quarterback is to blame for this type of mistake, but I'm not sure all the blame should fall on his shoulders. McNabb had a very up-and-down game, and he was trying to focus on steadying his play. The coaching staff should have realized this and stepped in and taken the clock management portion of the game off his plate.

The precious time that was wasted may have ended up deciding this game.
-- Eric Allen
Donovan McNabb
throws for 357 yards and three touchdowns.
Terrell Owens
makes a miracle comeback from ankle surgery in less than seven weeks and catches nine passes for 122 yards. Jim Johnson's blitzing schemes caused
Tom Brady
to be slightly off his game, getting sacked twice and uncharacteristically being off on most of his 10 incompletions. But the Patriots won 24-21.
The loss was baffling to the Eagles. Critics wondered about the lack of urgency during the Eagles' fourth-quarter touchdown drive that resulted in a 30-yard touchdown pass to Greg Lewis with 1:55 left. Down by 10 points with 5:40 left in regulation, McNabb and the Eagles didn't go into a no-huddle offense. The Eagles ate up too much clock on that 13-play, 79-yard touchdown drive.
"I don't know what happened," Eagles tight end L.J. Smith said.
The Eagles were unable to explain their clock management at the end of the game.
"Well, we were trying to hurry up," Eagles coach Andy Reid said. "It was the way things worked out."
Reid's apparent plan was to save two timeouts for the final two minutes with the hopes of stopping the Patriots if they failed to get the onside kick, which was a poor effort by David Akers, floating the ball directly to Patriots tight end Christian Fauria. But Josh Miller killed any chance of a Philly comeback by punting the ball to the Eagles 4-yard line with 46 seconds left. They had no shot.
The beleaguered Eagles coach took even more criticism at the end of the first half. The Eagles, with the scored tied 7-7, had the ball at their 19-yard line with 1:10 left. Donovan McNabb completed a 10-yard pass to Todd Pinkston, but Reid didn't call a timeout. The clocked went from 43 seconds to 17. McNabb hit Pinkston for a 15-yard completion, and Reid called his first timeout of the half.
Suddenly, the Eagles were at their 41-yard line when maybe they could have gotten in range for a David Akers field goal. Instead, they ended up having two unused timeouts and had to answer questions from the media.
"I don't remember that at all, to be honest with you," Reid said of the halftime question.
It was that kind of day for the Eagles. Though Eagles players made plays, Patriots coaches had better answers for what the Eagles were doing. What Charlie Weis did to a brilliant blitzing scheme by Johnson was masterful.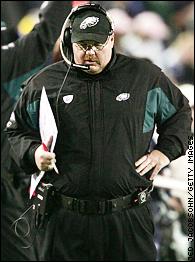 GettyAndy Reid and the Eagles had some explaining to do after the Super Bowl.
Weis, the Patriots' departing offensive coordinator, waited until the fifth offensive possession to start spreading the field with four-receiver sets. The Eagles held a 7-0 lead, but Weis was going to play games with the Eagles even though he was behind.
The spread formation creates matchup problems for the Eagles. Middle linebacker Jeremiah Trotter is a 260-pound force on running downs and is one of the best blitzing middle linebackers in football. His weakness is pass defense. Johnson usually replaces him with Ike Reese on passing downs.
Starting from the fifth possession, the Eagles didn't know what to do because Weis got into Johnson's head. He hit back-to-back screen passes to Corey Dillon that worked for 28 yards. For the rest of the second half, Johnson occasionally substituted Reese for Trotter at middle linebacker, giving him better pass coverage. When he did that, Weis called runs by either Dillon or Kevin Faulk.
"Charlie is very clever," Dillon said. "Trotter is very disruptive. We started the game with some running plays. We were trying to get to the edge with our run. When we put in Faulk, we had them thinking screens or pass and then we would run the ball."
Dillon had 18 rushes for 75 yards and Faulk added 38 on eight carries. Tom Brady hit Dillon on three screen passes for 31 yards, but Weis' gamesmanship kept the Eagles defense off balance for almost three quarters. The Patriots had touchdown drives of 38, 69 and 66 in five possessions and would have scored on an 87-yard drive had Brady not fumbled a play-action fake to Faulk.
"The spread offense was one way to get me off the field," Trotter said. "In the second quarter when they went to the spread, I stayed on the field. We made those adjustments at halftime by keeping me on the field when they would use three and four receivers. Those guys came out and played a great game.
"We tried to put pressure on those guys, but they did a great job of picking up our blitzes. They made some big plays. They made more big plays than we did. The tale of the game was turnovers. We had four turnovers. When I watched film of them the last two weeks, the teams that beat them are teams that didn't have any turnovers."
Highest win percentages
without winning Super Bowl

W-L-T
Pct.
George Allen
116-47-5
.712
Andy Reid
64-32-0
.667
Mike Sherman
53-27-0
.663
Red Miller
40-22-0
.645
Mike Martz
51-29-0
.638
Minimum 50 games; Since 1966
Johnson's pressure package worked to a certain degree. The strategy was to blitz Trotter, Brian Dawkins, Michael Lewis or anybody into the middle of the Patriots' blocking scheme to prevent Brady from stepping up in the pocket. The strategy was flawless for the first four possessions because the Patriots had two three-and-outs and two four-play drives that produced nothing.
But the spread undid the Eagles' defensive scheme. Because Trotter would blitz the middle, there were plenty of open areas for short passes. Brady would send Deion Branch or other receivers over the middle into the empty areas of the defense.
"Trotter is a load, and they spent a big part of the game bringing him up the middle," Weis said. "They didn't want Brady to step up in the pocket. That's why we went to a lot of quick passes. Some worked, some didn't work."
The sad part for the Eagles is that they knew the Patriots would use the dink-and-dunk spread formation against them. Dink-and-dunk was the offense Brady executed to win his first two Super Bowls. The addition of Dillon turned them into a play-action team that would go downfield more.
"Dink and dunk, we knew they were going to do that," Eagles cornerback Lito Sheppard said. "We blitzed more than we normally do. When they go spread, they can pick and choose what they want to do against us."
The final nail in the Eagles' coffin came at halftime. While Paul McCartney gave a long concert, Weis went to work on revising his game plans. Super Bowl halftimes are 25 minutes. Regular season halftimes go 12.
"The 25-minute halftime gave me the opportunity to script my plays for the start of the second half," Weis said. "With the 12-minute halftime, you don't have time to do that. Usually you come out in the regular season and start to think as you walk on the field, 'What plays am I going to start out with?' Here, I was able to script what we wanted to do."
The result was a 69-yard touchdown drive capped by a 2-yard touchdown pass to linebacker Mike Vrabel, who was playing tight end near the goal line.
The end result is that the Patriots outcoached the Eagles. That's the only thing you can say.
John Clayton is a senior writer for ESPN.com.
NFL senior writer
Senior NFL writer and commentator
Joined ESPN in 1995
Member of the writers' wing of the Pro Football Hall of Fame in Canton, Ohio
EDITORS' PICKS
Our man has a foolproof plan for each of the NFL's 0-2 teams.
Flem File »

It's been a rough start for Tampa Bay. Will it break through tonight?
Preview »

What would life be like if pro football wasn't presented by the NFL?
Barnwell »