Well, the Patriots showed up
Updated:
February 1, 2005, 3:44 PM ET
ESPN.com
JACKSONVILLE, Fla. -- First, it was the T.O. show. Then, it was ... uh ... the New England Patriots' turn Tuesday on the Super Bowl XXXIX Media Day stage.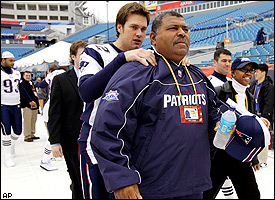 Tom Brady rubs the shoulders of defensive coordinator Romeo Crennel as they make their way to the Media Day podiums.
Our ESPN.com team tried with all their reportorial skill to glean any existing fun and frivolity from the business-like Patriots. But from the moment Rodney Harrison put the kibosh on all Freddie Mitchell questions, we knew we were in trouble.
Still, between the mundane soundbites from Bill Belichick and Tom Brady, ESPN.com was able to pick out the marshmallows, the Entertainment Tonight trophy, the celebrity media sightings and even some streaker talk. Here's the full transcript of the Patriots' hour (all times are ET):
Buzzmaster: (1:02 p.m.) OK, here we go. The clock has started!
Buzzmaster: (1:05 p.m.) Rodney Harrison: ''Regardless if TO plays or not, we are not doing anything special for him.''
Buzzmaster: (1:05 p.m.) Everyone is looking for Corey Dillon at the moment; he's not at his podium.
Tommy (East Boston): Rodney Harrison should have said: "Regardless if TO plays or not, Freddie Mitchell is still leaving J-ville on a stretcher."
Buzzmaster: (1:08 p.m.) Harrison: ''I call heads or tails and 90 percent of the time I win.''
Patriot Pat (Bay Point, Maine): You know Rodney is near foaming at the mouth to lay the smackdown on both TO and Mac.
Reporter: (1:11 p.m.) Willie, what is your gameplan?
Willie McGinest: (1:12 p.m.) ''We have one gameplan, that TO will play. We hope he does play.''
Bob (Andover, Mass.): I wish Rodney would tell me what the winning coin flip will be; that's one of my first prop questions
Jamila (Boston): ESPNEWS said that Harrison said right off the bat, "No Freddie Mitchell questions." That sounds like a Belichick conspiracy.
Buzzmaster: (1:14 p.m.) Tom Brady just said he's excited to be in this game twice in the span of about 15 seconds.
Dwayne (Tulsa): Someone check behind Brady to make sure Belichick isn't pulling his strings
Greg (Titletown USA): Someone should ask Brady when he's going to pop the question to Bridget, watch him squirm a bit.
Dan (Intercourse, Pa.): If he doesn't pop the question, I will!
Buzzmaster: (1:20 p.m.) We've got ESPN.com's Keith Jackson on the scene as well. What's going on at the other end?
ESPN.com's Keith Jackson: (1:21 p.m.) It's cold! The Tonight Show crew just gave Bethel Johnson a scarf, marshmallows and a hat.
PAT-NASTY (BOSTON -- The Hub): Bethel will probably burn those marshmallows like the Philly D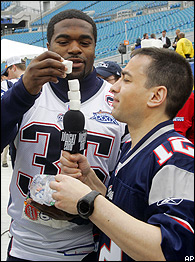 Patrick Pass (35) stacks marshmallows on the microphone belonging to a Tonight Show correspondent.
Mike (PHILLY):
Do you think the Pats take the fun out of winning because they are so boring?
Mike Vrabel: (1:25 p.m.) Yeah, we are boring. But boring works for us.
John (Portland, Maine): How many milliseconds before someone asked a Patriots player about the dynasty?
Buzzmaster: (1:27 p.m.) Just happened.
Rodney Harrison: (1:28 p.m.) Who cares. We just want to win it. We let the professionals decide who the great teams are. We just want to win our championships.
Spivey (Atlanta): Is Belichick wearing his sweatshirt with the hoody?
Buzzmaster: (1:29 p.m.) Sadly, no.
Pavis (Chicago): Is there going to be a separate podium set up for Belichick's big brain?
Buzzmaster: (1:31 p.m.) Yes. He has his own podium. Belichick: ''I'm kind of a detail-oriented person and sometimes that isn't good.''
Anthony (City Of Champions): Brady shouldn't be speaking at a podium. He should be speaking at an altar because the man is a god
Buzzmaster: (1:32 p.m.) Keith, how are things on your end?
ESPN.com's Keith Jackson: (1:33 p.m.) Not much atmosphere around here. Pretty boring so far. There are actually some members of the media getting interviewed more than the actual players. Stu Scott and Mike Wilbon are getting pulled away constantly.
Jonathan (Buffalo): After that last comment from Anthony, can we ban all New Englanders from this chat?
Jake (Virginia Beach): Is it really cold there or is Wilbon just a wimp?
Russ Hochstein: (1:36 p.m.) I don't mind the weather. It's a virtual heatwave from where we come from.
Brandon Eagle (Boston): Buzz, does Tom Brady in your opinion seem like today's Joe Montana?
Buzzmaster: (1:38 p.m.) We just asked him about the comparison ..
Tom Brady: (1:38 p.m.) The comparisons to Montana are very flattering, but I have a long way to go to reach the level of Montana or any of those other great QBs.
Paul (Portland, Ore.): You know, it may be boring in some ways, but you have to love the matter-of-factness of this team. They take care of business and let their game do the talking. For ME it's refreshing in this age of "LOOK AT ME! LOOK AT ME!" antics of many pro athletes.
ESPN.com's Darren Rovell: (1:44 p.m.) Hey everyone, I was just snooping around by Tom Brady's podium and saw an award he was given by Entertainment Tonight -- ''Most Likely To Move From Big Game To Big Screen.''
Hummer (Cleveland, Ohio): I could see him making a cameo appearance like Brett Favre did in "There's Something About Mary."
JSC (Boston): Yikes, ET has gone from obsessively covering awards shows to giving awards themselves? What an honor to receive a "tabloidy."
Dan (Boston): Biggest crowd of reporters for the Patriots?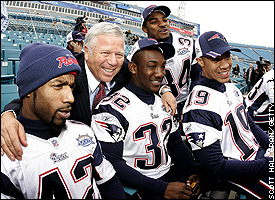 Patriots owner Robert Kraft enjoys a moment with Dexter Reid (42), Kory Chapman (32) and Ricky Bryant (19).
Buzzmaster:
(1:48 p.m.) Brady by far ... but not as many as TO had.
Bob (NYC): What are the chances of Freddie Mitchell showing up to the podium out of nowhere and going Mike Tyson on Harrison?
Buzzmaster: (1:48 p.m.) Not good.
Russ (Williamsburg): Is the media bored with the Patriots yet and walking out early? Trying to catch TO on the practice field, perhaps?
Buzzmaster: (1:52 p.m.) Yeah, some folks are getting a head start.
Ryan (Warwick, RI): Brady was in "Stuck On You" with Lawyer Milloy; he is already on the big screen.
Sean (Champion City): Any chance one of the Patriots just admits this match is even more overhyped than the Colts game, and it's gonna be a blowout?
Buzzmaster: (1:54 p.m.) No.
Buzzmaster: (1:56 p.m.) Corey Dillon: ''Everybody is going to give it 110 percent and leave it all on the field. It's up to us to go out there and execute.''
Buzzmaster: (1:57 p.m.) Dillon: ''I'm a competitor. I like to compete. That's just how I was brought up. I was pissed off and wanted to win and now I'm getting an opportunity ... a year ago if you told me I would be here interviewing at the Super Bowl, I would have told you you were nuts.''
ESPN.com's Keith Jackson: (1:59 p.m.) Hey, one of the Patriots just did something outlandish ... ok, not really. But Christian Fauria did just pick up Mitch Fatel, the Super Bowl correspondent from The Tonight Show and hold him in his arms while Fatel asked him questions. Then Fauria did a sort of shimmy touchdown shake ... or something. All-Pro defensive tackle Richard Seymour is sitting by himself at a podium and talking on his cell phone. Guess that's what happens when you're injured.
Whitey (Chicago): Has Bill Simmons walked up to Adam Vinatieri and said "You had me at hello" yet?
ESPN.com's Keith Jackson: (2:02 p.m.) Haven't seen Simmons, but he's around somewhere. Patriots linebacker Larry Chatham, who leveled Mark Roberts, the famed Super Bowl streaker during last year's big game, is being peppered with questions about that incident and what he'll do this year if Roberts makes another appearance -- and he's not happy about it. At one point, Chatham turned to a teammate and said, ''I'm getting so (expletive) tired of hearing these streaker questions.''
Buzzmaster: (2:03 p.m.) Well, clock has hit 00:00 and the media herd is being ushered to the exits. It's been ... fun?
SPONSORED HEADLINES
MORE NFL HEADLINES
MOST SENT STORIES ON ESPN.COM
EDITORS' PICKS
The Chicago Bears plan to start Jimmy Clausen at quarterback this week over struggling Jay Cutler.
Story »

Big-name QBs lead off Todd McShay's first 2015 mock draft. Is RB Melvin Gordon far behind?
McShay

Drew Brees and his contemporaries have obliterated the numerical feats of Johnny Unitas and his peers.
Seifert »