Branch ties record with 11 grabs
One year after finding the holes in Carolina's secondary, Pats WR Deion Branch earned MVP honors.
Updated:
February 7, 2005, 2:12 AM ET
By
Len Pasquarelli
| ESPN.com
JACKSONVILLE, Fla. -- Had fate been a little bit kinder to Deion Branch, and had he realized his goal of matriculating at the University of Florida, chances are that the New England Patriots wide receiver probably would have had a few big games at ALLTEL Stadium before arriving here for Super Bowl XXXIX on Sunday evening.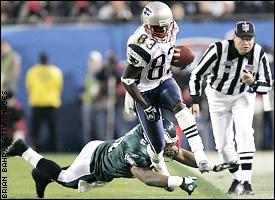 GettyPats WR Deion Branch runs through a tackle on one of his 11 catches.

But because his grades at Monroe High School in Albany, Ga., were less than acceptable at times, Branch began his college career at Jones County (Miss.) Junior College, and he never did fulfill his dream of being a part of the Gators fun-and-gun offense under then-Florida head coach Steve Spurrier. He never played in the annual Florida-Georgia game, otherwise known as The World's Greatest Outdoor Cocktail party, and never got to star in one of college football's most unforgettable spectacles.

By late Sunday, however, that mattered very little. Branch, after all, chose his first game in ALLTEL to excel on an even bigger stage.

"For a little while there with my career," said Branch, after being named as the most valuable player in the Patriots' 24-21 victory over the Philadelphia Eagles, "I guess I kind of just slipped through the cracks."

And for much of Sunday night, in a brilliant performance which more than compensated for Branch's onetime disappointment at not being able to play at Florida, the talented but often overlooked third-year veteran slipped through the yawning and inviting cracks in the Philadelphia secondary.

Branch, who ended up playing collegiately at the University of Louisville, had a Super Bowl record-tying 11 catches for 133 yards. The outing was a terrific encore to last year's Super Bowl XXXVIII victory, a game in which Branch ran virtually unchecked through the Carolina Panthers secondary, posting 10 receptions for 143 yards and a touchdown. Not surprisingly, with 21 catches for 276 yards, Branch established a record as the most prolific receiver in consecutive Super Bowl appearances.

It was a fairly stunning culmination to the 2004 season, particularly given the manner in which the campaign had begun for the young wideout, but then Branch is getting pretty adept at concluding questionable years with exclamation point performances. He missed seven regular-season games in '04 because of a knee injury but, counting three playoff contests, Branch averaged 4.25 catches and 59.8 yards, while scoring five times.

Those numbers might not seem like much but, projected over a full, 16-game schedule, would total 68 receptions, 957 yards and seven touchdowns. In an offense that spreads the ball so effectively, as evidenced by the fact the Patriots had 16 different players catch at least one pass during the season, those statistics are notable. Even more notable: In his six postseason appearances, Branch has 31 receptions and averaged 14.2 yards per grab, including a 16.5 average in this year's three playoff games.

"During that stretch he was out of the lineup, I kept telling people how much we missed him, what a difference he makes when he's on the field," said quarterback Tom Brady, who, despite some very uneven moments on Sunday, completed 23 of 33 passes for 236 yards, with two touchdown passes, no interceptions and a passer rating of 110.2. "I think everyone saw tonight what a difference he makes. Every time we needed a play, it just seemed like he was open, you know?"
| | | |
| --- | --- | --- |
| No. | Player | Games |
| 33 | Jerry Rice | 4 |
| 27 | Andre Reed | 4 |
| 21 | Deion Branch | 2 |
| 20 | Roger Craig | 3 |
| 20 | Thurman Thomas | 4 |
Of Branch's 11 catches, six produced first downs, and four of them converted third-down situations. He had five receptions for 15-plus yards, two for more than 20 yards, and of particular note is that three of his catches on third down came on plays when the Eagles defense was blitzing.
Early in the game, when Philadelphia defensive coordinator Jim Johnson was dialing up blitz calls on virtually every play, bringing middle linebacker Jeremiah Trotter up from the inside in an attempt to compress the pocket and rattle Brady, the gambit was notably effective. But no NFL staff adjusts so well in-game as does the New England brain trust and, to counter the pressure the Philadelphia blitz produced, the Patriots went to more of their "spread" and "empty" formations, with four- and five-receiver looks.
Unofficially, the Patriots used either four or five wideouts on 37 of 63 snaps, and most of those came after the first two offensive series. Brady benefited from being better able to resolve where the Philadelphia rush was coming from and his primary beneficiary was Branch, who kept bailing out the Patriots in tough situations.
"Let's face it," said Johnson, "the guy made some great plays, some great catches. Look, we knew they would spread us out and go with that 'empty' set at some point. That was no surprise. But we just never found an answer for Branch, not at all. Even when we kind of knew they were going to him, he got open, and that's a little frustrating."
Indeed, there were times when the Philadelphia "nickel" and "dime" packages were found wanting. There were also occasions, though, when Branch authored great individual plays and simply battled through tight coverage. Once he took a ball away from "nickel" corner Roderick Hood and, later in the second half, he went over cornerback Lito Sheppard to make a huge play.
It seemed that, when the Eagles played zone coverages (which they often did when they were blitzing), Branch had the uncanny ability to locate a soft spot. On those occasions when Philadelphia was in single coverage, and susceptible to the crossing patterns that are such a large component of the passing design developed by offensive coordinator Charlie Weis, he simply beat the defender attempting to check him.
Truth be told, the Patriots needed every one of his catches, especially given the shaky stretches that Brady experienced, to complete a third Super Bowl win in four years. On Saturday night, Brady, more nervous than teammates have ever remembered him, and clearly affected by the death of his grandmother early in the week, kept phoning Weis' hotel room, suggesting changes to the game plan.
After several such calls, Weis assured Brady that things would be fine, and ordered him to get some sleep.
| | | |
| --- | --- | --- |
| | " | As a kid, growing up, you wonder if these kinds of moments are even possible. I can tell you, given my background and where I come from, I had a lot of doubts this could ever happen to me. But after tonight, man, (there are) no more doubts. None at all." |
| | | —WR Deion Branch |
"He was driving me nuts," Weis said. "I mean, by Tom's standards, he was concerned. Probably overly-concerned, I guess you would say. But we had confidence things would be fine. We felt good about our game plan and good about our ability to make all of the adjustments, if that's what it took."
One of those adjustments, as it turned out, was focusing more on Branch, instead of just trying to find the "hot" receiver on every play. Once the Patriots deciphered the blitzes, and Brady grew increasingly comfortable, he sat in the pocket longer on some throws and provided Branch ample time to uncover in the secondary.
On the opening possession of the second half, Branch was nothing shy of brilliant, as he had four catches for 71 yards. On three of those receptions, he helped the Patriots and Brady to beat the blitz, twice finding open spots in the middle of the Eagles secondary as free safety Brian Dawkins left a void by rushing the quarterback. He set up a two-yard touchdown pass from Brady to linebacker and erstwhile tight end Mike Vrabel (who now has five career receptions, all for touchdowns), with a 21-yard grab up the left side on which he made a superb move on Eagles "dime" corner Matt Ware.
Initially in his press conference, Branch, a second-round selection in the 2002 draft, and a choice for which the Patriots were originally criticized, insisted that he wasn't surprised by his big game. "Hey, that's what they pay me for, to make plays," he said.
But the more Branch talked about his background, coming from a rural area of Georgia and not being able to qualify for his first choice of colleges, the more he opened up and eventually acknowledged that Sunday night represented a turning point for him.
"I could feel my confidence growing during the game," Branch said. "I wanted the ball. As a kid, growing up, you wonder if these kinds of moments are even possible. I can tell you, given my background and where I come from, I had a lot of doubts this could ever happen to me. But after tonight, man, (there are) no more doubts. None at all. This team, it's special, and it feels good to be a special part of it."
Len Pasquarelli is a senior NFL writer for ESPN.com. To check out Len's chat archive, click here
.
SPONSORED HEADLINES
MORE NFL HEADLINES
MOST SENT STORIES ON ESPN.COM
EDITORS' PICKS
Bill Belichick denied any team wrongdoings and offered other potential reasons for the deflated footballs.
Story »

Before earning Seattle's reverence, Pete Carroll endured New England's scorn while trying to replace a legend.
Ashley Fox »

Interviews with nearly 20 Browns sources revealed that Johnny Manziel was a turbulent presence in '14.
Fowler/McManamon »