LeBeau will send creative blitzes at Plummer
John Clayton previews the championship games and believes the AFC matchup will be determined by which quarterback better handles the pressure.
Updated:
January 19, 2006, 2:04 PM ET
By
John Clayton
| ESPN.com
Editor's note: ESPN senior NFL writer John Clayton's weekly "First and Goal" column (in the regular season, it was called "First and 10") takes you around the league, with a look at the best game of the week, followed by primers for other games. Here's his look at the conference title games.
• Pittsburgh Steelers at Denver Broncos (Sunday, 3 p.m. ET) | Scouting report
Going into the playoffs, the Steelers looked like one of the strongest sixth seeds in history. Were it not for some injuries to Ben Roethlisberger and some shaky decisions by Bill Cowher regarding Roethlisberger's replacement, the Steelers would have won the AFC North over the Bengals and been the third seed instead of a wild card.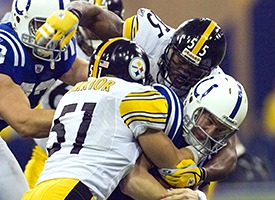 Michael Fabus/WireImage.comJoey Porter, top, and the Steelers kept the heat on Peyton Manning last week.
Now, the Steelers have a chance at history. If they beat the Broncos, clearly the second-best team in the AFC this season behind the Colts, they will be the first sixth seed in NFL history to make the Super Bowl. Even though they are underdogs, don't discount the chances of the Steelers.
Both conference championships are toss-ups for many reasons. All four teams are battle tested in the playoffs for the past few years. The conference final quartet features men who have all coached in Super Bowls -- Mike Holmgren, Mike Shanahan, Cowher and John Fox.
For Cowher to reach his second Super Bowl, his team must pull off another big road win. The Steelers have had to beat top-seeded Indianapolis and third-seeded Cincinnati on the road. Winning three consecutive road games is a feat. Winning them in the playoffs, under this type of stress, would be incredible.
The Steelers have a chance for two reasons: Dick LeBeau and Roethlisberger. LeBeau's creative blitzes and unique alignments out of the 3-4 defense will be the biggest challenge for the Broncos. And speaking of defense, Shanahan's continual tweaks have played a big role in the Broncos' being one step away from another Super Bowl appearance.
After back-to-back blowout losses in the playoffs to the Colts, Shanahan didn't try for an extreme makeover, but he made some significant changes. For personnel, he made adjustments along the defensive line and in the secondary. He imported four members of the Cleveland Browns' defensive line to add depth and youth to a unit that had been filled by aging veterans and street free agents. He hit a home run with that one.
The other change was schematic. Jake Plummer, known for being erratic and turnover prone, managed to keep his job because he was coming off a pair of 10-win seasons. As a way to get more production from Plummer and more wins for the team, Shanahan found it was better to take the pressure off his quarterback by limiting him whenever possible to 26 or fewer passes. Last year, Plummer averaged 32.5 passes a game and had 20 interceptions. Plummer is aggressive and will always try to make plays. However, he was 8-0 this year when he threw 26 or fewer passes. In the two previous seasons, he was 7-1 when he threw 26 or fewer passes, a winning formula that isn't unlike what the Steelers do with Roethlisberger.
It's not that Shanahan doesn't trust Plummer. He does. But Plummer's strength is throwing on the run and making the impromptu plays. He's not as good standing in the pocket and just throwing. The Chargers and some 3-4 teams exposed those problems over the past two years. Chargers defensive coordinator Wade Phillips, for example, would measure his blitzes out of the 3-4, keeping pressure on Plummer's outside and keeping him in the pocket.
In the pocket, Plummer is completing only about 50 percent of his throws. Though he's listed as 6-foot-2, Plummer loses down-field vision. By limiting his throws, Shanahan has improved him as a pocket passer, and he's much more accurate throwing from three- and five-step drops.
Despite his improvements, Plummer's limitations are still noticeable, according to Stats Inc. Throwing into the middle of the field, he's completed 64 percent of his passes, but he's also been sacked 14 times. That's 14 of his 22 sacks all season.
LeBeau will be able to stay in his conventional 3-4 scheme the entire game against the Broncos, which will play to Denver's strength. Last week against the Colts, he had to decide between a nickel defense that had as few as two defensive linemen and had to find ways to keep nose tackle Casey Hampton on the field, which wasn't easy.
Rod Smith
Wide Receiver
Denver Broncos

Profile
2005 SEASON STATISTICS
Rec
Yds
TD
Avg
Long
YAC
85
1105
6
13.0
72
418
The Broncos aren't as deep at wide receiver as the Colts. They have
Rod Smith
and
Ashley Lelie
, a deep threat, and that's about it. Smith caught 85 passes for 1,105 yards. Lelie caught 42 and averages 18.3 a catch. LeBeau can run blitzes out of the 3-4 scheme all day long.
The key for Shanahan is running the ball. The Steelers allow only 85.5 rushing yards a game, so this will be the supreme test of scheme and will determine the winner.
Perhaps the wildest battle will be what defensive coordinator Larry Coyer does to Roethlisberger. Coyer, armed with big and quick linebackers, loves to blitz. Against the blitz, Roethlisberger is pretty good, particularly for a second-year quarterback. He's completed 58 of 96 passes against blitzes for 760 yards and four touchdowns.
Coyer will blitz between 40 and 50 percent of the time on most downs, and he's a riverboat gambler in those situations. He'll sometimes drop one or two defensive tackles into fire zone blitzes. He'll also call more all-out blitzes than just about any team in football.
Roethlisberger has to be sharp throwing to his hot reads or audibling to runs or he's in trouble. Where Roethlisberger has grown the most in the past year is his calmness during the playoffs. He's patient. He's willing to throw to a check-down receiver behind the first down marker if the rush is too much, as opposed to gambling downfield.
• Carolina Panthers at Seattle Seahawks (Sunday, 6:30 p.m. ET) | Scouting report
DeShaun Foster's broken leg was a devastating blow for Carolina last week. How the Panthers overcome it will determine whether they will go to their second Super Bowl in three years.
The dropoff from Stephen Davis and Foster to Nick Goings is significant. Goings is a tough, solid inside runner. If he were an everyday starter, he could be a 1,000-yard runner, as proven last year when he had eight starts and finished with 821 yards. But Foster had the ability to break the long run. Goings doesn't. His longest run this season is 17 yards. His career rushing average is 3.7 yards a carry.
Goings isn't going to beat a team with the big play and the Seahawks know that. The absence of Foster should allow the Seahawks to concentrate on more coverage variations against wide receiver Steve Smith. Everyone is still trying to figure out what the Bears were thinking in their coverages of Smith.
The Bears used a lot of Cover 2 and Cover 3 schemes that often gave Smith free releases from the line of scrimmage or had him in areas in which one cornerback had to contain him for 10-15 yards. That's not wise. Smith is the Panthers' offense. He's the best run-after-the-catch receiver in football, so the key is disrupting him in routes and making sure he is double covered.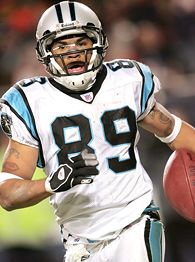 Stephen Dunn/Getty ImagesThe Panthers still have very good players like WR Steve Smith.
The Cowboys used the smartest plan against him. They had one cornerback, mostly
Terence Newman
, in man coverage, pressing him from the line of scrimmage, and had a safety back to double cover him. Smith caught 103 passes for 1,563 yards and 12 touchdowns in the regular season. Why wouldn't you commit half your secondary to stopping someone who's probably going to get 100 yards every week? If he gets 90 yards and no touchdowns, that's a victory for the defense.
The Seahawks can use Marcus Trufant, their best corner, to stay with him, but Dan Henning, the Panthers' offensive coordinator, is smart enough to keep putting Smith in motion to make him a moving target. What's amazing is no one has been able to stop Smith much. The team's next leading wide receivers, Keary Colbert and Ricky Proehl, had 25 catches apiece in the regular season.
Every team knows to try to let Colbert or Proehl beat you, but Jake Delhomme keeps finding ways to get the ball to Smith whenever that opening is there in single coverage.
Both the Panthers and the Seahawks had physical games last week, but Carolina suffered more casualties. Seven players didn't practice Wednesday for the Panthers, compared to only three for the Seahawks. Worse is that Foster is out and defensive end Julius Peppers is going to play with a shoulder injury. That's two of the Panthers' best playmakers. Peppers' effectiveness with the shoulder injury is more of a question than his availability.
Another concern is the ankle injury of defensive tackle Kindal Moorehead. The Panthers need him to play because defensive tackle Brentson Buckner could wear down if he's asked to play too much. Buckner has shown amazing resilience for his age, but he can't be asked to play 60 plays and be effective.
The Seahawks know this game will be tough. The Panthers can send blitzes or get pressure with just a four-man rush. Even more, Seattle has had to change its hand signals for audibles because former cornerback Ken Lucas now lines up for the Panthers.
Audibles are the key to the Seahawks' game. They primarily work out of a three-receiver offense and quarterback Matt Hasselbeck is a master of making the right audible read at the right time. His specialty is audibling to the right running play.
There will be pressure on him to make the correct calls and pressure on halfback Shaun Alexander to do well. Alexander has been in three playoff games and has never rushed for more than 45 yards. He had great success against the Panthers during the 2004 season gaining 195 yards against them. But Alexander is going for the free agent gold and the Super Bowl. He needs a big game Sunday.
John Clayton is a senior writer for ESPN.com.
NFL senior writer
Senior NFL writer and commentator
Joined ESPN in 1995
Member of the writers' wing of the Pro Football Hall of Fame in Canton, Ohio
SPONSORED HEADLINES
MORE NFL HEADLINES
MOST SENT STORIES ON ESPN.COM
EDITORS' PICKS
Peyton Manning and Tom Brady are both great, but Brady's rings give him the edge.
Bayless »

Will the Broncos and Cards prevail? Here are all Week 9 picks.
NFL Nation »

Graphic: Which version of Tom Brady will show up vs. Denver? Here is a look at Week 9.
Viewer's Guide »