Holmgren's scheme will be challenged by 3-4 look
While many of his former assistants run variations of the West Coast offense, Mike Holmgren uses a form most similar to Bill Walsh's.
Updated:
February 1, 2006, 3:46 PM ET
By
John Clayton
| ESPN.com
DETROIT -- Seahawks coach Mike Holmgren was on the phone last Thursday with his mentor, former 49ers coach Bill Walsh. Even though Holmgren has been running a pure form of the West Coast offense for almost two decades, it's wise for the pupil to stay in touch with the teacher heading into a Super Bowl.
Walsh created the West Coast offense and made it an institution during his San Francisco days. During the 1980s, Walsh's system changed the sport from a running league to a sophisticated passing league. It was beautiful to watch. Walsh stressed precision in running routes that looked almost like basketball plays.
John Clayton talks about the problems the Steelers' 3-4 defense will cause the Seahawks' West Coast offense.
Holmgren took the West Coast offense to Green Bay, and his disciples have pretty much dominated today's NFC with their versions and updates. But Holmgren's version stayed the truest to Walsh's concepts and could withstand a red-pen review by Walsh.
"I talked to Bill, and I said they're going to ask you that question, don't red-pencil anything I do," Holmgren said. "We had a good talk. I think a couple things -- I think Coach Walsh didn't substitute as many personnel groups as we do now. It was pretty much a tight end, two backs and two receivers ... but I think the game has evolved a little bit more to situational substitution and wide receivers. We screen a little bit more than we used to in San Francisco."
Super Bowl XL ultimately comes down to Seattle's West Coast offense going against brainy Dick LeBeau, the Steelers' defensive coordinator who has come up with a scheme to try to stop it. Because Walsh's system didn't have an abundance of hot reads and sight-adjustment routes to react to the blitz in the late 1980s, LeBeau designed the zone blitzes to counter the West Coast offense. LeBeau will generally drop a linebacker or defensive lineman back to have a defender in the middle zone. That frees up another linebacker or cornerback or safety to blitz and pressure the quarterback. These are called "fire-zone blitzes."
However, the 49ers weren't deterred.
"The 49ers always felt their 11 were better than your 11," said Seahawks offensive coordinator Gil Haskell, who faced the 49ers during 1983-92 as a Rams assistant. The Rams would counter with a 3-4 defense that featured a three-deep zone, and the scheme helped earn some splits during season series.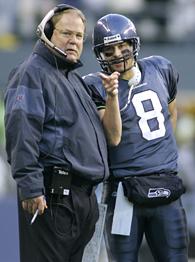 Cohen/US PRESSWIREThe Seahawks won't stray away from their regular strategy against Pittsburgh's 3-4.
Eventually, though, the game changed. NFL teams went to various defensive packages and exotic blitzes, and it forced Holmgren to expand the offense. He'll use three-receiver sets. Sometimes, he'll use four-receiver sets, with plays similar to the run-and-shoot featuring one back. True to the West Coast offense, Holmgren also will run out of those multiple-receiver sets.
"It kind of depends on who you're playing, I would say," Seahawks quarterback Matt Hasselbeck said. "We have a big play book. There is a lot to choose from."
It's not as though the Seahawks haven't done well against 3-4 defenses. They've beaten the 49ers twice and dominated the Texans, teams that utilize the 3-4. However, one of the Seahawks' toughest games was against the Cowboys (another 3-4 defense), who limited Seattle to 13 points and 289 yards.
The Steelers probably won't employ the same strategy. Cowboys cornerbacks Terence Newman and Anthony Henry matched up against a depleted Seahawks receiving corps (minus Darrell Jackson) in man coverage. The Steelers are primarily a zone defense team, so they won't use as much man coverage to free up the eighth defender to stop Shaun Alexander and the ground game.
"Gil Haskell, our offensive coordinator, will tell you our offense was built for the 3-4 defense," Hasselbeck said. "I feel comfortable with that position. We faced enough teams that used that kind of scheme."
Primarily, the Seahawks are a three-receiver team, which forces LeBeau to decide whether to stay with four linebackers or go into a nickel defense with an extra defensive back. Expect the Steelers to stay in their base 3-4, which gives slot receiver Bobby Engram the chance to work against the coverage skills of outside linebackers Joey Porter and Clark Haggans.
"We might be in a little more two-tight end sets going against the extra linebacker in the 3-4," tight end Jerramy Stevens said.
Added Haskell, "We'll run the ball out of three-receiver sets. When you have eight men stacked against the run, that is a bugger. With three receivers, you put the defense in a position to make the decision about taking out a linebacker. Then, you're running against a smaller guy."
In many ways, LeBeau's 3-4 zone blitzes can play to the strength of the Seahawks' offense. Hasselbeck has become exceptional at audibling the Seahawks into the right formation. Plus, the Seahawks have had the best offensive line in football this season, highlighted by three Pro Bowlers (Walter Jones, Steve Hutchinson and Robbie Tobeck) who work well together.
| | | |
| --- | --- | --- |
| | " | I don't even know what the West Coast offense means. We just go out and do what we do." |
| | | —QB Matt Hasselbeck |
"They are not a true 3-4 in the fact they put the two inside linebackers against the guards," Tobeck said. "They may have one-guard coverage and tilt the nose tackle and have a linebacker playing defensive end. It's one of those things where you have to not get caught up in the confusion going against them."
The Seahawks' offensive line has been together for a long time. The starting five have 518 career starts. They have 417 starts together for the Seahawks. That gives them a lot of experience against complicated schemes.
"The big thing about the fire-zone blitzes and a lot of things teams do nowadays is the line stunts," Hutchinson said. "A defensive end will slant inside and a tackle will go around him. You have to know the calls, but being familiar is a big key to blocking it up. Walter Jones and I can do that without communicating. Things happen pretty fast, so the less you talk and get the feel the better it is."
Hutchinson has a way of bumping next to Jones to alert him to certain stunts. "A lot of times you see a lineman coming in free in a fire-zone," Hutchinson said. Holmgren hopes the experience of the line will handle the protection problems LeBeau will create.
One thing the Seahawks won't do is use the shotgun. That's a Walsh no-no. Walsh always felt the quarterback needed to retreat from center to time out the routes. In the shotgun, Walsh felt there was too much standing around. Precision. Precision. Precision. That's what Walsh drilled into his players and coaches.
Holmgren gives Hasselbeck the freedom to use the shotgun, but he didn't have one shotgun pass this season. At the most, Hasselbeck will use the shotgun once or twice per year.
"We practice the shotgun a little bit, and Matt has the ability -- if he wants to run a play out of the shotgun, he can," Holmgren said. "But Tobeck has those little short arms and he doesn't snap the ball very well."
Tobeck jokes that Hasselbeck might call for a shotgun snap out of the blue, but they practice it so little the snap could go anywhere. Hasselbeck and Holmgren are content staying with regular snaps from center.
One of the simple answers to the fire-zone blitz is the run.
"I don't even know what the West Coast offense means," Hasselbeck said. "We just go out and do what we do."
John Clayton is a senior writer for ESPN.com.
NFL senior writer
Senior NFL writer and commentator
Joined ESPN in 1995
Member of the writers' wing of the Pro Football Hall of Fame in Canton, Ohio
SPONSORED HEADLINES
MORE NFL HEADLINES
MOST SENT STORIES ON ESPN.COM
EDITORS' PICKS
Brandin Cooks was among the day's standouts.
Camp reports »

The Packers are bolstering their economic profile.
Seifert »

Marshawn Lynch isn't vital to the Seahawks' '14 success.
Blount »
Tervis Seattle Seahawks 24 oz Logo Wrap Tumbler Shop »