Running will be hard, but Hasselbeck should shine
John Clayton breaks down why he thinks the Seahawks have a slight edge over Pittsburgh in Super Bowl XL.
Updated:
February 3, 2006, 4:12 PM ET
By
John Clayton
| ESPN.com
DETROIT -- Knowing too much leads to indecision.
That's my problem. I know too much. Super Bowl XL has given me an XL headache in trying to figure out a winner. A Pittsburgh native, I started covering the Steelers in 1972 -- the season of the Immaculate Reception -- and spent years as the Steelers' beat reporter for The Pittsburgh Press. In 1986, I moved to Washington and covered the Seahawks for the Tacoma News Tribune.
NFL Live's Trey Wingo illustrates the keys to Super Bowl XL with the help of EA Sports' Madden NFL 2006.
No other reporter at Super Bowl XL has a lifetime's worth of background around both franchises. No other reporter is as troubled making a pick. Face it, folks. The game is a toss-up, and no one knows that better than me.
The Steelers are the only sixth seed to make the Super Bowl for one reason: They could have easily been a No. 3. Were it not for a couple times Tommy Maddox filled in for the injured Ben Roethlisberger as a starter, significantly decreasing Pittsburgh's chances of winning, the Steelers would have won the AFC North and been the No. 3 seed instead of a wild card.
Though it's understandable that a team from the slightly superior AFC would be a favorite over the top seed in the NFC, the Seahawks might be the least appreciated No. 1 seed in years, and that's wrong. They have slipped under the radar, and Super Bowl XL hype week hasn't given them their due. You have to go back to the Patriots' first Super Bowl title to find a team like this.
Remember the Patriots team that beat the Rams in Super Bowl XXXVI? I was one of the dummies that didn't appreciate the concept of team as well as I should have and picked the Patriots to lose by 21. Never again, I said. Never again would I make rash judgments of Super Bowl teams that slipped under the radar. Then-Rams coach Mike Martz, after his team barely beat the Patriots in Foxboro, Mass., earlier that season, said the Patriots were the best squad he faced that year.
He was right, I was wrong, and the Patriots started their run of three Super Bowls in four years and made analysts more accountable in studying their picks. Don't get caught up in the fight, and study the football teams.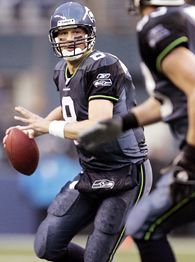 AP Photo/Elaine ThompsonHasselbeck has displayed both his talent and his leadership in this year's postseason.
1.
People are mistaken in thinking that stopping
Shaun Alexander
is the key to beating the Seahawks.
Matt Hasselbeck
is the most important Seahawk in this matchup. The Steelers run a 3-4 designed to stop the run. Alexander led the league with 1,880 yards rushing and got half of those yards out of three-receiver sets. More than likely, Alexander won't gain 100 yards rushing unless this game is a Seahawks blowout, which is extremely unlikely. The Seahawks' philosophy is to use the pass to set up the run. Stopping Hasselbeck is more important than stopping Alexander. The Steelers will stay in their 3-4 alignment except on passing downs and probably won't come out of that alignment unless the Seahawks go to a four-receiver set. Hasselbeck won't be able to audible as well to the weakside running plays that work so well for Alexander, but he will try to work passes in the slot if he can get mismatches with either
Bobby Engram
out of three-receiver sets or occasionally can use
Joey Porter
's favorite player,
Jerramy Stevens
, to get some passes over the middle.
2. Porter's anger against a benign comment by Stevens won't be a big factor in the game, but it could hurt the Steelers a little bit. Porter motivated himself by seeking out targets on the opposing team and using them to focus his anger. He learned that from former Steelers great Greg Lloyd, but he's just more vocal about it. The weird part about picking out Stevens is that he has an important but secondary role in the Seahawks' offense. Stevens had his best season with 45 catches and five touchdown receptions, but the Seahawks' best formation is with three receivers and two backs. When Stevens is on the field, he's got a 50 percent chance of getting the ball and there is a good chance he could get two or three passes thrown to him in a possession. Expect the Seahawks to try to trap Porter early in the game to take advantage of his extra aggressiveness by throwing a screen pass or trying a flat pass in front of him knowing he will be extra charged up in the first two possessions. The Seahawks did something similar in the Panthers game. They knew former Seahawks cornerback Ken Lucas was on pins and needles in his first game against his ex-teammates and burned him with a trick play pass to Seneca Wallace that worked for a big gain.
3. Jumping out with an early lead doesn't guarantee victory in the Super Bowl, but it's important in dictating strategy. That's where the Seahawks have an advantage. They were third in the league converting first possessions into points with 51, behind only the Colts and the Bills. They had six touchdowns and three field goals in the first possessions of their 16 regular-season games. The Steelers were tied for seventh with 37 points (four touchdowns and three field goals). The quickness of the Seahawks' defense has worked to their benefit with their ability to string first-quarter three-and-outs against the Redskins and Panthers in the NFC playoffs. Getting the early lead is more important for the Steelers than the Seahawks because Pittsburgh will win if it pounds the ball, particularly in the second half with Jerome Bettis. If the Seahawks jump out ahead, they can use Alexander more in the second half, and that's when he would have a chance to get 100 yards.
4. While most people are correct in anointing Roethlisberger the next Tom Brady, they're overlooking the fact that Hasselbeck is actually the hotter quarterback. Hasselbeck had the best December of any quarterback in NFL history, completing 76.1 percent of his passes. He had a 135.5 quarterback rating, the fourth best of all time. During the playoffs, Hasselbeck completed 66.7 percent of his passes and had a 109.4 quarterback rating. He has a more balanced attack. He can spread the ball to more receivers than Roethlisberger. It's harder to shut down one element of the Seahawks' offense than it is against the Steelers' offense, even though Pittsburgh might have bigger names such as Hines Ward, Heath Miller and Bettis. Hasselbeck is on the eve of becoming one of the league's elite quarterbacks.
5. This may sound silly, but it's true: Roethlisberger faces some first-quarter difficulties because of the Super Bowl footballs. The league controls the footballs and they are slicker than those in the regular season and three playoff games because they aren't rubbed down and are taken out of the box just before kickoff. Regular-season balls have a chance to be rubbed down by the home team. Friends have told Hasselbeck to throw new footballs as often as he can in practice, and he said it's given him a slightly sore arm. Roethlisberger is playing with a slight crack in his right thumb that requires him to wear a protector and a glove. The painted Super Bowl XL logo on the football is right around the thumb area. This will affect him only in the first quarter, as he gets used to the new balls. In the first quarter of the Denver Broncos game in the AFC championship, Roethlisberger threw a little wilder and almost was intercepted by Champ Bailey. Unlike the Broncos, the Seahawks will defend Roethlisberger early with safer two-deep zone schemes instead of the Broncos' aggressive blitzing efforts. An erratic throw from a slick ball early could kill a possession.
Willie Parker
Running Back
Pittsburgh Steelers

Profile
2005 SEASON STATISTICS
Rush
Yds
TD
Rec
Yds
TD
255
1202
4
18
218
1
6.
Willie Parker
is one of the best stories of the 2005 season. He was a third-string back at North Carolina whom Steelers scout Danny Rooney picked out and signed as an undrafted free agent. He rushed for 1,202 yards and he's given some big-play explosiveness to the Steelers' offense. But he's struggled against good running defenses, and it's too much to ask him to carry the Steelers' running offense to a Super Bowl title. Against top-11 defenses during the regular season, Parker averaged 49 yards a game. In three playoff games, he's averaged 44 yards and 2.8 yards a carry. The Seahawks are undersized but were the fourth-best team in stopping the run because of good technique and sound tackling. They have to think Parker won't beat them. If the Steelers are forced to pass to win, the Seahawks' defense will try to focus on taking away the pass. Another factor is
Dan Kreider
's knee injury. If Kreider, listed as questionable, can't play, the Steelers' lead isolation running plays won't be as effective with
Verron Haynes
blocking.
7. The Seahawks have the slight edge along the offensive line, which is vital in going against the Steelers. They have a line that has a combined 518 NFL regular-season starts. They have 417 combined starts as Seahawks. In many ways, the offensive line is the personality of this team. Walter Jones and Steve Hutchinson form the best left side of an offensive line in football. They are smart, athletic and don't break down. They will be on extra alert for the zone blitz schemes of Dick LeBeau and won't have the physical or mental breakdowns that happened in the Steelers' victory over the Indianapolis Colts. Steelers nose tackle Casey Hampton has the power to beat center Robbie Tobeck, but the line scheme will help him out with double-team blocks. The Steelers' offensive line has to cover for some of the blocking problems Max Starks experienced. Starks gave up a team-high 8½ sacks, and he will be matched up against Seahawks defensive end Bryce Fisher. Seahawks right tackle Sean Locklear gave up 5½ sacks, but he went against some of the best left ends in football and held up. Plus, the Seahawks will probably have extra help for him to stop Steelers defensive end Aaron Smith.
8. The days of Bill Cowher's being questioned about losing big games are over. Even though they might not win the Super Bowl, Cowher now has the security of having his best quarterback in Roethlisberger. Cowher has taken six teams to the conference title game in 12 years. He's been to two Super Bowls. Now he has the franchise quarterback good enough to be in the Super Bowl hunt every year. In the AFC, Peyton Manning, Brady and Roethlisberger will be battling for Super Bowls for years to come. Carson Palmer will join that group if he comes back from his knee reconstruction surgery.
| | |
| --- | --- |
| | |
| | Holmgren |
9.
Mike Holmgren could become a Pro Football Hall of Fame candidate if he gets his second Super Bowl ring. He's in a zone like we haven't seen since his first Super Bowl title year with the Packers. Holmgren hasn't slept much this week because he's trying to make sure he doesn't make the mistakes he felt cost him a second Super Bowl in Green Bay. He didn't practice the Seahawks after Tuesday's media day like he did in his second Super Bowl, that emotionally draining loss to the Broncos. He's got his players practicing at a feverish pitch. Those inside the organization say Wednesday's practice was unbelievable. Receivers were making circus catches. On Thursday, players were scrapping on the practice field. Holmgren lamented the Super Bowl loss to the Broncos because he felt he couldn't get his team focused and he felt that Packers team was a little overconfident. Holmgren is one of the best big-game coaches in NFL history. He's having an unbelievable year in calling plays. The Seahawks led the league in scoring even though at times they were down two or three of their top wide receivers. The Holmgren factor will be hard to overcome.
10. The Seahawks are less prone to give up touchdown drives and are more prone to make long scoring drives. That's a big factor. Hasselbeck led the NFL with 24 touchdown drives of 80 yards or more. Even if he can have one long drive like that, it may be enough to win the Super Bowl. In the red zone, the Seahawks score touchdowns. Alexander is one of the best red zone runners in NFL history. He scored an NFL-record 28 touchdowns and added two more during the playoffs. The Seahawks had 43 red zone touchdowns in 60 chances. Because of their ability to sustain long drives, they get more chances to score. In the red zone, the Seahawks have given up only 19 touchdowns in 47 attempts, second best in the league. The Steelers have to score touchdowns to win. The Steelers are a good red zone team with 23 touchdowns in 48 drives. All of these factors give a slight edge to the Seahawks.
John Clayton is a senior writer for ESPN.com.
NFL senior writer
Senior NFL writer and commentator
Joined ESPN in 1995
Member of the writers' wing of the Pro Football Hall of Fame in Canton, Ohio
SPONSORED HEADLINES
MORE NFL HEADLINES
MOST SENT STORIES ON ESPN.COM
EDITORS' PICKS
Can the Lions win in Green Bay? Here are all our Week 17 picks.
NFL Nation »

J.J. Watt isn't just a trendy MVP pick. There's a smart argument to be made for why he deserves the award.
Sando

The NFL's punchline division crowns a champ Sunday. Will Carolina or Atlanta have the last laugh?
Preview: CAR-ATL »