Homecoming brings memories for Bettis family
Before Jerome Bettis became "The Bus," he was a star and member of the National Honor Society at Detroit's Mackenzie High.
Updated:
January 29, 2006, 5:43 PM ET
By
Wayne Drehs
| ESPN.com
DETROIT -- Standing in the front yard of his boyhood home, a place he hasn't visited in more than a decade, John Bettis is in shock.
The big brother of Pittsburgh Steelers running back Jerome Bettis steps over the broken glass and rusty nails -- avoiding a pair of stray dogs along the way -- and peeks through the doorway of their old bedroom. It looks like a bomb exploded. The drywall is gone, the insulation too, leaving nothing but fully exposed, fire-crusted studs on all four walls and the ceiling.
In the spot where their two beds once lay sits a twisted pile of aluminum siding.
"Probably something somebody stole," neighbor Henderson Rhodes says.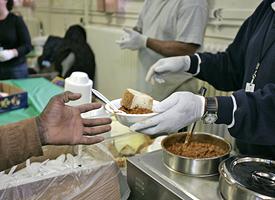 Ross Dettman/for ESPN.comA simple bowl of chili goes a long way at this Super Bowl party.
The old Bettis home is vacant now, left behind by the man who bought it in 1993 when first-round NFL draft pick Jerome moved his parents to a safer neighborhood. On this biting winter morning, pieces of a brass headboard rest in the front yard. A plastic vodka bottle disintegrates on the front porch. And spray painted on the back wall is a four-letter expletive the Bettis boys never would have been allowed to repeat.
"Hey … hey," John says upon spotting the graffiti. "That's my house, man. What the -- what is this all about? We grew up here. I mean -- I can't -- I didn't realize this place was like this. It's hard to believe."
So, too, is the fact that before a fire nearly destroyed the home a few years back, prostitutes lived inside.
"They'd walk in the door, go inside and do their thing," said the 67-year-old Rhodes, who has lived down the block since 1970. "They just kept coming in and out.
"When you guys lived here, this used to be a neighborhood. Now, it's just a 'hood."
A few days earlier, before his big brother wandered through the rubble of their childhood home, Jerome spotted John and the rest of the family in the stands of the AFC Championship Game and mouthed the words, "We're going home."
Not to the gutted-out eyesore of a building on the city's sketchy west side, but to the feelings, emotions and memories of their younger years. To the smells, sounds and tastes of those times. Going home is rarely about the physical act of returning to a particular structure, but rather, returning to a feeling of comfort and security.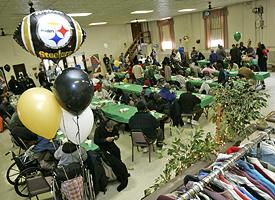 Ross Dettman/for ESPN.comSuper Bowl party favors: a hot meal and plenty of hospitality.
Sixteen years after graduating from Mackenzie High a member of the National Honor Society, 13 years after leaving Notre Dame an All-American running back, Bettis couldn't have hand-picked more familiar surroundings to prepare for the biggest football game of his life, 7.7 miles away from the house where it all began.
And all the 38-year-old John and the rest of the Bettis family can do is smile, laugh and cry. No. 36's triumphant homecoming, for a game that will be played on the 36th day of the year no less, has become the most talked-about topic of an already over-hyped event. Every time somebody turns around in Detroit, there's a story of the hometown hero.
There's the desk inside the Mackenzie football office, where Bettis' coach, Bob Dozier, ignored a soft-spoken freshman's request to join the team, writing him off as another all-too-fragile pipsqueak. Until he looked up.
"And saw this magnificent Superman," Dozier said. "I told him, 'Hell yeah, you can play football for me.' "
There's the fence that runs alongside the Mackenzie football field, where Dozier once walked over to Jerome's dad before a game and explained, "He's going to be rich one day. He's going to make you rich." Replied John Sr., "Stop kidding around."
There's the Mackenzie cafeteria, where Bettis was able to singlehandedly get a school filled with troublemakers to behave.
"He had this quality where he would walk in, and everybody would just shape up," said Claude Jackson, a teacher at the school and the former lunchroom monitor. "It made my job that much easier."
Jerome attended classes at Detroit's Henry Ford High for one semester, and John remembers the day the younger Bettis realized the home of the defending Michigan state football champions wasn't for him.
"He never told me everything -- still hasn't," John said. "But I'm sure he got into a fight with guys in the neighborhood because he wasn't from around there. Some guys chased him out. He called and said, 'John, come get me.' I picked him up and took him to Mackenzie the next day."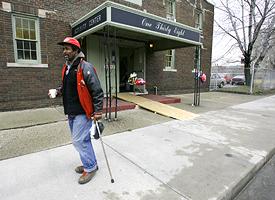 Ross Dettman/for ESPN.comAt least for a while, Charles Lathem had a place to go.
There are even stories about Bettis in places you'd never think to look. Like the Garden Bowl, the oldest bowling alley in the country, just north of downtown Detroit. There, Bettis competed in Sunday tournaments, dreaming of becoming the next Earl Anthony, not Earl Campbell. His mother, who later became a certified instructor, took her three kids bowling several times a week in hopes of keeping them out of trouble.
"It was a passion of mine, I introduced it to the kids, and they picked up on that passion," Gladys Bettis said. "They were great at it -- all three of them."
It's on those same Garden Bowl lanes, with those same gutters, where Bettis, who carries a lifetime 200-plus average and who once bowled a perfect game, will hold his Super Bowl party Thursday.
But perhaps no single place tells more stories and brings about more memories than the house on Aurora Street. John can't help but look at the rotting garage and think of the roof he and Jerome used to jump off, thinking they could fly. In the front yard, he sees the two telephone poles that stood in the middle of their football field, doubling as an extra blocker -- or defender. When Rhodes, the neighbor, looks at the front door, he remembers the mornings Jerome would come by the house and tell him he locked his lunch inside -- just so he could get an extra sandwich for school.
"He loved those peanut butter and jellies," Rhodes said. "And my wife would make them for him."
And there's the living room, where Jerome was cussing out a friend one afternoon when Mom walked in.
"I caught him," Gladys said. "I said, 'Jerome, you got to have soap. Your choice: Soap on a rope or liquid soap.' He chose the soap on a rope."
It's John's favorite story.
"He thought he was all bad, talking to his friend like that," John said. "Then he's sitting there with the rope hanging out of his mouth, tears coming down his face. My sister and I had tears, too, from laughing so hard."
Is XL the end?
While Jerome Bettis refuses to admit Super Bowl XL is likely his last game as a professional football player, his family isn't choosing its words quite as carefully.

When asked earlier this week how long he anticipates his brother will continue to play professional football, Jerome's brother John said, "one game."

"He may still feel like he has football left, but I don't know," John said. "We all thought he was done last year. He was done last year, but the Super Bowl was here. If this game wasn't here, he's not playing. I think he's going to bring it home, win the big one and then go out on top and sit it out."

As for what Jerome's mother would be happier about -- getting her son off the dangerous football field or watching him win a Super Bowl, John wasn't so sure.

"Now that's a good question," he said. "I have no idea."
-- Wayne Drehs
But not everything was laughter. Though the neighborhood was far from the decaying, liquor-store infested area it is now, it wasn't exactly safe. John said it wasn't unusual for the family to come home from vacation only to find the front door open and the television set gone. One morning, John said he was sleeping when a neighbor tried to break in the back door, startling him awake.
"He turned around, said sorry and walked right out," John said.
Of the 20 or so friends that the Bettis boys grew up with, "about four or five have normal lives and normal jobs," John said. "The rest, well, they went the wrong way."
On the surface, the story seems all too familiar. Inner city athlete overcomes rough surroundings, fights off the gang-bangers and drug dealers and eventually achieves sports superstardom. But this tale is different. Jerome would have escaped his neighborhood without sports. He not only avoided poor decisions, he paved the path toward the right ones. He was a member of the National Honor Society, earned a degree from Notre Dame and in 2002, was given the Walter Payton NFL Man of the Year award, in recognition for his work with underprivileged children and asthma patients.
"When he signed with Notre Dame, that's when I realized he was going to be something special," John said. "Kids from public schools in Detroit, they just don't get into Notre Dame."
Jerome largely has his parents to thank. If he's the main attraction of Super Bowl week, then it's Gladys and her husband John Sr. who should play considerable supporting roles. Forget the ticket requests and interviews or the team dinner they're planning for Jerome's Pittsburgh teammates. Ask anyone about Jerome's success and they immediately point to Mom and Dad.
Gladys and John Sr. both dug through their children's backpacks and dresser drawers, making sure they weren't involved in anything they shouldn't be. While Gladys played the role of the supporting mother, hopping the city bus with her three kids to take them to bowling alley, the library or anywhere else away from the streets, John Sr. worked two jobs and was the house disciplinarian.
"We feared my father," John said. "He ruled with an iron fist. We tested it, and he showed us he was serious. And then we came to a simple agreement: We agree to do what you say."
The end result was a family that Gladys and John couldn't be more proud of. And a bruising, 250-pound running back that the city of Detroit can't wait to wrap its arms around and welcome home for the biggest game of his soon-to-be-over Pro Football Hall of Fame career.
"When I watch his games, when I see him on TV, I can't help but get a little emotional," said Carol Tate, Bettis' high school precalculus teacher. "I'm just so glad he's been so successful. He deserves it.
"And it provides a positive image for all of us."
Wayne Drehs is a staff writer for ESPN.com.
Senior writer for ESPN.com
Written for ESPN.com since 2000
Three-time Sports Emmy Award winner
SPONSORED HEADLINES
MORE NFL HEADLINES
MOST SENT STORIES ON ESPN.COM
EDITORS' PICKS
How many players away is your team from competing for the Super Bowl? Our analytics have the answer.
Missing Pieces »

Team Irvin's Pro Bowl victory showed us that Jimmy Graham loves dunking, J.J. Watt is an MVP and more.
Weinfuss »

The Seahawks' defense is statistically stout, but the Patriots' running game might be poised to exploit it.
Joyner