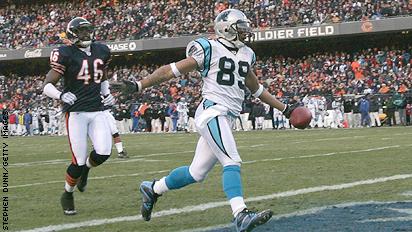 Cat-astrophic Outcome
The Panthers struck early and Steve Smith (244 total yards, 2 TDs) was unstoppable during a 29-21 victory over the Bears. Carolina's ability to effectively run and throw has made the offense a force in the playoffs, Michael Smith writes.
Story
MORE FROM ESPN.com
Falcons running back Steven Jackson, who suffered a quadriceps injury in last Sunday's 30-14 win over the Saints, is expected to be inactive for Sunday's NFC South showdown against the Panthers, sources said.
The Patriots are still No.1, but the surging Seahawks gained support.
Brandon Marshall blasted Detroit Lions center Dominic Raiola on Monday, calling him "a dirty player and a worse human being" for stomping on Ego Ferguson's ankle during Sunday's game.
Chicago Bears defensive end Willie Young suffered a torn left Achilles tendon Sunday against the Detroit Lions, coach Marc Trestman confirmed on Monday.
he NFL has suspended Detroit Lions center Dominic Raiola for one game without pay for violating the league's safety-related rules, meaning he will miss the Lions' NFC North title game against Green Bay on Sunday.