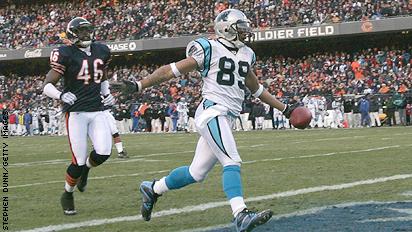 Cat-astrophic Outcome
The Panthers struck early and Steve Smith (244 total yards, 2 TDs) was unstoppable during a 29-21 victory over the Bears. Carolina's ability to effectively run and throw has made the offense a force in the playoffs, Michael Smith writes.
Story
MORE FROM ESPN.com
Jay Cutler will start at quarterback for the Chicago Bears when they play the Cleveland Browns on Sunday, coach Marc Trestman announced Thursday.
The Chicago Bears plan to put quarterback Jay Cutler through a full-speed workout Wednesday before making a decision about whether to start him Sunday at Cleveland over backup Josh McCown.
Former Bears middle linebacker Brian Urlacher thinks Chicago should stick with Josh McCown at quarterback, even if Jay Cutler receives the necessary medical clearance to return from the high-ankle sprain that has kept him out the past four games.
The Chicago Bears defeated the Dallas Cowboys on Monday night before the ball was even kicked off, according to Bears receiver Brandon Marshall, who thinks the chilly conditions affected the visiting teams psyche.
Carolina Panthers running back Jonathan Stewart will miss at least one game with a torn MCL suffered in his right knee during the third quarter of Sunday's 31-13 loss to the New Orleans Saints.
Where does your team stand in the Week 15 edition of the 2013 ESPN.com NFL Power Rankings?
Carolina Panthers running back Jonathan Stewart will undergo an MRI on his right knee on Monday to determine potential damage from a third-quarter hit in Sunday night's 31-13 loss to the New Orleans Saints.