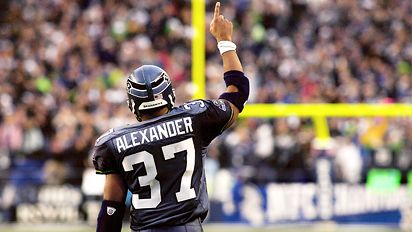 (Robert Giroux/Getty Images)
Hawks Soar To Greatness
The Seahawks have dealt with a great deal of adversity during their franchise history. However, they managed to put the past behind them en route to a Super Bowl run, John Clayton writes.
Story
MORE FROM ESPN.com
The Carolina Panthers have picked up the fifth-year option on quarterback Cam Newton, locking up the first pick of the 2011 draft up through the 2015 season, a source told ESPN NFL Insider Adam Caplan.
As NFL schedules were announced on Wednesday night, many season ticket holders scrambled to the secondary market to list their game tickets.
Richard Sherman feels the best way the Seattle Seahawks could show him their appreciation is by showing him the money.
The Super Bowl champion Seattle Seahawks will open the 2014-15 NFL season against the Green Bay Packers on Thursday, Sept. 4.
These three games highlight a 2014 "Monday Night Football" schedule loaded with playoff teams, writes Ashley Fox.
Marcus Trufant will retire with the Seattle Seahawks.
Richard Sherman was called all kinds of names after his raging rant at the end of the NFC championship game. It was worth it, the Seattle cornerback said, because it gave him a chance to talk about the perception of black athletes to a wider audience.
Seattle Seahawks quarterback Russell Wilson released a brief statement Wednesday saying he has filed for divorce from his wife, Ashton.
A Super Bowl rematch between the Seahawks and Broncos is among the highlights of the 2014 NFL schedule, writes John Clayton.
Walter Thurmond did not waste any time making bold statements about his new team, the New York Giants.