Patriots teach Chargers a lesson in playoff football
The Chargers got schooled by the best (Bill Belichick and Tom Brady) in the art of doing whatever it takes to win in the playoffs, writes John Clayton.
Updated:
January 15, 2007, 11:09 AM ET
By
John Clayton
| ESPN.com
SAN DIEGO -- Sunday's AFC Divisional playoff game between the Patriots and Chargers was a clinic in why BelichickBradyball is a Super Bowl success and Martyball continues to fall flat in the playoffs.
Following the Patriots' 24-21 win, Belichick is 13-2 in playoff games. Schottenheimer is 5-13 and has lost six straight postseason games. The uncanny way in which the Patriots rallied from an eight-point deficit in the final 8:35 is why Belichick could be heading to the Pro Football Hall of Fame once he gives up coaching. Despite 200 career victories -- a total that should qualify him for those honors -- Schottenheimer isn't even guaranteed a job with the Chargers next season despite a 14-3 season.
Schottenheimer may not have gone as conservative in his offensive play-calling as in past playoff eliminations, but the failures against the Patriots hit on a striking theme. The Chargers played not to lose. The Chargers called 19 first-down running plays for LaDainian Tomlinson, including five in which he gained 11 or more yards. Belichick and Tom Brady were all over the place. Brady couldn't find his rhythm in the first half so they junked some two-tight end sets and went to a three-receiver offense, sprinkling in some no-huddle once he got a rhythm.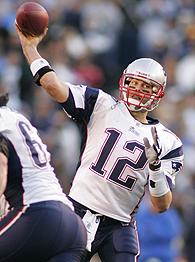 Stan Liu/US PRESSWIRETom Brady threw for 280 yards and two TDs as the Pats advanced to the AFC title game.
The Chargers continued playing not to lose, while the Patriots just tried to make enough plays to be one play ahead of San Diego at the end of the game. That strategy is why the Patriots, who were outplayed and somewhat dominated by the Chargers early in the game, sneaked away with a three-point victory and a chance to go against their playoff rivals -- the
Indianapolis Colts
.
"The definition of mental toughness is not letting anything get to you," Brady said after the game. "It's just staying focused not matter what's swirling around you, just continuing to mentally fight through whatever obstacles there might be, whether that be a certain play or situation or a bunch of things that come up as a football player. We have a bunch of mentally tough guys. Even though it doesn't all go well you still have to believe in yourself and have the confidence that you can go out there and play."
Outside the Lines
Today on "Outside the Lines," (ESPN, 3 p.m. ET) John Elway's life after football. For more, click here.
Peyton Manning
and the Colts have developed that type of mentality. Despite a run defense that was one of the worst in NFL history during the regular season, the defense tightened up in playoff wins over the Chiefs and Ravens. Manning hasn't played his best but the Colts are winning the type of playoff games they lost in the past. The Patriots have been doing that for years.
Here's the lesson Belichick and Brady taught Schottenheimer and the Chargers on Sunday. Do whatever it takes.
Brady was awful for all but the final drive of the first half. The Chargers executed a solid, conservative game plan. Tomlinson was great on first downs, but the Patriots defense wasn't concerned as long as Tomlinson didn't bust long touchdown runs. Tomlinson wasn't going to beat them with 10-yard runs. Eventually, inexperienced playoff quarterback Philip Rivers had to make a play, and the Patriots were ready to stop him.
The Chargers led 14-3 and could have started running away with the game. Brady was frustrated, but like a hitter who keeps coming to the plate, he still had a chance to hit the home run. Brady completed only four of his first 12 for 38 yards. But he completed five of seven passes in a two-minute drive before the half and hit Jabar Gaffney with a 6-yard touchdown pass to cut the lead to 14-10.
"I couldn't get into a rhythm," Brady said. "We were trying to throw quick stuff. That wasn't working. We tried to throw screens. That wasn't working. We tried to call runs. That wasn't working. We couldn't find any rhythm as an offense. Every time I would come to the sidelines, I'd say, 'Let's try something else."'
Belichick did. Brady went completely to the air in the second half. The Patriots spread the field with three receivers, which is pretty amazing for a team criticized for not wanting to pay receivers David Givens and Deion Branch.
In the second half, Brady completed 18 of 32 passes for 177 yards. Sure, he threw three interceptions on the game. But Belichick kept trying to let Brady improvise and make the plays that would eventually let the Patriots win.
"We kept battling for 60 minutes," Belichick said. "It was a very competitive game. There was an ebb and flow. At times, they had a little bit of the upper hand. At times, we had a little bit of the upper hand. It was a physical, tough football game. We just made one more play than they did."
As he has done so often in these big games, Schottenheimer played the field-position game. The Chargers' average starting point was their 37, but they had three possessions that started at midfield or in Patriots territory. The Chargers had a touchdown and two punts in those possessions. The Patriots had six starts inside their own 20.
Perhaps the strangest call of the game came in the first quarter. Schottenheimer went for a fourth-and-11 instead of attempting a 49-yard field goal by the AFC's Pro Bowl kicker Nate Kaeding. Naturally, the fourth-down play didn't work. The Patriots drove for a 50-yard field goal by rookie, Stephen Gostkowski to take a 3-0 lead.
"The definition of mental toughness is not letting anything get to you. It's just staying focused not matter what's swirling around you, just continuing to mentally fight through whatever obstacles there might be, whether that be a certain play or situation or a bunch of things that come up as a football player."
Tom Brady, Patriots QB
"I thought we had a play that we could use that would make the yardage," Schottenheimer said. "The intention was to be very aggressive. I thought we had a play that would get it and Cam Cameron said, 'I've got one' and we went ahead and did it."
That three-point swing came back to haunt the Chargers, as did so many plays Sunday. Things started unraveling in the third and fourth quarters. Chargers cornerback Drayton Florence got a 15-yard unnecessary roughing penalty after Brady was stopped on a third-down sack at the Chargers' 36-yard line. That kept the drive alive, with Gostkowski eventually hitting a 34-yard field goal to cut the Chargers' lead to 14-13.
Tackle Shane Olivea got an unnecessary roughing penalty after an extra point following a Tomlinson TD that put San Diego ahead 21-13 in the fourth quarter. Kicking off from their 15, the Chargers handed great field position to the Patriots.
But after driving to the Chargers' 41, Brady was picked off by Marlon McCree with just over six minutes left in the game. Troy Brown stripped the ball from McCree's hands, though, and Reche Caldwell recovered it, giving the Patriots a first down and new life.
Five plays later, Brady hits Caldwell with a 4-yard touchdown. Kevin Faulk took a direct snap and ran it into the end zone and just like that the game was tied.
The final straw came with 2:31 left in regulation. Brady spotted the Chargers in press man-to-man coverage at the line of scrimmage. He hit Caldwell down the sideline for a 49-yard completion that set up Gostkowski's game-winning 34-yard field goal.
It was the last play the Patriots made to win the game. The Chargers played not to lose. The Patriots played to stay in the game and give themselves a chance to make winning plays. In the end, that's exactly what they did.
John Clayton is a senior NFL writer for ESPN.com.
NFL senior writer
Senior NFL writer and commentator
Joined ESPN in 1995
Member of the writers' wing of the Pro Football Hall of Fame in Canton, Ohio


MOST SENT STORIES ON ESPN.COM