Detmer couldn't help but think of Romo before big kick
Signing Koy Detmer earlier in the week didn't seem like a big deal, until he had to hold for the Eagles' last-second, game-winning field goal, writes Greg Garber.
Updated:
January 12, 2007, 3:26 PM ET
By
Greg Garber
| ESPN.com
PHILADELPHIA -- A successful field goal, as Dallas Cowboys quarterback Tony Romo discovered (and the world with him) late Saturday night, involves an intricate series of nuanced and technical operations.
And as the rain began to descend Sunday on Lincoln Financial Field, Koy Detmer found his thoughts racing -- against his considerable will -- back to Romo, who inexplicably botched the hold of a certain game-winning field goal in Seattle.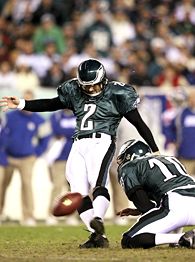 Doug Benc/Getty ImagesKoy Detmer handles the high snap with ease as David Akers (2) drilled the game-winning field goal as time expired.
"Everybody who holds, you know that can happen," said Detmer, who after nine seasons in Philadelphia was cut before the 2006 season and re-signed on Jan. 2. "Obviously to see that happen and then with what was at stake today, maybe you concentrate that much more."
And so, as time ran out in the Philadelphia Eagles' wild-card game with the New York Giants, long snapper Jon Dorenbos -- an accomplished professional magician who signed in late November -- spun back the ball, a tad high, to Detmer. With the game in his hands, Detmer pulled down the wet ball, set it up perfectly and, with the line straining to hold off the Giants, David Akers kicked a 38-yard field goal, his third of the game.
Thus, the Eagles won 23-20, and survive to play at New Orleans Saturday in the divisional playoffs. The Giants, after a manic 8-9 season, are left to contemplate their many demons and celebrate the career of running back Tiki Barber, who ran 26 times for 137 yards in his final game.
"A lot of people take for granted the snap, the hold, the kick, the whole operation," Akers said. "Seeing Romo drop the snap and all -- that happens. Playing quarterback and getting it in range, and you think you're going to win the game -- and he drops it.
"I feel bad for the guy."
A lot of organizations say they value the importance of special teams. The good ones -- and the Eagles are right up there with the New England Patriots in that respect -- do something about it. In retrospect, signing Detmer five days before the victory passed through his steady hands was one of those countless little things that add up to victory in the crucible of the postseason. Under head coach Andy Reid, the Eagles have tended to field a pass-first offense over the years. But when Donovan McNabb was lost for the season, Jeff Garcia stepped under center and Reid ordered him to hand off more often. With an offensive line that weighs close to a ton (OK, 1,656 pounds) and a running back like Brian Westbrook, this made sense.
Against the Giants, without the sustained pressure usually provided by defensive end Michael Strahan, the Eagles also elected to focus on their oh-so-soft defensive backs, particularly R.W. McQuarters and Jason Bell. Ultimately, it was a perfectly balanced game plan for the Eagles. Garcia completed 17 of 31 passes for 153 yards and a touchdown, and there were an equal number of running plays, with Westbrook carrying the major burden, rushing 20 times for 141 yards.
On the winning drive, Westbrook's first four carries produced 34 yards -- and all four first downs. The threat of Westbrook and Garcia, now 6-1 as a starter, will keep the Saints' defense honest.
There is something to be said for momentum -- the positive kind, anyway. While the Giants finished their season with the wrong kind, losing a staggering seven of nine games after inspiring early season notions of the Super Bowl, the 11-6 Eagles are certifiably on fire.
While they are not white-hot like the San Diego Chargers, who have ripped off 10 straight victories, they are a becoming shade of crimson and have now won six straight. The Pittsburgh Steelers, you may recall, won four straight at the end of the 2005 regular season and ran the table in the playoffs, becoming that rare species: a wild-card Super Bowl champion.
No one is ready to suggest the Eagles are capable of beating the AFC entry in Miami, but given the queasy state of the NFC, it's not a stretch to see them emerging from New Orleans and, say, Chicago.
Meanwhile, the Giants lurch into the offseason with some gaping holes to fill. Barber is reportedly already signed as a seven-figure talking head and general manager Ernie Accorsi is also retiring after a long NFL career. But what of the two positions that matter most on an NFL team: the head coach and the quarterback?
The status of Tom Coughlin, whose record in three seasons with the Giants is a truly middling 25-25, is tenuous at best. He seems to have lost control of his players and his lip service to discipline and decorum do not translate to the field. Two critical second-half timeouts were burned unnecessarily by quarterbacks Eli Manning and Jared Lorenzen.
With the Giants trying to produce the winning touchdown midway through the fourth quarter, on three consecutive plays left tackle David Diehl was called for his third false start of the game, right guard Chris Snee was flagged for the same transgression and Snee was charged with holding, which wiped out a 19-yard reception by Barber.
It was the Giants' jagged-edge season in microcosm.
And what of Manning? After three seasons, he has not developed into even a reasonable facsimile of his older brother Peyton. His numbers -- 16-for-27, 161 yards, with two touchdowns and one interception -- were credible, but he didn't do enough with the terrific field position his defense gave him in the first quarter. Three possessions that began with an average starting point of the Eagles' 49 all ended with punts.
Now the Coughlin-Manning legacy is a pair of playoff losses, going back to the resounding 23-0 loss to the Carolina Panthers that ended the 2005 season. Incredible as it might seem, the Giants' last playoff victory was their 41-0 victory over Minnesota Vikings in the 2000 NFC Championship Game.
"Let's not lose track of the good things," Coughlin said in his postgame address. "I know we are in a mood and we have been that way for most of the year, where it's all negative -- but it's not all negative."
The Eagles, legitimately, see their glass as half full, too.
"I feel like we've had a backs-against-the-wall mentality," said Akers, who followed Reid into the interview room, ahead of leading lights like Garcia, Westbrook and linebacker Jeremiah Trotter. "It's been kind of neat to see it all jell."
Greg Garber is a senior writer for ESPN.com.
Writer, Reporter
Greg Garber joined ESPN in 1991 and provides reports for NFL Countdown and SportsCenter. He is also a regular contributor to Outside the Lines and a senior writer for ESPN.com.
EDITORS' PICKS
Pittsburgh is pulling away from the Panthers, and time is running out.
Live Reaction

It wasn't a blowout like Super Bowl XLVIII, but Seattle beat the Broncos again.
Rapid Reaction »

Nick Foles showed the kind of toughness and effectiveness under pressure that could define his future.
Sheridan »