Colts' O-line underappreciated, but not overmatched
Are the Colts offensive linemen smarter than your average Bear? Probably not. But in an offense that features constant change, it takes a different kind of lineman to excel, writes Len Pasquarelli.
Originally Published:
January 30, 2007
By
Len Pasquarelli
| ESPN.com
FORT LAUDERDALE -- There have been occasions, Indianapolis Colts center Jeff Saturday conceded Monday night, when even he has wanted quarterback Peyton Manning to dispense with the trademark gesticulations at the line of scrimmage and simply make the snap call.
Not many times, Saturday noted, but a few.
"Oh, yeah, there are times when we're down [in a three-point stance], and Peyton is pointing all over the place, and you start to feel the burn in your legs," Saturday said. "Usually, he's pretty good about not leaving us down there too long. But when it does happen, it's a little bit of a physical challenge."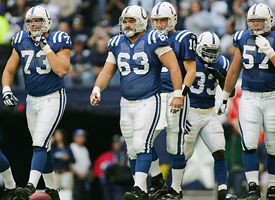 Ronald Martinez/Getty ImagesFor all the talk about how smart the Colts' O-line is, it's easy to forget these guys are pretty good football players too.
Not nearly as daunting a proposition as the Colts' blocking unit -- still underappreciated despite the presence of two Pro Bowl performers in Saturday and left tackle
Tarik Glenn
-- faces from a mental standpoint every week.
It is one of the NFL's worst-kept secrets that, historically, a team's offensive line is generally the smartest unit on a team. But because Manning makes so many calls at the line of scrimmage -- either selecting a play on a "check with me" basis or changing the play he has chosen in the huddle -- the Indianapolis line must be especially sharp.
The quintet of Saturday, Glenn, left guard Ryan Lilja, right guard Jake Scott and right tackle Ryan Diem might not qualify for group Mensa membership. But the line, with occasional starter Dylan Gandy, knows its way around a Wonderlic test.
More important, the Indianapolis blockers know the nature of their offense mandates a high degree of mental acuity. Depending on the opponent and the game plan, Manning might call as many as three-quarters of the plays from the line of scrimmage.
Are the Colts' linemen smarter than the average Bear(s)? Probably not. But life is no picnic when a linemen has to quickly process information and make adjustments on the fly. And the Indianapolis offense, while not especially cumbersome in terms of the size of the playbook or weekly menu from which Manning and offensive coordinator Tom Moore work, demands mental precision.
Said Glenn: "You can't not be smart and play in the NFL, in any offense. But because of the way we operate, calling so much at the line and usually working out of a no-huddle, you can't afford to be mentally lazy. We're pretty much tested [mentally] on every snap."
The demands placed on the Indianapolis line, in fact, even trickle down to the team's personnel department. Like all scouts, the Colts' bird dogs start the evaluation process with the same checklist, seeking big, physical, flexible, technically sound prospects. But they also know, in the club's offensive system, a player must be able to assimilate information quickly and respond accordingly, and those qualities become a priority.
Not to the point, of course, where the Colts are scouring the Ivy League every week in search of the prototype linemen. Let's face it, Indianapolis still prefers a maniac in the trenches to a brainiac in the classroom. Still, mental acumen is a significant factor in the team's grading system.
Yet the Colts have been able to unearth prospects from programs as far flung as Idaho, Northern Illinois and even Calgary. The one common denominator: Good, tough, and smart linemen, all of them.
"We take some pride in not making mistakes," said Saturday, a guy essentially signed off the street in 1999, but who has made himself into a two-time Pro Bowl performer. "You look at losses in this league and, more often than not, it's because of mental mistakes. So you want to minimize those as much as you can. Part of that is just being aware, playing alert, not allowing your mind to wander, because Peyton can throw a lot of information at you as you've got a nose tackle lined up maybe three inches away."
Part of what makes the Indianapolis line so proficient is that the Colts have few players who have been with other teams. So their initiation into the NFL comes in a system that stresses, from day one, that most calls will not be made in the huddle. Saturday modestly noted that he has "no idea" if he is under more stress than most of his center counterparts in the NFL, because the Indianapolis offense is really the only one he knows.
Another factor is that, from the first practice of training camp, the Colts practice at a high pace. No one goes at game speed in the summer, but the Indianapolis offense is inserted and run up-tempo in the summer. And the Colts don't huddle in camp, so that the conditions there somewhat simulate the demands imposed during the season.
"For the guys who have been here a while, it's second nature," Scott said. "And for the new guys, it becomes second nature, because it's how we do it every practice. It's just who we are and what we're all about. It's a big element for us, because it carries over to the season."
Another big element for the Indianapolis line, and one that's been increasingly clear in the team's three postseason victories this year, is that this is a prideful, tough unit, one that seems to have finally dispelled the misconception that it's all about finesse. Being smart is one thing, but veteran Indianapolis offensive line coach Howard Mudd still wants a bunch of road graders, not Rhodes Scholars, on the depth chart.
So, while the Colts' linemen don't mind discussing IQ issues, they invariably bring the conversation back to the fact they're pretty good football players, too. And given the production of the offense during the Manning era they are as justified in directing the discussion that way as they are adept at redirecting an opposing pass rusher.
That's especially the case in the playoffs when the Colts' line, more renowned for its ability to keep Manning perpendicular, has muscled up and carved out big holes for tailbacks Joseph Addai and Dominic Rhodes. Indianapolis has averaged an impressive 137.7 rushing yards per game in the postseason, a 25.1-percent improvement over its regular-season ouput.
The ability to dictate tempo and to close out games, as was the case in the divisional-round victory at Baltimore, has been a key dimension. And it's demonstrated that the Indianapolis line has brawn to go along with its brains.
Len Pasquarelli is a senior writer at ESPN.com.
Nike Women's Home Game Jersey Indianapolis Colts Andrew Luck #12 Shop »

MOST SENT STORIES ON ESPN.COM