TEAM AVERAGES & NFL RANKS
TEAM OFFENSE
TM
PER GAME AVERAGE
Total Yards
KC

321.4
IND

379.4
Yards Passing
KC

187.5
IND

269.3
Yards Rushing
KC

133.9
IND

110.1
TEAM DEFENSE
TM
PER GAME AVERAGE
Yards Allowed
KC

328.9
IND

332.3
Pass Yds Allowed
KC

208.4
IND

159.3
Rush Yds Allowed
KC

120.5
IND

173.0
GAMEDAY MATCHUP
W
L
T
PF
PA
DIV
CON
KC
9
7
0
20.7
20
4-2-0
5-7-0
IND
12
4
0
26.7
23
3-3-0
9-3-0
H2H MATCHUPS (SINCE 2001)
Indianapolis leads 3-1
Oct 31, 2004
@KC 45, IND 35
Jan 11, 2004
IND 38, @KC 31
Oct 25, 2001
IND 35, @KC 28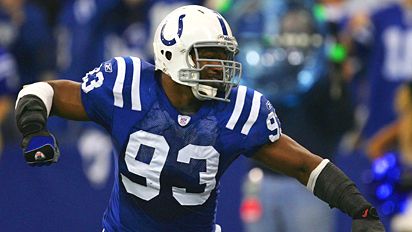 (Jonathan Daniel/Getty Images)
First Impression
Peyton Manning didn't exactly light up the Chiefs, but the Colts' defense picked up the slack and Indianapolis beat Kansas City with relative ease, writes Len Pasquarelli.
Story
SCOUTS' TAKE
Kansas City was wise not to blitz Colts QB Peyton Manning, instead playing coverage. The Chiefs' cornerbacks played the Colts' outstanding wide receivers physically at the line of scrimmage, with deep safety support in the Cover 2. The physicality at the line of scrimmage also proved effective against the Colts' wide stretch runs, but the defense was simply on the field too long to shut down the running game. The Chiefs' offense didn't get a first down until near the end of the third quarter. The Colts' defense deserves a lot of credit for its aggressiveness and sound tackling. Dwight Freeney was disruptive and often forced the Chiefs to keep their best weapon, Tony Gonzalez, in to pass protect. Manning called a fine game as usual, but made a few poor decisions. He then became conservative and put the onus on the running game to wear the Chiefs down, while mixing in short precise throws to his backs and tight ends off play action.
MORE FROM ESPN.com
Colts safety Bob Sanders is expected to play Saturday when the team opens the playoffs against Kansas City.
Herman Edwards lashed out Monday at anybody who says his Kansas City Chiefs lucked into the playoffs.
From experience at QB to his updated Super Bowl pick, John Clayton breaks down the 2007 playoffs.