TEAM AVERAGES & NFL RANKS
TEAM OFFENSE
TM
PER GAME AVERAGE
Total Yards
NO

391.5
CHI

324.9
Yards Passing
NO

281.4
CHI

205.1
Yards Rushing
NO

110.1
CHI

119.9
TEAM DEFENSE
TM
PER GAME AVERAGE
Yards Allowed
NO

307.3
CHI

294.1
Pass Yds Allowed
NO

178.4
CHI

194.8
Rush Yds Allowed
NO

128.9
CHI

99.4
GAMEDAY MATCHUP
W
L
T
PF
PA
DIV
CON
NO
10
6
0
25.8
20
4-2-0
9-3-0
CHI
13
3
0
26.7
16
5-1-0
11-1-0
H2H MATCHUPS (SINCE 2001)
Series tied 2-2
Nov 6, 2005
CHI 20, @NO 17
Oct 12, 2003
@NO 20, CHI 13
Sep 22, 2002
NO 29, @CHI 23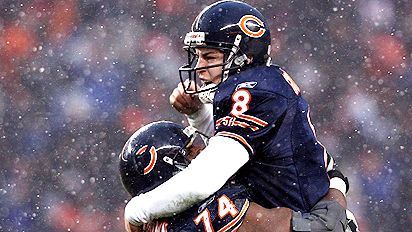 ( Nick Laham/Getty Images)
Now Do You Believe?
After witnessing the Bears' 39-14 rout of New Orleans in the NFC Championship Game and getting called out by coach Lovie Smith, one critic is drinking the Bears Kool-Aid.
Gene Wojciechowski
SCOUTS' TAKE
The name of this game was defense as the Bears defense forced four turnovers and shut down the No. 1 offense in the NFL on a cold and snowy day in Chicago. The Bears attacked Saints quarterback Drew Brees with zone blitzes that gave Brees little, if any, time in the pocket to find his receivers. When the Bears where not blitzing, they got pressure from their front four. Rookie defensive end Mark Anderson was able to beat Saints left tackle Jammal Brown repeatedly to harass Brees.

Bears offensive coordinator Ron Turner started the game by running the football with Cedric Benson and Thomas Jones, who combined for 183 yards for the game. This philosophy kept the game close in the first half, but in the second half Turner attacked by throwing the ball deep to Bernard Berrian, who beat Saints CB Fred Thomas for a big TD late in the game. Rex Grossman may not have had great numbers, but the biggest stat in his favor was zero, as in zero turnovers.
-- Chuck Knox, Jr.