TEAM AVERAGES & NFL RANKS
TEAM OFFENSE
TM
PER GAME AVERAGE
Total Yards
NE

335.6
IND

379.4
Yards Passing
NE

212.5
IND

269.3
Yards Rushing
NE

123.1
IND

110.1
TEAM DEFENSE
TM
PER GAME AVERAGE
Yards Allowed
NE

294.4
IND

332.3
Pass Yds Allowed
NE

200.2
IND

159.3
Rush Yds Allowed
NE

94.2
IND

173.0
GAMEDAY MATCHUP
W
L
T
PF
PA
DIV
CON
NE
12
4
0
24.1
15
4-2-0
8-4-0
IND
12
4
0
26.7
23
3-3-0
9-3-0
H2H MATCHUPS (SINCE 2001)
New England leads 6-3
Nov 5, 2006
IND 27, @NE 20
Nov 7, 2005
IND 40, @NE 21
Jan 16, 2005
@NE 20, IND 3
Sep 9, 2004
@NE 27, IND 24
Jan 18, 2004
@NE 24, IND 14
Nov 30, 2003
NE 38, @IND 34
Oct 21, 2001
NE 38, @IND 17
Sep 30, 2001
@NE 44, IND 13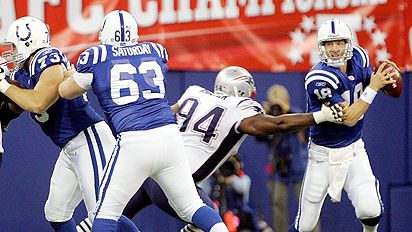 (Doug Pensinger/Getty Images)
Finally!
Maybe it was the little prayer that Peyton Manning said just before the start of the game-winning drive. Or maybe it was the confidence the Colts simply had in their QB. Whatever it was, Manning and the Colts are heading to the Super Bowl.
Len Pasquarelli
SCOUTS' TAKE
Fatigue was a crucial component of this football game. The Patriots began to wear down the Colts' undersized front early in the game. They extended drives with clutch plays on third and fourth downs and utilized three ballcarriers to inflict the pounding while keeping their attack balanced with precise passing. But the Colts absolutely dominated the time of possession from late in the first half through the entire third quarter by keeping the tempo up on offense and fatiguing a heavier, aging Patriots' defense in a very warm dome. They began to gash the Patriots between the tackles and New England could not account for Dallas Clark with all the attention they dedicated to the Colts' wide receivers. In a fantastic football game, the Patriots clearly won the special teams battle, but Indianapolis had much more gas in their tank when it mattered most.

MORE FROM ESPN.com
Patriots safety Rodney Harrison was downgraded to out and will not play Sunday in the AFC Championship Game.