Commentary
AFC predictions: No love for the Bolts
ESPN.com's NFL reporters weigh in with their predictions for the conference championships Sunday. Here's the AFC outlook.
Originally Published:
January 18, 2008
By
ESPN.com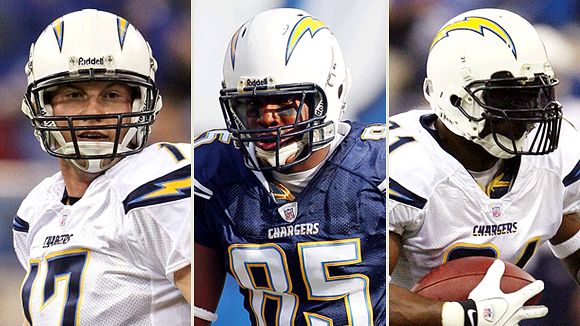 Getty ImagesChargers Philip Rivers, Antonio Gates and LaDainian Tomlinson are trying to shake off injuries.
ESPN.com's NFL reporters weigh in with their predictions for the Chargers-Patriots AFC Championship Game. (Click here for staff NFC picks.)
---

Jeffri Chadiha: Patriots, 27-14
The Chargers have too many questions to make this game close.
Quarterback Philip Rivers is nursing a strained medial collateral ligament that has put his availability in doubt. Pro Bowl tight end Antonio Gates is still hobbled by the dislocated toe that he managed to play on in last week's win over Indianapolis. And while running back LaDainian Tomlinson is expected to play, it's difficult to know how much the hyperextended knee he suffered against the Colts will hamper him.
It's hard enough to beat New England when a team is healthy. When a team is as banged up as the Chargers, the Patriots should have no problem advancing to the Super Bowl.
---

John Clayton: Patriots, 28-20
The Chargers are a beast in the AFC, fueled by two playoff wins. Expect them to be a major factor in the Super Bowl race for the foreseeable future. The team is loaded with talent. Backups can step up and play like stars, and Philip Rivers has the leadership qualities to get through tough games and win.
But the beasts are playing in the East, and they are playing the Patriots at the worst possible time. The Patriots are 17-0, Tom Brady is at his absolute best and New England has the most talented offensive weapons in the NFL. Age and wear and tear might be catching up to their defense, but the Patriots win with their offense. Although the Chargers have improved dramatically since their Week 2 blowout loss in Foxborough, Mass., the Patriots still hold the cards.
---

Matt Mosley: Patriots, 38-24
The emergence of cornerback Antonio Cromartie gives the Chargers a better chance to contain receiver Randy Moss, but that's not enough to slow the Patriots' offense.
The Chargers are coming off an emotional victory over the Colts, but it's hard to sustain that type of effort over two weeks. I don't think the Chargers' offense has enough firepower to match the Patriots touchdown for touchdown, so this thing will be over early in the third quarter.
The Chargers' best chance of winning is to score a touchdown on defense or special teams. I just don't see that happening. Even if healthy, Philip Rivers won't have time to make plays downfield. The Patriots will dare him to throw while putting eight in the box to stop running back LaDainian Tomlinson or his understudy, Michael Turner. If the Chargers had a healthy Antonio Gates, I'd hold out more hope. But he'll once again be limited, as will Tomlinson and Rivers if they play.
---

Len Pasquarelli: Patriots, 31-20
San Diego cornerback Antonio Cromartie might be the best pure athlete on the field in this game. Unfortunately for the Chargers, they haven't figured out a way to clone him. The Chargers' pass rush will make things a little uncomfortable for Tom Brady, but the unflappable Pats quarterback will come up big again. There are just too many weapons on the New England offense.
---

Mike Sando: Patriots, 34-20
San Diego handled Indianapolis last week largely because the Colts couldn't mount a pass rush without Dwight Freeney.
The Patriots should be more effective with their pressure, making life tough for whichever quarterback leads the Chargers. Philip Rivers was peaking before spraining his right knee. If he plays, he could have a hard time making the first defender miss, a key to avoiding sacks. Backup Billy Volek was efficient in relief against the Colts, but the Patriots will be ready for him now that they know he might play.
The Chargers have the talent on defense to pressure Tom Brady and cover in the secondary, but injuries have caught up with them recently. And you wonder if they have the maturity to win in Foxborough.
The Patriots were quietly going about their business when Chargers defensive lineman Igor Olshansky inexplicably said he thought New England was "more worried" about this game than San Diego. The comments seemed to worry Chargers coach Norv Turner more than anyone. What's next, Rivers taunting Brady from the sideline after San Diego has taken a 3-0 lead?
SPONSORED HEADLINES
MORE NFL HEADLINES
MOST SENT STORIES ON ESPN.COM
2007 PLAYOFFS

In a rematch of their Week 17 game, the unbeaten Patriots will play the red-hot Giants in Super Bowl XLII in Glendale, Ariz.
Super Bowl Central
Clayton: Eli's managing fine
Chadiha: Focused Giants
AccuScore simulation: Pats to prevail
Chadiha: First Look | Playoff schedule



Conference Championships (Jan. 20)
Patriots 21, Chargers 12
•
Merrill: Questions linger about Moss' postseason
•
Wojciechowski: Whatever it takes, Pats win
•
Pasquarelli: Patriots' offense grinds it out
•
Pasquarelli: Chargers squander opportunites
•
Pats make fourth SB in seven years
•
The Last Call: Mike Sando's observations, more
•
Zoom Gallery:
AFC title game
|
Pats' season
•
Playoff page
Giants 23, Packers 20
•
Clayton: Burress burns Harris, Packers
•
Chadiha: Bitter pill for Packers to swallow
•
Zoom Gallery: Giants edge Packers
•
The Last Call: Mike Sando's observations, more
•
Garber: Coughlin's personality makeover intact
•
Playoff page
Video
•
What is Tom Brady's legacy?
•
Eli and Burress lead Giants
•
Patriots avoid distractions on way to Super Bowl
•
Resilient Giants advance to SB
•
Red-zone efficiency fuels Patriots
Divisional Round (Jan. 12-13)
Packers 42, Seahawks 20
•
Recap
|
Playoff game page
•
Clayton: Ryan Grant sticks to the plan
•
Sando: Disastrous play at TE for Seattle
Patriots 31, Jaguars 20
•
Recap
|
Playoff game page
•
Pasquarelli: Patriots have too many weapons
Chargers 28, Colts 24
•
Recap
|
Playoff game page
•
Wojciechowski: Did Chargers get Pats' attention?
•
Clayton: Colts can't overcome mistakes
Giants 21, Cowboys 17
•
Recap
|
Playoff game page
•
Chadiha: Manning maturing at right time
More divisional playoffs
•
Saturday's Last Call: Pack, Pats advance
•
Sunday's Last Call: Giants, Chargers surprise
Commentary/Features
•
Pasquarelli: Tip Sheet
|
Notes

•
Smith: Special teams loom large
•
Scouts: Kryptonite for top four teams

•
Playoff upsets: By the numbers
•
Page 2: Handicapping the wild-card winners
Wild-Card Round (Jan. 5-6)
Seahawks 35, Redskins 14
•
Recap
|
Playoff game page
•
Clayton: Cool head Holmgren
•
Sando: Redskins inspired by Taylor
Jaguars 31, Steelers 29
•
Recap
|
Playoff game page
•
Chadiha: Jaguars pass character test
Giants 24, Bucs 14
•
Recap
|
Playoff game page
•
Pasquarelli: Manning delivers for Giants
•
Pasquarelli: Giants' D rises to occasion
Chargers 17, Titans 6
•
Recap
|
Playoff game page
•
Clayton: Turner, Rivers silence their critics
More Wild Card Weekend
•
Saturday's Last Call: Hawks, Jags escape
•
Sunday's Last Call: Giants, Chargers rule
•
ZOOM photos:
Saturday
|
Sunday
Commentary/Features
•
Sando: Controversial history of replay
•
Clayton: First and Goal, Wild Card
•
Sando: Playoff mantras
•
Numbers crunching: Wild-card weekend
•
Sunday Countdown
•
TMQ: Do the Pats need to run more?
•
Joyner: Steelers, Giants adjusting on the fly

•
Clayton: Handicapping possible Patriots foes
•
Clayton: Key playoff questions for the AFC
•
Pasquarelli: Key playoff questions for the NFC
Video
•
Chargers bolt past Titans, 17-6
•
Eli Manning silences his critics
•
Seattle's Hasselbeck is underrated
•
Phillips not concerned about late-season slide
Scouts Inc.
•
Ranking the playoff teams
•
Ranking the playoff coaches
•
Off. rankings:
Overall
|
QB
|
WR
|
RB
|
OL
•
Def. rankings:
Overall
|
DL
|
LB
|
DB
|
ST
•
Green: Smith's absence hurting Steelers
•
Williamson: Unknowns powering Bucs