Commentary
Giants' Manning emerging from older brother's shadow
Three weeks ago, Eli Manning was one of the Giants' biggest question marks. Now, he's the biggest reason they're one win from the Super Bowl, writes Jeffri Chadiha.
IRVING, Texas -- New York Giants quarterback Eli Manning saw the text message just minutes after his team's 21-17 divisional playoff win over Dallas.
His older brother, Indianapolis Colts quarterback Peyton Manning, had sent his congratulations even though Peyton's team had been bounced out of the playoffs by San Diego earlier that afternoon. This is how the Manning siblings apparently operate. They show their love for each other regardless of the circumstances.
What made this moment all the more poignant for Eli is that this finally seems to be his time to shine in the NFL. He's playing his best football at the best possible time, and the Giants are one win from the Super Bowl because of it. Yes, New York did a good job of harassing Tony Romo and stifling Terrell Owens on Sunday, but you can't underestimate Manning's performance. For all the great things that are happening for the Giants, the most obvious good news is that Manning is growing up in a hurry.
Of course, you'll never hear Manning expand on that topic. He'd much rather talk about the team's performance and the opportunity to meet Green Bay in Sunday's NFC Championship Game, the same Packers team, by the way, that beat the Giants back in Week 2.
"We're finding ways to win games, and that's really nice to see," said Manning, who completed 12 of 18 passes for 163 yards and two touchdowns. "It seems like whenever we need something to happen, somebody steps up to make a play. And it usually seems like it's a different person each time."
Although the Giants are getting tremendous contributions from a variety of unheralded players, Manning's production has been the common denominator in their two playoff wins. Three weeks ago, you never would've predicted this, not with the way Manning was playing then. He had a five-game stretch when he was especially awful -- he threw eight interceptions and four touchdowns between Nov. 25 and Dec. 23 -- and his own general manager, Jerry Reese, said Manning looked "skittish" while tossing four interceptions in a 41-17 loss to Minnesota. That's how bad it was for Manning: Even the higher-ups were piling on.
[+] Enlarge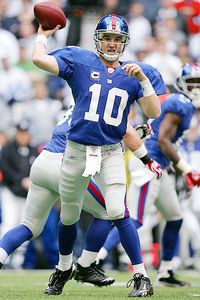 Ronald Martinez/Getty ImagesEli Manning's newfound confidence and poise have helped the Giants thrive in the playoffs.
The impressive thing is that Manning never let those low points weigh him down. He started turning his season around with a four-touchdown performance in a season-ending loss to New England. He completed 20 of 27 passes against Tampa Bay in the Jan. 6 NFC wild-card win.
Overall, Manning has posted a passer rating of at least 100.0 -- which is excellent -- in each of his past three outings.
"You can see that Eli is relaxed and confident right now," said Giants wide receiver Plaxico Burress. "And when you have that going for you, it's easy to play well. When he had those bad games, everybody was getting down on him, but if people could've seen him around us, they would've known that stuff didn't bother him."
Several of Manning's teammates say his response to that adversity was one example of how he has become a stronger leader in his fourth season. They say he's more demonstrative when discussing adjustments on the sideline and more vocal when addressing teammates on the field. Left tackle David Diehl adds that Manning's preparation has impressed the team this year. In fact, some joke that he must be sleeping at the team facility with all the hours he's putting in these days.
What can't be disputed is that Manning clearly is doing something right. He hasn't thrown an interception in the postseason, and he's moving the chains. Sunday's game was another example of that. Manning doesn't deserve a lot of credit for the score on New York's opening drive -- wide receiver Amani Toomer took a short pass, broke two tackles and raced 52 yards for a touchdown on that play -- but Manning certainly gave his team a big lift later in the half. In fact, he probably delivered the most important drive of his career right before halftime.
The Cowboys had just gone on a 20-play, 90-yard scoring drive that ate up 11:28 when the Giants took possession with 53 seconds left in the half. New York trailed 14-7, and it would've been easy to just run out the clock. Instead, Manning drove his team 71 yards on seven plays and ended the possession with a 4-yard touchdown pass to Toomer.
"It was really big for us to get a touchdown right before halftime," Manning said. "We'd been on the sidelines for what felt like forever, so to get a touchdown right there was huge for our momentum."
When the Giants look back on this postseason, they will see that moment as one of the major steps in Manning's development. He didn't have happy feet. He displayed no clueless expressions. And his shoulders definitely didn't slump. He played with the confidence and focus that are normally the trademarks of his older brother, and you could see that his teammates believed in him. This is what made Manning's play Sunday so notable.
Drives like those make it easy to think the Packers will see a different quarterback from the one they beat back in early September. It's also apparent that Manning finally is creating his own identity in this league.
"Everybody expects him to be like his brother and throw all these deep balls that lead to big plays," said Giants cornerback R.W. McQuarters. "But that's not Eli's game. He relies on his running game, and he dinks and dunks his way down the field. The thing is that when you get into the playoffs, that's how you win games -- by limiting your mistakes."
We actually didn't need McQuarters to confirm that for us. Just a quick check of which Manning sibling is still standing in this postseason says all you have to know about the current success of Eli's approach.
Jeffri Chadiha covers the NFL for ESPN.com.
ESPN.com senior NFL columnist
Reporter for ESPN TV's "E:60"
Sports Illustrated senior writer (2000-07)
Covered Raiders, 49ers for San Francisco Examiner (1996-1999)
SPONSORED HEADLINES
MORE NFL HEADLINES
MOST SENT STORIES ON ESPN.COM
2007 PLAYOFFS

In a rematch of their Week 17 game, the unbeaten Patriots will play the red-hot Giants in Super Bowl XLII in Glendale, Ariz.
Super Bowl Central
Clayton: Eli's managing fine
Chadiha: Focused Giants
AccuScore simulation: Pats to prevail
Chadiha: First Look | Playoff schedule



Conference Championships (Jan. 20)
Patriots 21, Chargers 12
•
Merrill: Questions linger about Moss' postseason
•
Wojciechowski: Whatever it takes, Pats win
•
Pasquarelli: Patriots' offense grinds it out
•
Pasquarelli: Chargers squander opportunites
•
Pats make fourth SB in seven years
•
The Last Call: Mike Sando's observations, more
•
Zoom Gallery:
AFC title game
|
Pats' season
•
Playoff page
Giants 23, Packers 20
•
Clayton: Burress burns Harris, Packers
•
Chadiha: Bitter pill for Packers to swallow
•
Zoom Gallery: Giants edge Packers
•
The Last Call: Mike Sando's observations, more
•
Garber: Coughlin's personality makeover intact
•
Playoff page
Video
•
What is Tom Brady's legacy?
•
Eli and Burress lead Giants
•
Patriots avoid distractions on way to Super Bowl
•
Resilient Giants advance to SB
•
Red-zone efficiency fuels Patriots
Divisional Round (Jan. 12-13)
Packers 42, Seahawks 20
•
Recap
|
Playoff game page
•
Clayton: Ryan Grant sticks to the plan
•
Sando: Disastrous play at TE for Seattle
Patriots 31, Jaguars 20
•
Recap
|
Playoff game page
•
Pasquarelli: Patriots have too many weapons
Chargers 28, Colts 24
•
Recap
|
Playoff game page
•
Wojciechowski: Did Chargers get Pats' attention?
•
Clayton: Colts can't overcome mistakes
Giants 21, Cowboys 17
•
Recap
|
Playoff game page
•
Chadiha: Manning maturing at right time
More divisional playoffs
•
Saturday's Last Call: Pack, Pats advance
•
Sunday's Last Call: Giants, Chargers surprise
Commentary/Features
•
Pasquarelli: Tip Sheet
|
Notes

•
Smith: Special teams loom large
•
Scouts: Kryptonite for top four teams

•
Playoff upsets: By the numbers
•
Page 2: Handicapping the wild-card winners
Wild-Card Round (Jan. 5-6)
Seahawks 35, Redskins 14
•
Recap
|
Playoff game page
•
Clayton: Cool head Holmgren
•
Sando: Redskins inspired by Taylor
Jaguars 31, Steelers 29
•
Recap
|
Playoff game page
•
Chadiha: Jaguars pass character test
Giants 24, Bucs 14
•
Recap
|
Playoff game page
•
Pasquarelli: Manning delivers for Giants
•
Pasquarelli: Giants' D rises to occasion
Chargers 17, Titans 6
•
Recap
|
Playoff game page
•
Clayton: Turner, Rivers silence their critics
More Wild Card Weekend
•
Saturday's Last Call: Hawks, Jags escape
•
Sunday's Last Call: Giants, Chargers rule
•
ZOOM photos:
Saturday
|
Sunday
Commentary/Features
•
Sando: Controversial history of replay
•
Clayton: First and Goal, Wild Card
•
Sando: Playoff mantras
•
Numbers crunching: Wild-card weekend
•
Sunday Countdown
•
TMQ: Do the Pats need to run more?
•
Joyner: Steelers, Giants adjusting on the fly

•
Clayton: Handicapping possible Patriots foes
•
Clayton: Key playoff questions for the AFC
•
Pasquarelli: Key playoff questions for the NFC
Video
•
Chargers bolt past Titans, 17-6
•
Eli Manning silences his critics
•
Seattle's Hasselbeck is underrated
•
Phillips not concerned about late-season slide
Scouts Inc.
•
Ranking the playoff teams
•
Ranking the playoff coaches
•
Off. rankings:
Overall
|
QB
|
WR
|
RB
|
OL
•
Def. rankings:
Overall
|
DL
|
LB
|
DB
|
ST
•
Green: Smith's absence hurting Steelers
•
Williamson: Unknowns powering Bucs