Commentary
Giants build chemistry in face of adversity
A team in turmoil at the start of the season, the Giants managed to bond as a group and now stand one victory away from an improbable Super Bowl berth, writes Jeffri Chadiha.
Chemistry is a mysterious quality to trace in the NFL. Most teams need a few years together before they ever achieve it. Others, like the New England Patriots or Indianapolis Colts, have it every time a new season kicks off.
And then there are the teams like the New York Giants, the ones that start bonding when nobody is really paying attention. Those are the squads that end up being the most fun to watch at this time of year.
Now that the Giants have advanced into Sunday's NFC Championship Game, they've made us understand one important point about their success: They really do believe in one another.
You can see it in the confidence they have in quarterback Eli Manning. You can tell it from the way they hug head coach Tom Coughlin, the same man once reputed for his prickly personality. And you can also feel it in the way their defense has harassed opposing quarterbacks in recent weeks. Somehow, some way, this team believes it can find ways to win games.
[+] Enlarge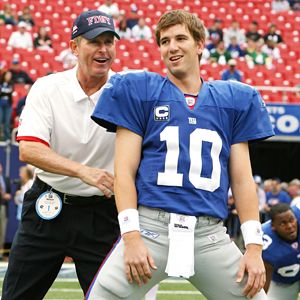 Evan Pinkus/Getty Images The subjects of intense scrutiny, Tom Coughlin and Eli Manning have persevered.
What's crazy about all this, however, is that nobody could've seen this coming. Not this season, and not with this team. Sure, the Giants had a six-game winning streak earlier this season -- along with two previous playoff appearances under Coughlin that ended in quick postseason exits --- but they had plenty of issues when this season began.
Coughlin was back on the hot seat. Former Giants running back Tiki Barber was blasting both Coughlin and Manning publicly. Pro Bowl defensive end Michael Strahan skipped training camp. And this was before the Giants started the season 0-2.
But give New York credit for its focus. Instead of allowing all those distractions to tear them apart, the Giants found a way to come together.
"We talk a lot about accountability," Giants left tackle David Diehl said after Sunday's win in Dallas. "And I can tell you that everybody in this locker room feels accountable to the guy next to him. It's been that way for us all year. You hate to use a cliché but we've really had guys stepping up and doing whatever it takes to help us win."
Coughlin is the perfect example of that trend. He made the necessary adjustments to get this team to connect with him. He realized his tough-guy approach hadn't played well in the locker room and he mellowed just enough to become more player-friendly.
As Giants cornerback R.W. McQuarters said, "He's thrown us a couple bones as the season has gone on. He's tried to take it easier on us [in practice]. But I think he's also been more focused. All he cares about is the next play, the next drive and the next game. His attitude is that people can say whatever they want to about us. Let's just keep winning games."
The evolution of Manning also has made a difference in New York. In retrospect, the criticisms levied in the preseason -- Barber claimed that Manning's attempts at displaying leadership during an offensive meeting last season were "comical" -- gave Manning the chance to show his toughness. If his teammates needed to see a stronger Eli this season, he found a way to give it to them. Even with his late-season struggles, he's earned more respect with how he responded to those setbacks and rebounded in the postseason.
But let's also be honest here: This team really found itself after securing a playoff spot with a 38-21 win over Buffalo on Dec. 23. A week later, Coughlin had a great opportunity to rest his starters in the regular-season finale against New England, but he chose to play them in that 38-35 loss. Looking back, it was a defeat that should've opened eyes around the NFL because New York competed as if the postseason had started a week early. The Giants clearly believed they were good enough to beat anybody.
Now we know why. Simply put, this team finds a positive every time it looks vulnerable. Derrick Ward emerged when running back Brandon Jacobs missed four games with a knee injury, and then Ahmad Bradshaw emerged when Ward broke his left leg.
The loss of star tight end Jeremy Shockey was critical, but rookie Kevin Boss has become a reliable weapon in his place. Heck, the Giants had enough injury problems at cornerback against Dallas that they had to ask former practice squad player Geoffrey Pope to contribute. And he got the job done.
The point to be made here is that championship-caliber teams have a way of rising to the occasion. The Giants have shown they can do just that with their road record alone. When you win nine of 10 games away from home, as New York has done this season, it speaks volumes about your mettle.
"We just have a great togetherness," Giants wide receiver Amani Toomer said. "We've had the feeling all season that this team could do something great."
Of course, now comes the hard part. The Giants have to carry their current momentum through two more games. When this postseason started, it would've been impossible to find many people who believed in their chances. But after seeing how the Giants played in their first two playoff games, it's becoming increasingly harder to bet against them.
Jeffri Chadiha covers the NFL for ESPN.com.
ESPN.com senior NFL columnist
Reporter for ESPN TV's "E:60"
Sports Illustrated senior writer (2000-07)
Covered Raiders, 49ers for San Francisco Examiner (1996-1999)
SPONSORED HEADLINES
MORE NFL HEADLINES
MOST SENT STORIES ON ESPN.COM
2007 PLAYOFFS

In a rematch of their Week 17 game, the unbeaten Patriots will play the red-hot Giants in Super Bowl XLII in Glendale, Ariz.
Super Bowl Central
Clayton: Eli's managing fine
Chadiha: Focused Giants
AccuScore simulation: Pats to prevail
Chadiha: First Look | Playoff schedule



Conference Championships (Jan. 20)
Patriots 21, Chargers 12
•
Merrill: Questions linger about Moss' postseason
•
Wojciechowski: Whatever it takes, Pats win
•
Pasquarelli: Patriots' offense grinds it out
•
Pasquarelli: Chargers squander opportunites
•
Pats make fourth SB in seven years
•
The Last Call: Mike Sando's observations, more
•
Zoom Gallery:
AFC title game
|
Pats' season
•
Playoff page
Giants 23, Packers 20
•
Clayton: Burress burns Harris, Packers
•
Chadiha: Bitter pill for Packers to swallow
•
Zoom Gallery: Giants edge Packers
•
The Last Call: Mike Sando's observations, more
•
Garber: Coughlin's personality makeover intact
•
Playoff page
Video
•
What is Tom Brady's legacy?
•
Eli and Burress lead Giants
•
Patriots avoid distractions on way to Super Bowl
•
Resilient Giants advance to SB
•
Red-zone efficiency fuels Patriots
Divisional Round (Jan. 12-13)
Packers 42, Seahawks 20
•
Recap
|
Playoff game page
•
Clayton: Ryan Grant sticks to the plan
•
Sando: Disastrous play at TE for Seattle
Patriots 31, Jaguars 20
•
Recap
|
Playoff game page
•
Pasquarelli: Patriots have too many weapons
Chargers 28, Colts 24
•
Recap
|
Playoff game page
•
Wojciechowski: Did Chargers get Pats' attention?
•
Clayton: Colts can't overcome mistakes
Giants 21, Cowboys 17
•
Recap
|
Playoff game page
•
Chadiha: Manning maturing at right time
More divisional playoffs
•
Saturday's Last Call: Pack, Pats advance
•
Sunday's Last Call: Giants, Chargers surprise
Commentary/Features
•
Pasquarelli: Tip Sheet
|
Notes

•
Smith: Special teams loom large
•
Scouts: Kryptonite for top four teams

•
Playoff upsets: By the numbers
•
Page 2: Handicapping the wild-card winners
Wild-Card Round (Jan. 5-6)
Seahawks 35, Redskins 14
•
Recap
|
Playoff game page
•
Clayton: Cool head Holmgren
•
Sando: Redskins inspired by Taylor
Jaguars 31, Steelers 29
•
Recap
|
Playoff game page
•
Chadiha: Jaguars pass character test
Giants 24, Bucs 14
•
Recap
|
Playoff game page
•
Pasquarelli: Manning delivers for Giants
•
Pasquarelli: Giants' D rises to occasion
Chargers 17, Titans 6
•
Recap
|
Playoff game page
•
Clayton: Turner, Rivers silence their critics
More Wild Card Weekend
•
Saturday's Last Call: Hawks, Jags escape
•
Sunday's Last Call: Giants, Chargers rule
•
ZOOM photos:
Saturday
|
Sunday
Commentary/Features
•
Sando: Controversial history of replay
•
Clayton: First and Goal, Wild Card
•
Sando: Playoff mantras
•
Numbers crunching: Wild-card weekend
•
Sunday Countdown
•
TMQ: Do the Pats need to run more?
•
Joyner: Steelers, Giants adjusting on the fly

•
Clayton: Handicapping possible Patriots foes
•
Clayton: Key playoff questions for the AFC
•
Pasquarelli: Key playoff questions for the NFC
Video
•
Chargers bolt past Titans, 17-6
•
Eli Manning silences his critics
•
Seattle's Hasselbeck is underrated
•
Phillips not concerned about late-season slide
Scouts Inc.
•
Ranking the playoff teams
•
Ranking the playoff coaches
•
Off. rankings:
Overall
|
QB
|
WR
|
RB
|
OL
•
Def. rankings:
Overall
|
DL
|
LB
|
DB
|
ST
•
Green: Smith's absence hurting Steelers
•
Williamson: Unknowns powering Bucs
ESPN FAN SHOP