Commentary
Giants better off without Shockey? Not quite
Even though the Giants' offense has functioned quite nicely without the injured Jeremy Shockey, New York would love to have its star tight end in the lineup Sunday, writes Jeffri Chadiha.
PHOENIX -- New York Giants tight end Jeremy Shockey doesn't like talking over the phone, so he's been sending constant text messages to his teammates during Super Bowl week.
They know it's killing him to be sidelined with a broken left leg and they understand why he hasn't shown up in Phoenix yet. This should be one of the most satisfying weeks of his career, an event he's dreamed of all his life. Instead, it will probably be one of the most bittersweet moments he's ever experienced.
The strangest part of this story, however, isn't that Shockey continues to rehabilitate back in Miami while the Giants prepare to face New England in Super Bowl XLII. It's that he's somehow become a topic of conversation during a week when there are plenty of other things to talk about. The question, for those who haven't heard it yet, is whether the Giants might be a better team without Shockey. The answer, for those who came to this space searching for an opinion, is that they aren't.
Make no mistake about this: The Giants would love to have Shockey available on Sunday. As much as they've benefited from the contributions of younger tight ends Kevin Boss and Mike Matthews, Shockey is a Pro Bowl-caliber player who's produced 371 receptions and 27 touchdowns during his six-year career.
"A lot has been made about [the impact of Shockey's loss] but I've always liked Jeremy's personality and his attitude," said Giants center Shaun O'Hara. "I know how hard it is for him to not be here. I also know that he's learned a lot about how to be more of a team player, just like everybody else on this team has this season."
[+] Enlarge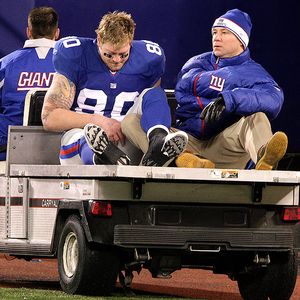 Richard A. Brightly/Icon SMIJeremy Shockey broke his left fibula against the Redskins in Week 15. Before the injury, Shockey was having another productive season.
The main reason the Giants defend Shockey so vigorously is that they think he's misunderstood. While outsiders might wonder about his more publicized moments -- the controversial comments earlier in his career, the way he chirps at quarterback Eli Manning to get him the ball, the animated histrionics that can leave the impression that he's just another spoiled, attention-seeking star -- his teammates see a guy who cares plenty about winning. In fact, they stressed that Shockey didn't come to Arizona because he feared he'd be a distraction. They think the last thing he wants to do this week is talk publicly about a game that won't include him.
So it really doesn't matter to the Giants that Shockey has been mostly absent since sustaining his injury in a 22-10 loss to Washington on Dec. 16. He's helped them this season with his production (57 receptions, 619 yards and three touchdowns) and his energy.
"I'd love for Shockey to be here but the fact is that he's hurt and he's not playing," said Giants cornerback R.W. McQuarters. "And if he was here, the media would be asking all kinds of questions and they'd want to know everything he'd been doing since he got hurt. He probably doesn't want to deal with all that. If I were in his shoes, I'd feel the same way."
The only thing that is quite apparent about Shockey's absence is that the Giants lack a vibrant personality on offense now. There isn't a vocal player like defensive end Michael Strahan or middle linebacker Antonio Pierce, and please don't say wide receiver Plaxico Burress falls into that category. He may have made news with his guarantee of a Giants win earlier this week, but he's as laid-back as they come.
Now, there can be a argument made for Manning's prospering as a leader in recent weeks -- without Shockey or former Giants running back Tiki Barber around, there isn't an outgoing personality for Manning to defer to -- but Manning could've matured regardless of the circumstances.
If anything, Shockey's absence has allowed the Giants to learn quite a bit about the other weapons in their passing game. The most notable clearly has been rookie Steve Smith, who's developed into the third receiver the Giants have lacked since Manning came into the league in 2004. Smith's ability to produce in critical passing situations has made the loss of Shockey much easier to stomach in New York.
Head coach Tom Coughlin added that the Giants have tried to avoid massive adjustments to their offense to compensate for the loss of Shockey.
"We tried not to change a whole lot," Coughlin said. "We've utilized some other personnel combinations and we've also played a couple of young tight ends -- Kevin Boss and Mike Matthews -- that Jeremy has really helped bring along. Jeremy was an outstanding blocker as well as an outstanding receiver, so you do have a difficult time trying to maintain the same level of play. But these guys have done well."
Of course, it still would be nice to see Shockey in town at some point. There hasn't been any definitive news on when he'll arrive, but the Giants maintain it will be before Sunday. They added that he'd be just as passionate about cheering them on from the sidelines as he would if he were playing. That has been his personality for as long as they've known him and they don't see him sulking now.
The question, however, is whether the perception of Shockey will be different. After all, just the mere fact that people are discussing his value means one of two things: (1) It's a pretty slow news week or (2) His reputation has taken a major hit. To be honest, the Giants might claim that both factors have plenty to do with Shockey's image right now. And as far as they're concerned, there's something really wrong with that situation.
Jeffri Chadiha covers the NFL for ESPN.com.
Jeffri Chadiha, formerly of Sports Illustrated, is a senior writer for ESPN.com. Chadiha first attended Wyoming on a full football scholarship before injuries led him to transfer to Michigan after two years. He received a Bachelor of Arts degree in communication from Michigan in 1993 before pursuing a career in journalism. Chadiha is also a frequent contributor to ESPN TV.
SPONSORED HEADLINES
MORE NFL HEADLINES
MOST SENT STORIES ON ESPN.COM
SUPER BOWL XLII

In one of the great Super Bowl upsets, the Giants defeated the Patriots 17-14 in Super Bowl XLII in Glendale, Ariz.
Super Bowl Central

• Hashmarks blog: Mosley, Sando in Arizona


Game coverage
•
Belichick ready to move on from Super Bowl loss
•
Nevada sports books lose record $2.6M
•
View to a thrill: Record 97.5 million watch XLII
•
Giants' win shatters viewership records
•
Clayton: Can the Giants repeat?
•
Simmons: Free fallin'
•
Giants spoil Pats' perfect season
•
Wojciechowski: Blame Pats for this debacle
•
Wickersham: Brady dazed and confused
•
Clayton: Eli lets instincts take over
•
Clayton: N.Y. 'misfits' harass Brady
•
Sando: Was Brady rattled?
•
Mosley: Belichick left a second early
•
Chadiha: Ten things we learned
•
Garber: Tyree's catch one for the ages
•
Zoom galleries
1
|
2
|
Great SB upsets
•
SportsNation: Best Super Bowl?
•
SportsNation: Biggest SB upset?
•
SportsNation: Your favorite commercials?
Commentary/Features
•
Clayton: Top five contenders for the next SB
•
'72 Fins breathe sigh of relief after Giants win
•
Chadiha: Giants enjoy underdog role
•
Sando: Coughlin, Giants made it work
•
Super Bowl picks: Our experts weigh in
•
Merrill: Nine previously perfect Patriots
•
Merrill: Harrison deals with his rep just fine
•
Clayton: Giants' O-line worthy of accolades
•
Pasquarelli: Tip Sheet
•
Pasquarelli: Tip Sheet notes

•
Wojciechowski: 15 reasons Patriots will win
•
E-ticket: Patriots' man of mystery
•
Sunday Countdown
•
Clayton's First and Goal
•
Chadiha: Giants miss Shockey
•
Garber: Injured war vet inspires Giants
•
Pasquarelli: The Pats' crucial cameos
•
Garber: In Brady's world, insecurity remains
•
Merrill: Hixon's traumatizing season
•
Football Outsiders: SB numbers crunching
•
Pasquarelli: Patriots' silent sentinel
•
Wojciechowski: Unflappable Eli
•
Sando: Brady rising among all-time QBs
•
Chadiha: Giants' rookies playing prominent role
•
Fleming: Cardinals/Pottsville Curse
•
Clayton: Youth serving Giants well
•
Chadiha: Ranking the best QBs by decade
•
Klancnik: Top QBs by jersey number
•
Hashmarks: Media day coverage
|
Gallery
•
Pasquarelli: Pats' old-school LBs
•
Helyar: Marketing windfall for Eli Manning
•
Garber: Seau's ring quest
•
Pasquarelli: Bruschi's full-circle journey
•
Animated plays
•
From the research room
•
Chadiha: Pierce just wants to win
•
Wojciechowski: Explaining Bill Belichick
•
Helyar: Recession? Not at Super Bowl!
•
Giants' Snee doesn't stray from roots
•
Sando: Seymour in eye of storm
•
Merrill: Welker scales new heights for Pats
•
Pasquarelli: Brady is ready to play
•
Garber: The preservation of Plaxico
•
Pasquarelli: Hill's spirit lives on
•
Clayton: Giants' juggling act at CB works
•
Wickersham: Giant ideas
•
Klosterman: All too perfect
•
Crown Jewels: A look at Super Bowl rings
•
FB Outsiders: Giants one of worst SB teams
•
Helyar: Patriots will drive TV ratings
•
Clayton: First and goal
•
Chadiha: Giants' glory road
•
Mosley: Brady's ankle saves the week
•
Woj: Preseason predictions revisited
•
Merrill: David Woodley's dark spotlight
• Former SB QBs:
Plunkett
|
Rypien
|
Ferragamo
• More:
Morton
|
Humphries
|
Hostetler
|
Eason
•
Starting matchups of Super Bowl QBs
• Ranking the QB performances:
1-40
|
41-82
•
Jaworski: Six Super Bowl surprises

•
Joyner: Brady's bad decisions

•
Clayton: Eli's managing fine
•
Chadiha: Focused Giants
•
AccuScore simulation: Pats to prevail
•
Chadiha: First Look at the Super Bowl
•
Playoff schedule
Spy Games
News
•
Vermeil doubts spying made difference for Pats
•
Fish: Ex-Ram Warner suspicious of Pats in SB XXXVI
•&nbsp
Report: Pats taped Rams' SB walk-through
•
Specter to Goodell: Let's talk
•
Fish: Possible 'Spygate' witness surfaces
Commentary
•
Easterbrook: NFL can blame itself for scandal's timing
•
Munson: Congressional interest serious
•
Pasquarelli: Specter should stick with politics
•
Clayton: Spy saga won't distract Patriots
•
Hashmarks at Goodell's news conference
Letters
•&nbsp
Specter to Goodell (.pdf)
•&nbsp
Goodell to Specter (.pdf)
Page 2
•&nbsp
Gallo: Five stages of heartbreak for Pats' fans
•
Hill: Best Super Bowl parties
•
Hill: Teflon Tom Brady
•
Popculture roundtable on the Super Bowl
•
Hill: Raiders quit on Moss
•
Flem File at the Super Bowl
•
Fleming: Defining greatness
•
Best teams never to win a title
•
TMQ: Title-game analysis
•
Why Boston teams are so good
•
Gallo: Countdown to kickoff
•
More from Page 2
News
•
Brady ankle not on injury report
•
Brady on Plax prediction: Only 17 points for Pats?
•
Carey named first black Super Bowl referee
•
Brady practices in Pats' first Super Bowl session
•
Ross gets sick as unified Giants face flu
•
NFL not worried about spying
•
Security high for Super Bowl
•
Williams to be honored during Super Bowl
•
Bootless Brady departs for Arizona
•
Tickets reselling for average of $4,300
•
Burress: Giants' receivers are better
Scouts Inc.
•
Roundtable: Seven scouts weigh in
•
Super Bowl XLII X Factors
•
Coaching comparison: Styles vary, results same
•
Defensive line breakdowns
•
Horton: Notes from the film room (Day 5)
•
Matchups to watch in Super Bowl XLII
•
Running-game breakdown
•
Horton: Notes from the film room (Day 4)
•
QB tale of the the tape
•
Horton: Notes from the film room (Day 3)
•
Ranking NFL QBs 1-64
•
Take II on Super Bowl XLII
•
Giants' DBs overmatched or underrated?
•
Horton: Notes from film room (Day 2)
•
Horton: 10 things to watch in SB XLII
•
Horton: Notes from the film room (Day 1)
•
A tale of two underrated O-lines
•
Take I on Super Bowl XLII
•
Players ranked Nos. 1-106

SportsNation
• Vote:
Which team will win?
• Vote:
Who wins the head-to-head matchups?
• Vote:
Which team are you rooting for?
• Conversation:
Talk Super Bowl XLII
• Map:
Which states are picking the Giants?
• Quiz:
42 Super Bowl history questions
• Chat:
Buzzmaster: Hello from Arizona!
• Chat:
Buzzmaster: Live from Media Day
• Chat:
Buzzmaster: Live with oddsmaker
• Chat:
Buzzmaster: Live with Matt Hasselbeck
• Chat:
Buzzmaster: Live with Gregg Easterbrook
• Rank:
Super Bowl's best individual performances
• Rank:
Super Bowl coaches
• Rank:
Super Bowl careers
• Rank:
Super Bowl teams
• Rank:
Super Bowl games
• Rank:
Greatest all-time quarterbacks
• Vote:
Potential for QB greatness?
• Quiz:
Greatest quarterbacks
• ABCNews:
Super Bowl or Super Tuesday?
• Chat Rewind:
When did undefeated talk start?
• Vote:
Can we proposition you?
• Pulse:
What is SportsNation saying about XLII?

Topperscot New York Giants Magnetic Can Koozie Shop »