Commentary
Loose fit: Giants just fine with underdog role
The Giants go into Sunday's Super Bowl just like another team from New York did 39 years ago -- as heavy underdogs. And we know how that turned out, writes Jeffri Chadiha.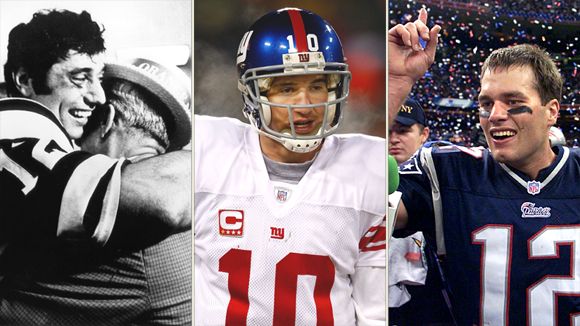 Fred Roe/Jamie Squire/JEFF HAYNES/Getty ImagesJoe Namath's Jets (left) were heavy Super Bowl underdogs in 1969. So were Tom Brady's Patriots (right) in 2002. Both of those teams won -- and now Giants QB Eli Manning faces a similar challenge.
PHOENIX -- The
New York Giants
had barely started celebrating their NFC championship win at Green Bay when a startling text message brought them back to earth.
As the players, coaches and staff settled in for their return charter flight to New York, running back
Reuben Droughns
got the news from a friend -- the Giants had been established as 13 ½-point underdogs to the undefeated
New England Patriots
in Super Bowl XLII. Droughns quickly spread the word among his teammates, interrupting the fist-pumping and back-slapping of a squad that had just won its 10th straight road game.
"That really angered a lot of the guys," Droughns said of the point spread. "As soon as we saw that, we were all saying we couldn't wait to get to Arizona to play this game. We had just won the NFC championship -- and it still felt like nobody believed in us."
It's the same feeling another club from New York had 39 years ago when it played in Super Bowl III. Nobody thought a team from the upstart AFL could knock off a team from the mighty NFL, but Joe Namath's Jets -- 18-point underdogs, which ties for the largest spread in Super Bowl history -- shocked the world by beating the Baltimore Colts.
Five Biggest Upsets
If the Giants beat the Patriots on Sunday, it would rank as one of the biggest upsets in Super Bowl history. Here are five other Super Bowls that turned out to be shockers instead of routs.
• Upsets Zoom Gallery
1. Super Bowl III: Jets 16, Baltimore Colts 7. The Jets overcame 18-point underdog status to shock Colts and bring lasting credibility to the AFC.
2. Super Bowl XXXVI: Patriots 20, Rams 17. The Rams were hailed as "The Greatest Show on Turf." The Patriots, however, were the greatest show in a game where St. Louis was favored by 14 points.
3. Super Bowl XXXII: Broncos 31, Packers 24. The Packers were steaming toward their second consecutive world championship until the Broncos derailed them behind the running of Terrell Davis.
4. Super Bowl XXV: Giants 20, Bills 19. Then Giants head coach Bill Parcells found a way to slow down the Bills' high-powered offense that had looked unstoppable all season.
5. Super Bowl IV: Chiefs 23, Vikings 7. If people still doubted the AFC after the Jets' win over Baltimore a year earlier, they couldn't dismiss the younger conference after the Chiefs' win as 13-point underdogs.
-- Jeffri Chadiha
And it's the same feeling these Patriots had six years ago when Tom Brady made his first Super Bowl appearance. Those Pats went in as 14-point underdogs to the St. Louis Rams and their, ahem, unstoppable offense, but left as the 20-17 winners of Super Bowl XXXVI. It was stunning at the time, less so in hindsight.
While doubts about New York's ability to pull off the upset have lessened slightly in the past couple of weeks -- the point spread now stands at 12, although that might be just a reflection of late New York support at the betting window -- those distinctive chips on the Giants' shoulders have swelled with every minute they have spent in Arizona. As far as they are concerned, the public views them merely as a big blue prop in a storybook tale about a New England team that probably can't remember what it's like to lose.
Sunday's game (6:30 p.m. ET, FOX) is all about the coronation of Bill Belichick and his boys. The unbeatable team capping off a perfect season. And the Giants? Well, they are here simply because some poor saps had to represent the NFC, right?
The funny thing is that the Giants actually like this perception. They might talk about their lack of respect, but they know the underdog role has worked pretty well for them. It provided ample motivation when they started the season 0-2, and it helped them roll through three playoff games on the road.
Now the Giants are hoping that spurned feeling can drive them through one more game they supposedly can't win.
"Nobody thought this team would be where it is right now," Giants right tackle Kareem McKenzie said. "All the commentators. All the newspapers. Nobody. But we feel like we have nothing to lose. We've won games under all kinds of circumstances this year, and we love nothing more than proving people wrong."
Namath, of course, seemed to love it. He even guaranteed the upset, then backed it up. His bravado fueled the Jets' confidence and made him a folk hero.
But the reality is the Jets were a talented team back in the late 1960s -- and the Giants share many of their qualities. A strong running game. A staunch defense. And a player willing to guarantee a win (wide receiver Plaxico Burress, although he began to backtrack later in the week, perhaps hoping to mitigate the bulletin-board material he had produced).
And just like the Patriots of 2001, these Giants thrive on the unity, mental toughness and bone-rattling style of play that has made the Pats so dangerous.
"The overwhelming image I have of us back in 2001 is that we didn't care what the oddsmakers or anybody else said about us," Patriots inside linebacker Tedy Bruschi said. "It was an us-against-the-world mentality. I see a little bit of the similarities between [New York's] mentality and ours back in 2001. But there's also a big difference, because that team won a world championship. That's something [the Giants] will be trying to accomplish on Sunday."
[+] Enlarge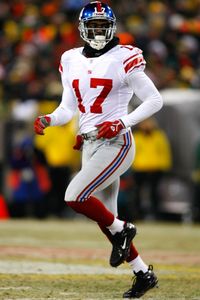 Scott Boehm/Getty Images Plaxico Burress predicted a 23-17 Giants win, although he later said that was for entertainment purposes only.
While some Patriots acknowledge they would rather avoid talking about the opportunity to become the first 19-0 team in league history -- "You don't want to jinx yourself, because none of this really means anything if we don't play well," left tackle Matt Light said -- the Giants have proved to be the looser team this week.
During their final media session Thursday morning, cornerback Sam Madison spent part of his time filming his teammates' interviews. A few tables away, a handful of younger players started a game of spades that attracted a flock of reporters. Even Burress shrugged off his controversial prediction of a 23-17 Giants win.
"Every time I say something," he said, "I seem to make news."
The Giants, by the way, say this type of joviality is nothing new. It's part of a mentality fostered by formerly pedantic coach Tom Coughlin, who has changed so much that McKenzie said, "He's right in there joking with us these days."
Added defensive end Justin Tuck: "This is our personality. We have a good bunch of guys, and we don't put a lot of emphasis on the spectacle of the Super Bowl. Part of the reason is that a lot of us are young and na´ve and this is our first time here. But we also know there's a time to have a fun and a time to get serious.
"We know we have to be ready on Sunday, because the other team is going to come to play."
The Giants understand there are no mysteries about what they have to do. They must pressure Brady, who threw for 356 yards and two touchdowns against them in a 38-35 Patriots win in the regular-season finale. They must contain wide receiver Randy Moss, who killed them with six receptions for 100 yards and two big scores (including a back-breaking 65-yarder).
The Giants also can't beat themselves. The Patriots thrive on opponents' mistakes, and the turning point in that first meeting was a critical second-half interception thrown by Giants quarterback Eli Manning that helped New England erase a 12-point deficit. Manning, by the way, hasn't thrown an interception since then.
New York's mind-set is just as important. Before the club left for Phoenix, defensive end Michael Strahan spoke to his teammates about how essential focus and pacing would be in the days leading up to the Super Bowl.
Biggest Underdogs
Here are the biggest point spreads in Super Bowl history.
Super Bowl
Underdog
Pt. Spread
Result
XXIX
Chargers
-18
49ers 49,
Chargers 26
III
Jets
-18
Jets 16,
Colts 7
XXXVI
Patriots
-14
Patriots 20,
Rams 17
XXXI
Patriots
-14
Packers 35,
Patriots 21
I
Chiefs
-14
Packers 35,
Chiefs 10
XXX
Steelers
-13 1/2
Cowboys 27,
Steelers 17
II
Raiders
-13 1/2
Packers 33,
Raiders 14
Strahan said he was so anxious to play the game when the Giants made their last trip to this event -- they lost to the Baltimore Ravens in Super Bowl XXXV -- that the entire week blew by him. Once he finally settled down, it was too late. Confetti was falling from the sky, the Ravens were hoisting the Lombardi Trophy and Strahan's Giants were devastated.
The Giants have tried to pay close attention to the insights of Strahan and wide receiver Amani Toomer, the only other Giants player left over from that 2000 Super Bowl team.
They also have continually alluded to the philosophy that Coughlin has drilled into them since this season began: Talk is Cheap/Play the Game. It's a motto that evolved out of all the divisive, in-house comments that played out in the New York media last season. The Giants believe that mantra has made all the difference in this year's chemistry.
In fact, the slogan has been so vital that Coughlin had it printed on T-shirts that he handed out to his players Wednesday. It was a subtle reminder of how simple an approach they need to have in this game.
After all, the Patriots didn't reach 18-0 by producing reams of juicy material for the press. They did it by focusing on two things that will decide Sunday's game: execution and attitude. As Coughlin said, "We want to do our talking on the field."
Well, the Giants will have their chance Sunday inside the University of Phoenix Stadium. And what they clearly understand is that this opportunity isn't about facing one of the best teams ever. It's about playing one of their best games ever.
"I thought we had a great shot to win this game seven years ago, and I feel like we have a great shot now," Strahan said. "I believe in this team. The Patriots are 18-0, and everybody talks about them being the team of destiny.
"But I also think we have our own destiny. And history can be made for us, too."
Jeffri Chadiha covers the NFL for ESPN.com.
ESPN.com senior NFL columnist
Reporter for ESPN TV's "E:60"
Sports Illustrated senior writer (2000-07)
Covered Raiders, 49ers for San Francisco Examiner (1996-1999)
SUPER BOWL XLII

In one of the great Super Bowl upsets, the Giants defeated the Patriots 17-14 in Super Bowl XLII in Glendale, Ariz.
Super Bowl Central

• Hashmarks blog: Mosley, Sando in Arizona


Game coverage
•
Belichick ready to move on from Super Bowl loss
•
Nevada sports books lose record $2.6M
•
View to a thrill: Record 97.5 million watch XLII
•
Giants' win shatters viewership records
•
Clayton: Can the Giants repeat?
•
Simmons: Free fallin'
•
Giants spoil Pats' perfect season
•
Wojciechowski: Blame Pats for this debacle
•
Wickersham: Brady dazed and confused
•
Clayton: Eli lets instincts take over
•
Clayton: N.Y. 'misfits' harass Brady
•
Sando: Was Brady rattled?
•
Mosley: Belichick left a second early
•
Chadiha: Ten things we learned
•
Garber: Tyree's catch one for the ages
•
Zoom galleries
1
|
2
|
Great SB upsets
•
SportsNation: Best Super Bowl?
•
SportsNation: Biggest SB upset?
•
SportsNation: Your favorite commercials?
Commentary/Features
•
Clayton: Top five contenders for the next SB
•
'72 Fins breathe sigh of relief after Giants win
•
Chadiha: Giants enjoy underdog role
•
Sando: Coughlin, Giants made it work
•
Super Bowl picks: Our experts weigh in
•
Merrill: Nine previously perfect Patriots
•
Merrill: Harrison deals with his rep just fine
•
Clayton: Giants' O-line worthy of accolades
•
Pasquarelli: Tip Sheet
•
Pasquarelli: Tip Sheet notes

•
Wojciechowski: 15 reasons Patriots will win
•
E-ticket: Patriots' man of mystery
•
Sunday Countdown
•
Clayton's First and Goal
•
Chadiha: Giants miss Shockey
•
Garber: Injured war vet inspires Giants
•
Pasquarelli: The Pats' crucial cameos
•
Garber: In Brady's world, insecurity remains
•
Merrill: Hixon's traumatizing season
•
Football Outsiders: SB numbers crunching
•
Pasquarelli: Patriots' silent sentinel
•
Wojciechowski: Unflappable Eli
•
Sando: Brady rising among all-time QBs
•
Chadiha: Giants' rookies playing prominent role
•
Fleming: Cardinals/Pottsville Curse
•
Clayton: Youth serving Giants well
•
Chadiha: Ranking the best QBs by decade
•
Klancnik: Top QBs by jersey number
•
Hashmarks: Media day coverage
|
Gallery
•
Pasquarelli: Pats' old-school LBs
•
Helyar: Marketing windfall for Eli Manning
•
Garber: Seau's ring quest
•
Pasquarelli: Bruschi's full-circle journey
•
Animated plays
•
From the research room
•
Chadiha: Pierce just wants to win
•
Wojciechowski: Explaining Bill Belichick
•
Helyar: Recession? Not at Super Bowl!
•
Giants' Snee doesn't stray from roots
•
Sando: Seymour in eye of storm
•
Merrill: Welker scales new heights for Pats
•
Pasquarelli: Brady is ready to play
•
Garber: The preservation of Plaxico
•
Pasquarelli: Hill's spirit lives on
•
Clayton: Giants' juggling act at CB works
•
Wickersham: Giant ideas
•
Klosterman: All too perfect
•
Crown Jewels: A look at Super Bowl rings
•
FB Outsiders: Giants one of worst SB teams
•
Helyar: Patriots will drive TV ratings
•
Clayton: First and goal
•
Chadiha: Giants' glory road
•
Mosley: Brady's ankle saves the week
•
Woj: Preseason predictions revisited
•
Merrill: David Woodley's dark spotlight
• Former SB QBs:
Plunkett
|
Rypien
|
Ferragamo
• More:
Morton
|
Humphries
|
Hostetler
|
Eason
•
Starting matchups of Super Bowl QBs
• Ranking the QB performances:
1-40
|
41-82
•
Jaworski: Six Super Bowl surprises

•
Joyner: Brady's bad decisions

•
Clayton: Eli's managing fine
•
Chadiha: Focused Giants
•
AccuScore simulation: Pats to prevail
•
Chadiha: First Look at the Super Bowl
•
Playoff schedule
Spy Games
News
•
Vermeil doubts spying made difference for Pats
•
Fish: Ex-Ram Warner suspicious of Pats in SB XXXVI
•&nbsp
Report: Pats taped Rams' SB walk-through
•
Specter to Goodell: Let's talk
•
Fish: Possible 'Spygate' witness surfaces
Commentary
•
Easterbrook: NFL can blame itself for scandal's timing
•
Munson: Congressional interest serious
•
Pasquarelli: Specter should stick with politics
•
Clayton: Spy saga won't distract Patriots
•
Hashmarks at Goodell's news conference
Letters
•&nbsp
Specter to Goodell (.pdf)
•&nbsp
Goodell to Specter (.pdf)
Page 2
•&nbsp
Gallo: Five stages of heartbreak for Pats' fans
•
Hill: Best Super Bowl parties
•
Hill: Teflon Tom Brady
•
Popculture roundtable on the Super Bowl
•
Hill: Raiders quit on Moss
•
Flem File at the Super Bowl
•
Fleming: Defining greatness
•
Best teams never to win a title
•
TMQ: Title-game analysis
•
Why Boston teams are so good
•
Gallo: Countdown to kickoff
•
More from Page 2
News
•
Brady ankle not on injury report
•
Brady on Plax prediction: Only 17 points for Pats?
•
Carey named first black Super Bowl referee
•
Brady practices in Pats' first Super Bowl session
•
Ross gets sick as unified Giants face flu
•
NFL not worried about spying
•
Security high for Super Bowl
•
Williams to be honored during Super Bowl
•
Bootless Brady departs for Arizona
•
Tickets reselling for average of $4,300
•
Burress: Giants' receivers are better
Scouts Inc.
•
Roundtable: Seven scouts weigh in
•
Super Bowl XLII X Factors
•
Coaching comparison: Styles vary, results same
•
Defensive line breakdowns
•
Horton: Notes from the film room (Day 5)
•
Matchups to watch in Super Bowl XLII
•
Running-game breakdown
•
Horton: Notes from the film room (Day 4)
•
QB tale of the the tape
•
Horton: Notes from the film room (Day 3)
•
Ranking NFL QBs 1-64
•
Take II on Super Bowl XLII
•
Giants' DBs overmatched or underrated?
•
Horton: Notes from film room (Day 2)
•
Horton: 10 things to watch in SB XLII
•
Horton: Notes from the film room (Day 1)
•
A tale of two underrated O-lines
•
Take I on Super Bowl XLII
•
Players ranked Nos. 1-106

SportsNation
• Vote:
Which team will win?
• Vote:
Who wins the head-to-head matchups?
• Vote:
Which team are you rooting for?
• Conversation:
Talk Super Bowl XLII
• Map:
Which states are picking the Giants?
• Quiz:
42 Super Bowl history questions
• Chat:
Buzzmaster: Hello from Arizona!
• Chat:
Buzzmaster: Live from Media Day
• Chat:
Buzzmaster: Live with oddsmaker
• Chat:
Buzzmaster: Live with Matt Hasselbeck
• Chat:
Buzzmaster: Live with Gregg Easterbrook
• Rank:
Super Bowl's best individual performances
• Rank:
Super Bowl coaches
• Rank:
Super Bowl careers
• Rank:
Super Bowl teams
• Rank:
Super Bowl games
• Rank:
Greatest all-time quarterbacks
• Vote:
Potential for QB greatness?
• Quiz:
Greatest quarterbacks
• ABCNews:
Super Bowl or Super Tuesday?
• Chat Rewind:
When did undefeated talk start?
• Vote:
Can we proposition you?
• Pulse:
What is SportsNation saying about XLII?