Commentary
Ten things we learned from the Giants' Super Bowl win
What did we learn from the Giants' stunning win over the Pats? Jeffri Chadiha has 10 observations.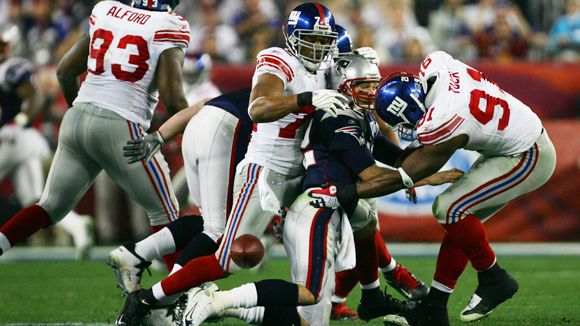 Harry How/Getty ImagesThe Giants hounded Patriots QB Tom Brady, sacking him five times and limiting him to one TD pass.
GLENDALE, Ariz. -- While all the talk leading up to Super Bowl XLII centered on perfection, on how the
New England Patriots
were one of the best teams ever, we forgot to acknowledge one simple fact: The
New York Giants
were playing better at this time of the year than their opponents.
We should've realized what was happening in the postseason. We do now. The Giants have their Vince Lombardi Trophy after a 17-14 win over the Patriots. Here are 10 things we learned from arguably the greatest Super Bowl ever.
1. Eli is the Man
Giants quarterback Eli Manning finalized his stunning postseason run -- as well as the Super Bowl MVP award -- with that game-winning touchdown drive in the final minutes. He also gave the Giants a play that probably will turn up on every Super Bowl highlight film for decades to come. When Manning spun out of what seemed to be a sure sack with 59 seconds left and delivered a 32-yard strike to David Tyree, he showed the kind of heart every team covets from its leader. It's fair to say that was one of the biggest plays in Super Bowl history.
"I was watching Eli after Randy Moss caught that touchdown pass [to give New England a 14-10 lead with 2:42 remaining in the game]," said Indianapolis Colts quarterback Peyton Manning, who watched his younger brother from a stadium suite Sunday. "There wasn't any panic in his eyes. His mind-set was, 'Hey, we have got 2:45 left and we have some timeouts. We'll have the ball last, and we'll make it happen.'"
2. Plaxico the Prophet
It looks as though Plaxico Burress now has his own place alongside Joe Namath in the New York sports scene. He had only two catches Sunday, but his second one turned out to be the game-winning touchdown. You have to give the guy credit: He had the confidence to say what the Giants privately believed. And you also have to applaud him for continuing to stay focused when the ball wasn't coming his way.
What you can question, however, is why New England opted to single-cover 6-foot-5 Burress with 5-9 cornerback Ellis Hobbs on Burress' game-winning, 13-yard touchdown catch with 35 seconds left.
"They were basically double-teaming me all night," Burress said. "We were just waiting for that one time where we could get him over there in single coverage. I gave him a slant fake; he bit on it; and Eli put it up there for me to come down with it."
3. The Giants had the right idea
New York definitely got off to the kind of start it needed. By controlling the football for 19 minutes, 27 seconds, in the first half, the Giants kept the Pats' prolific offense on the sideline while gaining plenty of confidence. The first quarter was especially critical; New York held the ball for nearly 10 minutes while converting a Super Bowl-record four third-down opportunities on that first drive. That possession was enough to make the Giants see that this game wouldn't overwhelm them.
"We hit them in the mouth time and time again," New York wide receiver Amani Toomer said. "They realized real early that we weren't backing down from them."
Added New England wide receiver Randy Moss: "I think their intensity from the beginning snap to the end of the game was really higher than ours. We just couldn't meet that intensity."
4. The ball wasn't bouncing New England's way
This game would've been much different early on if the Patriots' defense had been able to hold on to the football. Giants running back Ahmad Bradshaw fumbled in the second quarter, but wrangled the ball away from Pats linebacker Pierre Woods to maintain possession at the New York 30-yard line. The Patriots also couldn't recover a fumble that another New England linebacker, Adalius Thomas, forced after sacking Manning later in the quarter. Finally, Pats cornerback Randall Gay dropped what looked like a sure interception of an errant Manning pass intended for Steve Smith.
Sure, Patriots cornerback Ellis Hobbs intercepted Manning early in that period, but New England thrives on converting turnovers into points. It simply couldn't come up with enough of them.
5. Sour on Seymour
The Giants didn't have anything positive to say about Patriots defensive end Richard Seymour after their Super Bowl win. Apparently, Seymour told some New York offensive players that they "should be ready to go home" before their last drive. That comment irritated Toomer, and it still bothered Giants running back Brandon Jacobs in the locker room.
"I'll give you a quote on Seymour," Jacobs said. "You can write that he's a soft [expletive]. He said we should get ready to go home. Well, now he's on the team that went 18-1."
6. Where's Randy?
The Giants clearly learned a thing or two about defending the Patriots offense after losing their regular-season finale to New England. One essential key was to contain Moss, especially if you want to limit the big plays. In that first meeting, Moss produced six receptions for 100 yards and two touchdowns. On Sunday, he continued to be the same nonfactor he was throughout the postseason. Although he scored the go-ahead touchdown with 2:42 left, he finished with only five receptions for 62 yards.
"We had a game plan, and we just didn't execute it," Moss said. "We don't point fingers around here. We just didn't play well as a unit."
7. Brilliance and boneheadedness
New England coach Bill Belichick obviously doesn't need spying tactics to see everything. His decision to challenge a punt play on the Patriots' opening drive of the second half -- he alleged that Giants reserve linebacker Chase Blackburn didn't reach the sideline in time to avoid a penalty for 12 men on the field -- allowed the Patriots to maintain possession at a critical point in the game.
Unfortunately for the Patriots, the Giants' defense wasn't going to cave in the face of that momentum. New York managed to force New England into another fourth-down situation that ended with another interesting choice by Belichick (he went for it on fourth-and-13 from the Giants' 31-yard line instead of attempting a 48-yard field goal by Stephen Gostkowski). Note to Belichick: Those three points could've helped your team in the end.
New York's third-best defensive end looked like a future Hall of Famer in this game. In the first half alone, Tuck led the team with six tackles, sacked Tom Brady twice and forced a fumble on the second takedown. Before Tuck started taking over, the Giants seemed to be feeling their way through the early moments of the game. After that turning point, it was apparent the Patriots would have protection problems throughout the contest.
"We just tried to keep him off his timing," Tuck said. "That's what you have to do against a quarterback that good."
9. Tom Brady is human
You have to admit it was strange to see the Patriots' Pro Bowl quarterback harassed as much as he was in this game. He was hit on more than half of his first 17 pass attempts in the first half alone -- the Giants sacked him three times and knocked him down six other times -- and Brady actually looked rattled at times. He couldn't stand in the pocket long enough to throw deep to Moss, and he even seemed confused at times. The bottom line: Brady faced his toughest challenge of the season at the worst possible time (he was sacked five times).
Said Giants defensive coordinator Steve Spagnuolo: "We never put a number on it, but we said all week that we had to hit [Brady] whether he completed a pass or not. But that guy also is a warrior. When he was leading them down the field [for the go-ahead touchdown with 2:42 left], he wasn't thinking about the hits he took earlier in that game."
10. Kevin Faulk's hurting hamstring
The impact of Faulk's left hamstring injury -- he limped off the field after the Patriots' first possession of the second half -- can't be underestimated. Faulk had been the best player on the New England offense in the AFC Championship Game win over San Diego two weeks ago, and he was just starting to give New York fits with his receptions out of the backfield Sunday. Without him at full strength, the Pats lost one of Brady's favorite third-down options. And as talented as Laurence Maroney is, he's not as clutch in those situations as Faulk can be.
"Kevin Faulk is as dangerous on third down as [Patriots wide receiver] Wes Welker is," Giants safety Gibril Wilson said. "They lost a lot when he wasn't out there."
Jeffri Chadiha covers the NFL for ESPN.com.
ESPN.com senior NFL columnist
Reporter for ESPN TV's "E:60"
Sports Illustrated senior writer (2000-07)
Covered Raiders, 49ers for San Francisco Examiner (1996-1999)
SPONSORED HEADLINES
MORE NFL HEADLINES
MOST SENT STORIES ON ESPN.COM
SUPER BOWL XLII

In one of the great Super Bowl upsets, the Giants defeated the Patriots 17-14 in Super Bowl XLII in Glendale, Ariz.
Super Bowl Central

• Hashmarks blog: Mosley, Sando in Arizona


Game coverage
•
Belichick ready to move on from Super Bowl loss
•
Nevada sports books lose record $2.6M
•
View to a thrill: Record 97.5 million watch XLII
•
Giants' win shatters viewership records
•
Clayton: Can the Giants repeat?
•
Simmons: Free fallin'
•
Giants spoil Pats' perfect season
•
Wojciechowski: Blame Pats for this debacle
•
Wickersham: Brady dazed and confused
•
Clayton: Eli lets instincts take over
•
Clayton: N.Y. 'misfits' harass Brady
•
Sando: Was Brady rattled?
•
Mosley: Belichick left a second early
•
Chadiha: Ten things we learned
•
Garber: Tyree's catch one for the ages
•
Zoom galleries
1
|
2
|
Great SB upsets
•
SportsNation: Best Super Bowl?
•
SportsNation: Biggest SB upset?
•
SportsNation: Your favorite commercials?
Commentary/Features
•
Clayton: Top five contenders for the next SB
•
'72 Fins breathe sigh of relief after Giants win
•
Chadiha: Giants enjoy underdog role
•
Sando: Coughlin, Giants made it work
•
Super Bowl picks: Our experts weigh in
•
Merrill: Nine previously perfect Patriots
•
Merrill: Harrison deals with his rep just fine
•
Clayton: Giants' O-line worthy of accolades
•
Pasquarelli: Tip Sheet
•
Pasquarelli: Tip Sheet notes

•
Wojciechowski: 15 reasons Patriots will win
•
E-ticket: Patriots' man of mystery
•
Sunday Countdown
•
Clayton's First and Goal
•
Chadiha: Giants miss Shockey
•
Garber: Injured war vet inspires Giants
•
Pasquarelli: The Pats' crucial cameos
•
Garber: In Brady's world, insecurity remains
•
Merrill: Hixon's traumatizing season
•
Football Outsiders: SB numbers crunching
•
Pasquarelli: Patriots' silent sentinel
•
Wojciechowski: Unflappable Eli
•
Sando: Brady rising among all-time QBs
•
Chadiha: Giants' rookies playing prominent role
•
Fleming: Cardinals/Pottsville Curse
•
Clayton: Youth serving Giants well
•
Chadiha: Ranking the best QBs by decade
•
Klancnik: Top QBs by jersey number
•
Hashmarks: Media day coverage
|
Gallery
•
Pasquarelli: Pats' old-school LBs
•
Helyar: Marketing windfall for Eli Manning
•
Garber: Seau's ring quest
•
Pasquarelli: Bruschi's full-circle journey
•
Animated plays
•
From the research room
•
Chadiha: Pierce just wants to win
•
Wojciechowski: Explaining Bill Belichick
•
Helyar: Recession? Not at Super Bowl!
•
Giants' Snee doesn't stray from roots
•
Sando: Seymour in eye of storm
•
Merrill: Welker scales new heights for Pats
•
Pasquarelli: Brady is ready to play
•
Garber: The preservation of Plaxico
•
Pasquarelli: Hill's spirit lives on
•
Clayton: Giants' juggling act at CB works
•
Wickersham: Giant ideas
•
Klosterman: All too perfect
•
Crown Jewels: A look at Super Bowl rings
•
FB Outsiders: Giants one of worst SB teams
•
Helyar: Patriots will drive TV ratings
•
Clayton: First and goal
•
Chadiha: Giants' glory road
•
Mosley: Brady's ankle saves the week
•
Woj: Preseason predictions revisited
•
Merrill: David Woodley's dark spotlight
• Former SB QBs:
Plunkett
|
Rypien
|
Ferragamo
• More:
Morton
|
Humphries
|
Hostetler
|
Eason
•
Starting matchups of Super Bowl QBs
• Ranking the QB performances:
1-40
|
41-82
•
Jaworski: Six Super Bowl surprises

•
Joyner: Brady's bad decisions

•
Clayton: Eli's managing fine
•
Chadiha: Focused Giants
•
AccuScore simulation: Pats to prevail
•
Chadiha: First Look at the Super Bowl
•
Playoff schedule
Spy Games
News
•
Vermeil doubts spying made difference for Pats
•
Fish: Ex-Ram Warner suspicious of Pats in SB XXXVI
•&nbsp
Report: Pats taped Rams' SB walk-through
•
Specter to Goodell: Let's talk
•
Fish: Possible 'Spygate' witness surfaces
Commentary
•
Easterbrook: NFL can blame itself for scandal's timing
•
Munson: Congressional interest serious
•
Pasquarelli: Specter should stick with politics
•
Clayton: Spy saga won't distract Patriots
•
Hashmarks at Goodell's news conference
Letters
•&nbsp
Specter to Goodell (.pdf)
•&nbsp
Goodell to Specter (.pdf)
Page 2
•&nbsp
Gallo: Five stages of heartbreak for Pats' fans
•
Hill: Best Super Bowl parties
•
Hill: Teflon Tom Brady
•
Popculture roundtable on the Super Bowl
•
Hill: Raiders quit on Moss
•
Flem File at the Super Bowl
•
Fleming: Defining greatness
•
Best teams never to win a title
•
TMQ: Title-game analysis
•
Why Boston teams are so good
•
Gallo: Countdown to kickoff
•
More from Page 2
News
•
Brady ankle not on injury report
•
Brady on Plax prediction: Only 17 points for Pats?
•
Carey named first black Super Bowl referee
•
Brady practices in Pats' first Super Bowl session
•
Ross gets sick as unified Giants face flu
•
NFL not worried about spying
•
Security high for Super Bowl
•
Williams to be honored during Super Bowl
•
Bootless Brady departs for Arizona
•
Tickets reselling for average of $4,300
•
Burress: Giants' receivers are better
Scouts Inc.
•
Roundtable: Seven scouts weigh in
•
Super Bowl XLII X Factors
•
Coaching comparison: Styles vary, results same
•
Defensive line breakdowns
•
Horton: Notes from the film room (Day 5)
•
Matchups to watch in Super Bowl XLII
•
Running-game breakdown
•
Horton: Notes from the film room (Day 4)
•
QB tale of the the tape
•
Horton: Notes from the film room (Day 3)
•
Ranking NFL QBs 1-64
•
Take II on Super Bowl XLII
•
Giants' DBs overmatched or underrated?
•
Horton: Notes from film room (Day 2)
•
Horton: 10 things to watch in SB XLII
•
Horton: Notes from the film room (Day 1)
•
A tale of two underrated O-lines
•
Take I on Super Bowl XLII
•
Players ranked Nos. 1-106

SportsNation
• Vote:
Which team will win?
• Vote:
Who wins the head-to-head matchups?
• Vote:
Which team are you rooting for?
• Conversation:
Talk Super Bowl XLII
• Map:
Which states are picking the Giants?
• Quiz:
42 Super Bowl history questions
• Chat:
Buzzmaster: Hello from Arizona!
• Chat:
Buzzmaster: Live from Media Day
• Chat:
Buzzmaster: Live with oddsmaker
• Chat:
Buzzmaster: Live with Matt Hasselbeck
• Chat:
Buzzmaster: Live with Gregg Easterbrook
• Rank:
Super Bowl's best individual performances
• Rank:
Super Bowl coaches
• Rank:
Super Bowl careers
• Rank:
Super Bowl teams
• Rank:
Super Bowl games
• Rank:
Greatest all-time quarterbacks
• Vote:
Potential for QB greatness?
• Quiz:
Greatest quarterbacks
• ABCNews:
Super Bowl or Super Tuesday?
• Chat Rewind:
When did undefeated talk start?
• Vote:
Can we proposition you?
• Pulse:
What is SportsNation saying about XLII?