Commentary
Jaguars pass this character test
The Jaguars easily could have caved after the Steelers came back to take the lead late in the second half Sunday. But they didn't, and that says a lot about the Jags, Jeffri Chadiha writes.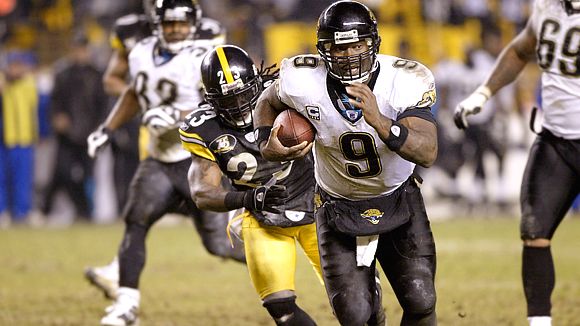 George Gojkovich/Getty ImagesJaguars QB David Garrard runs for a critical first down on a fourth-and-2 play late in the fourth quarter.
PITTSBURGH -- The one thing we learned about the
Jacksonville Jaguars
on Saturday is that they know a few things about weathering adversity. They easily could have caved after allowing an 18-point lead to vanish during a 31-29 AFC wild-card win over Pittsburgh.
Instead, they did something that will serve them well as they push deeper into the playoffs: The Jaguars found the ability to make critical plays when they desperately needed them.
The final hero of this game turned out to be Jaguars kicker Josh Scobee -- who kicked the winning 25-yard field goal with 37 seconds left -- but the truth is that Jacksonville had an endless list of key contributors. Whether it was quarterback David Garrard rambling for 32 yards on a fourth-and-2 play on the winning drive or a resilient defense that produced one final stop to give Jacksonville a shot at the victory, the Jaguars won with a little help from everyone.
It really didn't matter if somebody made a mistake that could have ruined their chances. Somebody else always managed to find a way to make up for it.
This is how the Jaguars earned the reputation as the team nobody wants to meet in these playoffs. It's also why they believe they benefited from winning a game that easily could have gone the other way.
"These are the games that allow you to build character," Garrard said. "With the stage we're on, everything is going to be magnified, including the mistakes. But we ultimately won this game as a team. Everybody did their part."
A backup defensive tackle, rookie Derek Landri, made some of the game's biggest plays with two sacks and an interception. It certainly wasn't Garrard who dominated the game -- he completed just nine of 21 passes for 140 yards with one touchdown and two interceptions -- and Jacksonville's vaunted running game also struggled (Fred Taylor and Maurice Jones-Drew combined for 77 yards on 24 carries). But the Jaguars have discovered that valuable contributions can come at any time. The key is that they must be ready to capitalize on them.
Jacksonville knew it had to start aggressively in this contest. The Steelers might have been without key starters such as Pro Bowl running back Willie Parker and defensive end Aaron Smith, but they were still proud and playing at home. In fact, any questions about how seriously the Jaguars should be taken this postseason ended midway through the game. By that point, Pittsburgh quarterback Ben Roethlisberger was scrambling for his life and the Steelers' ground game was going nowhere.
This, by the way, is also what makes Jacksonville such a dangerous playoff team: It can beat up an opponent even when its offense isn't clicking. Pittsburgh outgained Jacksonville 340 yards to 239. What the Jaguars did get, however, was the kind of defensive performance that can lead to a championship.
Jacksonville's pass rush was so dominant that it sacked Roethlisberger four times in the first half. The coverages created so much confusion that Roethlisberger threw three interceptions in that time, as well, including one that cornerback Rashean Mathis returned 63 yards for a second-quarter score. Heck, the Jaguars rattled Roethlisberger to the point that he actually tried lobbing a pass into double coverage with the hope that running back Najeh Davenport would make a miraculous catch. Mathis picked off that throw, too.
But just when it seemed as though Jacksonville was going to pull away -- and that was almost a given when the Jags took a 28-10 lead into the fourth quarter -- it let Pittsburgh back into the game.
The Steelers started their comeback with a 37-yard touchdown pass from Roethlisberger to Santonio Holmes early in the fourth quarter. Roethlisberger then led Pittsburgh on a 10-play, 69-yard drive that culminated with his hitting tight end Heath Miller with a 14-yard touchdown pass that cut the lead to 28-23.
Once Davenport scored on a 1-yard touchdown run on the next series to give the Steelers a 29-28 lead -- a score that was set up by an interception by Pittsburgh cornerback Ike Taylor -- it seemed that nothing could go right for the Jaguars. They had wilted at the worst possible moment, and the Steelers seemed to have escaped what had appeared to be certain defeat.
"You have to give them a lot of credit," Taylor said. "They never backed down after we went up, and we never gave up after they came back. It was like a championship fight out there."
Of course, that fight ended when Garrard pushed coach Jack Del Rio to call that quarterback draw on fourth-and-2 from the Steelers' 43. He knew no defender was going to stop a 6-foot-1, 245-pound QB from getting 2 yards, and he liked the element of surprise, as well. The Jaguars hadn't called the play all game.
"As a quarterback, I wanted the chance to make up for the mistakes I had made earlier in the game," Garrard said. "I knew I could make the play in that situation."
The question now is whether the Jags can continue to make those plays as they advance into the divisional round. Jacksonville clearly can't afford to lose an 18-point advantage on the road against New England or Indianapolis. The Jags also can't take on either of those teams without more help from their running game or a defense that looked pretty average in the second half. There wasn't a player in their locker room who believed such issues wouldn't lead to a blowout loss next week.
But that wasn't the message the Jaguars were embracing as they prepared to leave Heinz Field late Saturday night. They were more focused on the notion that they could play against anybody if they gave the right effort and stuck together. That's exactly the combination that got them through a long night in Pittsburgh. What they're hoping now is that they can rely on it for three more games this season.
Jeffri Chadiha is a senior writer for ESPN.com.
ESPN.com senior NFL columnist
Reporter for ESPN TV's "E:60"
Sports Illustrated senior writer (2000-07)
Covered Raiders, 49ers for San Francisco Examiner (1996-1999)
2007 PLAYOFFS

In a rematch of their Week 17 game, the unbeaten Patriots will play the red-hot Giants in Super Bowl XLII in Glendale, Ariz.
Super Bowl Central
Clayton: Eli's managing fine
Chadiha: Focused Giants
AccuScore simulation: Pats to prevail
Chadiha: First Look | Playoff schedule



Conference Championships (Jan. 20)
Patriots 21, Chargers 12
•
Merrill: Questions linger about Moss' postseason
•
Wojciechowski: Whatever it takes, Pats win
•
Pasquarelli: Patriots' offense grinds it out
•
Pasquarelli: Chargers squander opportunites
•
Pats make fourth SB in seven years
•
The Last Call: Mike Sando's observations, more
•
Zoom Gallery:
AFC title game
|
Pats' season
•
Playoff page
Giants 23, Packers 20
•
Clayton: Burress burns Harris, Packers
•
Chadiha: Bitter pill for Packers to swallow
•
Zoom Gallery: Giants edge Packers
•
The Last Call: Mike Sando's observations, more
•
Garber: Coughlin's personality makeover intact
•
Playoff page
Video
•
What is Tom Brady's legacy?
•
Eli and Burress lead Giants
•
Patriots avoid distractions on way to Super Bowl
•
Resilient Giants advance to SB
•
Red-zone efficiency fuels Patriots
Divisional Round (Jan. 12-13)
Packers 42, Seahawks 20
•
Recap
|
Playoff game page
•
Clayton: Ryan Grant sticks to the plan
•
Sando: Disastrous play at TE for Seattle
Patriots 31, Jaguars 20
•
Recap
|
Playoff game page
•
Pasquarelli: Patriots have too many weapons
Chargers 28, Colts 24
•
Recap
|
Playoff game page
•
Wojciechowski: Did Chargers get Pats' attention?
•
Clayton: Colts can't overcome mistakes
Giants 21, Cowboys 17
•
Recap
|
Playoff game page
•
Chadiha: Manning maturing at right time
More divisional playoffs
•
Saturday's Last Call: Pack, Pats advance
•
Sunday's Last Call: Giants, Chargers surprise
Commentary/Features
•
Pasquarelli: Tip Sheet
|
Notes

•
Smith: Special teams loom large
•
Scouts: Kryptonite for top four teams

•
Playoff upsets: By the numbers
•
Page 2: Handicapping the wild-card winners
Wild-Card Round (Jan. 5-6)
Seahawks 35, Redskins 14
•
Recap
|
Playoff game page
•
Clayton: Cool head Holmgren
•
Sando: Redskins inspired by Taylor
Jaguars 31, Steelers 29
•
Recap
|
Playoff game page
•
Chadiha: Jaguars pass character test
Giants 24, Bucs 14
•
Recap
|
Playoff game page
•
Pasquarelli: Manning delivers for Giants
•
Pasquarelli: Giants' D rises to occasion
Chargers 17, Titans 6
•
Recap
|
Playoff game page
•
Clayton: Turner, Rivers silence their critics
More Wild Card Weekend
•
Saturday's Last Call: Hawks, Jags escape
•
Sunday's Last Call: Giants, Chargers rule
•
ZOOM photos:
Saturday
|
Sunday
Commentary/Features
•
Sando: Controversial history of replay
•
Clayton: First and Goal, Wild Card
•
Sando: Playoff mantras
•
Numbers crunching: Wild-card weekend
•
Sunday Countdown
•
TMQ: Do the Pats need to run more?
•
Joyner: Steelers, Giants adjusting on the fly

•
Clayton: Handicapping possible Patriots foes
•
Clayton: Key playoff questions for the AFC
•
Pasquarelli: Key playoff questions for the NFC
Video
•
Chargers bolt past Titans, 17-6
•
Eli Manning silences his critics
•
Seattle's Hasselbeck is underrated
•
Phillips not concerned about late-season slide
Scouts Inc.
•
Ranking the playoff teams
•
Ranking the playoff coaches
•
Off. rankings:
Overall
|
QB
|
WR
|
RB
|
OL
•
Def. rankings:
Overall
|
DL
|
LB
|
DB
|
ST
•
Green: Smith's absence hurting Steelers
•
Williamson: Unknowns powering Bucs
Nike Youth Home Limited Jersey Pittsburgh Steelers Heath Miller #83 Shop »

MOST SENT STORIES ON ESPN.COM